Anna Pogorilaya heading into European debut
January 25, 2015
By Reut Golinsky
Photo © Julia Komarova, Irina Teterina (Attenais), Anna Bertoloni, Reut Golinsky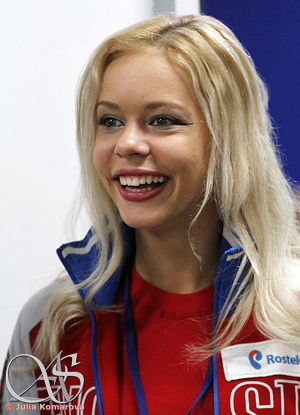 Unlike her teammates - Liza Tuktamysheva, Adelina Sotnikova, Julia Lipnitskaya, who were in the limelight, crowned as "Russian Olympic hopefuls" since a very young age - 2013 World Junior and 2012/13 JGP Final bronze medalist Anna Pogorilaya appeared at the world stage as quite an unexpected surprise.
She stayed under the radar till season 2012/13, partially because of Osgood-Schlatter disease which affected both of her legs. Her rise in autumn 2012 was fast and remarkable: bronze at her ISU Junior Grand Prix debut in Croatia, gold at the next event in Germany, bronze at JGP Final in Sochi and bronze at Junior Worlds in Milan. Next season she debuted in seniors with an impressive gold at Cup of China 2013, ahead of Adelina Sotnikova and Carolina Kostner. And then, after winning the bronze at the 2013 Trophee Eric Bompard, she qualified for her first senior Grand Prix Final, where she finished sixth. She landed at disappointing eighth place at senior Nationals and was not chosen for the Russian team to European championships and the Olympic Games. But she finished the last season on high note with fourth place at her debut Worlds.
So far the season 2014/15 passes for the 16-year-old with lots of ups and downs. Opening her season with Japan Open, Anna contributed to Team Europe's victory and later won her first Grand Prix event, Skate Canada 2014, with two great skates. But then, unfortunately, she was too stressed and fell apart at her home event in Moscow, where she virtually didn't have serious competition and was seen by many as a sure gold medal contender.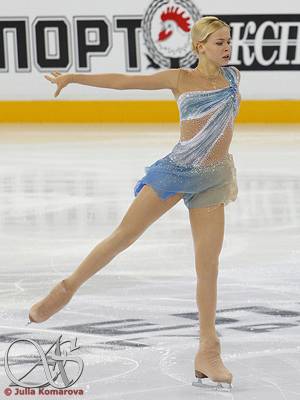 Her second place finish was good enough to qualify for the Grand Prix Final in Barcelona, where she was fourth in both segments and fourth overall. She improved her standing since last season and the rivalry was really tough, but still she couldn't help crying while sitting in the K&C with her coach. We met in the mixed zone after the end of ladies' event and, although Anna was still really upset about her performance, she graciously agreed to have this short talk with me. Since I didn't want to upset her further, we talked about everything but her skates.
You were one of the poster girls of this competition, there were flags with your photo around the city. Did it create any additional pressure?
No, actually it felt really nice. I knew about it even before I came to Barcelona, as someone shared a photo in social media. When I came here, I saw it and even took a picture with it. But immediately after that I forgot about it completely and when I was going out to the ice I didn't even remember that there exist some flags with my photo on them. It was flattering at first, but then I just got used to it.
Did someone recognize that you were on those flags?
No. More than that, I showed it to someone in the hotel, they said: "Oh, that's beautiful". And then I added: "That's me, by the way". And they were very surprised: "Wow, is that really you? No way!" So no, people don't really recognize me yet.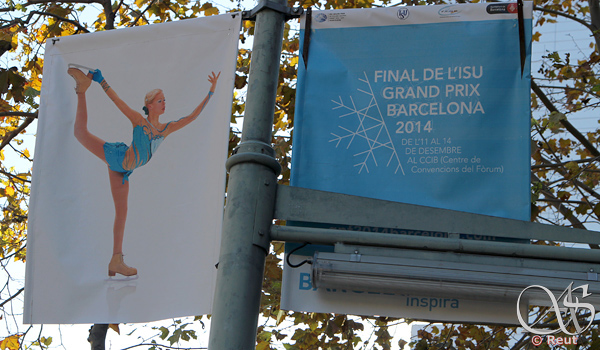 I'm asking because one gets the impression that it's much easier for you to compete when you're an "underdog". But as soon as you're defined as one of the leaders, your performance suffers. Is that impression correct?
Actually, there is no dependency, each time is different. Before Skate Canada there was quite a serious pressure on me too, and although I was less prepared for the competition than I was now, I just psyched myself up. I guess a lot depends on how you mentally prepare yourself.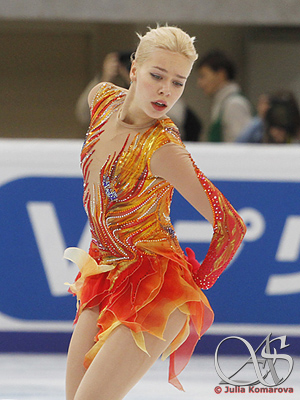 So it depends more on the "inside" and not on what is happening "outside"...
To some extent, yes. At least here I didn't get the jitters like I did at Rostelecom Cup.
And what happened there?
Well, performing at home... There was a huge pressure, because I was performing in front of my home crowd. And people around me were talking all the time that I for sure should come first. In the end I didn't, I was just second.
Well, you still qualified for the GP Final. Were you glad?
Of course, I was very glad. Also because for quite some time I wanted to visit Spain, it's such a beautiful country! Although I didn't have much time, I only went to the sea and to the shopping mall; I really loved the city, the country.
Would you want to come again?
If I get such an opportunity, of course!
Your exhibition programs always stand out, they are very creative and unusual, you can see how much thought and effort goes into them. Where does this approach come from?
My Mom loves when everything is done thoroughly. And me too, I love to prepare and invent the programs myself and not do something simple and on the fly. Just recently I've prepared a new exhibition program to "The Fifth Element", can't wait to show it! (Anna wasn't chosen for the gala in Barcelona, but she has already premiered this program in Sochi, at the end of the Russian National championships - ed.)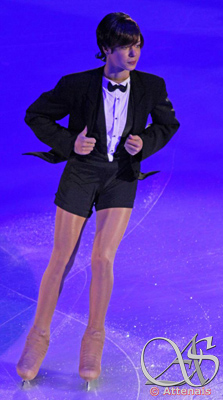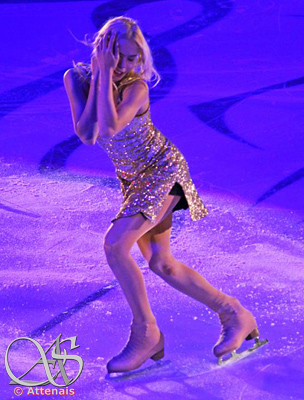 So all ideas are yours?
Yes, all ideas are mine and then our choreographer helps to realize them on the ice.
By the way I wanted to ask you more about him. Your choreographer, Sergei Verbillo, was an ice dancer. How hard it is for you, as a single skater, to work with him, to repeat movements after him? I guess it must be quite demanding, for example, in step sequences.
He is very understanding. He knows my limits and accepts that I can't punch above my weight. Step by step we're working on improving my skating skills. We both learn in the process, he learns to adjust to single skaters too. But, of course, mostly it's me who is learning from him.
Next question is a little bit personal. I read that your family comes from Kharkov, which is my native city. Do you happen to visit there?
I was frequent there in my childhood. I still have a family there - two aunts and two cousins. I would have loved to visit them, but unfortunately the situation is not that stable there now.
I also really loved to come to my grandmother; she was baking eclairs for me and feeding me with amazing crazy things! Sadly she passed away recently.
In one of the articles I read about you it was mentioned that your Zodiac sign is Aries and that "it's impossible to railroad her into anything, unless you convince her". Is that true?
I don't know if it's true for everyone who is Aries, but yes, I can definitely say about myself that I'm as obstinate as a mule. Sometimes it's absolutely impossible to talk to me. I put my foot down about something and that's it!
Actually I recall your coach mentioning in some recent interview that you've already outgrew this.
Well, you can say that now I've acquired more professional approach to everything. I'm not just a stubborn child anymore; I've started thinking, comprehending things.
So what would be the advice to your coach? How is it possible to talk you round?
I don't know. I'm not sure I have any advice. (laughs) I think it's just me, I need to try and then to overcome myself.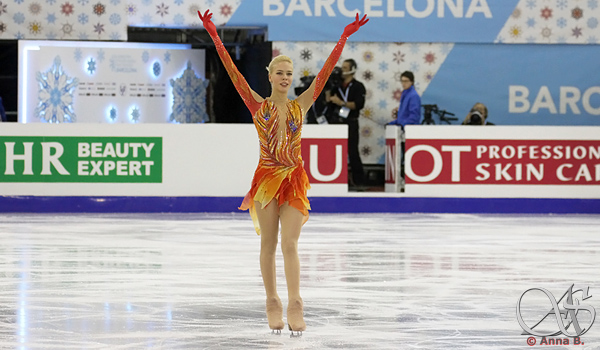 At Russian Nationals in Sochi at the end of December Anna Pogorilaya finished fourth with two very decent performances and 204.51 points overall. And since bronze medalist Evgenia Medvedeva is not age-eligible yet, Anna secured herself a spot on the Russian team in Stockholm, which is going to be her debut European championships. "After the Grand Prix Final we really worked a lot," she said to the media in Sochi. "We used all the ice time we had to the utmost - less resting, more working. It feels easier to skate now and the mood is better too. Let's hope that I'm on the rise again."
We're looking forward to seeing Anna in Stockholm and wishing her to have a great debut.