Roberta Rodeghiero: "I want to be consistent, without ups and downs"
January 23, 2015
By Titanilla Bőd (Új Szó)
Photos © Stanislav Mitický: www.facebook.com/ONTphoto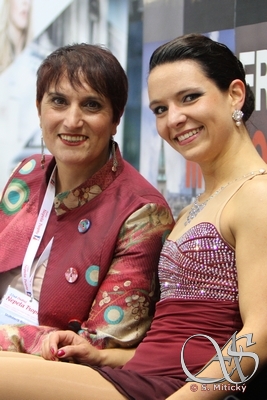 She started the season with a 4th place at the Lombardia Trophy, continued with victories in Bratislava and the Merano Cup, and earned the silver medal at Nationals. Soon we will see her at the Europeans in Stockholm. She tries to improve step by step and she is always fighting for something – just like the character she is impersonating in her long program. Roberta Rodeghiero talked to Absolute Skating after she won the gold medal in Bratislava at the Ondrej Nepela Trophy.
You won the Ondrej Nepela Trophy in Bratislava. How would you comment on your competition?
I'm very happy, because I didn't expect this result. I never watch the other skaters. I was the last one to skate in the long program. Sometimes I become too nervous when I have to wait too long, but this time I'm proud of how I skated. I like this competition; I've been doing it for four years.
What do you like about it?
I like the rink, it is very nice. The event is always well-organized, the ice is great.
What does this victory mean to you?
It is very important, because it was the second competition of the season, and also the first one was good, so it is a good start of the season.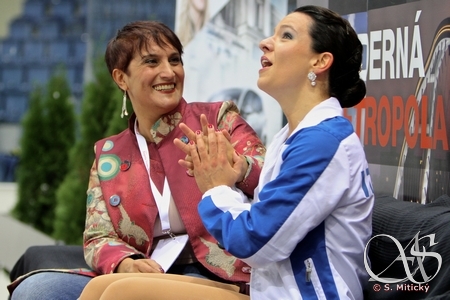 When the points came out, you didn't realize at first that you were first…
Actually, at first I just saw the score and only after that I noticed "Current rank: 1st", so I was even happier.
What is the story behind your programs this season?
We chose Evita for the long program in May, because the character of Evita is very similar to mine. So we thought maybe we can use this music. I felt immediately good skating to this music. For the short program my choreographer, Barbara Melica chose the music. It is the soundtrack from the movie Frozen and I just like the melody. In the long I have a character, so in the short I can chose something easier; I just try to express the music.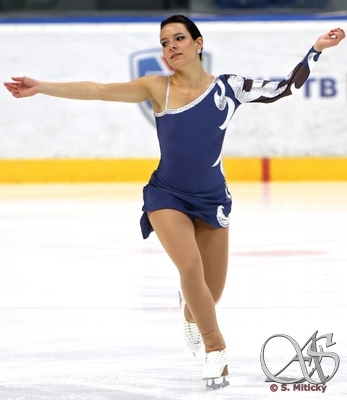 You have a very interesting and unusual dress for your short program.
We wanted to make it different than the main character of Frozen, Elsa. She is blonde, and she wears a light blue long dress. I thought that all the skaters who will skate to this music will wear a similar dress, so I decided to be different. That's how we decided on this costume.
You mentioned that you have some similarities with Evita. What are these?
We are good people, who are always fighting for something. That's what I am.
What are you fighting for this season?
I want to show everyone that I'm a good skater, and that I practice a lot and that I'm capable of much more. I want to be proud of myself and I want others to be proud of me.
In Italy there are great female skaters; in previous years, you had to fight against Carolina Kostner and Valentina Marchei.
They are some great skaters and it is hard to compete with them. Now Carolina is not competing anymore, while Valentina is doing pairs, so it is also a huge responsibility for me to try to do what they did.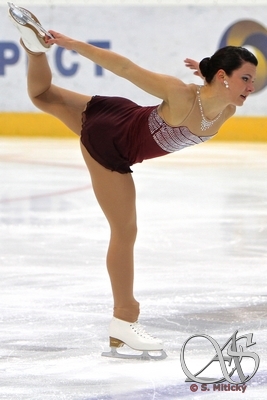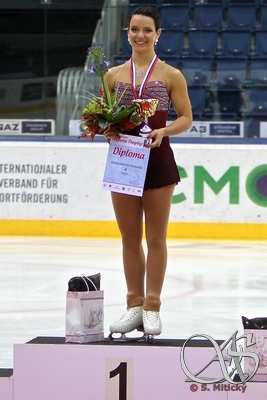 What are your goals for this season?
Nationals are important, but I also want to skate well at the Europeans and Worlds. My goal is to improve step by step, competition by competition. I want to be consistent, without ups and downs. I'm in good shape, because I practiced very well in the summer; I was relaxed and focused. I want to maintain my good shape throughout the whole season.
What do you think is your strong point on the ice?
I've always been strong in the jumps, but now I'm improving in the components as well. I've been working a lot on this, and the scores here in Bratislava show that my work was useful, because I've never received such good component marks.
Have you ever thought about moving abroad, or do you feel good in Italy?
I feel very good in Milan, I like the city and I work very well with our coaches. I like to travel for a camp in the summer. Last summer I was in Canada, but I could not train abroad for the whole season.
Who are the skaters that inspire you?
My idol has always been Michelle Kwan. Of course I like Carolina Kostner and Yu-Na Kim.
When you finish your career, do you plan to be a coach?
I already coach a little bit. In the evening I work with beginners. I like it. But I still don't know about my future. I like skating and I will think about the future later. I'm also studying literature and languages at the university… I will see.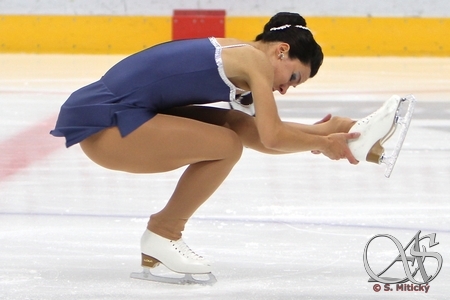 So do you like reading?
Yes, but when I'm not studying, I just like to read something very relaxing.
To you, is figure skating more sport or art?
For me it's always been more a sport. It has to be connected also with art, of course. I think I am a competitive person, maybe that's why I see it more as a sport.
What about handling the nervousness before a competition?
Sometimes it is very hard to calm myself, my coach can tell you that! Sometimes there are too many thoughts in my mind and it is hard to stop them, to concentrate on what you are doing on the ice and why you are skating.
What is the biggest motivation for you before you take to the ice?
I just want to be focused. I know that I'm good when I'm focused and confident, when I know what I'm doing, when I feel my legs and all my body. That's my strongest motivation.