Salomé Brunner: "You can never be like somebody else"
February 4, 2015
By Reut Golinsky
Photo © Reut Golinsky, Anna Bertoloni, Irina Teterina (Attenais)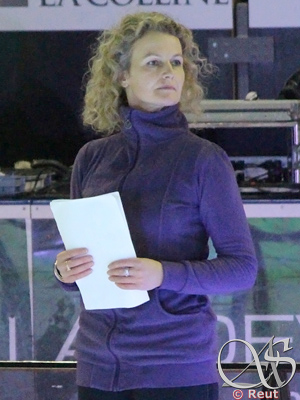 She is one of my favorite people to talk to. Unfortunately she isn't seen at competitions nowadays so we meet only if I happen to attend a figure skating show in which she is involved. The last time I interviewed her was almost two years ago, in Zurich, at "Art on Ice" 2013. And now we meet at Vernets rink, in Geneva, during the preparations for "Ice Legends", a "dream come true" project as she calls it, produced by her friend, former student and now colleague, Stéphane Lambiel. Two hours before the premiere Salomé Brunner finds a few minutes in her tough schedule to talk to me about her recent students and choreography. And, like always, in her serene and thoughtful way, she imparts to me some wisdom.
Tell me more about the "Ice Legends" show, in which, I guess, you were involved from the very beginning.
It actually all started with the secretary of the Japanese consulate in Geneva, I think. It was the 150th anniversary of diplomatic relations between Japan and Switzerland and, on behalf of the ambassador, she asked Stéphane if he would like to do collaboration with some Japanese artists. And he started thinking... Yes, of course, he would like to do something with a Japanese artist. Maybe with Shizuka Arakawa or with some Japanese musician? We didn't know yet, but we were thinking and talking about it more and more and in the end we said: let's do a show with Japanese skaters! And meeting [the pianist] Kotaro Fukuma seemed like fate, a wonderful coincidence.
Who was "the boss" in this show? How did you and Stéphane divide responsibilities? Who had the final say?
It's was a very beautiful collaboration, we are just a team. When one of us has an idea we talk about it, and in the end things just fall together. Stéphane did much of the choreography [for this show], and I did many programs, too. And some skaters brought their choreography, of course, like, for example, their Olympic programs. Everything was just fantastic; it was a dream come true!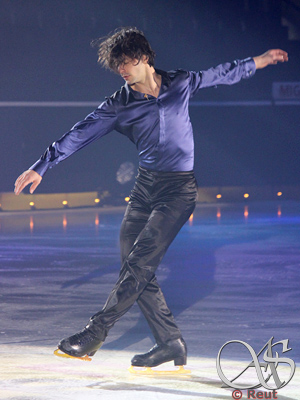 Which programs did you choreograph in this show?
I did Noah's program. You saw Noah Bodenstein, the little Swiss boy? Carolina's (Kostner) program to Chopin. It's a gift when you can work with such a beautiful skater as Carolina! I did the third prelude, out of Gershwin's "Three Preludes", with Denis Ten. And we worked together on Stéphane's prelude (the second one in "Three Preludes") and on Rachmaninov, of course. And Stéphane choreographed Nobunari Oda's "Riverdance", Akiko Suzuki's "Clair de Lune", "Money on My Mind" for Denis, short dance (to "La Maza"/"Ameksa") for Nelli Zhiganshina and Alex Gazsi... And then, we did the opening and finale numbers together, putting our collective ideas into them. Usually we don't have to discuss for too long, somehow we understand the music the same way and then it's easy [to get things done].
If we mentioned Nelli and Alex and Stéphane's programs for them, I always wondered what you think about their free dance "Swan Lake Reloaded", rather controversial and much discussed this season.
I'm fine with it. I saw it and I found it interesting, I liked it, it was very good.
You're an ice dancer yourself, would you have skated something like that?
Of course! (smiles)
Wow, you're such a devoted friend I should say.
Well, this answer has nothing to do with friendship, this is just my taste. Because I think it depends on how you interpret the music, and if you do it well then...
Let's talk about the programs you choreographed for this season - for Michal Březina, Anna Ovcharova...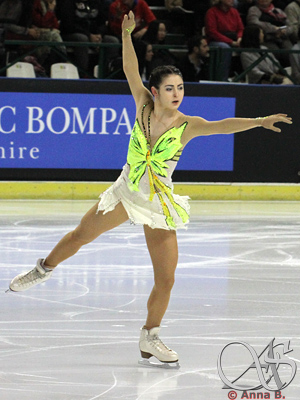 Yes, I worked with Anna, Michal, and I also continued my work with Sarah Meir, of course.
Anna didn't have such a good start of the season, which is a pity, because she is such a beauty and has a lovely expression, she skates with so much heart, I like it. Her free dance (to an Edith Piaf medley) was done with someone in Moscow, and I choreographed her short program (to "Butterflies Are Free" by Alfred Schnittke).
Was it your idea to take Schnittke?
No, it wasn't my idea, it was Anna's suggestion, and I really liked the music, it's fantastic music to skate to.
What about Michal? Did he bring "his" music with him? Specifically, was "Game of Thrones" his idea?
Yes, both programs had "his" music. He showed it ("Game of Thrones" soundtrack) to me and asked my opinion; I said it was a wonderful idea for the short program. His coach, Mr.Fajfr, wanted him to have this classical long program (to Mozart's "The Marriage of Figaro"), and although I suggested some other musical pieces [from that opera], Michal really wanted this specific arrangement. And when a skater has a very strong opinion about what he wants, there's no point in weakening it, because he's the person who has to perform it afterwards.
Did you follow him, his performances during this season? How much of your choreography is still there?
Yes, I followed and this is completely my choreography! Of course, we had to adapt it to make some technical things more comfortable for him, but we did it together, we worked quite a lot together, it was beautiful teamwork. It's always a process; you do the choreography first and then you see which parts work and which don't.
I also created a gala program for him, although I think we could work on it a bit more - it was too fast. The music, "Wonderwall" by Oasis, was my suggestion. I think this jazzy style suits him. And he liked it right away! I was pleased to see that we have a similar vision, and that he wants to do what I propose. And it was excellent that his coach liked it too.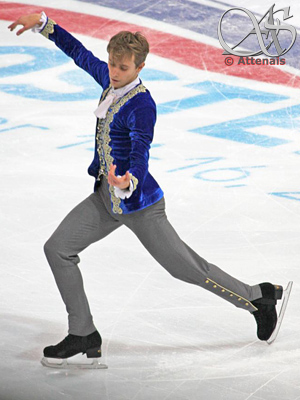 Michal said in one of his interviews that he wanted to try something classical, and Stéphane was best in that style, so he wanted to be like him and thus went to his choreographer - something like that. I thought it was a bit naive, it's not enough just to go to the choreographer for that, though it is already a big step.
But I cannot say that Stéphane is only a classical skater... And you can never be like somebody else. (smiles) Of course, Michal has to be like himself, just a stronger version of himself. And I think he's on the way, I hope.
My last question is about the Skating School of Switzerland, which Stéphane opened this autumn. How often are you there and how, in what ways, are you involved?
It takes me four hours one way to get to Champéry by train. Driving is a little bit faster but it's also more tiring. So I have to start my day very early in the morning to be there at lunch time. On the other hand to get to Geneva is not much closer and I do that all the time.
It's a beautiful project, my heart is there but I can't be there too often in the flesh. I think I can be there more in the future, but now it's more important for me to be at home, in Zurich. I have my life, my son is growing...
I remember asking you once about "the recipe for creating a new Stéphane Lambiel". And when I heard about this school I thought that was probably the answer to my question. This "complete approach" to working on and off the ice.
Yes, exactly!
What are you doing when you're in Champéry? Choreography? Or do you give some lessons?
Of course, I work on the choreography with the children for whom I created programs. Sometimes I just look at what they're doing, and help and correct them. I would like to do special lessons with the children, maybe even ice dance classes. Maybe even dance classes [on the floor]; I can also teach that, we will see.
On Wednesdays Stéphane holds those boot camps when all of the skaters who want to come can come. They have ice time and do group work. If I'm also there I work individually with the children and with some groups, sometimes off ice. And even when there are moments without actual work, just being there, with the children... There is a very beautiful atmosphere there, I like it very much.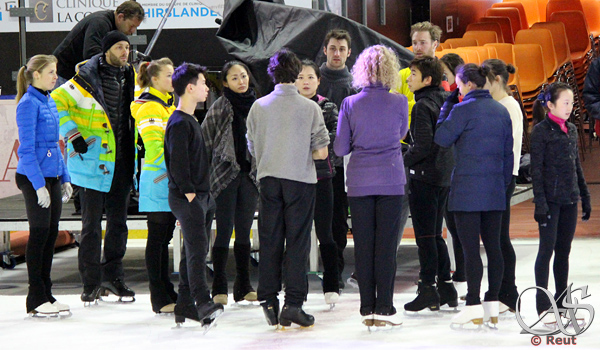 "Ice Legends" was a great success, and there's no doubt that Salomé had a lot to do with it. Next stop will be preparing for the twentieth anniversary of "Art on Ice": programs for Sarah and Stéphane, like always, and group numbers which will include skaters, dancers, effects, props and what not. I sincerely wish her lots of luck, lots of work and new students and I'm looking forward to meeting her again.