Federica Testa and Lukáš Csölley: dancing to higher levels
March 19, 2015
By Titanilla Bőd (Új Szó)
Photos © Stanislav Mitický, Poggi

Year by year they climb up the results list and they earn more and more fans with their unique programs. They tell a story with each of their dances. This is a breakthrough season for them: they won two challenger competitions, placed 8th at the European Championships and grabbed the bronze medal at the Winter Universiade. Federica Testa and Lukáš Csölley are the emerging stars of Slovak skating, and they are looking forward to competing at the next Europeans in Bratislava.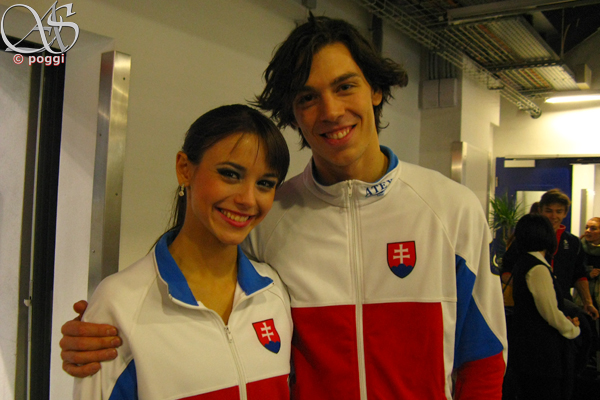 A borrowed dress
The couple trains in Italy, as Federica is Italian, but they represent Slovakia. They spent last summer in Italy, because they couldn't afford a camp in the United States. "We stayed in Italy, for two weeks we were in Aosta in the mountains and for four weeks we were in Folgaria. We were with our Italian team, led by Roberto Pelizzola," Lukáš explained. "We wanted to go to the US, but we didn't have enough money, so the best choice for us was to stay in Italy with our coaches. We really miss America, because we enjoy training with Marina Zueva and all her couples, but we love our coaches, so we think it was a good summer for us anyway," Federica added.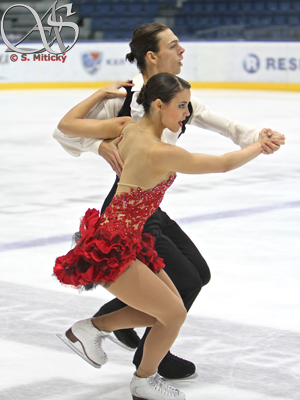 Unfortunately, the season started with dress troubles. Before the couple's first competition, the Ondrej Nepela Memorial in Bratislava, Federica didn't have a dress for the short dance! "When I went to pick up my new dress it was finished, but it wasn't like it was supposed to be. So I went to Anna Capellini and asked: 'Do you have a dress for me, because I can't skate otherwise!' She loaned me the Carmen one and I felt so proud to perform in that dress," Federica said. She felt so good in that outfit that she's kept it for the upcoming competitions, too.
Competing in a higher league
Federica and Lukáš started their season with a third place finish at the Ondrej Nepela Memorial. They weren't satisfied with their scores, especially when compared to the marks they'd received the previous season, but the couple didn't despair. They fixed a lot of details in their programs and improved from competition to competition. Originally they wanted to participate at Cup of Nice; however a pleasant surprise changed their schedule - they were invited to Skate America. "We really wanted to go, to just see the atmosphere, to skate with good couples, so we are very happy," Lukáš said when they got the news. "We deserved it for our results last season, we skated well, and now we are very happy to start competing in a higher league, to be a little bit more visible," Federica added. In the end they were 7th in Chicago, and after that they won the Volvo Cup in Riga and also the Warsaw Cup.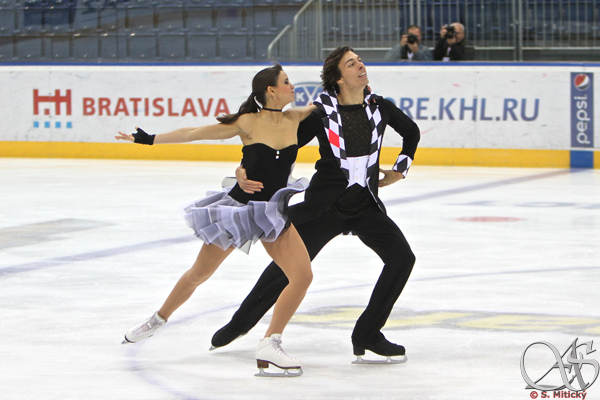 Welcome to the circus!
Federica admits that this year's short program was not really their favorite, but they coped with it very well. "It was hard for us, because paso doble wasn't really our style. We had to work on it a lot to feel the passion, the battle with each other," she explained, describing the process of creating the program. "We made a good choice to take both paso doble and also flamenco for the short dance. Couples tend to do just paso doble or just flamenco. So maybe our program is a little bit different and we can put together these two dances in a unique way," said Lukáš, who wears a special hairstyle for the short program: a mini ponytail. "I guess the judges liked it," he laughed.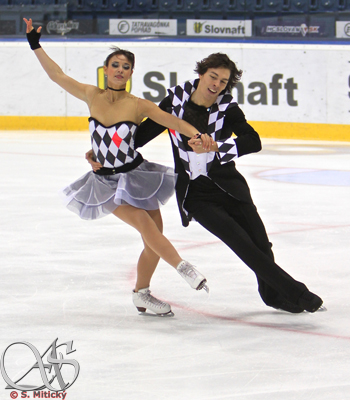 In the free dance he wears his hair down, because he portrays a completely different character: a ringmaster of a circus. "Ice dancing is also about the visual aspect and we are happy if we can play with such little details. In the free dance I'm the ringmaster and she is the lady who is going around and sees all the interesting things in the circus, the artists practicing their tricks, and so on. I'm calling her to come closer," Lukáš explained their program, and Federica continued: "I like the atmosphere around me, but I don't really know who he is, if he is good or bad." In the end, she decides to enter the circus and becomes one of the stars.
"The change of the dress comes when he transforms me from a normal person into a member of the circus. The last part of the dance is the circus show itself, where I also take part as a star," Federica told us the whole story of the free dance. The dress transformation always shocks the audience, because it seems Lukáš might rip off Federica's dress. In fact, the move is not risky at all. "Under the upper layer, which he tears down, the dress is fixed all around, so even if he pulls it a bit harder, I won't be naked!" Federica ensured us.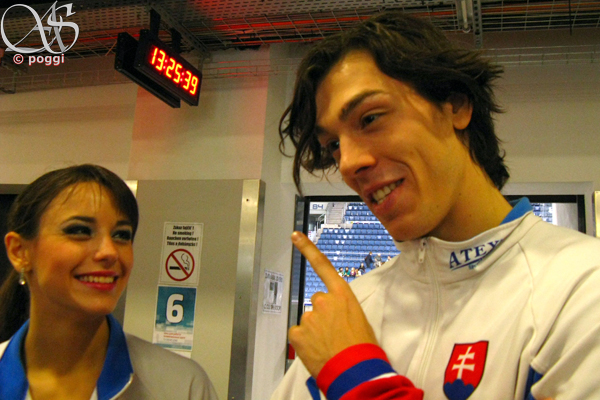 Success at Europeans
The couple didn't want to speak about their expectations before the European Championships; they just said they'd like to improve their placement from last year. It was a small shock even for them that after the short program they were in a brilliant 5th place with a new personal best, 62.91 points. "We'd been working on everything, on technical elements and presentation. Every competition was better than the previous one and we are happy that we got a new personal best in Stockholm," Lukáš said in the mixed zone. "We did everything to be good at Euros and we're happy that this effort was understood," Federica added. She also revealed that she wasn't that calm before the competition: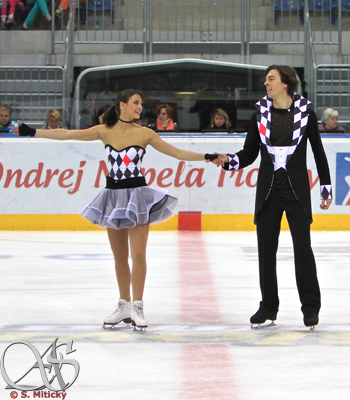 "Personally I wasn't as nervous as I am normally, so this made me nervous - because I wasn't nervous enough! But then I calmed down," she laughed.
They amazed the audience with a special lift: it looks as if Lukáš will drop Federica, but he holds her just a few centimeters above the ice. The move is a bit dangerous, but the couple has never had a bad fall. "We never fall, I just sometimes got down too fast and I hit my shoulder. But I used to skate with my arms covered at practice at home, so it was okay," Federica said. "It's a difficult element and you have to be focused, because if one detail goes wrong, it can all go wrong," Lukáš underlined.
In the free skate in Stockholm they were the very last to skate. "It was a long wait," Lukáš sighed after it was over. They skated with passion and power, and the audience booed when their scores came out. 87.66 points for the free dance and 150.57 overall meant a personal best for them, but it was not enough to keep their 5th place, in the end they finished 8th. "We're very happy with this result. Our goal was to skate cleanly in both in the short and the free dance and we managed to do it," Federica said proudly. They were not intimidated to skate in the last group. "We focused on our performance and didn't put too much importance on the fact that we were in the last group," Lukáš said. "Of course there was a bit more pressure, but at home in Milan we are on the ice with Anna and Luca everyday, so we're kind of familiar with a high level skating group," Federica added.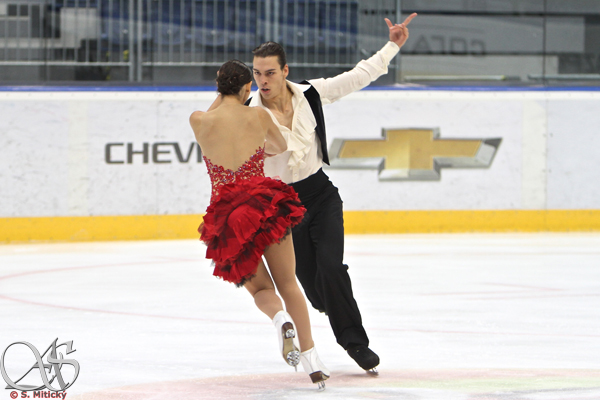 Happily Slovak
Watching the programs of Federica and Lukáš in Stockholm, an Italian journalist on the press stands noted that Italy made a mistake that they let such a couple get away. "Actually, last year someone tried us to push to go back, but we are very happy with the Slovak federation, we are thankful to them. Of course, the Italian federation also helps us a lot, with the time and schedule, because we train in Italy, so we have to thank them as well. But we are happy with Slovakia," Italian-born Federica explained. She earned Slovak citizenship in 2013, so the couple could take part at the Winter Universiade.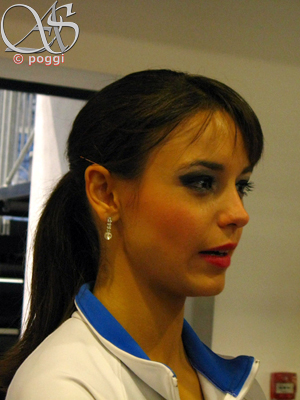 Back then they placed 4th, this year they improved their placement and grabbed the bronze medal in Granada. Lukáš and Federica have been skating together for four years now. "Through the years, a couple builds feelings and magic together. It doesn't happen easily, you need years and years. We also work a lot on the characters we portray on the ice. We always have to find something new, so that's also interesting for us," Lukáš commented on their improvements throughout the seasons.
Childhood dreams come true
Next year Europeans will be in Bratislava, Lukáš's home town. "It will definitely be more pressure than skating in the last group," he sighed. "It will be a very important competition for us. In 2001 I was eleven years old and I was at the Europeans in Bratislava as a flower boy. We also took part in the opening ceremony. I had a dream that one day I would be competing at Europeans, too. I was a fan of Marina Anissina and Gwendal Peizerat, but I was also stunned by the winning performance of Barbara Fusar Poli and Maurizio Margaglio. It was amazing - and now, I know them in person and we have even worked with Maurizio," Lukáš told us about how childhood dreams come true. The road from Bratislava 2001 to Stockholm 2015 has been long and tiring, but also fascinating. "It's a hard work; you have to sacrifice many other activities because of the sport. But we are doing it to feel these intense emotions, which we will remember forever," Lukáš emphasized. They don't like to talk about placement ambitions, but they have their clearly set goals and they fight for them with great devotion. As Lukáš described it: "We always have a goal, to skate a clean program, to continue the work we have started. If we keep up the good work, one day we may win a medal at a major competition."