Xuehan Wang and Lei Wang: Pair skating is very interesting!
January 16, 2015
By Bailu Xu
Photos © Bailu Xu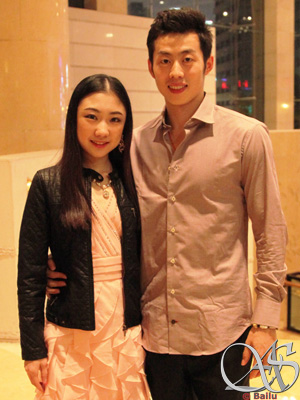 This season's Cup of China was their second, and only the second international competition since they paired up. Coached by Chinese pair skating legends Xue Shen and Hongbo Zhao, Xuehan and Lei achieved personal best for both programs and finished on the podium. After the gala practice they had a short chat with Absolute Skating.
Can you tell us something about how you started skating?
Xuehan: My mom often took me shopping when I was very young. I was trying my best to drag her to somewhere else because I hated shopping. My mom saw there was an ice rink in the shopping mall and asked me: "What about skating here?". I happily agreed to her suggestion and went skating for a while. When she came back from shopping to pick me up, I didn't want to leave at all. I said: "I like skating, I want to skate, I want to skate!"
Lei: When I was in kindergarten, the sports club of my city came to recruit members. They asked my teacher who is the naughtiest one in his class. And then they got me (laughs). I didn't start as a pair skater. I was a single skater first and competed in some international junior events until 2005. I became a pair skater in 2006.
I know Xuehan was also competing as a single skater for quite a while and just turned to pairs a few years ago. How do you feel about your change?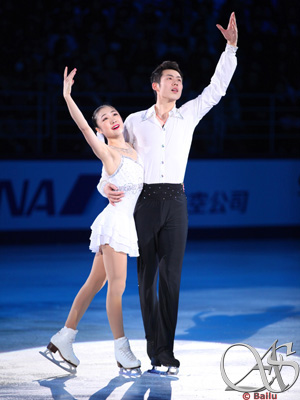 Xuehan: Pair skating is very interesting (laughs).
Xuehan, you studied in a public school with a very tight studying schedule before you joined the national team as a pair skater. Now you have to spend more time on ice. What about your studies now?
Xuehan: Yes, I don't have much time to keep studying in a normal school. My mom is teaching me English, she is an English teacher. For other subjects, I have private tutors sometimes.
Was there any specific difficulty for you after you paired up?
Lei: Since Xuehan was training in a skating club, she was pretty weak physically compared to other girls on the national team. So she got tired from intensive training very easily. We had to stop our routine often and rest for a while. Just two weeks before the Cup of China this year she wasn't quite fit yet. Sometimes she even couldn't complete the normal practice that our coach has planned. Luckily, she was trying very hard. Her mom, our coaches and team doctors helped a lot. She recovered very quickly so we could compete at the Cup of China.
Xuehan: I agree completely with what Lei had said. I was failing with abs training when I just joined the national team as a pair skater. We don't have off-ice practice in our club. I didn't even know off-ice practice might help my skating. It was totally amateur.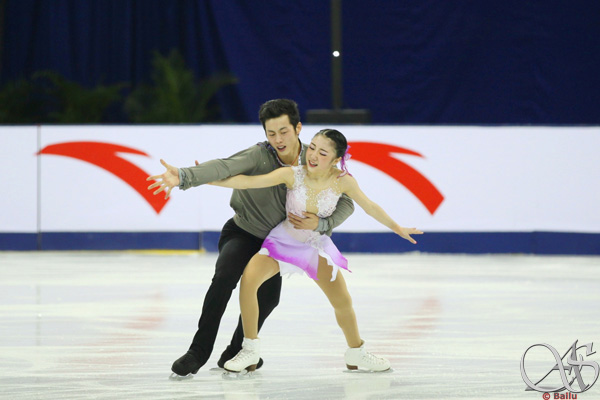 But you did pretty well in nationals during your days in the club.
Xuehan: It was mostly my good luck (laughs).
Lei: It was very difficult for Xuehan because she trained at a public ice rink that is always filled with people in different skating levels at the same time. And she didn't have to pay for training.
Han Yan and Yuzuru Hanyu had collided with one another yesterday during the warm-up. Did anything like that ever happen on the public ice where you trained?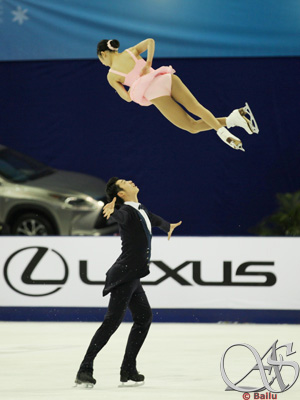 Xuehan: Definitely, when I was ten years old I collided with another skater and suffered from amnesia. There is still a big bump on my head from that collision. And it's not the only one. I have several bumps of different sizes on my head now (laughs). It has become much better after I joined the national team. There are significantly less people skating at the same time. I am very happy with that.
Lei: Xuehan did work very hard at that time. I remember very clearly the day we first paired up. She couldn't even land a throw single Salchow. She was too weak to land it. She practiced very hard that year, and everything was getting better. But physically Xuehan is still not as strong as the other girls at the same level.
You both progressed a lot this season, both technically and artistically. How did Xue Shen help you after she became a mother?
Lei: We must thank Coach Shen very much. She and Coach Zhao (Hongbo) did help us a lot. She's not only taught us technique, but also helped to improve our mental state, telling us how to deal with problems during the competitions. She shared all the experience she has accumulated in her career.
Xuehan: Yes, Coach Shen was leaving her newborn baby and teaching us. She is working very hard. We are very grateful to all our coaches for their great help.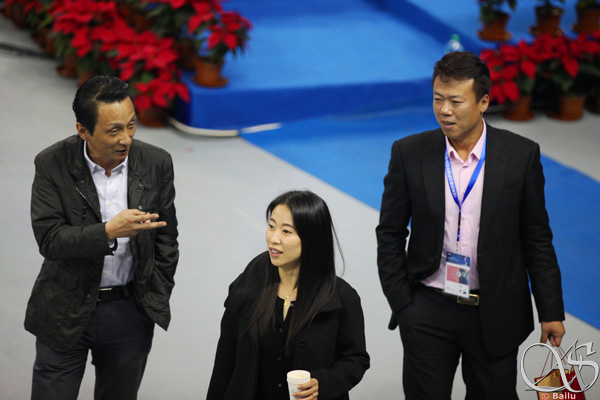 Did you expect the result of this Grand Prix event? Are you surprised with your third place finish?
Lei: We didn't think about anything. We just wanted to show our best performance as we do in our daily training. Results and points are totally up to the referees. We try not to think too much. It is a great pressure if you think a lot. Since it was only a second international competition for Xuehan,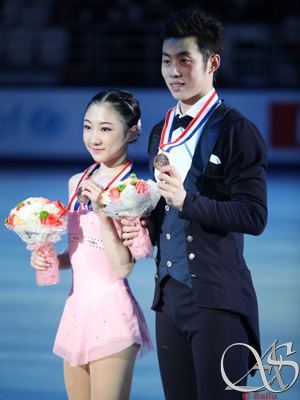 she was very nervous.
Did you notice any difference compared to the last Cup of China?
Xuehan: I felt more nervous last year. I totally blanked out when I stepped on the ice. I was not very proficient in pair skating techniques as I didn't really practice them for very long. And I was not prepared for all the excitement before the competition. It is a little bit better this year.
What's your plan and goal for the rest of this season?
Lei: We are going to Trophée Eric Bompard in two weeks. Hope we will set new personal records for both programs. For the whole season we will just strive to be better each time.
Xuehan: Yes, to set new records, to get higher points in every competition.
What about the Olympics in four years?
Lei: I do expect to be an Olympian after all these years in pair skating. We hope that by working hard together we will be able to improve program components and technical stability as well as our interaction with each other on the ice.