Nelli Zhiganshina and Alexander Gazsi:
"The ice is our drug"
March 25, 2015
By Reut Golinsky
Photo © Ksenia Nurtdinova, Reut Golinsky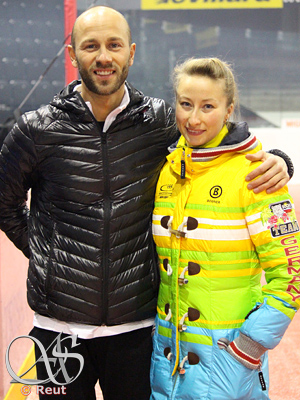 Although they usually finished outside the medals at big competitions such as Worlds, Europeans or Grand Prix events, multiple national German ice dance champions Nelli Zhiganshina and Alexander Gazsi are well known to skating fans and professionals for their original ideas and peculiar costumes.
We met this winter in Geneva, during the rehearsals of the "Ice Legends" show produced by their friend and choreographer Stéphane Lambiel, and talked about their programs, Nelli's brother Ruslan who had drastic career changes this season, about what is important for them in their sport and why they decided... to learn to fly.
Nelli, Alex, I really loved your aerial program to "Notre Dame de Paris" which you rehearsed just now. How and why did you learn aerial acrobatics?
Alex: It was a few years ago, when we were still training in Moscow with Alexander Zhulin. We came back from German Nationals very upset, because we were not sent neither to Europeans, nor to Worlds, so basically our season was finished. Everybody in our group - Nathalie, Fabian and others - all of them were preparing towards Europeans and it was really sad and hard for us to be with them during that time.
It was just a happy coincidence that prior to that, when Fabian and I were looking to rent an apartment, the broker who helped us happened to be a former circus performer. We invited him to work with us on lifts, and then he put us in touch with his colleague who also helped us. And with their help we somehow made this next step and went to study in a circus school. Nelli was especially excited about this because she always loved that.
Nelli: Yes, it was my childhood dream... not specifically to be an aerial acrobat but I just always adored circus in general, I loved to see circus performances. And I always dreamt to be able to fly, to try and see how they are doing all this.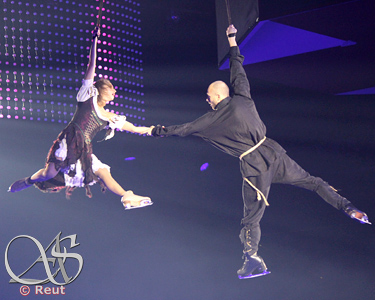 Circus performers are always so beautiful and graceful. And things just came around so that I could make this dream come true.
Alex: When we started it looked rather pathetic, we were just hanging there. But we understood that working on this would be good for us in general, would help us to be fit, for our sport too. And it also gave us something different to do; we could distract ourselves a bit. So you can say that we killed two birds with one stone.
When things started to work out we also saw that it will give us some advantage in shows. Maybe we were not very interesting as ice dancers only and we didn't have titles and medals, but now we could propose to perform such aerial numbers too. So we bought all the needed aerial equipment and we have our friend, Florian Just, coming with us to the shows. Florian is a skater too; he was a pair skater, competed for Germany with Mari Vartmann and now he is coaching in Dortmund. We've worked together for over three years already and understand each other really well; we have our small signs to signal when to mount us up. Also, because he is a skater, he can follow and understand our routine on ice. There are people who work with computer instead, but they are professionals and they do it often. We decided that we prefer to work with someone who can adjust to our movements, who will wait for us if needed.
Nelli, I wanted to ask you about recent changes in your brother's life. What's funny is I once talked to him and he said that he was always asked about you. I guess that this season it was the other way round. What do you think about his partnership with Elena Ilinykh?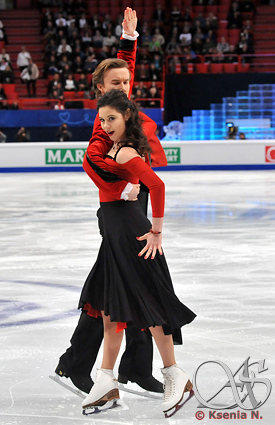 Nelli: Of course I was very distressed for him. There were talks and we knew something was going on, but when my Mom called me and confirmed the news, I was very upset, I cried. But then, the next day, when I've probably poured out all the emotions I had already, I looked at it soberly and said to myself: "Why are you crying? He is now skating with an Olympic medalist! It's amazing that things turned out like this! Lena is very beautiful and light, she is very expressive, emotional. You need to be happy for him!" And starting from that moment every day I was proven that everything happened for the best.
Did you follow their competitions? Did you see their programs?
Nelli: Usually during the competitions I just check the results on the ISU site, I can't watch the competition live, just can't. I don't know how our parents can do this, how any parents can watch their children compete, but I can't watch my brother. I was never so nervous in my life for myself like I'm nervous when he skates. After the competition, when I know the result, I can check the video of the performance.
I like their programs; especially their short dance, it's like they are both on fire. Lena is so vivid, and the more so because Paso Doble, "Carmen", is her theme, she has such passion in her!
Now back to you, your season and your programs. I just wondered, you know Stéphane for years now, from Oberstdorf. What suddenly made you think about working with him? Why now?
Alex: Yes, I know Stéphane since a very young age, from Obertsdorf and from competitions, and we're old friends. I got this idea when we were watching Ilia Avebukh's show "Professionals Cup" on TV. Stéphane skated his "Carmen" program there and then I thought: "Why not try and invite Stéphane to choreograph a Spanish short dance for us?" I called him and asked what he thought about it. He sounded interested, as he never worked with ice dancers before, but he had his concerns too. Also it was very clear that finding time will be problematic, because he is very busy; and we were busy too, with competitions and then with our army service in the summer.
We loved working with him so much! So when Ilia, who agreed to choreograph our free dance, was too busy, we decided to make our free dance also with Stéphane. Ideas for the short dance were partly mine - I found the music, he proposed one piece, and we made the cut together. And the free dance was completely his.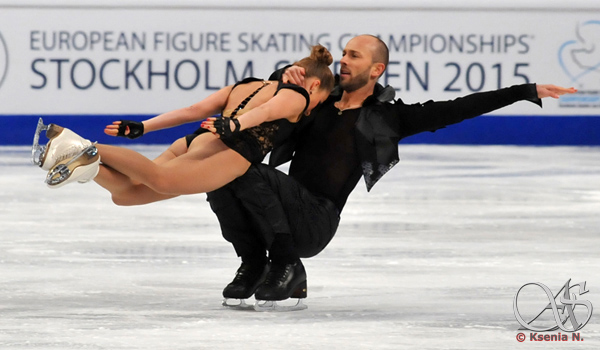 You say you loved working with him, but I know that Stéphane is very demanding in work, he is a perfectionist and can be rather picky. Wasn't it hard for you sometimes?
Nelli: It was such a pleasure working with him! That's true, he works really hard, but first of all he is tough on himself, he works a lot. And when you see that, it commands huge respect. With his talent, all his titles and merits, the person lays himself out like that...
Alex: He is highly professional, that's what it is. His attention to details, small things which are actually very important, that's what makes him so successful.
Unfortunately we didn't have much time. When we were working on choreography, it was a creative process, something different. You have more freedom - you put the music on and you do what you feel like doing. We managed to go through the programs in details only once, this summer in Oberstdorf, when he came to see us. So the hardest part of the work, the pedantic part, was mostly done with our coaches.
Your free dance was inspired by modern ballet "Swan Lake Reloaded". I saw that they were touring in Europe; did you have a chance to see it?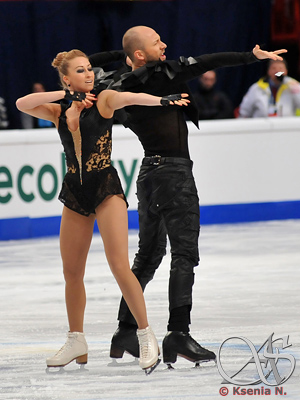 Nelli: Yes, but we saw it after we made the program.
Alex: Stéphane saw it in Zurich; he even went to see it twice. Of course, we watched the videos on YouTube, to get the general idea of what Stéphane was talking about. And later we went to see it in Munich. It was our coach, Martin Skotnický, who saw it first, and then he told us we have to go too.
This program is rather controversial, people talk about it a lot.
Nelli: People our age, other skaters who went to see it, not only ice dancers, were approaching us with excitement and saying: "Wow, congratulations, this was the coolest program we've ever seen!" And this was really nice. But, of course, there were also people who completely didn't like it.
Alex: In Finland, for example, people really liked this program, so probably it also depends on the audience; in different countries there is a different perception maybe.
The feedback from judges was various, some of them liked it, some said: "How dare you do something like that? You sniff coke there!"
By the way, I planned to ask you that! So do you really sniff coke?
Nelli: Where did people take this idea from? We gather some ice from our blades and then we sniff it. As if the ice is our drug! I don't know where the coke came from. It takes a twisted mind to think twisted thoughts, I guess. (smiles)
Alex: It was clear from the very beginning that with this program there are only two options: people will either love it or hate it, nothing in between. That it will be ambivalent and that people will argue about it.
And were you ready for this?
Alex: Yes, of course. We always tried to push the boundaries - with our costumes, with our programs, with our music choices. About our "Zombies" program two years ago (FD of season 2012/13) we also heard "how can you do something like that?" at the beginning. But then this program became famous, German press posted big photos with our lifts from that program, everyone remembered it.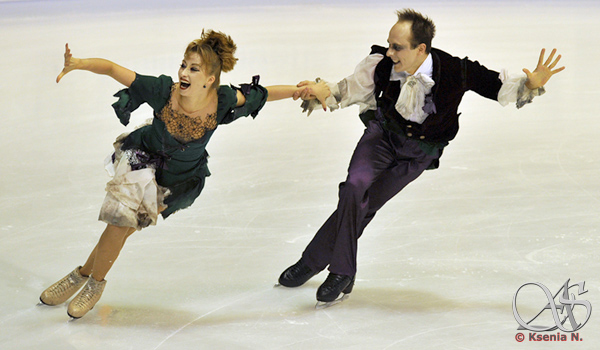 I don't know what will happen in ten years, but I hope people will remember our programs. Because, unfortunately - and this is only my personal opinion - we don't have many such programs in ice dance. And I'm saying that not because we do something different... If I try to think about programs from recent years, I can't really recall that many, they became too similar, too equalized. And that's why "Zombies" stood out, and we continue to perform it in shows. And each time we skate it, we feel how much the crowd enjoys it. And when it all fell together at Worlds 2013 in Canada - from technical side too - we got a standing ovation from the audience. This was so great!
Now it's a little bit different, because ice dance couples are closer to each other [in their level] but when we had Canadian and American couples so ahead of everybody else, I think they could have done something more innovative. Could have invested some more efforts into what we call art. They were ideal skaters, they did amazing things, really, but their programs...
I don't know, I think "Carmen" (Tessa Virtue/Scott Moir's FD from season 2012/13) was...
Alex: Yes, "Carmen" was the only one I remember. And from Meryl and Charlie's programs I would name their Indian original dance (OD of season 2009/10) and "Die Fledermaus" (FD of season 2011/12). Something else? I don't know... I remember many more programs from the 90's than from the recent years. Is there any program from the last season which stuck in my memory?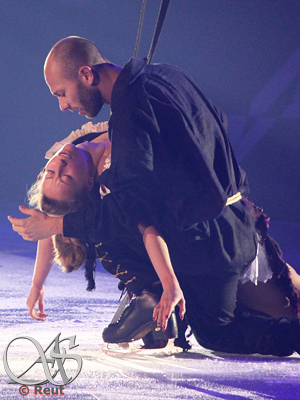 Nelli: Spaniards (Sara Hurtado/Adrian Diaz) had a very good program.
Alex: Yes, their "Picasso" was great.
From the technical point of view, which goals do you set, what are the things you're working on and think you should improve?
Alex: (smiles) We have a lot of those. My twizzles are my big problem, we all know that; they became a bit better now. We are often told that we lack some speed, we work on that too. But with all that in mind we try to create something interesting. We always said that we skate for the audience. So it's nice when they like what we do.
So summing it up, I can say that your main goal is to be appreciated, remembered by the audience and this hopefully will help you in the future with invitations to the shows.
Alex: It's not quite right to say it that way. We want to make good, refreshing programs because our sport is the most beautiful one; and ice dance especially, out of all the skating disciplines, is about performance, it should be theatrical. And I feel that ice dance lacks it now.
Nelli: And also you get more pleasure working on something unordinary. We do this for ourselves too. For example, to skate every season to classics, to repeat yourself every year would be dead boring.
Alex: And to listen to this music for the whole season too.
Nelli: Yes, sometimes it happens that towards the middle of the season you're fed up with your music and you think to yourself: "I can't listen to this anymore! I don't want to listen to it ever again!" Judges don't listen to our music ten times a day, we do. Though sometimes there are musical pieces you never get tired of. Also, when you're skating something original, you enjoy it more. We perform our "Zombies" for the third year already and every time I go on the ice [with this program] I have so much fun! It is such bliss, it's so me, it's inside me... those funny zombies...
Alex: Although skating something funny every single day during practices is hard too. We don't skate this program very often now, so it's OK.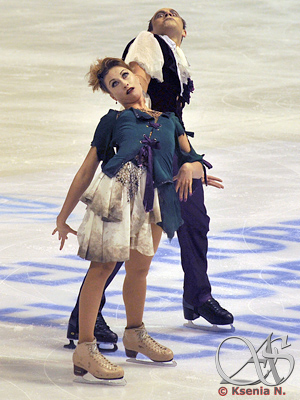 Nelli: Of course, in general practices are hard, with every program. But when you go on the ice and you hear people laughing, reacting...
Oh yeah, people were reacting to your "Zombies" starting with your warm up.
Alex: Well, that was the plan! And we used every moment when the camera was focused on us and the picture was screened to the audience. When you have this opportunity and you know that the audience will give you a warm feedback, of course you use that, it feels nice. It is so hard to start your program; you go on the ice in silence, everybody is looking till you get to your position, till the music starts... And here from the very first second people already laugh, we already got them.
Talking about pushing boundaries with the costumes, tell me more about how you create them. Who brings in the ideas, for example?
Nelli: We have a very good friend who is a designer. She listens to our music, we tell her the story, what our program is about, and then she makes some sketches. We don't always take everything she proposes; sometimes we only borrow some details, some ideas and change the rest. But many of our costumes were created thanks to her.
Alex: Or, for example, for this season's short dance we knew from the very beginning that we wanted something different from what others will do. We also checked the rules and saw that men can wear sleeveless shirts. Although at Nebelhorn nobody was talking about the program, only that I was skating in "underwear". (smiles) But we did that intentionally. The idea was inspired by a Spanish movie, so you can't say that it was less Spanish.
Nelli: After all it's not like in Spain there are only toreros on the streets.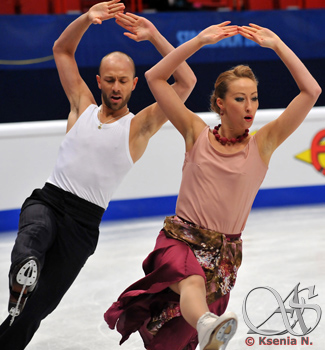 Alex: Spanish folklore is wider than this. And I'm glad that our program is not like the others. And I'm glad nobody used our music, I was worried about that in the beginning.
For the free dance it was easier, it was clear that we needed to do something in the style of this ballet, we needed something unusual and modern. And, for example, "Zombies" was completely an imagination of that friend of ours. And last season's idea to have the same costume for both programs was proposed by Ilia Averbukh.
Nelli: He said that it's one story, so it should be one costume.
Alex: So you can't say that one specific person does our costumes. We all take part in it, and this is the most fun! It's my favourite part!
Nelli: Sometimes you just browse something on the Internet, some rubbish, drawings, photos, videos, and then - bang! - you see something and understand: "This is it!"
Alex: You are always under such a pressure between Worlds and the moment you start working on the choreography, you need to look for the music, to find it in time, it's stressful. But after that, when you already found the idea and the music, when you start working on the choreography and you have a whole summer for inventing some new things, it's nice.
For me a big part of our sport is this - creating, being original. And I hope that young ice dancers will choose this path too. For example, I'm always excited to learn that someone used our music, I know some young couples took our "Zombies"; in pairs too, not only in ice dance. I saw little skaters who were these cute zombies. And it feels nice. There was a bit more "gray", dull period in skating history, but I think that very soon it will become more engaging. We lose our audience and people start getting that. Skaters, coaches, they all understand now that things need to be more interesting.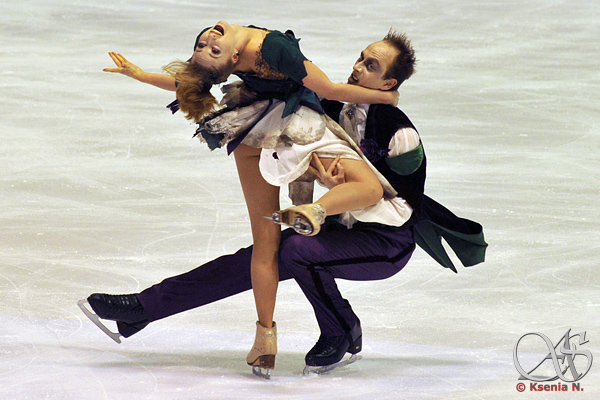 After the European championships in Stockholm, Nelli and Alex announced that Worlds will be their last competition together. Unfortunately the farewell didn't go as they had planned. They had to withdraw before the short dance due to Alex contracting food poisoning.
They are still at a crossroads, unsure about what's next for them. Alex is planning to become a coach and Nelli will try to look for a new partner. They will be greatly missed at competitions and we wish both of them luck with the next chapter of their lives.