Alexei Bychenko: "It was a shock to get the silver"
March 12, 2016
By Titanilla Bőd (Új Szó)
Photos © Joy, Mireille Geurts, Johanna Welnicki
He made history in his new country; he was the first Israeli skater to medal at the European championships. Alexei Bychenko took the silver medal in Bratislava and he wants to be in the top 10 at Worlds. We had a nice chat the day after his big success.
You said at the press conference after the men's free program that you can't really express how you feel. Can you express it now?
I feel good. I still cannot believe it. But I see people around me and everyone congratulating me, so only now I start to understand what I did. I'm so proud because it's the first time in history that an Israeli skater has stood on the podium, so that's a big point for me. I'm so excited right now; now what I have to do is to celebrate.
You represented Ukraine in the past. How was the decision made that you would skate for Israel?
I tried to get to the Olympics in Vancouver, but the Ukrainian federation did not send me. Then I decided to stop skating, but after one-year break my coach from Ukraine called me and asked: "Would you still be interested in skating? I know you want to go to the Olympic Games, what about skating for Israel?" I said: "That's interesting, we should talk about that." She immediately called the federation and asked about the possibilities. She knew I wanted to compete, to be at the top and in Ukraine I couldn't complete that goal. I met the representatives of the Israeli federation and they gave me this chance. Of course, it was an easy decision for me because I'm Jewish, so I didn't see any reason to stay in Ukraine. That's how I started to skate for Israel, which is much, much better.
How does the federation help you?
They support me in every way. No matter what happened, they tried to push me further. They gave me all the things I needed, a lot of ice time, working with the coaches… all I could wish for. I want to say a big thank you to them, as without them I couldn't have achieved this result. They are like my family.
Have you ever dreamt about standing on a podium at Europeans?
Of course I have dreamt about it, but I never thought this dream would come true. But every year, I saw how the federation cared about me and I started to believe in myself thanks to them. So I started to think maybe it was possible. I realized these people wanted my success even more than me, so I said: why not? And as you see, it happened.
What did you need to reach this goal?
I worked towards it almost all day, when I woke up in the morning until the last practice in the evening. After the practice we often met with the coaches, they tried to be like my family. They listened to me every time, they helped me.
You said at the press conference that you were secretly hoping for the bronze medal but you were not thinking about the silver.
It's not about the bronze medal. My goal was to stand on the podium. I thought, maybe I can get the bronze medal, but was not sure about the silver. I felt the same about the gold medal (laughs), but that's the point of growing. For me it was a shock to get the silver, but thank God it happened.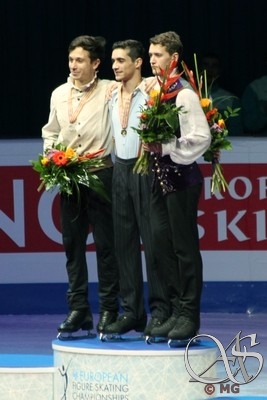 You beat Maxim Kovtun by less than half a point…
It's so sad for Maxim, he also tried to prepare, he was fighting for the first place, but such things happen. It's sad for him and nice for me. It's the sport - I've also lost many times.
This season did not start very well for you, you were 12th at Skate America and 10th at the Rostelecom Cup. Was it hard to bounce back after those results?
Yes. I screwed up the first half of the season, but I know it was my fault. After the Cup of Russia I sat down with the federation, the president and the teamleader. They wanted to help me. We figured out what was the problem and we started with my other coach, Galit Chait, to work step by step, from the very beginning. We did not try to change what we had, but we started to create something new. We started with a clean sheet. And it happened, the success came.
In the previous season your free skate was Nostradamus, now it's Les Miserables. How did you choose the music for these programs?
It's not like I'm choosing the music, we all choose it, Galit, Roman [Serov], Nikolai [Morozov]. Nikolai made these programs for me. We listen to different types of music, then I try to do something on the ice and he follows closely what I do. After a few days of practices, he says: "For your style, your movements this music would be great for the short program and for the long program, you are fighter, so why not try Les Miserables?" I've never heard this music before. But we started to work on it. In the beginning I didn't like it, but as it was getting completed, I started to feel this program. I also watched the musical, so I tried to make this program my own.
So you try to collect as many impressions as possible about the theme of your program? To watch musicals or movies, for instance?
Yes, but what is interesting that usually I know in advance what kind of music I want to pick, what character I want to portray. This year I did not know, so thanks to Nikolai, who helped me with that. It is a nice experience for me, because I've never had programs like this. Usually the short program is something fast and funny, and the long program is strong and fighting. Now we have a lyrical, soft short program and a long program with a deep story and character. It was totally new for me and I'm glad to have such programs.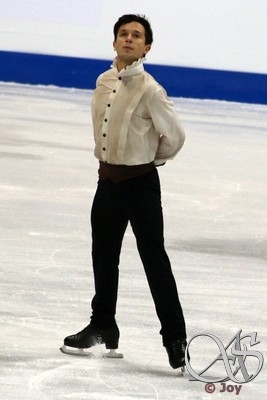 You have improved so much in the last few years. Now when we watch you skating it's just "wow". What happened?
I don't know, for me it is the same "wow". When I look at websites, I see my name and I think: wow, who's that?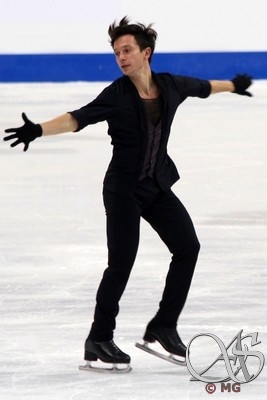 Now that you have a medal from the Europeans is it more pressure for the Worlds?
Yes. But it's never too late to start to do something. I try to do my best. My goal for the Worlds is to get a second spot for my teammate. I want to be in the top 10 and I want to make sure that next year we will go together.
Your teammate, Daniel Samohin is a very talented young skater. How do you get along?
He is such a talented guy. I like it. Right now I know only three or four guys who have such talent like him. I'm proud to have such a teammate. I believe we can create a strong team. I want to work hard to earn that second spot for him and I believe even if he goes to Worlds, he would do the same for me. It's not about competition between us, it's about how we can show we are a strong team.
You have very nice quads. What do you think about the role of quads in this sport?
All my life I thought men's skating was supposed to be strong and powerful. The more difficult jumps, the better for the men's skating. There shouldn't be any limit to how many quads you can include in your program. Three or four quads are very hard for me right now, so I will work on it, but the evolution should not stop. It's competition and we should be competing. It's not about how everyone can make one quad and one triple Axel. Everyone should go for more and then it's going to be interesting.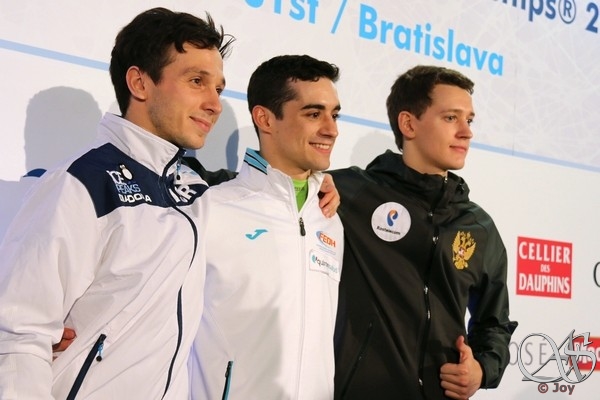 Alexei was announced as Team Europe's "Captain's pick" for the inaugural Team Challenge, which is set for April 22-24 in Spokane, Washington, USA. The team captains have picked three athletes and the fans decide who will be the one who completes the team. You can vote for Alexei here!