Daniel Samohin: "Even if I don't have the best skate, I keep the showmanship going"
March 16, 2016
By Titanilla Bőd (Új Szó), Petra Mihályi
Photos © Tamás Róth, Joy, Mireille Geurts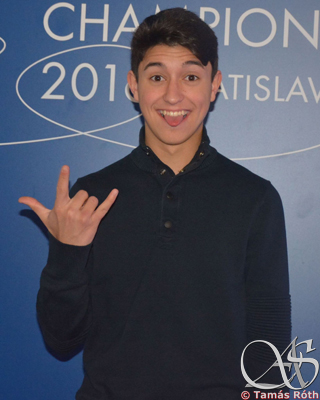 He is a great showman and a great athlete; he portrays characters in a unique way but he has the quads at the same time... and he is still only 18 years old! Daniel Samohin was 10th at the last year's Europeans, 7th in Bratislava and he wants to win in Debrecen at the Junior Worlds. We talked about his career and goals in Bratislava at the European championships.
When and why did you start skating? Your parents are coaches, so it was obvious that you would learn to skate, but what kept you on the ice?
My brother Stanislav. He is also a skater, and he is going to be competing next season too. He just took a season off because he had a knee surgery. We have three spots for Europeans now, so we will become three, me, my brother and Alexei [Bychenko]. It's going to be fine! But to answer the actual question: I started when I was three and a half or four years old. My dad started coaching me, because he wanted to see if I really wanted to skate. He saw that I was really passionate about it, because I would ask him every day: "Please, take me to the rink, please!" I think it was determination that kept me on the ice.
You are coached by your father Igor and your choreographer is your mother, Irina. How does it work when your parents are also your coaches? Isn't it too much sometimes?
I also work with Igor Pashkevich; he works in Florida, and I fly to him sometimes. There is also a second choreographer, whom I also work with. It is good to change the environment from time to time, because if you are in the same area all the time, you just start to relax, so you have to make some change to work harder.
What do you like the most about your coach, and what do you dislike about him?
He is really supportive, he trusts me. We have a very good relationship, as coach and student and as father and son. I really like that I can talk to him when I'm tired and I don't feel like jumping at a practice, then we can work on spins and transitions. I consider myself a really hard-worker, and when I train I really push myself to the limit. So when I suggest to have an easier practice, it's really because my leg or back hurts. I'd rather take a step back and then take ten steps ahead, instead of taking ten steps ahead and losing it all and going back hundred steps. And there isn't really anything negative in our relationship. We are doing this together and we are doing it for fun. It's mostly positive energy, never negative.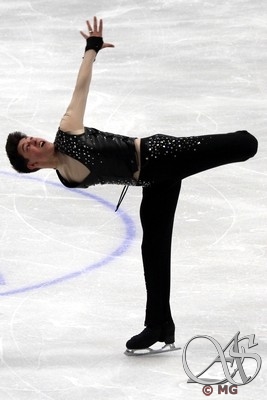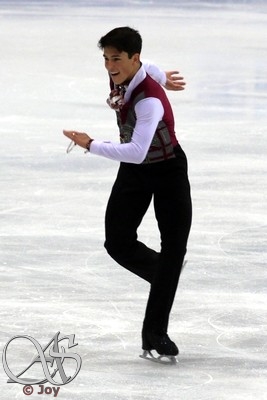 What is your first skating memory you can recall?
It was the U.S. Juvenile Nationals. I was eleven years old. We had to do the long for the qualifying, and I was second after it. I came up to my dad, and said: "I'm going to do my best, and try my hardest and I'm going to win!" And I did! That was the moment when I realized I wanted to keep doing this. It wasn't really for the medal, but for the fact that my hard work paid off and I want to see it more often.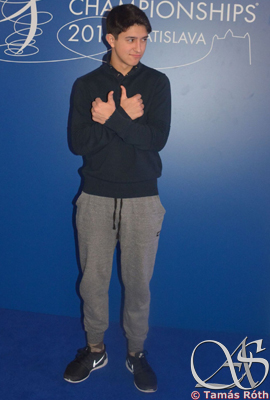 You were born in Tel Aviv, your parents are Russian and you'd been skating for the U.S. before. Why have you finally chosen Israel?
My brother skated for Russia, then for the U.S. and he skates for Israel now! I've skated for the U.S., but never internationally. Three years ago I was supposed to be sent to the Mexican Junior Grand Prix for the U. S., but it was still not decided whether it was me or another boy. And then my dad suggested: "You could skate for Israel." At first I was hesitant, but then I realized it would be cool to represent the country where I was actually born. That's when I switched.
Which country do you really feel your own?
I'm so international that I support everyone. I think every country is great. I don't feel like "oh, this is mine", I think every country is everyone's, but I definitely enjoy skating for Israel. They are so supportive, we do the competition as a team, and I love that feeling. When I saw Alexei standing on the podium [in Bratislava at the Europeans] I teared up, I was crying because I was so happy for him. He deserves it, he works very hard. It was a great moment, we were all crying and hugging. It was awesome to see the Israeli flag at the European championships.
How do you feel about the difference between the liberal USA and the strict security Israeli team?
Our security is always very cool, they try to make us feel relaxed. They know we are already very stressed [at a competition] and they don't want to put more pressure on us. All we have to do is just let them know where we go, who are we going with. It's not a problem. I think it's cool, because the other people are like: "Oh, you have bodyguards!"
What was the most memorable moment of your skating career so far?
Last year's Europeans was a really great experience. I've been through a lot of competitions, and each one has a special moment, but those Europeans were great, because that was my really big debut and people started noticing me. We kind of started putting Israel on the map then, that's why last year's Europeans are my favourite.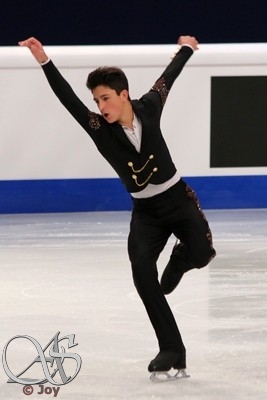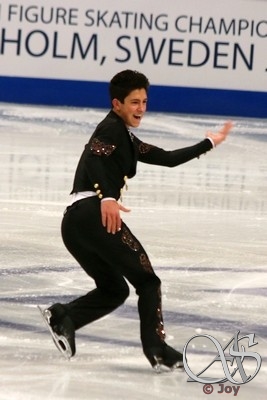 And what was the funniest moment?
I have this bracelet on my wrist and it got loose. It was the second time that it happened I had to hold it during my long program [in Bratislava]. I was trying not to drop it, because I didn't want to lose more points. It also happened at the [Junior Grand Prix] final, but then it was falling down. I have to fix it somehow.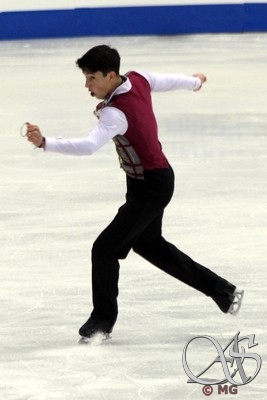 Who is your idol?
My idol is my brother. I started skating because of him, and I watch him skating every day. He helps me, he coaches me as well, and he helps me through my tough days. Definitely he is my idol because I get to share this experience with him.
But you are the better skater now than him, aren't you?
No, he is better! Even though right now he is not jumping, he is better. He is older, so he has more experience, so I consider him better. He was doing the same jumps as I am, so I think there's no difference.
As for the top skaters, who do you look up to the most?
I really like edgy skaters, even people that might not have quads or triple Axels. I really like Deniss Vasiljevs, his skating is really great and I enjoy it a lot. I like watching people that have different styles and they really show that, they don't try to copy anyone, they don't use the music everyone else uses. Sometimes when I'm at a competition and I hear music I haven't heard before, I have to go and watch who is skating to it! I want to see that program. I don't have a particular favourite skater, but there are skaters I love to watch. They motivate me, because I also want to do something different.
What do you think is your biggest weakness?
My weakness, well... I don't have any fears, any limitations. I set my limitations very high and I want to be able to reach them. Hopefully to land all quads in a program.
So far you have quad Salchow and quad toeloop in your programs. Are you practicing any other quads?
I'm working on the loop and the Lutz as well, but I will practice it more when the season ends.
And what is your biggest strength? Is it that you have no limits?
Definitely. I think that really sets my skating higher.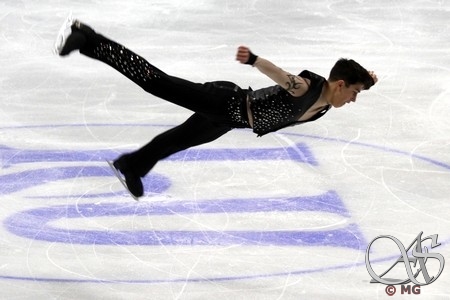 You have a very powerful and captivating short program to Scorpions' Still Loving You. Why did you choose this music?
I've always tried different styles and I've always liked to skate to different types of music, but not too much classical. Me and my dad were thinking about it, and I like the Scorpions, which is my dad's favourite band. I just came with the idea that I'd like to skate to Still Loving You and he liked it. He just wanted to look for a different arrangement, not the original, because it is slower. He was looking for it a week or two and then he came with this version, which I think is a really cool remake.
It was memorable in Stockholm; you performed one quad, but in Bratislava you added one more quad into it.
Every year I try to improve and add harder elements, harder transitions. I'm growing as an individual skater. I can see it, because I go back and watch my videos sometimes, just to reflect on what I've improved on, where I've grown. Hopefully next year I will go to the senior Grand Prix and I will be viewed more as a senior man, not just a junior.
This year you compete at both junior and senior level. How hard is it to manage?
I don't think it's that hard. It's mostly the labels they put on us... But I think everyone skates differently. I tried to pick a music that I'm able to do both in junior and senior. I just try to improve every day.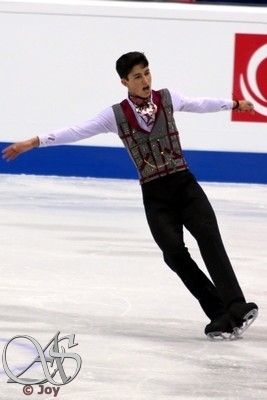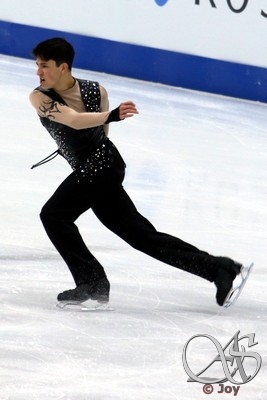 How do you get used to the dedication that is required for senior skating?
At practice, when I try to learn transitions or something that might be difficult, I can spend 15-20 minutes just with that one move, to understand it. If I get my feet working, then I try to get my hands working with my feet. It's hard, it takes time.
For most of the skaters when they finish the program, it is over. But for you, when you are taking the bow, it is still part of the program.
I started doing that this year, because I want people to capture the moment. You know, you are still on the ice, you are still in character. I try to show that from start to finish. Even if I don't have the best skate, I keep the showmanship going. People come to see not just jumps, not just spins, but a show. I want people to see me leaving the ice as a showman. I just have to keep on going and smiling.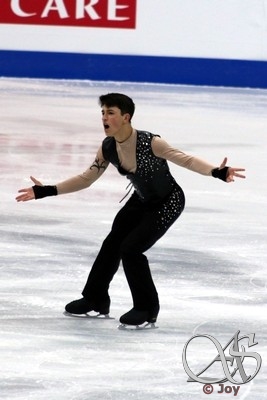 What do you like the most about your programs this year?
The characters. I get to play a rock star, he is one of the best in the world and I have to act like that. Then, in my Sherlock Holmes long program I get to play somebody who was a crazy man, but he was a genius! I like that I get to play to cool characters, a rock star and a genius.
Have you changed anything in your programs considering your previous experiences from the season?
We always change stuff when I come home, just a different entrance to a jump or something, to make it more comfortable for me. Before the Europeans I didn't make a lot of changes, but there are always improvements and changes throughout the season.
You are a gold medal contender at the Junior Worlds in Debrecen. Who do you consider as your greatest rival?
I don't know. I'm always supportive to everyone, I don't look at anybody as rivals. Of course, I do want to win at the Junior Worlds, and hopefully, if I work hard and practice, maybe it will happen.
At the Europeans after the men's programs there was a discussion about the quads. Some people think triples will disappear one day, others think that maybe the ISU should regulate the number of the quads in the programs.
I really hope that doesn't happen. The sport needs to grow, even in ladies skating we have Mao Asada and Elizaveta Tuktamysheva doing triple Axel, back then we had Sasha Cohen doing a quad Salchow. I would love to see it more in ladies skating, I think they are capable of it. I don't want limitations, it wouldn't last for a long time. If they set a three-quad-limit, they would eventually break it, because with the processing people would say: "We want to do more, four or five!" That would be cool. Of course, you have to build up slowly. Last year I was doing two quads in my long program, this year I added just one, not two. Your body has to get used it, you can't push it.
There was a generation of skaters who are mostly retired now, some of them were considered mainly as athletes, others for showmen or artists. You seem to be both: you have two quads in your short program, three in your free skate, but at the same time you are a crowd entertainer.
I'm glad that you see me that way, because that's what I want to do. I want to be good at spins, jumps and showmanship. I think Yuzuru [Hanyu] has that, he is able to bring the crowd in. Whenever he does a program, I enjoy watching it, because he does the show, he does the jumps, he does the spins. I want to do that, I'm still young, so you are going to see me grow.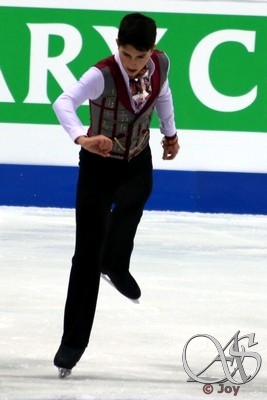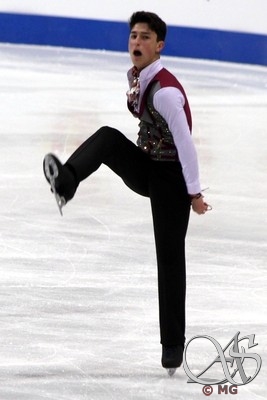 Are you nervous, when you are at a competition?
I used to be nervous, when I skated internationally for the first few times. Now I'm not, because I have a mindset that this is just practice. Even if it's Worlds, Europeans, that's the way you have to set your mind. If you do it at practice, you can do it at competition. You get a rush of adrenaline through your nerves, but failing is part of life. You have to learn how to fail to learn how to succeed. When I go on the ice, I'm not nervous, but I do have rituals. I started it this year. I take five breaths, four seconds in, four seconds out. That really helps my adrenaline level, because when I go out on the ice, my legs start to shake, that's because of the adrenaline. It's not because I'm scared, more because I feel so ready, like "I'm gonna do this!"
What are your future goals?
I still have many years ahead of me, I will try my best, and hopefully people will see it and enjoy it. I have so many goals, ideas and plans in my head and I will try to make them happen. I have to stay healthy, and not push myself sometimes, because I still have to find the limit somewhere in my limitless area! Not a big wall, just a little barrier, where I just stay for a moment, breathe and then step over it...