Florent Amodio: "You skate like this only once in a lifetime"
February 25, 2016
By Titanilla Bőd (Új Szó)
Photos © Joy, Mireille Geurts, Eva Maria Jangbro (EMJO), Ludwig Welnicki (Joluskating)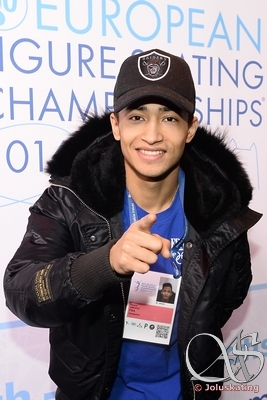 He saved the best for last. Florent Amodio brought down the house in Bratislava at the European championships with his amazing free program. Delivering a flawless farewell skate, he moved to tears his coach and many fans in the arena. Two days after his incredible performance, Florent agreed to talk about his emotions and future plans.
Your free skate was the highlight of the whole championships. How do you feel about your performance?
I think I will realize everything when I go home. I'm very proud of myself and my team for the job we did. It was very hard to come into this competition and to know that's the last one. To skate like I did in the free was amazing, and my dream came true. You skate like this only once in a lifetime, and I did it here, at the time when I wanted to do it. That's a dream.
Were you emotional when you took to the ice for the very last time?
No, I was very focused. I almost didn't hear the public. Until my last jump I was very focused, very calm. I know this kind of atmosphere and I know if I start to listen to the audience, I wouldn't be focused any more. I stayed strong until the last jump and after that, I said to myself: "Now you made it, just enjoy". It was amazing to share this with my coach Nikolai [Morozov] and my family who were here in the audience. I'm so happy to live this kind of emotion and I'm very proud of myself because of this last skate.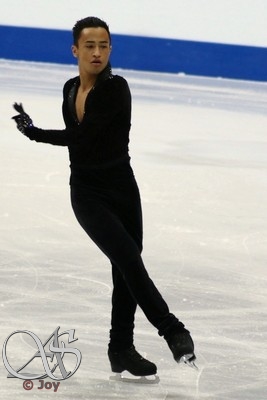 After you landed your last jump and started to celebrate, weren't you thinking about why you are leaving all this?
No, I was more like: that's amazing, you made it, you did a lot of things in your figure skating life, you put a lot into it, and that's the best present for the farewell. It was seriously the best program of my life. The public was incredible, they already stood up during my program… This skate is the best memory of my life.
In an interview with Icenetwork.com, you were very harsh on yourself and said that the biggest mistake of your career was that you left Nikolai Morozov. Is it something you regret?
No. You make mistakes, but maybe if I hadn't left Nikolai, I wouldn't be able to skate like this now and this comeback with Nikolai wouldn't be the same. At that time I felt it was time to part ways with him. There was a period of my life when I won a lot of medals, but afterwards, that fell down. It was my battle, my fight to finally skate like this one day. And that's the best thing in my life, to be able to fight. I started with a gold medal at the Europeans, but got very low after that… I wanted to fight to find the way to get back at this level. I did it with Nikolai and that's the best way for me to thank him, to thank myself for all the work we did. This career was amazing; I lived lots of emotion. That's me, that's Florent Amodio.
Apart from your free skate in Bratislava, what other moments do you cherish the most from your career?
There were lot of moments. This career is a dream for me. I took part also in many shows, like Art on Ice, shows with Yuna Kim or Plushenko, I worked with amazing people, with Yagudin, Lambiel and Nikolai, so I worked with the best champions in the world. For the competitions it was the same, I competed at the highest levels. There was a gold medal from Europeans [in Bern 2011], but I was so young, I didn't even know it was a huge achievement. I remember all the medals, I remember the Worlds in my home country, in Nice, where I was fifth… Everything was amazing. There were also difficult times, last year after the Olympics, but I'm really lucky to experience everything I did from the beginning.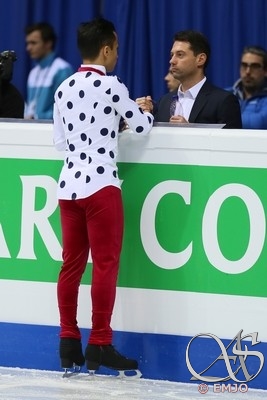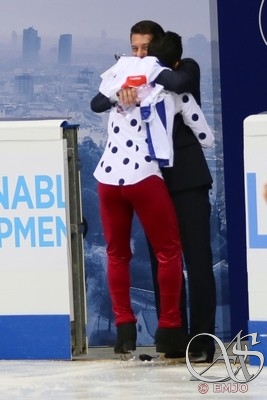 Was there any moment in your career when you wanted to quit?
Definitely. I'm sure all the skaters know this, you have some very bad moments. It is a hard sport, even if it looks easy, but it's crazy! That's why I stop, because it's even harder with all those quads. This sport is hard, but it has to look easy. I worked hard every day. I did as much as possible and my gift was this free skate.
What gave you strength when you had those bad moments?
I'm a fighter. Lots of people told me to take one year off after the Olympics, to have a rest. But I said, I know I had a bad Olympics, but I need to continue. Even if I have bad competitions, I'm a fighter anyway. Everything is an experience, you grow, you learn from everything. Before the short program in Bratislava the six-minute warm-up was terrible, but I said, okay, no problem, I'm experienced, the short program will be fine. And it was the same for the free skate, too. I've learnt a lot, I can leave figure skating in peace.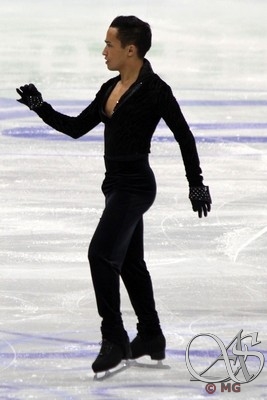 Of course, I want to keep in touch and to help people like me. When I started this sport my first goal was to make people love figure skating. I tried my best to achieve this. It's amazing to jump lot of quads, but we have to share [the emotion] with public. I was the only one here who received a standing ovation. People were crying only for me, and I want this for everybody! Figure skating is amazing and we can't lose this. It's crazy to see all those kids jumping quad toe and quad Salchow without any problem, but we should not forget the other side. It's my time to give and I want to help the sport to improve with the public, with the emotion, because I'm strong in this field.
You've always been an entertainer, so your goal was to give pleasure to the public, rather than to get the highest possible score?
I knew from the beginning I wouldn't be like Plushenko or Yagudin. My goal was that the people would remember me and I wanted to share this with the public. I wanted to be unique, special. Nobody is like me, nobody does things like me. I'm very proud, because actually it is very hard to achieve. Everytime I skate, I put my style on the ice and people like this. I wish the best for figure skating.
Do you think figure skating is going in the right direction? Some skaters land two quads in the short program and three or even four in the free.
For sure! It's the evolution of figure skating. I remember the same discussion with Brian [Joubert], whether it is necessary to have a quad. But we have to raise figure skating to higher and higher levels. What Yuzuru [Hanyu] and Javier [Fernández] do is amazing. We have to go in this direction with all the quads. If it's possible, let's do it. But we shouldn't forget what we give to the audience. We cannot just be like: "Okay, I do all the quads, that's it, that's it, okay, bye!" It is a competition, there is an audience, people pay for tickets, we have to give something. I accept that competition is not a show, but we have to give emotion, we have to share something, we cannot just be machines. Figure skating will be famous because of such moments and people will return to ice rinks because they want to see such moments.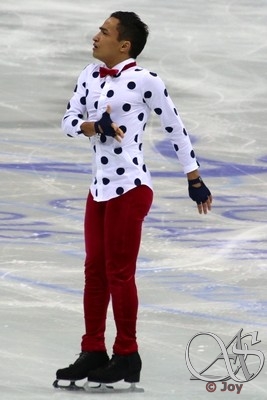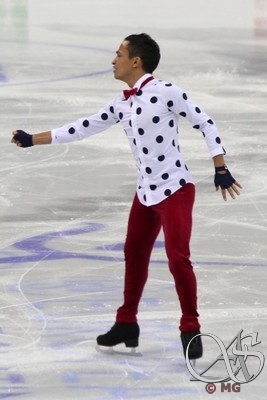 You have chosen two special programs for this occasion: your short program is to Pharrell Williams' song "Happy" and the free is probably your favourite long program, "Memories of Sobral". Why did you chose them?
As for the short program, I really liked it from the beginning of the season. I wanted to do something new, for the new generation, so the kids can recognize, oh, this song is so cool! Also I wanted to show young people that you can skate also to this kind of music. That's why I've chosen it. As for the long, I was born in Brazil and I have a lot of victories with this program, so it was easy for me to decide.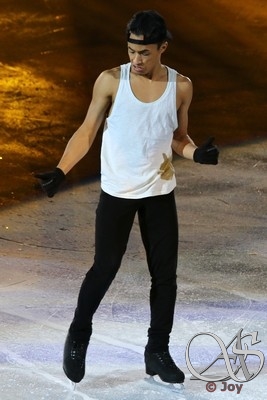 How important are your Brazilian roots to you?
I was born there. I'm French, but still, I have Brazil in my blood. It's my story, and I want the people to remember I come from this little village [Sobral] and now I live my dream. It's an amazing story.
How many times have you been to Brazil?
Just once. It was actually very hard to see lot of poor kids in the street and I thought it could be me… That was not a vacation.
You've always been unique also with your costumes and you used vocals when it was not even allowed. Is it your style to be different, to be kind of a rebel?
I'm not a rebel. I know I'm different, but I really try to be smart with my sport. Okay, you couldn't use lyrics, but now you see that it's better! You have to be creative with costumes, you have to show something to the public. If I pay 20-30 dollars for a ticket, man, I want to see something good!
You said that you want to be a journalist when your competitive career is over. Will you be such a different journalist, too?
I won't put on my costumes! (laughs) Of course, I have to learn a lot at first. I want to start from the bottom, it's a new challenge for me. I have to study, I have to understand everything, I don't want to take it like "okay, I did figure skating competitively, now I can report on it." I want to do it very seriously, and I hope I can come back for a competition as a journalist. I think it will be a good job for me.
Do you plan to work for TV or radio?
Radio, I think. I was interested in TV, but I also like the atmosphere in radio. I will see later, I have two more years to study, so I will choose at the end what's the best opportunity for me.
Do you want to report on sports or other fields?
It's a good question. I'm 20 years inside sports and I think I'm able to talk about it, but I'm interested also in politics and other stuff. Sport is in my blood, so maybe I will choose sports journalism.