Javier Fernández: "I don't want to be a step behind! I want to defend my title at Worlds"
February 8, 2016
By Titanilla Bőd (Új Szó)
Photos © Joy, Mireille Geurts, Johanna Welnicki
He won his fourth European title by a huge, more than 60-point margin, but he knows he has to improve if he wants to defend his world title. Two days after his triumph in Bratislava, we talked with Javier Fernández about jump layouts, role models and further goals.
You said at the press conference that each title is different, no matter how many times you win. So how was this one different?
It was not the third time, not the second time, not the first – it was the fourth! And it's always different, at a different place, with different people. This time a lot of people from my family were here. I got into the history of the skating a little bit more.
Last year in Stockholm, you said it was the hardest competition for you. Was it easier this time?
It was pretty easy. I guess I was really focused and I knew I could do a great job. I went out to the rink, I did a great performance and I wasn't so tired. It was easier than I expected. Not because of the other skaters, that I would win more or less, but because of the feeling from the beginning of the competition, I was very calm.
When did you decide to add a second quad into your short program and a second triple Axel into your long program?
I decided to add them after the Grand Prix Final. We had Nationals in Spain, so I was talking about it with Brian (Orser) right after the GPF. He said: let's go, in practices try to add a second quad in the short program and if it works, add it also at Nationals. So at the Nationals I landed the two quads in the short program, and then, when we went back to Toronto, we kept practising them. A little while after that we decided to put the second triple Axel into the free program.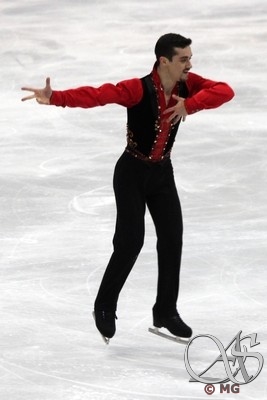 Which one was harder to include in your routines - the second quad or the second triple Axel?
The second triple Axel is pretty hard. I'm doing good triple Axels, but if you do it after three quads and one triple Axel, it is different. I have five jumps before the second triple Axel. It is a lot of energy you spend until you get to the second triple Axel. As for the short program, it's harder at practice. To train a short program with two quads, every day, is way harder than if you had just a triple-triple. So we had to change a little bit how we manage the practices when we have to do run-throughs.
What is your biggest motivation now? Is it to pass the 100-point mark in the short program and the 200-point mark in the long? Because you don't seem to have any competition in Europe now…
You never know how the other skaters will improve, what kind of a season they will have. You see so many ups and downs, and if a skater doesn't have a good season this year, he might have a perfect season next year and it would be very hard for me. I have to improve more, and I have to make my programs more consistent, trying to make the least mistakes possible in competition. My programs are really good, they have really good technical elements, choreography, interpretation, transitions… It might look like there are not so many transitions but in fact it is full of them! We just have to work on this program to show more to the judges all the transitions we actually put into the programs.
Yuzuru skated so well at the GPF. Did this motivate you?
He had a great competition. I think I also had a great competition, he was just way stronger. When you see that one skater is skating so strong and he gets such a high score, it kind of pushes you a little bit further. You say: I don't want to be a step behind! I want to defend my title at Worlds. Yuzuru is doing very well this time, so we just had to sit down and discuss how to make harder programs, because we were a step behind at the GPF. We are trying to catch up. Adding these two new jumps into my programs, will help me of course, but we still have to improve until Worlds.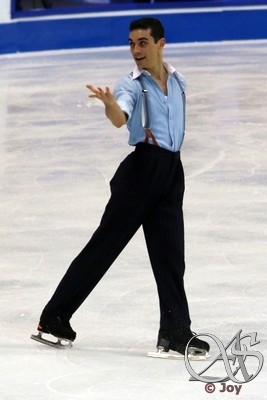 Yuzuru seems to be in very good shape. What do you need to do to be able to beat him at Worlds?
I just have to keep training. I have to make myself confident, and if I do so, I know I can do it. We see each other training almost every day, we can see who is better, who is worse, but maybe in a competition it is completely the opposite. I just have to try to keep myself calm and make sure I work hard before the competition.
In Bratislava you didn't skate clean in the long program. What was the reason for this?
It is hard to perform a clean program if you put more difficult elements in your program. A program with one quad – it is easy to do clean. But to do a free program with three quads and two triple Axels – it's not that easy. I know some skaters who say: I can perform clean all the time. And then I say: "But you have no quads! And I have three!" It is way different. It is harder, you have to have more stamina and you get more stamina. For that I have to train harder.
Do you think you are capable of performing a program that gets scores such as Yuzuru's? Not just 200 in the free, but even 220?
I don't know. My programs here in Bratislava were good, but not perfect. I had good levels of spins and steps, but still some of the elements were not perfect. We are such different skaters, our technique, our skating is just completely opposite. Some judges may have a preference; some may like one more than the other. It's hard to play with that sometimes. He is a great skater, he skates amazing. When he skates a good program, he is really hard to beat. For me, for Patrick Chan, for everybody. I can just hope I can defend my title doing a great program. We will see. You never know, we are human beings. You just can wake up to a horrible day on a competition day. I'm going to try to defend my title, but I can never know what will happen.
You said after the free program that skating might go in two directions: we might forget the triples because they disappear completely, or the ISU might bring a new rule that would maximize the number of quads in the free program. What would you prefer personally?
Even if I'm a good jumper, I would prefer if the ISU said at some point that there has to be a limit. Just because I think it is good for the skating. It can't be just jumping. It is true what Patrick Chan said a couple of times: skating is important! We can't forget about skating. It's good to do quads, but it's really important to skate well.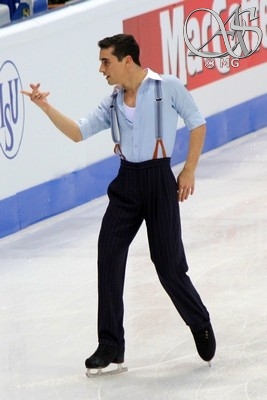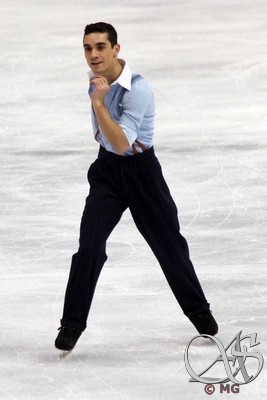 Have you changed something in your approach and preparation since you became the world champion?
Not really. Just that I want more from myself every day at practice. Before the last world championships, I was training really well, and I was doing the same thing I'm doing pretty much right now. The schedule, my cardio-rehab I do, the programs I have to do every week… I haven't changed anything. It just makes me realize how well I can do it. And that gives you more power to work every day.
And has your life changed somehow?
I'm just busier, doing interviews, meetings etc. When I go to Spain, before that I could be more relaxed, spending time with my family and friends. Now I go, and I have a lot of things to do. But nothing has changed in my personality, that's what I think.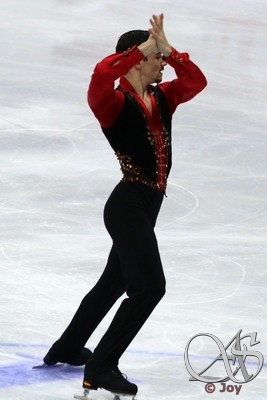 You and Yuzuru are very good teammates. Are you in touch also when you are at a competition? Does he write you a message when you win, for instance, the Europeans?
Well… No. We are friends, we are teammates, but it's not like we talk everyday. When he is somewhere in Japan, we don't chat, we don't talk. Whenever I go to Toronto, and he is there, I will congratulate him about his Nationals, tell him he was amazing. It's more like that instead of texting. That works more with Nam (Nguyen).
So who is your best friend from the skating world?
I don't know, I have so many friends. The people in my team, I've known them since I was a little kid. The Spanish ice dancer Adria Diaz is like my brother. We have such a good relationship. But also with the other members of the team, and so many other skaters. The best way to do a sport is to have fun with the people you are around. We have a lot of fun competing.
Which program do you like more this year, the short or the long?
I like them both, actually. They are so different, but so good. I've never done a flamenco, and I really like it. I think it's an amazing program with amazing choreography. The free is also outstanding.
This season you have the Malaguena short program, while Yuzuru has the Seimei free skate. Was it an intention to create something that is characteristic for your nationality?
It just happened that way. I remember Yuzuru was doing Seimei in a show and I told him that this would be so good for a competitive program. And he replied, yes, I'm going to use it! I didn't know what I would skate to until the offer to do a Spanish program. It was not even an idea from me.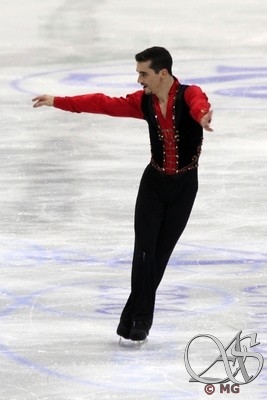 Was it hard for you to learn flamenco or can any Spanish person dance flamenco?
Oh, no, no, no! I wish it were so, but it is so hard. We started working off the ice first, and then, when we had so many movements, we got on the ice. And we had to change almost everything. There is so much difference! It was pretty funny. I could do it great on the floor and when I got on the ice, I couldn't move. I couldn't do anything. I was feeling so stupid (laughs). It was hard, even though I learn fast. All the coordination you need to have and do everything with the music… My choreographer, Antonio Najarro is a dancer, not a skater, so it was a bit tricky to put some of the steps on the ice, but it was a really good experience.
How much time did you need to create this program?
A week, or something like that.
Was it much more than in the case of other programs?
Usually it takes about four days do to a program. Of course you have to work on it, but to create a good base of a program, it can take four-five days, when we skate each day three or four hours.
You have four titles, how many more are you planning?
I will try to get as many as I can! I might stop after the Olympics. I don't know yet, I will see after. But if I stop after the Olympics, I'd really love to win those two Europeans until then. I want to win them all!
How do you like the atmosphere in Bratislava?
The people support every skater and the organisation is pretty good! They have good security, good bus schedules, the distance of the rink and the hotel is great. I think it was a great competition, I have nothing negative to say about this Europeans.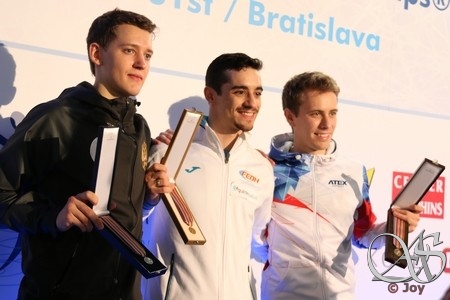 Compared to other competitions, what was the crowd like?
They've been supporting the skaters so much, clapping so much… The people who are in the stands have nothing to envy from other crowds. They've been really good, supported every skater, clapping and interacting with them.
You have received many plush toys during your career. What do you do with them?
I have quite a lot of them. Sometimes when I have a friend in the city where the competition is, I give some toys to them, and they would bring them to the hospital or the church, or do something with them in a charity way. When I have space in my luggage, or my family are at the competition, like now, my parents, my sister, my uncle, my aunt, my cousins, we have space to bring them all to Spain. If I have the chance to bring them all to Spain, I will do it. (Just imagine the security check at the airport when the Fernández family was leaving Bratislava… - comment from the writer).
You are in a long-term relationship with Miki Ando. Are you planning a wedding?
Not yet. I told myself not to decide anything really big until I finish my skating career. It's not because of her, it's because skating is so important to me that I don't want to get involved in something big, in the middle of skating. I just want to take my skating life until the end, and then we might make the next step.
Do you have any role models?
I really admire Rafael Nadal. It doesn't matter if he is winning or losing, the way he is, all his career, all about him – the people love him! And it is because of a reason. I admire him so much, because of everything he does and how he does it.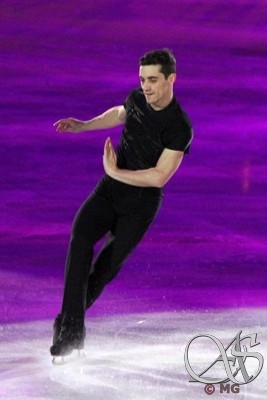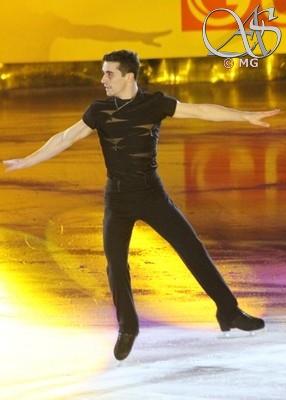 And who is the best figure skater in the history for you?
Definitely Evgeni Plushenko! Evgeni is my hero since I was a kid. Now I have a good relationship with him and he is still my hero.
You have roots in the same village as Iker Casillas.
Iker Casillas is another person I admire. My grandparents are from the same village as him.
You both have streets named for you here, if I'm not mistaken.
Well, plazas. Little plazas. There is Iker Casillas Plaza and there is Javier Fernández Plaza.
This must be cool!
Yes, it is! Even in the mail it would say: Javier Fernández Plaza. If you receive a letter, it has this address! It is so cool!