The life and skating of Javier Raya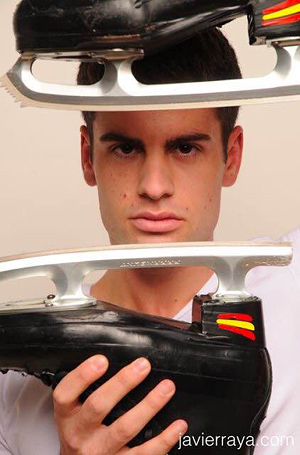 March 30, 2016
By Reut Golinsky
Photo © Javier Raya, Diego Vigo
Special thanks to Hielo Español for their help with this interview.
This season 2011 Spanish national senior champion Javier Raya made some serious changes, both in his training base and in the approach to the preparation of his programs. The season has been full of ups and downs for him, and Worlds in Boston this week is his only big ISU event. We wish him all the best there and meanwhile invite you to learn more about this charming Spaniard, his programs, his training at the Toronto Cricket Club and his other big passion - hobby and future profession - off the ice.
You made a big change this past summer, moving to Toronto. Tell me more about it.
Yes, I've changed my life quite drastically. All my life I was training in Madrid with the same coaches and at the end of last season I talked to them and to my federation about this move. All of them supported my decision. This season I want to see if this change helps me, and then decide if I want to keep it until the Olympics, that's the goal.
I've already been here for six summer camps, so it's not a completely new place for me. I really know it, but I've never been here during a whole season. Summers are a bit different; your training is more relaxed, you also don't do that many run-throughs. Very serious preparations to get ready for the big competitions, start somewhere around September.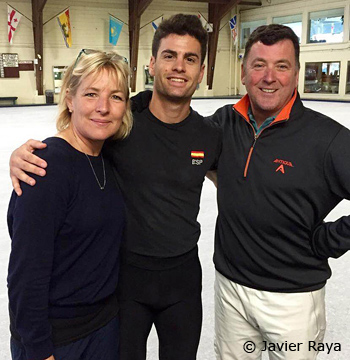 The ice rink here is busier than in Spain. And in Madrid I was used to being the best one, and here I'm fourth among the guys. The others - Yuzuru, Javi, Nam - are on such a high level. So it's challenging. You have to push forward all the time, because you have so many things to work on compared to them. But that's the best way to improve, and it's something I didn't have in Madrid. I was probably too relaxed there because I didn't have any competition. Here I train like I usually do at competitions. Whenever you go to an international competition, you have to do your best during practices too, because you're compared to other skaters. So here I have the same thing only every day! And this is amazing! Obviously I know my level and I know my goals. Right now I can't do some of the things they are doing, but I can train with the same intensity as they do. And they are very hardworking, all of them.
Do you all train together?
We usually do two sessions [a day]. And the whole group, all the seniors - among them Yuzuru, Javi, Nam, Sonia - practice together. And this is a pretty nice group of mates to train with. And Yuzuru and Javi are, wow, amazing. I really enjoy every time I skate with them.
Let's talk about your programs. I actually want to start with the free skating.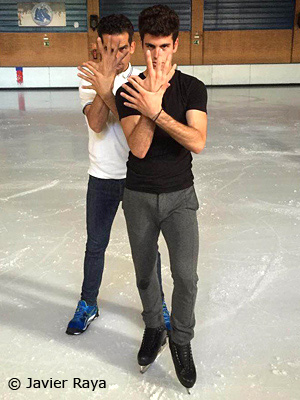 I met Antonio Najarro last season, when many ice dancers decided to do pasodoble, and worked with him. And I asked him to choreograph a program for me. Unfortunately we didn't have enough time, because I was going to Canada for the summer and we met just a few days before that. But he suggested some music pieces and gave me a CD of Fernando Egozcue and Ara Malikian. I really liked two songs from that CD and cut them for the program. So the idea was Antonio's, but those two specific pieces were my choice. And the music was already ready a year ago.
This season I said: OK, this year I have to do the choreography with Antonio. I called him, we met, and did it in one week. That was pretty hard, I was working with him every day and then came in two hours earlier the next day to work on my own on what we did the day before, all to be ready [for the next session].
I knew it was going to be difficult and challenging, because you need to combine his choreography with the [technical content of the] program. So a week before we met, I talked to my coach Carolina Sanz, and asked her to help me out with the structure of the program - everything but choreography. So the whole program was actually prepared, but it still needed to get all the choreography - transitions, arm movements. Even if something could have been changed afterwards we needed to have it prepared before we started to work with Antonio. Because it is difficult, obviously, for a dancer to create a skating program from scratch, it would take more time.
I understood his approach in choreography and the way he dances is so amazing; a very different style. It's truly a very different program from anything I've done before; from the very first movement it's just different. And I really like the music. There are some parts towards the end that are very hard, but so strong. And in the middle of the program there is this slow part with the steps, very beautiful. I think it's a perfect mix.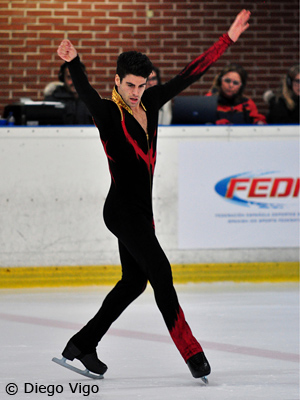 Was there a story Antonio created for this program?
Yes, he wanted that in the first part I will be an animal, a wild animal, that's why the beginning of the program looks the way it does. The music is very deep, intense. And then the second part is nice and slow with a lot of body movements. And the third part is more Spanish; there we introduce more of a Spanish style and movements.
Have you had any Spanish programs before?
No, not like that. And still I didn't want a flamenco program, like something Javi has for this season, which is absolutely amazing! But I felt I wasn't ready to do the flamenco just yet.
For your short program you chose something completely different.
The short program was also an idea that I had in mind much earlier, something like five years ago. I've taken ballet and modern dance lessons almost all my life, and there was one year when we did a 80s style gala with songs from Saturday Night Fever, I Will Survive and music like that. It was in 2011, I think. I really liked it, but at that time we couldn't use lyrics in our programs. I tried to find something without lyrics, but it wasn't possible. I also tried to make an arrangement of a backing track only, on my computer, but it sounded too much like karaoke.
But why didn't you use it last season then?
Unfortunately, I didn't plan my previous season well. We did West Side Story with Joey Russell for the free skating. And I changed my short program only in October. I wanted to keep Les Misérables for one more year, but later I was not happy with that decision. So I went with a song that I know well, El Tango De Roxanne, and I choreographed the new short program myself. This season I planned everything more carefully, and was finally able to do it. In the end we mixed two songs, A Fifth of Beethoven and Disco Inferno from the movie Saturday Night Fever. The program came up very sassy and dancey.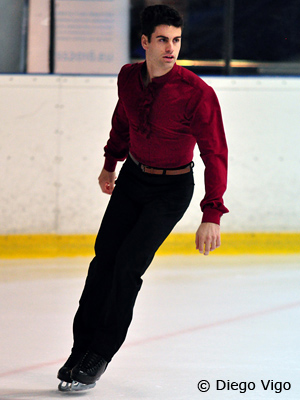 These two programs are completely different from each other. And I'm really into both of them. I enjoy skating both of them, and if I get tired of one I practice the second one. (laughs) No, I usually do both of them every day. And I never really get tired of the music, because these two pieces are so different.
At the end of an interview I usually like to ask some non-skating questions. Can you tell me about any hobbies of yours, some passions you might have? In your ISU profile you mentioned mountain climbing, for example.
Well, not really mountain climbing professionally. But in general I like outdoor sports and I like hiking, in the mountains too, I love nature. But my other real passion is media studies, I'm into it big time.
But that's not really a hobby, right? You study it now, or have you finished it already?
I'm still studying, because I take fewer courses per year. So maybe in one or two years I'll be finished.
As someone who is both a skater and a media person, what do you think figure skating needs to change to attract more audience? And what can you and I, journalists, do to make the sport more popular?
But what can we do against such sports as football/soccer, basketball, rugby? We're indeed a small sport, but among other small sports I think we're rather big. You can still watch quite a lot of figure skating on TV, unlike other small sports. All of our major championships like Europeans, Four Continents and Worlds are always covered by TV channels, at least in Spain. And I think it's the same in Europe in general, and in America for sure. So that's already something, and that's very important and we have to use it well. Maybe gossip and reality shows? Things like "Ronaldo's new haircut". (laughs) That might make people more interested, and could make a sport more popular, maybe, I don't know. But we have to do whatever we can, anything that works.
I know you worked in Baku during the 2015 European Games, was it related to your interest in media? And how did you get to work there?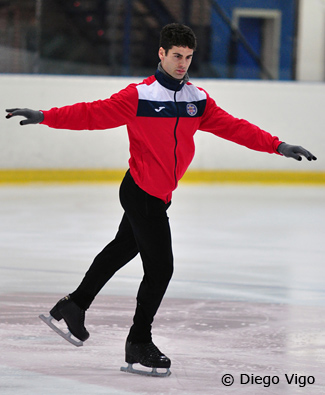 I got the job through a friend of mine from the university; she had been in Sochi working with the Olympic Broadcasting Services (OBS). While in Baku the International Sports Broadcasting (ISB) was doing the broadcasting. Through this friend I got the opportunity to join the team, not something that usually happens, I was very, very lucky. They usually take on people with a lot of experience and I was only a student.
Are your media studies general or specialized in sports?
General. But after the experience I had in Baku, I understood that being an athlete is something that can help me get into sports media, and that this is the best path to choose.
The games in Baku were all summer sports, how did you manage?
I had to study about some sports, like BMX, road cycling, triathlon; those were the sports that my team was covering. I had to study a lot, but because I went to the Olympics and I have been a sportsman myself all my life, I know how the competition works. So my biggest contribution to the broadcast team was my experience. I was mostly working as a spotter, it's a person who knows the specifics about a sport and can help the production crew with explanations about what is going on.
But I also like commentating. I already did some for Spanish TV with Paloma (del Rio, commentator on Teledeporte channel - ed), who always covers skating events, like the Grand Prix events and other championships. When we worked during Worlds 2015 in Shanghai, the hours were terrible [due to the time difference], so early! And we did commentary for the whole event, all four days. You can check my YouTube channel. I made some backstage videos about our commentary and about what happened outside of it too. It was both fun and hard work.
I love to do a lot of things, I'm crazy and I get into everything and get involved in everything I can. Sometimes it feels like my head is going to explode! (laughs)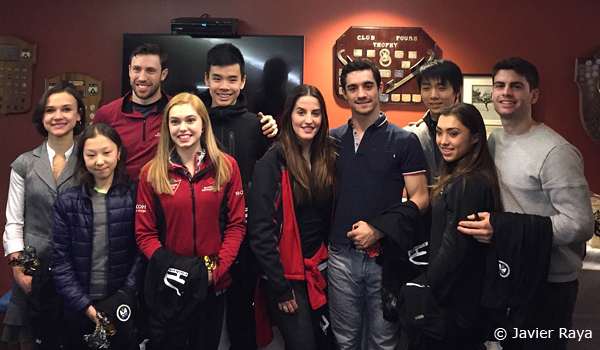 Follow more news about Javier on his Facebook, Twitter and official site.