Kavita Lorenz and Joti Polizoakis: "We are happy to show another side of us"
January 11, 2017
By Titanilla Bőd (Új Szó)
Photos © Mireille Geurts & Joy
Even when they were singles skaters, they used to dance together off-ice. Kavita Lorenz and Joti Polizoakis are a breath of fresh air in ice dancing, their programs impressed many fans. In Bratislava at the Ondrej Nepela Memorial, where they placed 5th, they talked to Absolute Skating about their partnership, programs and inspiration.
You are relatively a new couple. Last year in your debut season you earned many fans with your unique programs. Could you tell us how this partnership formed?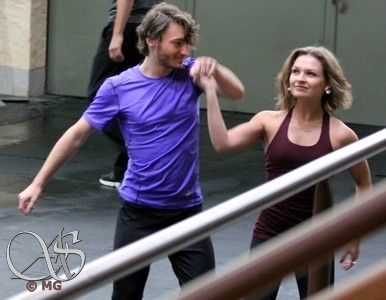 Joti: Kavita and I, we have known each other for ten years. We were both single skaters in Oberstdorf, we had the same coach, Michael Huth and we've been best friends. We grew up together, we went to the same school, had the same classes, we had lunch together, we skated together. Kavita decided to change to ice dance when she was sixteen, and after a few years she moved to Igor [Shpilband] and I still continued in singles skating, because in Juniors I was still successful. But deep inside I always knew that I prefer to do ice dance. We also secretly always danced in Oberstdorf off-ice! The last Senior season I did in singles I was injured a lot and I wasn't happy any more. And I decided after the season that if I want to do ice dance, then it was now or never. That's how I reached out to Kavita, because I've always said if I did ice dance, it would be only with Kavita, since I'm not the tallest, and you need a connection for it, to get along. We tried out in Novi with Igor Shpilband, and everything worked out, so since May 2015 we have been skating together.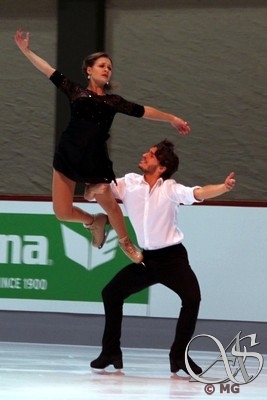 What was the hardest thing to learn when converting from singles to ice dance?
Kavita: We were always very good at steps on our own, but to do that together, with someone next to you is another level.
Joti: Also to skate so close to someone was very strange for me at the beginning.
Kavita: And the spins, of course… At the beginning it was a struggle also with the lifts. It's all new for us, but we are loving it, we're enjoying it. We just have to practice.
Last season you surprised many skating fans with your unique, special programs, it was a bright new inspiration in the ice dance field. Where do you get your ideas from?
Joti: Last season, when we knew the compulsory dance pattern would be the Waltz, Kavita immediately wanted to skate to the Sound of Music.
Kavita: I love the movie!
Joti: I actually didn't know the movie, but I liked the music, I thought it is happy, and I thought it would fit.
Kavita: For me it means a lot of family memories, I love the songs, we used to sing along all of them. So we really enjoyed that short dance.
Joti: Amélie, the free dance, Igor just played the music on the ice. The first time he saw us he put the music on and he said: Improvise to it! I've always loved the music, so I was very pleased to skate to it.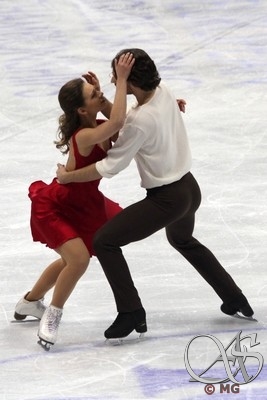 What about this year's programs? Your Michael Jackson short dance is very energizing.
Kavita: That program was really unexpected. At first we were struggling to find the right short dance music, and then out of nowhere Igor just played the music and we knew right away that this was our short dance. We really like it, we feel the music, we love to move to it, and it's really exciting.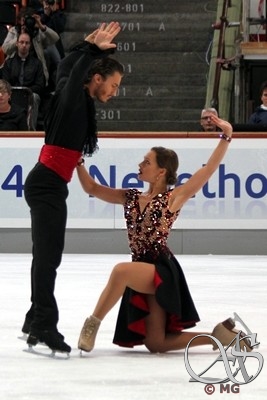 Joti: As for the free dance, Malaguena, Kavita said she would like to skate to something Spanish. Deep inside I knew that we could do it, we have the character for it, but because it's only our second season in ice dance, I thought it's maybe too early. But Igor saw us skating to it and said: "Just do it, you are good at it!"
Kavita: Flamenco is not an easy dance. We have to work hard on that free dance, it has a lot of potential.
Joti: In general we are really happy that the programs are different from last season, so we can show more, another side of us.
In April there was an announcement that you split up, but now you are skating together again. So, what happened?
Joti: We just took two months of vacation! (laughs)
Kavita: There was some complication in our private life. But we are still best friends. It was never a skating problem, it was just something in our private life so that we couldn't continue skating unfortunately, but everything was solved, we are both happy, we are both still the same.
Joti: Also during the time when we were not skating, we were keeping in touch. What we learned was that maybe we shouldn't have made the announcement immediately.
Kavita: It was a fast move, but we learned from it.
Joti: We are back and we hope that people don't even know much about it. We continue skating as if nothing happened. As I said, vacation.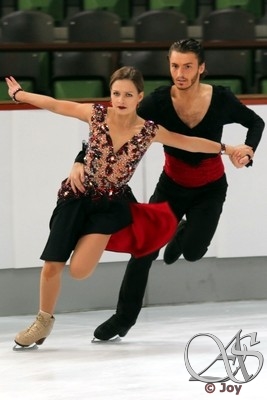 You are very close friends, you have known each other for a long time. What are the advantages and maybe the disadvantages of such a close relationship?
Joti: She knows me too well sometimes! It's an advantage, but also a disadvantage.
Kavita: I like it, because when we skate, we don't have to talk to each other, we know what the other one is thinking. We know each other so well that we never have any problems at competitions. We are just one.
Joti: A very big advantage in our case was that she trusted me immediately, even though I had no experience in ice dance at all. I didn't know what a Kilian position was! But she wasn't scared doing lifts or anything.
Kavita: Usually when you have a new partner you think: "Oh, this is weird, why is he touching me?!" But for us it felt good.
How much time did you need to learn the basics of ice dance?
Joti: I still need to learn the basics (smile). But I have to say we both worked really hard, because we wanted to be good as soon as possible. Our programs were done after two months and we just trained the programs a lot last season.
Kavita: There is still a lot for us to learn, especially the basics. A lot of other dancers already have those basics, while I sometimes feel we are still two single skaters loving to dance together. You see in the top teams that they are more connected, their legs are exactly the same, but I think that just takes time. We have to catch up, but I think we had a great start.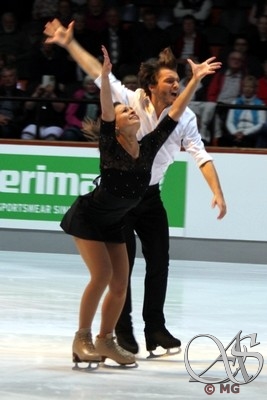 Is there anything that you miss from single skating?
Joti: Not. A. Single. Thing.
Kavita: Not at all!
Joti: Maybe a little bit the freedom of the skating, that you can do whatever you want [with your arms], which is not possible in ice dance. But I love to skate with someone on the ice, you are not alone, you are sharing everything. Some people say they don't want to share, but for me it's much nicer to share everything with Kavita.
How is it different to train in the US than it was in Oberstdorf? Wasn't it hard for you to get used to a new place?
Kavita: I don't think it was hard for us. We love Igor, we like to work with him, he has a great skating team, everyone gets along. We just have more time for ice dance, I think the main focus in America is on ice dance. That helps us a lot, we have a lot of idols who train in the US with us, so we always have someone to look up to. It was not the case in Oberstdorf, so we are glad to be there.
Joti: I can just agree. We went there to train, so the focus is not on private life. But our daily routine is pretty much the same as it was in Oberstdorf.
Which skaters inspire you, who are your idols?
Joti: I love Guillaume Cizeron, he is my inspiration.
Kavita: Actually, I know I'm an ice dancer, but I grew up with Carolina Kostner. She is still my idol. I love to watch her, I always get goose bumps when I see her, the way she trains, her way of thinking inspires me. She is a professional athlete, I always look up to her.
What are your goals in ice dancing?
Joti: Our main goal definitely is to compete at the Olympics in 2018 and then we will see. But right now that's our main focus. It's not that long any more, this season is the qualification, so we just have the Olympics in our mind. Of course it would be nice to get a medal some day, but we are not thinking about that.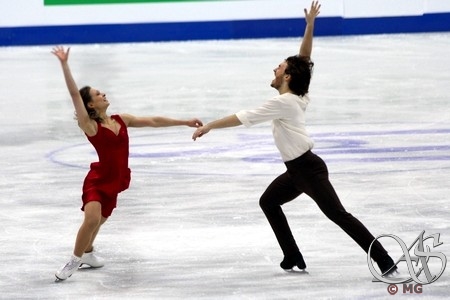 What kind of feedback do you get from the judges? Do they like your programs, your style?
Joti: They say we really look good together on the ice, optically. They also can see we had the same single coach because the technique of our skating is pretty similar. That's maybe why it worked so quickly for us. They can see we have a connection, we get positive feedback. At the beginning of the season at the Nebelhorn Trophy we also got positive feedback that we showed something different, it's not the same as last season.
How many more faces do you have on the ice?
Joti: I have many faces on the ice!
Kavita: On the ice we have no limits! But off the ice we are the same. When we are together we are very childish sometimes, because we think back what we used to do when we were younger. We are like brother and sister, I would say.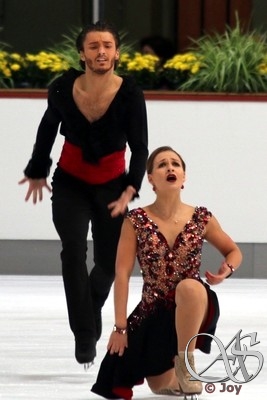 Joti: But on the ice we both like to act, to get into different characters, so we don't have to try so hard [to portray a character], it's coming from the inside.
Do you like more the programs where you can portray characters than the ones where you just dance?
Joti: I also like just to dance but to get into a character is special.
Kavita: It's very nice to have a story behind the program.
If you could change anything in ice dancing, what would it be?
Joti: Mmm, I have to think about it… I love the step sequences, I love the short dance the way it is now, without the compulsory dance. I don't love to spin, but I know it has to be there, so I'm fine with everything.
Kavita: I agree!
Do you get angry at each other sometimes?
Joti: I wouldn't say angry, but…
Kavita: We both have our moments sometimes…
Joti: And then I just skate one more circle and she skates one more circle and we get back together.
Kavita: We never have a long fight. It's like a brother-sister fight, it happens.
Joti: And sometimes we are even laughing about it.
Kavita: Yes, we are fighting and we end up laughing!