Deniss Vasiļjevs: "Standing ovation is the highest award any sportsman can get"
September 12, 2016
By Reut Golinsky
Photo © Jed Leicester/YIS/IOC, Changjie Chen/IOC Young Reporters, Anna Bertoloni, Al Tielemans/YIS/IOC, Reut Golinsky, Thomas Lovelock/YIS/IOC
Special thanks to Deniss' fans who submitted part of the questions for this talk.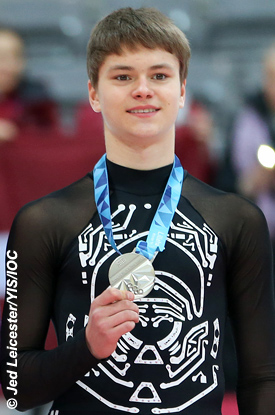 Latvian prodigy Deniss Vasiļjevs appeared at Junior Grand Prix circuit three seasons ago and immediately caught the attention of the skating community with his joyful performances and innate skills of a natural entertainer.
After junior Worlds 2015, where he finished 7th, we had a feature article about him published. But so many things has happened in his skating career since then that it felt right to catch up with him again.
Last season was very intense for Deniss as he partook in eight competitions, including his debuts at senior Europeans and Worlds. It was also his most successful season so far: he won two silver medals at Junior Grand Prix events, becoming the first Latvian skater to medal at these series, and topped it with the silver medal at the Youth Olympic Games in Hamar, Norway.
Last season was really busy for you. Can you sum it up and tell me more about its highlights?
It was a really great season. I think my total score was over 200 points which meant a lot to me (his personal best total score was 224.54 at Worlds - ed.) Among the highlights I would name the Youth Olympics, the most significant competition for me so far. And the competition I enjoyed the most was Worlds in Boston; it was a unique experience because it was my first senior Worlds. We had 18000 people in the audience - the largest number of people to see me skate. And the energy I got from them, the standing ovation I got after my short program was unforgettable. This is the highest award any sportsman can get, especially because I see figure skating as an art on the ice, so for me such recognition, seeing that people enjoy my skating, is better than any medal.
Was it good for you to have so many competitions in one season?
To tell the truth it was very exhausting, mentally and emotionally, but it was fun too, because I really love to compete. I love the adrenaline rush, I love this competitive atmosphere. I love this feeling when you have jitters and yet you enjoy it immensely because you know you will go on the ice giving it your 100%, showing your best to the public, to the judges. I really love all this!
But when I competed at junior Worlds and just a week after that I competed at senior Worlds it was really difficult, because there was no time to recover. I gave everything at junior Worlds and then I had to go, for the first time, to such a huge competition as senior Worlds. So, yes, it was not easy, and the second half of the season was especially intense, but it was also significant for me. Overall it was hard but I'm glad with how this season went and with how I went through it.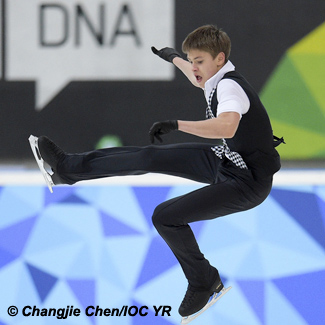 You already tried yourself in senior competitions - Europeans and Worlds, how was it?
Yes. I also did Challenger series, in Tallinn and in Saransk. I loved competing in seniors, because it was a bigger international stage for me. Of course, I felt a bit insecure, but this is something I need to learn to overcome and to move on, because eventually my goal is an Olympic medal! Of course, there is a lot I need to work on, for example, quadruple jumps, but I already start thinking about how to stay in people's minds and in the history of figure skating.
Wow, you set very high goals. I'm sure you still have a lot of time for this.
Yes. But you need to set your bar as high as possible and try to reach it. To set it too close and reach it fast is less interesting. Of course, you always have smaller intermediate goals on your way to a big one.
We meet with Deniss at the backstage of the Vernets rink in Geneva, during the rehearsals of the "Ice Legends" show. The story about how he got to be here reveals a lot about his character. Stéphane Lambiel, producer and creator of this show, was invited to the Youth Olympics as an Athlete Role Model, and among his other activities held a Q&A session with young skaters. While interacting with the audience he asked if someone would want to participate in his show and Deniss immediately raised his hand. Little did he know, back then, how much this would influence his further career.
It's not your first show; you have some experience already, right?
Yes, I performed in Lithuania, in the shows of Margarita Drobiazko and Povilas Vanagas. And I also skated in French clubs' shows a few times.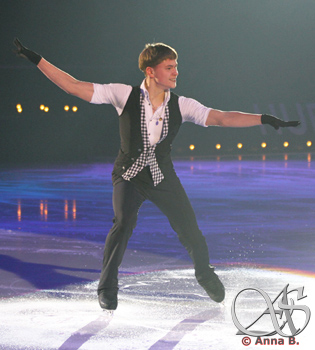 What is special about this one for you?
This show is very important to me; it is probably the first show of such importance. I really want to show my best here, because there will be fans coming to see me; some of them I even met and know personally. I want them to enjoy my performance, and with all my heart I want to show them that I deserve to skate with these figure skating legends.
This show for me is... Just think about it, I was invited to this show by my idol! I remember watching him on TV, when he was competing in Vancouver - those Games were a turning point for me, when I really fell in love with figure skating. I was watching TV and I remember how much I loved Stéphane's skating. I was so stressed for him and cheering him to win. And also Daisuke Takahashi, his skating is simply unique. These are two skating legends I always followed, always looked up to, and learned from them how one should skate. All those emotions, that energy they share, it was like a tsunami of feelings directed towards the audience! Being able to skate with them means a lot to me, it's a dream come true, really.
Before my trip to Geneva I offered skating fans to submit questions for skaters I was planning to talk to. Even though among them were super popular and loved by fans Tatiana and Maxim and Tessa and Scott, much to my surprise it was Deniss who got the most of the questions submitted. Unfortunately, the time allotted for our talk was up too fast, so Deniss graciously agreed to meet again the next day and answer as many of these questions as possible.
During the rehearsal next morning I noticed that Deniss' leg was bandaged, so our second meeting started from that.
Deniss, what happened to your leg today?
You see, the biggest problem is that I didn't always skate under professional supervision. I often overworked, trained without having enough rest; at some point there was too much pressure on my body and now, unfortunately,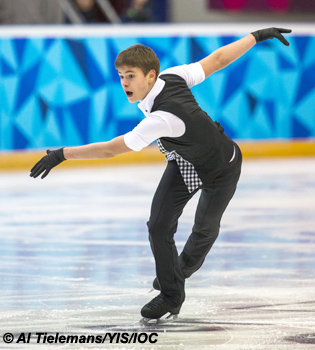 not a day goes by that something somewhere doesn't hurt. I'm used to skate with pain, but I know that it is plain dangerous to continue like that. So after the show I have some checks and serious treatment planned.
I will still try to do my best here, although now it really hurts to skate... After Worlds in Boston I was training less intensively and now, for this show, I had to max out and I started feeling pain again, especially during jumps.
You know, most people here won't understand if you jump doubles or triples; you can just go for doubles.
No. I have to do it, even if only for myself. My mom is also like this, or even more demanding. For her even a quintuple jump won't be enough, she will ask why I didn't try three quintuples! (laughs) Maybe for others it's less important, what's important for them is the fact that you jumped, the jump itself. Or, for example, when you watch Stéphane, he is a figure skating god, really, his skating is unique, especially when you see it live. He doesn't need jumps at all; people would love it anyway because of the vibe you get from his magical skating.
Actually Stéphane himself mentioned a few times that he will continue performing only while he can still jump quads...
Stéphane can still jump quads? Cool!
And, finally, we get to the questions submitted by fans.
Deniss, your program is choreographed to "Puttin' on the Ritz". Did you know that Stéphane also had a program to this music?
No, I didn't know! When did he skate it?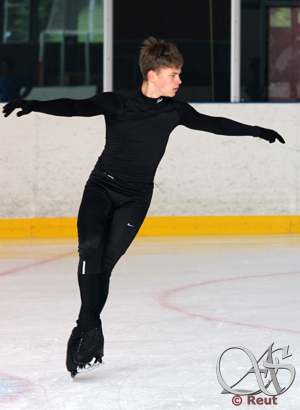 A few years ago, in some galas.
Oh, so it wasn't his competitive program then? Because I followed his skating when he competed, but I don't really follow figure skating shows as I'm more focused on my skating. Probably I should start checking them too so that I won't repeat someone's music! (smiles)
Talking about programs, what are your favourite programs of Daisuke and Stéphane?
There are too many to name them all! If I need to choose from Daisuke's programs, it's probably "El Tango de Roxanne" (SP from season 2005-2006). It's just amazing, so charismatic and catchy! And I like Stéphane's classical programs, all of them.
Next question: how do you feel when you're being photographed by fans during your practices and competitions? Does it bother you?
When people take photos with the flash it is really distracting. But without the flash it doesn't bother me. On the contrary, sometimes I even try to strike some impressive pose so that they will have a good shot.
And when fans call you by your name from the stands, does it bother you then? For example, before the warm up or before you start your program.
When I hear my name it distracts me a bit, yes. But when they cheer for me, shout "Allez!" or "Davai", when I understand that it's just cheering, they don't really call me, I don't mind.
Next question: which country did you love to visit and which country would you love to visit?
A lot of countries actually! I would love to come to Japan, it is so different from any European country and this contrast intrigues me.
And also I'm in love with Paris. Among all the cities I visited Paris will always have a special place in my heart, it's a magical city. The time I spent there with Ingrida (Snieškiene, his longtime coach) was the most amazing time of my life.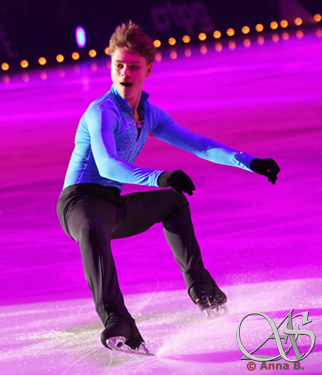 I even have my favourite spot, in the park opposite the Eiffel Tower; there is one bench there which I love. And when you sit there and think about things, it's so nice. Especially early in the morning and when the weather is good and sunny.
You travel a lot and compete a lot. Is there any skater you met at the competitions who became your close friend?
Close friend? Well, usually you don't have many close friends and it's not easy to understand that someone is your close friend - this is a long process and you build relationships gradually. But I have a lot of acquaintances, people I enjoy spending time with during competitions. For example, Zac (Zachary Lagna), he is a junior ice dancer who skates for Canada. We met at the Youth Olympics and then also at junior Worlds. But now when I move to seniors I don't know how often we'll be able to meet and spend time together.
Is that true that you asked your fans to give you ideas about how to improve your short program and that each time you skated it a bit differently?
To tell the truth it's really hard for me to skate my programs identically every time. I always improvise a bit and try some new things. When I used to train late in the evenings, with only my mom watching, sometimes I started improvising on the ice - because my mom really loves when I dance - and some transitions I invented on the fly turned out so good that even my mom liked them.
So in general you take an active part in choreographing your own programs?
Yes, when we choreograph programs I try a lot of things by myself and bring a lot of ideas. I always immediately point out if I don't like something and come up with some alternative; sometimes it is accepted or some other change is proposed. So I take a very active part in this process, yes. I don't come and ask: "OK, show me what I should do." I'm more like: "OK, let's make this program, together." I need to have control over what I skate.
New chapter
Back then, at the end of April, Deniss still was not sure about his plans for the off season, about his new programs and choreographers he would like to work with. In May he went to Champéry to work with Stéphane Lambiel on his long program. In July he was back to Switzerland to work with Stéphane on his short too.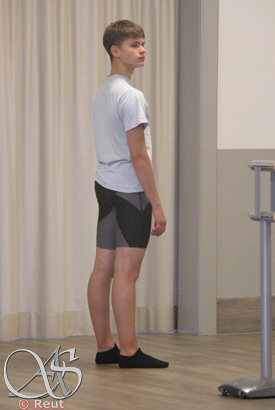 He prefers not to reveal too much about his programs yet. All we know is that the music for his short program was recorded in 1968 and that he was surprised at first with Stéphane's suggestions.
Injury he mentioned during our talk turned out to be a tear in his left adductor muscle, so Deniss had to undergo treatments in Toronto, and he was focused more on physiotherapy and a lot of off-ice training. In August he was gradually back on the ice. Since his return from Canada he continued working with Stéphane, and on August 25th he announced about the coaching change on his official Facebook:
"My injury gave me time to think about the next step in my career. I have grown up, in my sport as well as my personal life, and I have new goals. Technically, there is a lot more I have to learn, especially quads, and I also feel that I need to reach a higher level of expression and interpretation.
During this spring, I had the pleasure of working on my programs with Stéphane Lambiel at his school in Champéry. It was a great experience, and I found the training conditions there were ideal. Today, I am happy and excited to let you know that Stéphane has accepted to take me on as his student for the upcoming season!"
"I first discovered Deniss while watching videos of the JGP, maybe two or three years ago," Stéphane wrote during the Q&A session with the fans, "and I was immediately impressed with his presence on the ice. I got to meet him at the YOG in Lillehammer, we talked about his career, his goals, and I invited him to my show, 'Ice Legends'. In May, we started working on his new programs, and we had a really great time. I could see that he really wants to achieve something big in the sport, and when he asked me to be his coach, I didn't need to think too long.
I see a lot of myself in Deniss, for sure. But I think he's unique, he has his own style and personality. I'm inspired by his musicality."
If everything goes well, the first competition of the season for Deniss Vasiļjevs will be the Rostelecom Cup in Moscow.