Alisa Agafonova and Alper Ucar: "We always managed to overcome obstacles"
March 21, 2017
By Titanilla Bőd (Új Szó)
Photos © Mireille Geurts and Joy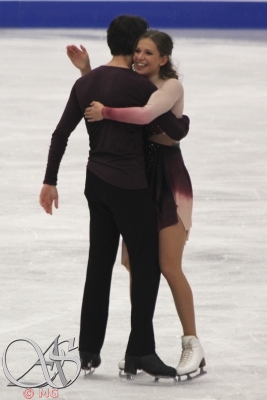 They are pioneers of ice dancing in their country, and during their career they had to face many difficulties. Last season they unexpectedly had to leave Russia, but they found a new training base in Detroit. As they say, this is their penultimate season, so they want to enjoy every single moment. At the Europeans in Ostrava, Turkish ice dancers Alisa Agafonova and Alper Ucar talked about their life journey, struggles, memories and ambitions.
You placed 11th at these Europeans. How did you feel in Ostrava?
Alisa: It was great. We really enjoyed the crowd, we didn't expect to see so many Turkish flags. They cheered for us, which is really important. It is our pre-last season and in our performances we just try to enjoy. You can't live these moments in any other place.
Alper: It was very special for me, because I competed here in 2003 at the junior Worlds as a singles skater. There are only three skaters who were here back then: Carolina [Kostner], Anna [Capellini] and me. I see lots of improvement and the crowd was amazing. As Alisa said, this is our pre-last season, so we would like to enjoy it together, and we want the crowd to share this joy with us. We had solid performances, as always, I would say. We are a reliable couple, so we showed this one more time. In the free it was one of our best performances of the season.
What kind of improvements have you noticed in the venue?
Alper: For practice, there is an indoor athletic facility, where we can do stretching and running, which is really amazing. Because usually, there is never enough space for warm-up, but now we can breathe normally.
Alisa: And the practice rink is in the same building, the hotel is very close, three minutes on foot, so we don't need to take the shuttle bus. It couldn't be more professional.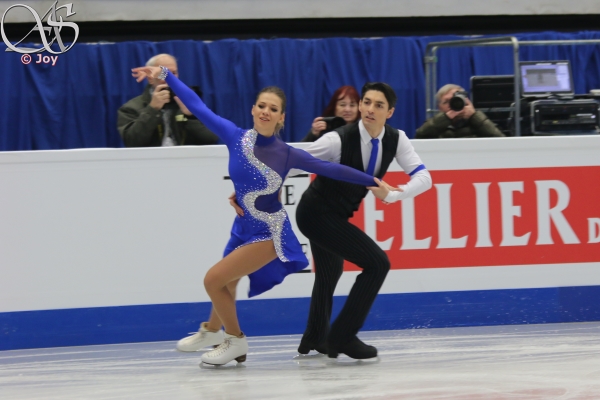 This season you competed in two Grand Prix events; at Skate America you placed 9th, at the Rostelecom Cup 8th. How satisfied are you with your overall season?
Alper: It was pretty upsetting for us at the beginning of the season. We still try to prove ourselves, that's a question mark for us. But then we came back to ourselves. We trust our training and we train a lot with Alisa, we want to perform as much as we can. Later on in the season, the judges and the technical panel saw it, and we really appreciated what we earned. It was the first season with two GPs for us, we loved Cup of Russia, and we also loved Skate America. We did our best there, we are a reliable couple, as I said. All this journey makes me smile, and I share this smile with my partner Alisa, she did an amazing job. We are looking forward to the Olympics!
Do you know where this strength that makes you so reliable comes from?
Alper: Before we start to skate, we always take each other's hands and say: "Whatever happens, I'm here with you and I will always hold your hand."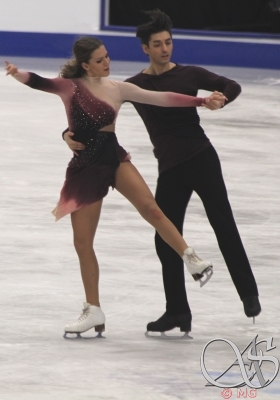 Alisa: We gave all our lives to figure skating, we sacrificed a lot for our sport. So we do as much as we can do. The judges are judges, but we want to do our best.
Alper: It's also important for the developing countries like Turkey, to show that there is figure skating in Turkey. Lots of kids are interested in figure skating in my country now, so I think it is an important message.
Do you feel that you have an impact on Turkish figure skating, that you inspire more kids to take up the sport?
Alper: Yes, already a lot of people have started.
Alisa: And they want to do ice dance! It seems soon we will have a junior team. Alper might start to coach them or give them advice. They want to take inspiration from us, because we've been through a lot and we had to open this door by ourselves, because we are the first ever Turkish couple in history.
Alper: As much as we succeed on the ice, I think we also succeed off the ice. We are proud of this.
Do you feel it is a huge responsibility?
Alper: Yes, we do. Firstly it's always very hard. We had to crack the ice for ourselves. We are set sailing to the Antarctica! (laughs) And now, who is coming behind us, can easily swim.
Last season was very difficult for you; politics have also had impact on your careers. After a Russian warplane was shot down in Turkey, you had to leave your group with Alexander Zhulin in Moscow and relocate to Detroit to work with Anjelika Krylova and Pasquale Camerlengo. [After the incident, stricter visa regulations were applied against Turkish citizens staying in Russia.]
Alisa: We love Sasha Zhulin, we still keep in touch. Moving was very hard mentally, and also physically, because you have to move all your stuff from one country to another country and at the same time you have to prepare for major competitions... But we trusted ourselves, we did our job, and I think we settled in Detroit. But as I said, we keep in touch with Sasha, because he is really amazing.

Alper: If I look back on these seven years, Alexander Zhulin was the milestone for us. He has a very special space in our heart. We really love him and his group. We also keep in touch.
Alisa: With Anjelika and Pasquale it's really interesting, because we create much more detailed work.
Alper: In Detroit we have a very good facility and environment. We really appreciate it. As we are coming to the end of our journey, we appreciate that we can spend our time with Anjelika and Pasquale. They did a lot for us and we enjoy working with them. Sometimes there are bigger issues which we can't influence, but our solidness also comes from the fact that we've been through so many obstacles, but we always managed to overcome them. We are happy and proud, and this is now one of our best seasons.
When you heard about the incident with the airplane, did you think that this might affect your lives, too?
Alisa: No, not at all. It was a sudden shock for us.
Alper: We didn't expect it. But this is destiny.
Are your practices very different in Detroit than what you used to have in Moscow?
Alisa: As we are getting older, it's really hard for them to teach something new to us. But we are working very hard. They understand Alexander Zhulin made us grow, and they are not trying to teach us something completely different.
What are your goals for this season?
Alper: To qualify for the Olympics.
Alisa: And to enjoy it with the crowd.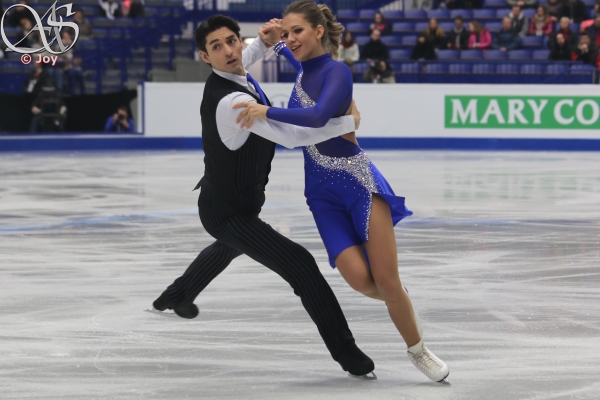 Alper is also a candidate for the ISU athletes commission, which was introduced lately. The voting for figure skating will take place in Helsinki during the Worlds. Why did you decide to be a candidate and what are your goals?
Alper: I come from a developing country, and I want to serve all the skaters, be a voice in the ISU. I also understand it is not a monologue, it's not a one-way communication. I also have to listen to the officials, organizers, but my main goal, the main goal of all of us candidates is to make the skaters' life more comfortable. It's amazing that we will have an athletes commission, it's pretty late, I think, but we are happy that ISU is starting to listen to the skaters. I'm open to all skaters' ideas, and I have a few projects, too.
Alisa: I think he is a perfect candidate. Not just because he is my partner,
and of course I will vote for him, but we came through a lot, we struggled, we broke this wall, and he really wants to help the skaters. He is so good in what he is doing, and he has many good ideas.
Do you plan to have any campaign in Helsinki?
Alper: I like to talk to the skaters face to face. I think they know me, they know my heart and they know how helpful I am. I've been in many other organizations, and I know the positive and the negative parts, what needs to be done and what needs to be fixed. I think I could help them a lot.
Let's turn the topic back to skating: which dance do you like more this season, your blues and jive short dance, or your free dance?
Alisa: I love the free dance.
Alper: Me too. It is a beautiful program. In the short dance we are showing how active and playful we can be, so both programs are beautiful. Alisa likes the free dance music a little bit more, and I think it shows our character on the ice.
What is your all-time favourite program?
Alisa: Magnificent centuries [Turkish TV show, very popular in Central Europe] in Zagreb. We came out and the crowd started to clap for us.
Alper: Europeans in Zagreb (in 2013) was such an important competition for us. Before that, there were lots of questions about us, but with our performances there, all the questions were blown away. It was our first season with Alexander Zhulin and we were so happy with him and what we had accomplished.
Alisa: We will always remember that program, and I think the crowd remembers it, too.