Carolina Kostner: "I discovered that I truly love this sport"
February 1, 2017
By Titanilla Bőd (Új Szó)
Photos © Mireille Geurts & Joy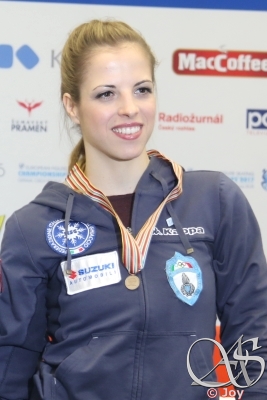 Carolina Kostner never 'doped', but she was suspended for almost two years, because she helped her then-boyfriend to avoid a doping control. There were not many people who believed in her comeback, but she returned to competition. At the Europeans in Ostrava, she won the bronze medal and enchanted the audience with her charismatic, emotional skating. She says the hard times helped her to find her roots again, and she wants to encourage young people to pursue their dreams. Carolina was one of the brightest stars of these championships, and after a one-hour-lesson she gave to the pupils at Tomáš Verner's skating academy, she found time to answer a few of my questions in the dressing room.
Because of the suspension you couldn't compete the last two years. Wasn't it hard for you sometimes, just to prepare and skate in shows, but not in competition?
Yes, it's been a period when I felt a lot of anger, disappointment, sadness and not being able to understand it completely. But on the other side I try to use it in a positive way. I finally had time to go to university. I studied art history and I went to classical ballet school where I worked very intensely. I spent time with my family and friends finally, because after 25 years of dedicating my life to skating I never had time to actually spend time with my brother. Finally I could go to watch his hockey games and visit my other brother up on the mountain. In the storm at the end you always see the sun. You should trust this, and never forget. If you fall down, you slowly start to stand up and rise again. It's very important in life. Now I think that I can use all this experience to make my skating better. And it helped me to rediscover my roots, to go to the fundament of who I am. What I discovered is that I truly love this sport and I am lucky that I can continue this journey.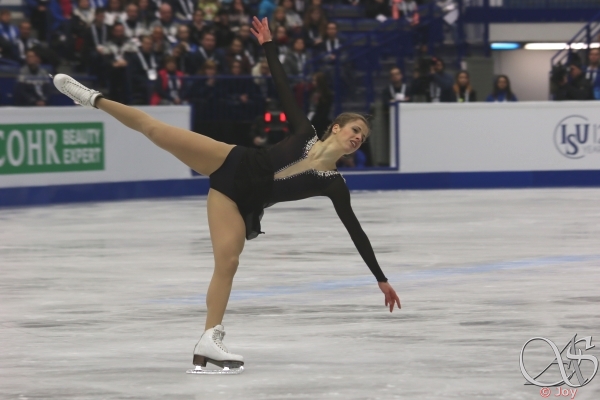 Were you more nervous or did you get used to the old routines quickly?
The joy to be able to continue my journey was much bigger than my nervousness.
How did you feel in Ostrava? The audience welcomed you so warmly.
Yes, it was amazing. To hear the cheers during the warm-up and especially during the last part of my program, it was so encouraging.
What is your relationship like with your coach, professor Mishin? He seems very strict, hardly ever smiling...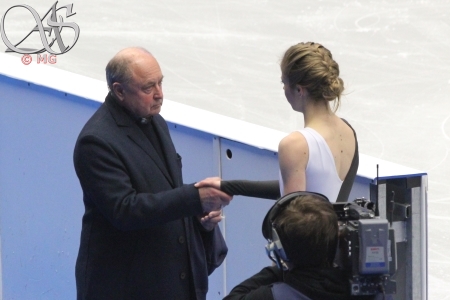 Our relationship is very professional, we respect and admire each other very much. For us, it's a challenge. A challenge to find what I can still learn. And I found out this month that I can still learn so much. That doesn't mean that the choices I made in the past were wrong, actually, what I've learnt in the past has allowed me to skate now how I skate. I'm grateful for that, for everybody who helped me in my career.
What are your plans for next season? As far as I know the Russian coaches are not allowed to work with non-Russian skaters in the Olympic seasons.
I concentrate on this season. I still have so many things I want to improve, to work on. For the next season I will think when the time has come.
In the kiss and cry you gave a big fluffy heart to Mishin with which he felt a bit awkward. Did he keep it in the end?
Yes, I told him he should give it to his grandson.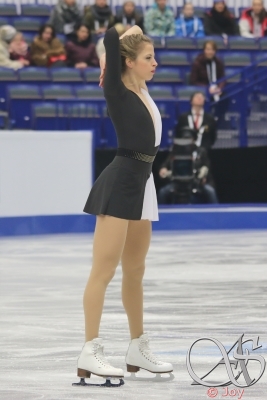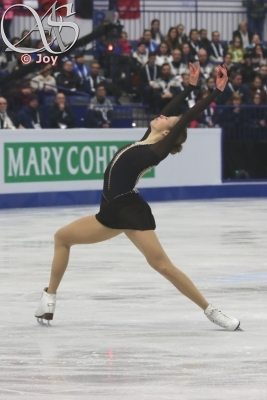 Let's talk about your programs. Watching your short program to Led Zeppelin's music I got the feeling that it was a demonstration of strength and confidence, something like: "Look at me, I'm back, and I'm stronger than ever."
This music is very fun, energetic, modern and rock and roll! That's what I was trying to portray. I used it in a show and I loved it so much that I said, if I ever compete again, I would love to use it. I know it was risky because it's not my natural movement and it's not a classical choice, but I told myself I can always go back if it doesn't feel right. The more I train it, the more I still discover that it can become something really special. I love the music, I love the energy that it gives me,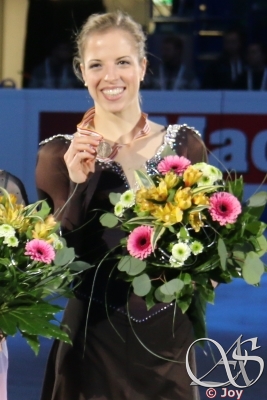 and I'm very happy and grateful to hear that it pleased the audience, because you want to share your joy with them.
You mentioned at the press conference that you read an interesting story about your free program music, Vivaldi's Nisi Dominus, that it was written for an orphanage.
Vivaldi was the musicmaster of an orphanage in Venice for a couple of years, and in this period of time he has written a couple of concerts that those girls were performing in the church, and that's how he helped them - or, to be more precise, I picture that that is probably how he helped them - to deal with their sadness of losing their parents when they were little. For me it's a symbol and motivation to say... well, that I am so lucky, I have always known what I've dreamt of and I feel even more lucky that I was able to make it to reality. And I never take it for granted that I'm actually living my big dream. I would like to bring this to the minds of young people, that if you try hard, work hard, engage, if you have the courage to even take some risky decisions, it might not always be easy, but in the end, your efforts will always be paid back. I strongly believe in that, and I want young people to know that it can happen, that it can become reality. Because for me it did.