Meagan Duhamel & Eric Radford: "It's time to shake things up!"
October 27, 2017
By Titanilla Bőd (Új Szó)
Photos © Mireille Geurts, Keiko Kasai, Ludwig Welnicki (Joluskating), Askar Ibragimov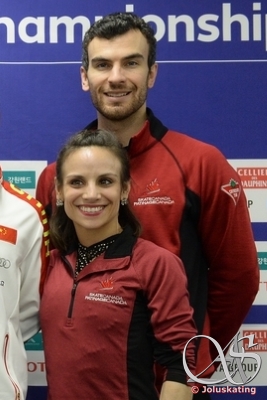 After two world titles they finished 7th at the Worlds in Helsinki. Despite the disappointment they were extremely open and honest talking about their struggles, painful experiences and future plans. Meagan Duhamel and Eric Radford are confident to climb their way back to the top.
As reigning champions you failed to defend your title and finished seventh, which is your lowest placement at Worlds since your debut in 2011. What are your feelings about the competition in Helsinki?
Eric: We are relieved that it's over. I'm happy that Canada got three teams for the Olympics. Of course it was a way less than ideal, but I think we managed well under the circumstances.
Meagan: It's part of sporting life. Every athlete goes through it. It's only a failure when you don't find a way to get out of it. But we will find a way out of it.
To make things even worse, Eric got injured in Helsinki and had some hip issues. How difficult was it to skate with that?
Eric: There were moments when I thought it wouldn't be possible. Then we came together and we had a good skate, but physically it was the hardest program I've ever done.
However, Worlds were special for you in a positive way as Meagan has Finnish heritage. How did you feel in Helsinki?
Meagan: It's always special. After the Olympics we weren't sure if we would continue, but when it was announced that the 2017 Worlds were going to be in Helsinki, it was a big motivation to keep on competing. Now I've competed in Finland three times, so I'm very fortunate. During the Worlds there was a day when I had two different lunches with two different parts of the family. It's really special because if I wasn't competing at this competition, they wouldn't be all united.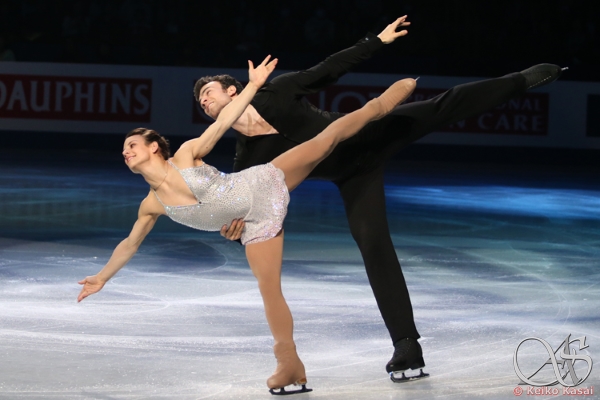 By the way, do you speak any Finnish?
Meagan: No. I can count, I can say colours and some basic phrases. I used to go to a Finnish school when I was five or six years old, so I know basic things you'd learn as a child.
Your compatriot, Patrick Chan was skating in his free skate to music composed by Eric. How is it different to skate to your own music, like you did in the 2014 Olympic season, and to watch someone else skating to your music?
Eric: That's a really special experience. The whole Sochi season, skating to my music, that was a dream come true. Something I always wanted to do and I was able to do it. Watching Patrick skate was so stressful, I wanted him to skate well so much. And it's always special to watch my music come alive, especially at the World Championships.
How does it look like when you compose music?
Eric: Sometimes it's like magic. Once I sat down to the piano, saying,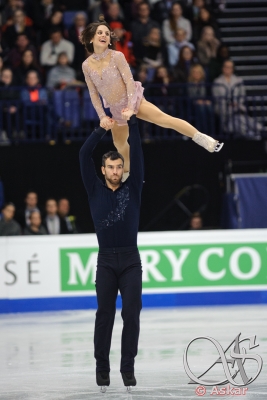 I'm going to write something, and I was sitting there for two hours and there was nothing. And another time, I just sat down for a while, playing around, and all at once, wow, there is an idea! I can't even figure out myself how it works.
Do you plan to create music for anyone for next season?
Eric: If someone asks me, I'm totally open to this option. I don't think I would compose music for us, but I'm open to do it for somebody else.
These Worlds were revolutionary as there was the very first election for the ISU athletes' commission. What do you think are the biggest issues the skaters' community has to deal with?
Eric: First of all, we've never had a voice and now that's changing. What bothers me personally that I see new rules come out, but I never know why, and if I ask around the people I know at competitions, nobody can answer me. So there are rules that affect me as a skater, but I have no idea why they are there. To know what is the motivation behind them would bring a lot of clarity for all of us. I think transparency for the athletes is very important, so that we feel that we actually have control over what we are doing in the sport.
If you look back at your whole season, how would you reflect on it? Have you learnt something from it?
Eric: We always learn a lot, especially in harder times. We came up with a plan for next year and it is very re-energizing, motivating and exciting.
Meagan: And we wouldn't have been able to come up with this plan if these Worlds didn't turn out the way they did. Sometimes you need to hit rock bottom to be able to get back up. We'll climb our way back to the top next season.
What is necessary to reach this goal?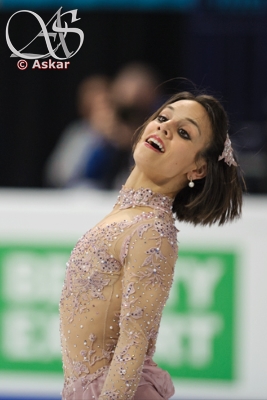 Eric: We've already analyzed this competition and the whole season, and I think we've already come up with a really good plan, with a lot of changes, lots of new things. We need to re-invigorate our skating and our attitude as we are heading to the Olympic season, which is one of the most important ones. I think we've been riding a wave for a very long time, since we won our first World championship, and if you just keep on doing the same thing over and over again, thinking that it worked really well the first time, you will realize it doesn't necessarily keep on working as well. So it's time to shake things up, try some new things and see if we can find that sparkle again.
Meagan: Other skaters now have set a new standard. We used to have the standard, but now we have to find a way to get up to their standard now. That will be our mission going to the next season, which will be our final season.
How important is it for you to go for the triple Axel and the quad throw in the new season?
Meagan: The triple Axel is not necessary.
Eric: I think we will definitely stick with the quad, because we've been doing it longer and we know we can do it in competition. I think that each season we've always tried to up our standard in the technical side, with the throw quad two seasons ago and with the triple Axel this season. And it hasn't worked.
Meagan: We are not learning a new technical skill for next season, we won't introduce something new. We might come up with little moves on the technical side, but not a brand new thing. It will be more about finding a different style, different energy.
Eric: This season we experimented a little bit, because it was the season before the Olympics. But next season we are going to return to what we are the most comfortable with.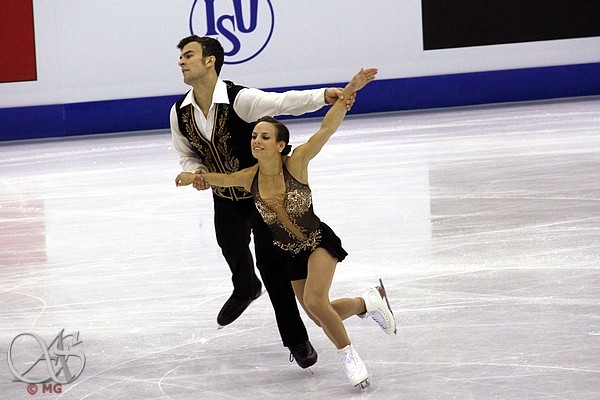 You pointed out that the base value doesn't justify the difficulty of the quad throw or the triple Axel.
Meagan: Well, it doesn't. Two years ago at the World Championships we landed a throw quad, just with my hands touching the ice, so not a major mistake, and about five or six teams got more points for just doing a triple. So many times we didn't fall on the quad but we'd get more points if we just did our nice, easy triple jump which we can land but with good quality. But it is much more difficult to go for a triple Axel! Also as for side by side jumps, we are doing triple Lutz, which is much more difficult than a toeloop or a Salchow. So maybe one day they will re-evaluate the base value, maybe they will ask the skaters what they consider difficult. Aljona and Bruno would also prefer if they got more for the throw triple Axel because they know how difficult it is.
There was an article written by Meagan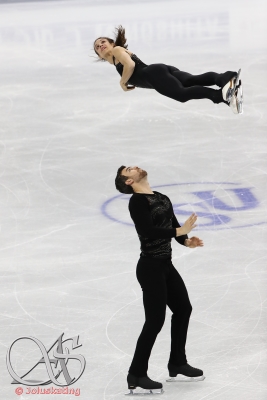 in which she mentioned you started to work together with a sports psychologist. How does it work and what do you gain from it?
Meagan: We used to work with somebody years ago, but we stopped. Then we started winning so we were like: "We don't need anybody!" But this season we had some struggles, and the main psychological issue was that we would train clean programs and then show up at competition and have these messy and bad performances. Before the Grand Prix Final and Four Continents we did simulations at our rink and we skated clean, but then we showed up at both competitions and faltered throughout the long program. So we realized we need to figure out why we were not competing as we should be, because we were prepared for it. That was the main reason we introduced a new member to the team.
Was this your most difficult season so far?
Eric: Every season has its own difficulties, I would say there are different colours of difficulties. This season has been extremely demanding physically and mentally. But it doesn't mean that, for example, skating the long program in past seasons was any easier, because it's always difficult.
Meagan: The only difference is that it's the first time in our career when we kind of finished the season on a low. We've had spectacular World Championships the last six season and it's the first time that we are ending on a bit of a low. That's pretty good odds that it happened only once!
Eric: It's funny to keep perspective. We know what we are capable of and we always wanted to achieve that, but if I step back and look at our results since the Olympics we realize that we've never been off the podium. I know that I want more so it's easy to forget how amazing it is what we've accomplished. If I looked at a skater with the same achievements as mine, I'd be like: "Wow, I wish I had a career like this!" But we do. We've made it happen, we worked very hard. We still have one year left and just because we had this bad competition, it doesn't mean we can't get back to the top again.