Galit Chait: "Every day I look forward to the next training session"
January 21, 2017
By Andrey Yofis
Photo © Julia Komarova, Reut Golinsky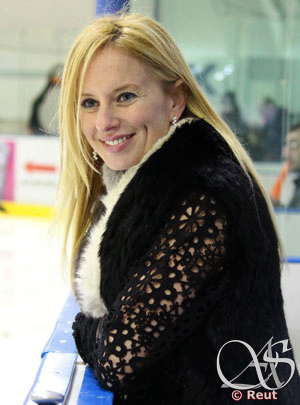 One of the most prominent athletes in the history of Israeli figure skating, a flag bearer for Israel at the 2002 and 2006 Winter Olympics, Galit Chait continues to stay at the cutting edge of the sport as a coach and an ISU technical specialist.
We met during the Rostelecom Cup in Moscow, where her student, Alexei Bychenko, won an historic Grand Prix bronze medal, and talked about her goals and approach to her work in all her various capacities, the Israeli team, and more.
You are now the head coach of the Israeli team. Was it a natural process for you moving from skating to coaching?
Yes, it was natural, but of course it was also difficult. Once you're used to competing and used to being in front of the audience, it's hard to move to the other side of the boards. All my life I was training as an athlete and all of a sudden you have to change gears. It was a smooth transition but it took a little bit of time to get used to it, to remember that I'm not a skater anymore.
You were coached by many famous coaches: Tatiana Tarasova, Natalia Linichuk, Natalia Dubova, Alexander Zhulin, Yevgeny Platov, Nikolai Morozov - in short, every big name in ice dance. Which of them do you think affected you the most, what did you take from them for your coaching?
I think each coach gave us something. I loved working with Tatiana Tarasova. She has a great energy and I enjoyed training with her very much. She had a great presence - when she was there, you wanted to do well, and she brought the best out of you. I hope I do the same with my skaters.
I also loved working with Nikolai Morozov, I enjoyed the creative process, especially when we were working together with him and Tatiana Tarasova.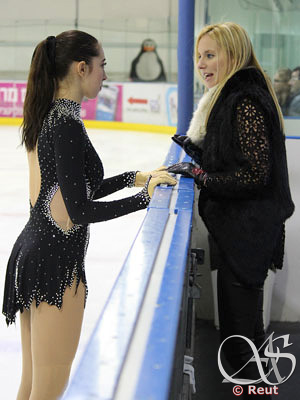 What qualities of those coaches do you try to bring while working with your students?
I guess with Tatiana Tarasova it's just that energy, and having a good eye for seeing what works, because everybody is different. I think she was amazing at seeing what qualities work for what skater and how to bring the best out of each athlete.
With Nikolai Morozov it's the creative process. It was important that a lot of the choreography, a lot of the thinking came from us, not just from the choreographer. That was exciting!
At some point Israel was one of the powerhouses in ice dance, with you and Sergei Sakhnovski, Alexandra and Roman Zaretsky, and Natalia Gudina and Alexei Beletski skating at the same time. Did you feel that it's easier being the head of the team rather than being the only indisputable leaders?
I think it is better when you have a team. It was good because we placed high enough so the other skaters could go to the Olympics. It was nice to have a team and not just us. Till this day we are best friends with Natalia Gudina!
You were one of the first well known Israeli skaters. Did you feel that it's different to represent a small country without a long history of figure skating, did it affect you?
I think it was harder in the beginning; it's a small country, no one knew us and we didn't have a long skating history. But I think we put Israel on the ice dance map... There always has to be pioneers, and I think for the skaters it is a little bit easier now because everybody knows Israel and it's known as a country that has not just one or two skaters, but a whole team.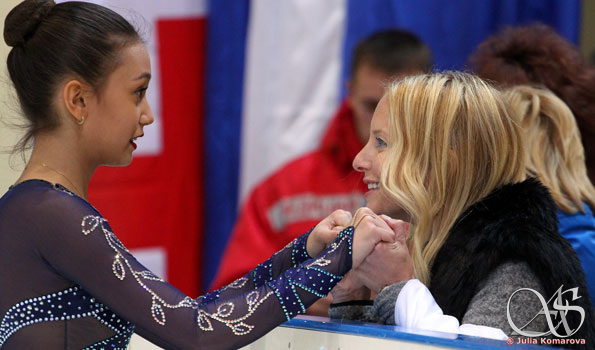 Who do you have in Israeli team now and who do you have in your group?
I work with Alexei Bychenko, alongside Roman Serov, and with the new pair Evgeny Krasnapolsky and Arina Cherniavskaia, alongside Anton Nimenko who is the pairs' coach in the group. We also have a junior pair, Hailey Esther Kops / Artem Tsoglin, one senior ice dance couple, Adel Tankova / Ronald Zilberberg, and one new junior team, Shira Ichilov / Vadim Davidovich. Additionally I work with junior lady Sophie Abrams. Of course there are also choreographers; we have lots of people working on the programs for the skaters. I also get help from Alexander Gorshkov.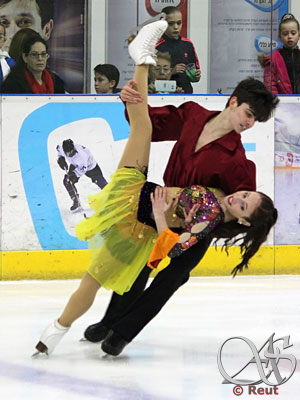 It seems that eventually most of the Israeli skaters and coaches end up in your group, like, for example, Rony Zilberberg and Artem Tsoglin who started in Metula. How is the decision made who is going to move to New Jersey?
I think it's a natural development, when they get to a certain point they need to grow, they have to get the opportunity to become the best that they can be.
Does the federation support those moves on a financial level?
As much as the federation can help. And then of course the parents contribute as much as they can. Members of the coaching team work extra hours, doing a lot of the work beyond. You have to if you want to bring someone to the highest level. There's no other way.
Do you think it's important to have a local club in Israel as well, or would it be enough to find skaters who want to compete for the country and bring them to New Jersey?
It is very important to have local clubs! There is now a rink in Holon where skaters can start while they are young and without it there's not going to be a future for the country's skating. Figure skating cannot survive in Israel if there is no younger generation coming up.
Do you know someone who is now being coached in Holon and can already move to a higher level?
I have just taken a girl from Holon who had been skating for a year, and now, in a period of six months, the progress has been amazing. People who saw her six months ago and see her now, they can't believe it! Children usually start skating when they are four or five years old, and she started just recently! It's not an easy task, but it's exciting to take someone from virtually nowhere and make something special.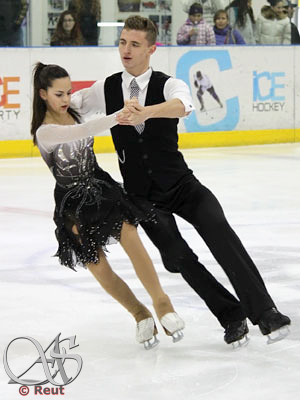 We'll look forward to seeing her. What is her name?
Shira Ichilov; she skates with Vadim Davidovich, the new junior ice dance team. I'm very happy with her progress. And it's nice that it's someone from Israel, who started in the ice rink in Holon.
Do you visit Israel sometimes, the local clubs there to check what's going on?
Yes, when we go for the Nationals in December, I'll try to work with the kids there and to give a master class, a mini-seminar maybe. We're trying to do a lot while we're there.
There haven't been Israeli competitions for some time now, except Nationals. Does it help to have a home competition where you can get a more supportive crowd?
Of course it's always exciting to skate in your home country, and the audience was always good. We got a lot of support. But I think Israel gets a lot of support wherever: in Russia, in Canada, in Japan. That has never been an issue; there are a lot of great fans.
There is also a plan to hold a junior competition, at advanced novice level, in February in Eilat. And eventually we'd like to do a Senior B event too.
To continue with questions on an Israeli theme, while you were skating, you had at least three programs to Jewish music. This doesn't happen now with Israeli skaters. Did it become less important?
It's not necessarily so. Of course we skated to Israeli or Jewish music in two Olympics; and Alexandra and Roman Zaretsky, while I was coaching them, skated to "Schindler's List" in Vancouver. Maybe we'll see another theme with Alexei in 2018 and continue the trend of national music at the Olympics.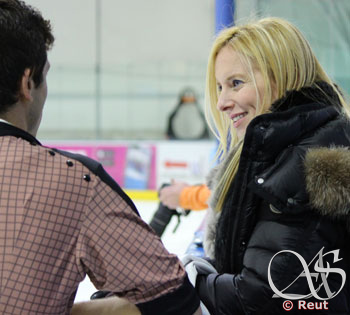 The rules have changed a lot since you competed. Did you have to learn a lot of new things as a coach?
I'm also an ISU technical specialist; I went to do that basically to learn what the rules were. And then I really liked it! For me it was good because the technical side has moved forward, it's a completely different sport than what it was when we were skating. It's good to know what the judges and technical specialists are looking for.
What aspects are better now than previously and which are less so?
I like the new system because it gives you a way to evaluate yourself on the technical level with the grades of execution. I think it's moving in a good direction. I think what the skaters are doing now is amazing!
Do you also work on choreographing?
Yes, I work on the programs. Sometimes we get the choreographers and then I work on cleaning programs up; but I generally prefer to get the help of the choreographers to stay fresh, to get some different ideas. I think it makes things more interesting.
I like getting input from other people, other choreographers, ballroom dancers, people from Broadway, because they see things in their individual ways. It provides an extra set of eyes to make things better. I like doing it for the skaters because it's also exciting for them - it's not just me all the time.
How does the music and the concept of the programs become chosen in your team? Different coaches use different approaches.
In the short dance they prescribe the rhythm, but in general I think a lot has to come from the skaters.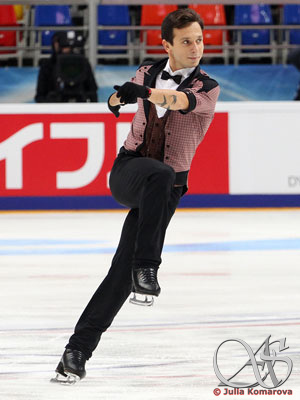 I try not to push my ideas too much because if the skaters have input to what they skate to they will enjoy it more and they will be happier. I wouldn't like to say "you have to skate to this!" Sometimes I would suggest a piece but if they want to skate to something else, then that's better, because it's coming from their hearts and they want it. I prefer that.
So we see Alexei Bychenko and not Galit Chait on the ice?
Yes, it's Alexei!
Can you describe your work with him; how did you manage to help him reach his current success?
I have been working with Alexei for the last five years. It's been an interesting journey. It's exciting to watch from the moment that he came to the US, how he's transformed, with a lot of help from my father (Boris Chait, head of the federation), from my mother (Irina Chait, the team leader), from me, from the coaches. He really turned himself around. Every day I look forward to the next training session. I really enjoy it.
Do you have a plan of how to bring him to the next level?
I don't think there's a master plan. I think the plan is to work, and work hard. Keep him injury free. That's the biggest issue for any athlete - avoid injuries, train correctly, and take care of the body.
Good luck! We all expect to see Alexei at the Olympics, and hopefully in a team with Daniel as well.
Thank you!