Anastasia Galustyan: in pursuit of a dream
September 27, 2017
By Reut Golinsky
Photo © Askar Ibragimov, Reut Golinsky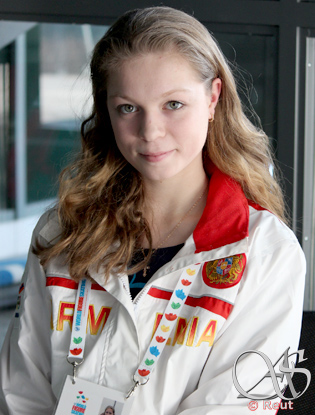 I first noticed Anastasia Galustyan during the season 2015-16, when she had a lovely short program to "Once Upon a December" from the soundtrack for the animated alternative history film "Anastasia". In a light yellow dress, skating in a passionate yet graceful manner she was indeed like a charming princess, just like her namesake from the story. It was then that I decided I would love to meet her one day.
Anastasia Galustyan was born in Moscow. She started skating very early, at the age of two and a half. Both her parents, once competitive skaters themselves, are figure skating coaches, so they often took their daughter with them to the rink. "We all are very emotional people," she explains, "that's why we try to leave all our disagreements and disputes on the ice. We usually won't take them home, because continuing to argue at home too would make our life too difficult. So we all try to control our feelings to keep our family calm and peaceful, family is family."
With the experience she gained over the years of being a competitive skater, sometimes, when she has some free time, she helps her parents with their youngest students or with the young skaters of age 10-12, advising technical details or ideas for their programs. She quite enjoys that but does not plan to work as a coach professionally when she grows up. "Having a third coach in one family is way too much," she smiles.
Anastasia skated for Russia until she was 13. In 2009, she became a champion of the Moscow Cup and a year after that she finished third. The next two years were a struggle; she was seriously considering quitting skating, but when she received a proposition to skate for Armenia she decided to give it a try. The first time she represented Armenia on the ice was at the Crystal Skate in 2012.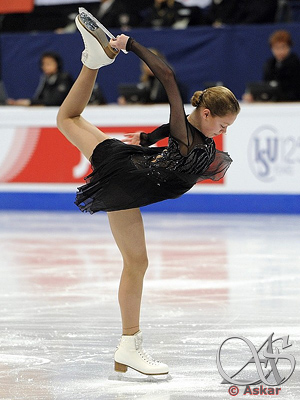 The Armenian national team is quite small. During the last Worlds in Helsinki, for example, they had representatives in three disciplines: Anastasia in ladies, Slavik Hayrapetyan in men, Tina Garabedian and Simon Proulx-Sénécal in ice dance. Only Anastasia qualified for the free skate. Armenia still has a long way to go. "We don't have pair skaters yet, but I really hope we will," she said. "They are trying to develop figure skating; we have a new skating rink and many children train there now. In recent years, the National championships in figure skating have been held, so we're trying to raise figure skating in Armenia. Of course, the level of interest in figure skating is still rather low. Not many people are aware that Armenia has a team at international level. Sometimes I see Armenian flags in the audience during the competitions and there are fans online, but the interest is mostly international. I have fans who always follow what I am doing, always wish me luck, they are very devoted fans and this is really nice. Knowing that someone follows your career motivates you a lot."
Anastasia debuted on the ISU Junior Grand Prix series in the 2013-14 season, finishing seventh and tenth. That season she also made her senior international debut, placing 5th at the Ukrainian Open. The Warsaw Cup is her lucky competition; she got both her ISU Challenger Series medals there - silver in 2014 and bronze in 2015. In 2015, she qualified for the first time at an ISU Championship free skate - it was at the European Championships in Stockholm, Sweden, and she ranked 13th. In 2016, she represented Armenia at the 2016 Winter Youth Olympics in Lillehammer, where she placed in the top 10.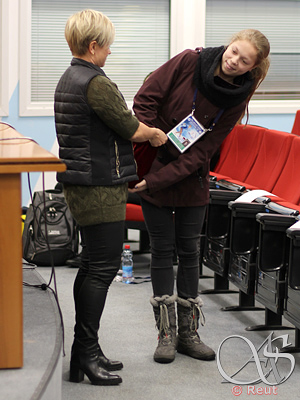 In autumn 2016, Anastasia received invitations to two Grand Prix events - the 2016 Rostelecom Cup and 2016 Trophée de France. Competing at the Rostelecom Cup in Moscow was a dream come true. "This season I declined two invitations to the junior Grand Prix events, because I hoped to be invited to the senior Grand Prix event instead. Then I received not one, but two invitations! I didn't expect that. Since my childhood, I always come to watch the Grand Prix event in Moscow live; to participate in it was my dream. My friends and relatives came to cheer me on, it was really nice."
She will have another chance to skate in her hometown this coming winter, during the European championships: "For this to happen it was worth continuing to skate! It motivates me to improve, gives me drive to work harder."
When asked about her role models, Anastasia names Carolina Kostner, Yuna Kim, and Patrick Chan: "I admire Carolina Kostner, the way she had her come back. I can only imagine how hard it was for her. Hats off to her and to how she was able to overcome all those difficulties and troubles she underwent recently, that story with [her former boyfriend's] doping. Whenever I see her, my heart fills up with warmth.
When I watched the Olympic Games in Sochi, I especially liked Yuna Kim, her jumps, her skating in general. Everything she does is so skillful; I think one could use her jumps to write a book about skating technique! Unfortunately, jumps are my weak point, after all, I am rather tall and this makes a difference, but I plan to work on them during the off-season.
And Patrick Chan, I'm his biggest fan, for a long time."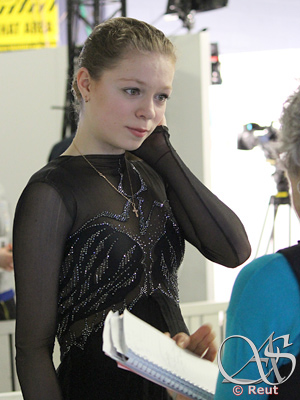 In her spare time, Anastasia loves to draw. In general, she doesn't really like to go out, party and spend time in clubs, she prefers to stay at home or be with her close friends. "Unfortunately or luckily, I'm a very disciplined person. Also, I'm rather shy. Although from seeing me on the ice you probably can't tell. This is because I'm highly emotional. When I'm on the ice, all my feelings come to the fore. I skate with all my heart. Everything I do, I do it wholeheartedly. Maybe I don't skate as well as, for example, Zhenia Medvedeva or Ashley Wagner, but I aspire to be like them, I am not giving up."
We met with Anastasia during the World championships in Helsinki - we found time for this talk after the draw for the free skate. Her performance earlier that day did not go as she wished and she looked very upset when talking to journalists in the mixed zone. Still it was not a complete disaster; she qualified for the free skate and had good chances to qualify Armenia for the Olympic spot, so I started our talk from asking her about the reasons for such sorrow.
"When I'm upset you can see this on my face, this is how I am," she explained. "I am very emotional and I can't hide my feelings, can't change that about myself. When I skate well, I am excited, but today... It's not that it was a very bad performance, but I had mistakes. I worked really hard towards this competition, was really nervous about it, mentally it was probably one of the most difficult competitions for me. To qualify for the Olympic Games was my main goal here and I feel sorry now that the triple-triple combination I was working on so hard came out only as triple-double, and with a mistake.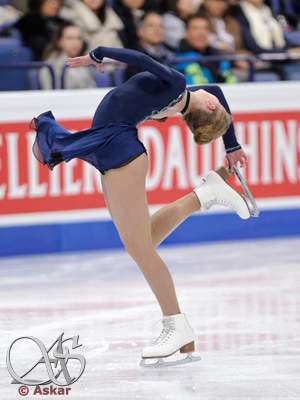 Unfortunately, more recently I fail to show my best. Probably because I am too nervous. Maybe not everything went well today, but I feel that first of all it was a self conquest. It wasn't perfect, but I tried hard. I hope to skate better in the long program. I need to gain a higher placement also because I want to get to the Grand Prix. Of course, it won't be easy."
Sadly, Anastasia's free skate was not smooth - she didn't succeed with her triple Lutz-triple toe combo, popped the triple flip and lost levels on a few elements. She finished 23rd overall, just one placement shy of qualifying for the Games. Now she will need to fight for the Olympic berth at the Nebelhorn Trophy in Oberstdorf.
It is somewhat symbolical that the short program with which she tried to qualify at Worlds and will try to do now at Nebelhorn is to "I Dreamed A Dream" from the musical "Les Misérables".
"This program was choreographed by Nikolai Morozov in January and I debuted it at the Europeans; the feedback was very positive. When we were searching for the musical piece for the new program, I was trying different steps on the ice, and when I heard this song, I was immediately carried away with it. The lyrics are so strong, and I feel this music really well, I really enjoy skating to it."
Unlike the lyrics of the song - "...But there are dreams that cannot be, and there are storms we cannot weather!" - we hope Anastasia's big Olympic dream "can be" and will be realized this weekend. We wish her good luck for a successful season ahead.