Israeli skating on the rise
January 25, 2017
By Reut Golinsky
Photo © Reut Golinsky
A week before the Israeli Nationals, during the "Golden Spin" competition in Zagreb, Israeli skaters caused a bit of trouble and confusion for the local organizers. Alexei Bychenko won the event while Daniel Samohin finished second, so not one but two Israeli flags were required for the medal ceremony. With the Israeli skating on the rise we guess organizers of the future skating events should keep two Israeli flags in stock now, just in case.
During Israeli Nationals in mid-December we had the opportunity to catch up with the president of the Israeli Ice Skating Federation, Boris Chait, and with Alexei and Daniel. We talked about their goals towards the Games and the situation with Israeli skating in general.
Alexei Bychenko and Daniel Samohin: "We are like yin and yang"
Daniel, Alexei, what are your impressions from these Nationals? How was it for you to switch to a smaller rink?
Alexei: As you've witnessed, for Danny it wasn't an obstacle at all! (smiles)
Daniel: It is hard, you need get used to it. I succeeded with both quads but failed with pretty much all the rest. To perform a quad when you have less room and time to prepare for it takes much more effort. You try afterwards to save on other jumps, to approach them in a calmer manner, but it's still difficult. You don't have enough room to gain the speed, you don't have enough of it to have some rest between the elements, and all this makes a difference.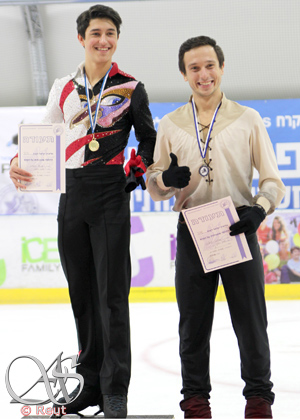 Did you feel the rivalry? Were you competing against each other here? Will the placement here influence anything?
Daniel: I don't think it will.
Alexei: Not in our case, no.
Daniel: As for the rivalry, we do everything as a team. Everything we do, we do for the team, not for ourselves. And that's great; I hope it will stay like this in the future.
Alexei: These are our priorities, our goal. We don't compete with each other, we compete together against others.
Talking about competing against other skaters, you comprehend I guess that you have a good chance to be the strongest team in men's discipline at the coming Europeans? Stronger even than the Russian men.
Daniel: We really hope so! (smiles)
Alexei: This is exactly our goal. I absolutely won't mind if in Ostrava they have two Israeli flags raised again.
I noticed an interesting pattern this season: you, Daniel, always have a strong short program, but the free skate draws you back; and you, Alexei, are the opposite: you start with a weaker performance, but then in the free skate you do your utmost and get a higher placement.
Alexei: Yes, we're like yin and yang, together we're one, he does a short program and then later I do my free skate. (laughs)
I don't think there is any regularity here, that someone always has a better short program and the other one has a better long. We all try to do our best, but things happen, we all make mistakes.
Daniel: Also at the beginning of the season it's hard to perform both of your programs well; usually they are not both completely ready. For example, last season it was the other way around for me - the short program didn't go well, while the free skate was always more successful. And this season it goes like you said. You just need to work hard, and everything will be OK.
If you mention being a team and completing each other, how do you help each other?
Which advices, for example, Alexei as an older and more experienced one gives? And what you, Daniel, can contribute to Alexei?
Alexei: Thanks to Daniel I'm evolving all the time. As you could see our young generation is not one step ahead, they are ten steps ahead already. And as they can perform difficult elements, I have to constantly catch up.
Daniel: I was always watching Alexei, saw his competitions. He is like my second big brother. He is pushing me and supporting me if something goes wrong. This helps us both so much that we support each other.
Which goals do you set for yourselves for the second half of the season? Except for the big one of qualifying for two berths for the Games.
Alexei: In the second half of the season this is the main thing to be decided. And this is our main goal for this season, that one of us will go to Worlds and get two spots for Israel.
And this is a realistic goal and any of you two can do this?
Alexei: Of course!
Daniel: Yes!
Last spring you both took part in Ari Zakarian's ice show in Israel. How was it?
Alexei: It was really cool, because we performed in Israel, and a lot of people came. I think five years ago maybe less people would have come. There were a lot of young people in the audience, people who already know and understand figure skating, who knew me and Danny, and, of course, all those famous athletes who also took part in this show.
You had to perform to live music and you also didn't skate your usual programs of that season. What do you prefer: skating your programs or improvising like you did?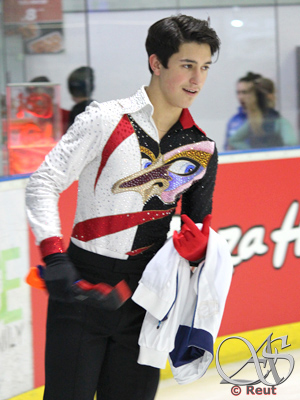 Daniel: I love both. There was even a certain fun in the fact that we didn't have much time to choreograph something for this music, so we really skated from our heart. And many people like it, because of that.
Alexei: Yes, we didn't just skate, we improvised, but we did it from all our hearts, the way we felt it. And it was really great.
And last question, what do you love the most about Israel?
Both: Food!
Some specific food? Like hummus?
Daniel: Everything! Any food! Even in the worst of all the restaurants we visited they had amazingly tasty food! I mean it; the food is really tasty here. And also we can have some rest here, as if all our problems go away.
Alexei: It is less stressful; we can have a rest, have a mental break in the middle of the season.
Daniel: And we meet our friends; meet our Israeli team, because we don't always have this opportunity during the season. So that's too. And that's why we really love coming here.
Boris Chait: "What is difficult in training will become easy in a battle"
What time is it that you hold Israeli Nationals at this rink in Holon?
This is the fourth time. As soon as we've built and opened this rink, we started to hold Israeli Nationals again.
And what about your plans for the bigger, standard size rink?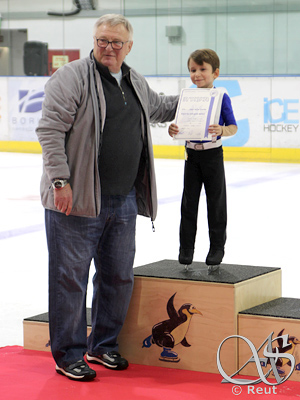 We have negotiations with the mayor of Holon now. We already have a plot of land. There was a problem with a leasing time of that land, but they were ready to meet our needs and even changed city regulations for us. If we can finish building it in two years, that will be a huge accomplishment as this is a very ambitious plan.
And then we will be able to host international competitions?
Immediately. And the first one, no doubts, will be Skate Israel (which was a senior-level international figure skating competition in all four disciplines, held in Metulla, Israel; it was last held in 2005).
And it will be a part of the Challenger Series?
If we have enough participating countries - and we plan to have all four disciplines - it will be, yes.
How was the competition this year? Are you pleased with what you saw?
I see a huge difference from the last year. Not only with our leading skaters, that's obvious, there we do a lot of work every single day. But also with children, a very big difference.
When you see some promising young skaters here, do you instantly consider whom to invite to train with Galit in US?
No, we never think like that. It all happens only by their coaches' decisions. But their coaches understand...
...that starting from a certain level you can't really train at this small rink. And then they ask you?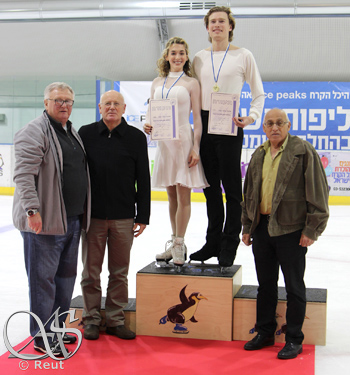 Well, I certainly didn't approach any coach myself first...
How many skaters do you have now living and training at your base in New Jersey?
Sixteen, and we have both seniors and juniors among them.
I've heard you've created great conditions for them there.
We have a person who stays with them there 24/7, someone who cooks for them, they have facilities to do laundry. And they get distance education. And the rink is less than a mile from where they live.
How many of them can actually speak Hebrew?
Why, Zhenia (Krasnopolski) speaks Hebrew; Shira (Ichilov), Artyom (Tsoglin) do too.
What are our perspectives for the Olympic season? Do you think we have a chance to get to the Team Event?
Well, it doesn't depend on us. To tell the truth it depends on how much financial support we can get. To prepare our skaters well, to prepare the Israeli team, we need money.
At the moment it looks like we have a good chance to qualify only in men and in ice dance.
We'll see what we have. But to have a team we need a lot of money. Team Event is every country's dream. After they did that trial Team Event in Sochi, after everyone saw what this is, every country now is eager to be there.
Was it such a success? I understood that it was quite hard for the athletes.
What is difficult in training will become easy in a battle (famous saying by Alexander Suvorov - ed). Everyone loved it!