Javier Fernandez: "It is what it is, I have to learn from it"
April 12 , 2017
By Titanilla Bőd (Új Szó)
Photos © Askar Ibragimov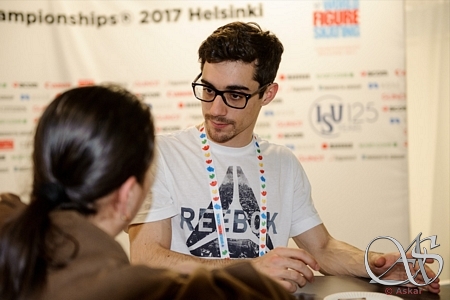 He was on the right track to grab his third world title, but made too many mistakes in the free program. In the end, he finished fourth in Helsinki, but Javier Fernandez says this situation also has its advantages. He explained what he meant by this after the gala in the Hartwall Arena.
Amazing short program, not such a good free program – I guess you have mixed feelings about these World Championships?
It was a good competition overall, there was a good level of skating, and that's important. Free program didn't go as we planned; maybe I got more nervous than I was supposed to, but this is sport, this is competition. Sometimes you compete well, sometimes not, but you have to learn how to win and how to lose.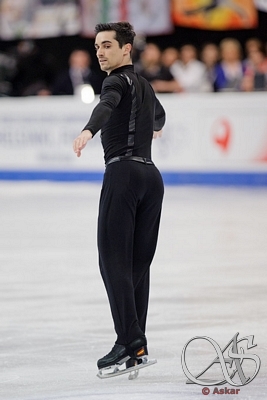 How did your preparation go, coming into this competition? At the Europeans in Ostrava you suffered a bad fall during the free skating and you couldn't take part in the exhibition. How long did this injury bother you?
It was fine after a week, I didn't feel pain anymore. It was just a hit in the bone that cost me a little bit of pain, I couldn't move properly for two days. But after that I got back to training, I trained good, hard, and I was in shape to compete. But sometimes you simply don't compete well.
It started very well - your short program to "Malagueña" was amazing and you earned 109.05 points for it. Could you feel the vibes from the audience?
Yes, I felt how people enjoyed the program, and I enjoyed it, too. I was very happy, because this is the second year I'm performing this short program, so probably it was the last time. We decided to keep it for this season, because we thought this program had more to give than it did in the last season. To finish the season with an amazing short program – it proved that it was a good decision. It also proved this program was really good. I'm happy about it.
This time you were the leader after the short program, but when you won both of your world titles, you were only second after the short. How is it different for you to skate as a leader as opposed to a kind of an underdog?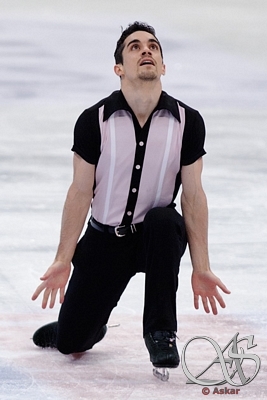 It's a different feeling, but at the end of the day we just want to do clean programs. But of course, it's a little bit different; when you aren't the first after the short program, you kind of get a target. Your target is to beat somebody. But when you are first, you must maintain yourself, do as good as you can to try to defend your position. So, it's different; but when you are on the ice, just about to start your program, it's all about you, about your feelings, if you feel good or bad, and you don't think about your placement at all.
Were you more nervous than usual before the free program?
During the day, it was fine. Training was great in the morning. After practice we had only three hours until we had to be back at the arena to start warming up. So it didn't give us a long break. Usually I take a nap, but now we didn't have enough time for that. Maybe that didn't play with me either. It might also be that skating last affected me – I heard all the marks, I heard all that was happening. I usually hear these things, but they don't get into my head. But after Yuzuru skated, it was a bit difficult. It was tough. But it is what it is, I have to learn from it, because it can happen again next year. I must learn to control it.
You said immediately after your free program that it might be better this way, because now there will be less pressure on you going into the Olympic season.
That could be one of the positive things - that facing next season, Yuzuru is going to be the reigning world champion. All eyes will be on him. They will be like: "He's got to win! He is the world champion, he was the Olympic champion." He is going to have to defend his position and that's complicated. I don't have to defend it, so it can be just the same for me, but it can also be easier, because you don't have that in your mind during training. I'm going to push myself more every day, because I know that I didn't win this competition and I didn't get a medal.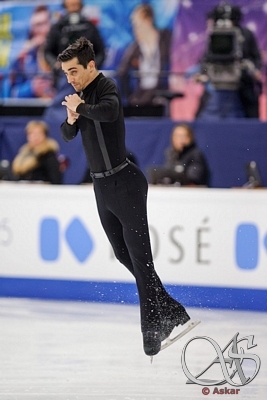 Do you plan to include four quads in your free program?
The idea is not to add another quad, because according to the rules, it should be a different quad. I could do two Salchows and two toeloops but then I could only have one Axel, so is it worth it? Not really. So much more risk for a few extra points. This is something we have to think about, see if I'm able to do it or if we should keep the concept with three quads in the free program.
S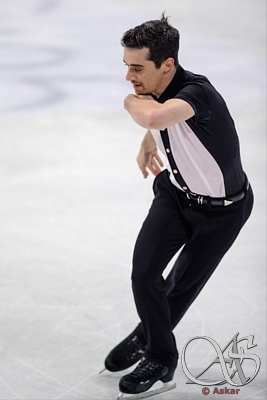 o you don't plan to learn any other quad?
Not really. There is no planning for it, but you never know. Maybe at the beginning of the season I will try it one day and it will feel good, so I will keep on trying…
Have you ever tried any other quads besides toeloop and Salchow?
Yes, I landed quad loop more than once, but I never really trained it consistently. On most of the tries I've done I fell, I only landed a few times. And do I need it? That's the question. Do I need another quad, or do I have to just skate good?
But Yuzuru has four quads in his free skate. Doesn't this mean more pressure on you, too?
If he lands those four quads I know what's going to happen. I have only three, and if he skates great… But what if he doesn't? This is competition! Sometimes you skate good, sometimes you skate bad. I don't want to say I don't want him to land them! We compete separately. But the more risk you put in the program, the bigger is the chance to make more mistakes.
Is there a lot of pressure on you in Spain before the Olympics? Spain is not a contender in winter sports, so everyone thinks you will be the one who saves the country.
Skating is getting more popular, people are recognizing me. They know the Winter Games are coming and they know that I'm the one who has the biggest chance for a medal. I've already said to everybody: it is my own dream, too, but if I don't win, it is what it is. I've already done a lot for figure skating in my country, I won two World Championships, five European titles. I'm happy with my career. Even if I didn't win anything anymore, I'm happy with what I did.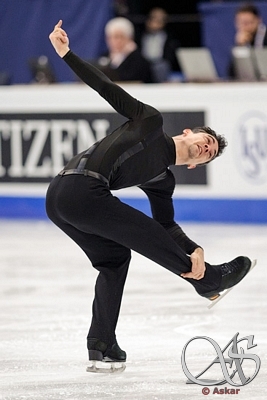 Going into these Olympics, will you do anything in a different way than before Sochi? Are there any lessons you have learnt from the Sochi experience?
I have four more years of experience, I've won two world titles. My career has been going up and up and up. If I had a good chance to win a medal in Sochi, then this time I have an even bigger chance.
What about mental preparation? How can you train yourself to bear this pressure, that there is a lot at stake? Olympics happen just once in four years…
Usually, if there are not a lot of things in my brain that I have to worry about, then I don't need any kind of mental preparation. I'm fine. But there are a lot of things in my head, I think about them when I go to training, I'm kind of not ready. We will see how the season goes; if everything goes well, then we are going to continue as we've been doing until now. But if anything happens, I might work with a psychologist, they are there to help. It's very common with athletes, because there is a lot of pressure we have to deal with.
Did you have lot of things in your head in Helsinki as well, or was there another reason that you couldn't deliver a free program you wished for?
Not that my mind was completely empty, but facing this competition I was pretty calm, pretty clear, I didn't really have much to think about. But as I said, this is competition.