Zoe Jones and Christopher Boyadji: "We are here!"
March 9, 2017
By Titanilla Bőd (Új Szó)
Photos © Joy, Eva Maria Jangbro (EMJO)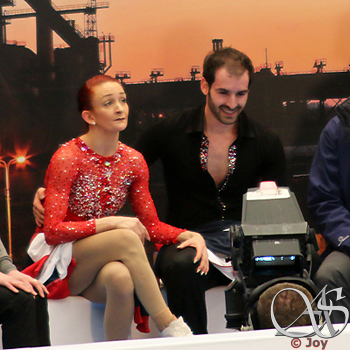 A few years ago she was just standing on the ice with her skates on, while he was pair skating with another partner. At first he skated for France, as he is a Parisian, then he switched countries and is now representing Great Britain.
Zoe Jones, a former singles skater who just returned to major competitions after 15 years, and Christopher Boyadji define one of the most inspiring stories in figure skating.
They competed at the European Championships in Ostrava and earned the technical minimum required for the World Championships.
This pair was willing to tell me their story after the pair's free skating.
Zoe, your last Europeans championship was in Bratislava, but not the one last year, but back in 2001! How does it feel to compete again at a major event after so many years?
Zoe: It's amazing! I still can't quite believe it. But we are here!
Christopher: And we have the [technical minimum] score for Worlds, which was also an objective in the free program. We didn't have very good free programs at the beginning of the season, so we are very happy that we scored for Worlds. See you in Helsinki!
Zoe, at first you wanted to come back to singles, but you didn't win Nationals last season. How did you team up with Christopher?
Zoe: I was unsure after I competed at Nationals by myself, but when I heard Chris split with his partner [Amani Fancy],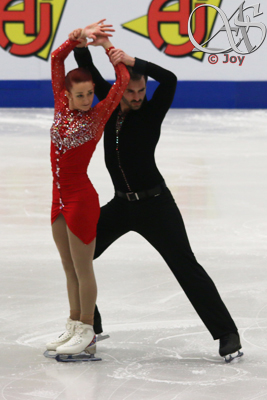 I contacted him, not really expecting to hear anything back. But I went for a try-out, kind of just to have fun; I didn't expect anything to come of it. But here we are!
Christopher: I'm very happy I gave her a chance. Others would have said "okay, whatever", but I gave her a chance and we are here, and two months later we'll be at Worlds. So, it's great.
Wasn't it hard to get used to pair elements after doing singles skating?
Zoe: It was a big change to go from the adult competitions to singles, from a three-minutes-program to a four-minutes-program, with obviously a lot more triples, as I only needed one in the adult competition. That was a lot for me. So going to pairs wasn't as big of a shock, because I was physically more trained, more prepared.
What was the hardest thing to learn as a pair?
Christopher: The twist is hard for us at the moment.
Zoe: We are still learning it.
Christopher: The throws are easy. She was very good, in two-three weeks she was ready for triple throws. As for lifts, I'm not the strongest, and she also had to learn the positions.
Zoe: It was a bit hard to get used to, but the lifts are better now. But for a singles skater the twist is very foreign. It's very different from anything you do [as a singles skater], so for me that's the hardest thing.
Are you scared when you are up in the air?
Zoe: No, I trust him.
You are a mother of three children. How do you manage your training?
Zoe: I coach in the morning before school, Chris also coaches. My two girls skate, so they skate when I'm on the ice coaching. The little boy gets dragged around a little bit, but he has friends at the rink, so he kicks a football around. Then I take them all to school and come back, and we do our training when they're in school. Then I pick them up, they skate and I coach again. It's hard work, but we manage.
Chris, was it a hard decision for you to move to another town to skate with Zoe?
Christopher: I can move anywhere; I'm quite easy that way. If I have a bed, a kitchen and a shower, I'm fine.
What about the generation gap between you? Zoe is 37, Christopher is 26.
Christopher: For me she is like 20 years old. I don't feel it. She has more power than a 17-year-old girl. I have to say "stop" sometimes, because she is a gym machine and a skating machine! Sometimes I have to say: "calm down, let's have a break, and then let's enjoy".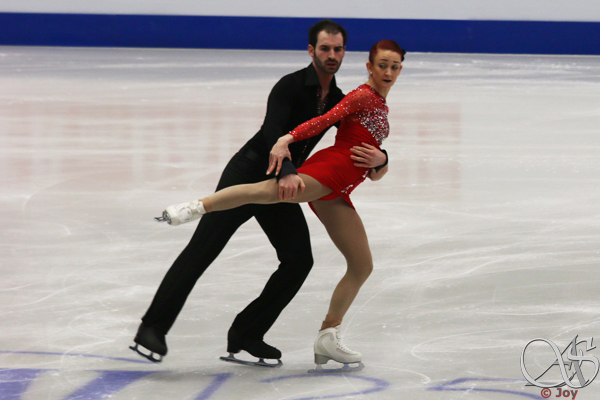 How did you manage to keep your drive throughout the years when you were not competing? Were you still skating for fun?
Zoe: No, when I finished skating, I was out of it for a few years. I moved to Canada and coached there. I didn't skate for 13 years. I was on the ice coaching, but I didn't do any skating for myself. It wasn't until after my last child that I got back on the ice and started doing a few jumps and spins, just to get back in shape. For 13 years I did nothing but stand on the ice with my skates on, telling others what to do. After that I did adult competitions for two years, then the British singles, and now this...
Last time you competed at a major event, the 6.0 system was still used. How do you compare the two scoring systems?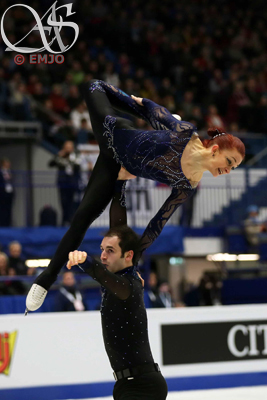 Zoe: I'm still kind of getting used to it. It's completely different, I can't really compare.
What are your goals together? The Olympics?
Christopher: We hope so, but our main goal is just to improve day by day, and see what the future has in store. It's already great that we are at Europeans this year, after six months of skating together. And we are going to Worlds. We learnt most of the pair elements in such a short time, so we will see. We are working hard. Last September we competed at the Ondrej Nepela Trophy, and we were 15 points behind what we did today. So in six months we have improved a lot. We just want to continue like this.
Your short program in Ostrava was very memorable because your shirt ripped, so you skated half of the program with an open shirt!
Christopher: I would rather be famous for my skating performance than for my shirt, but I can take it (laughs). I got nice comments on social media.
Which program do you like better, the short or the long? In the short program you skate to Malaguena, in the free you use Danse Macabre.
Christopher: I like the short more, because I feel more comfortable in the environment of Spanish music. But we got good components also for the free skate. We only missed a lift but it cost us seven points. That's a lot.
However, in general you are probably satisfied with your performances in Ostrava, aren't you?
Zoe: We've had a great time, and the crowd's been great. Everyone has been really friendly. It's been awesome!