Mikhail Kolyada: "I hope my dream will come true!"
August 9, 2017
By Yulia Gladkih, Ekaterina Lavriniuk, Victoria Yakupova
Photo © Askar Ibragimov, Reut Golinsky, Mikhail Kolyada, Ekaterina Lavriniuk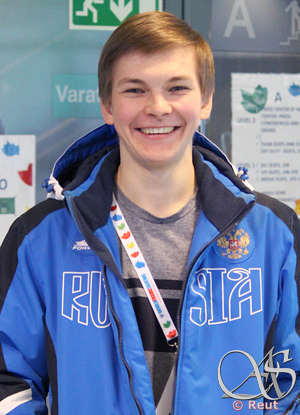 Mikhail Kolyada, full of great charm, and always smiling, is a skater from St. Petersburg who has burst on to the international arena, following a serious injury, only two years ago. He has immediately fascinated figure skating fans around the world with his technical skills and charisma. During the season 2016-2017 he was no longer a dark horse: the attention of experts and fans was riveted on him, and this made his difficult task even more complicated. He had to meet expectations; first of all, his own, and to remain at this level and improve his results. After this difficult season, when everyone can finally rest a little and take a breath, we met with Misha and discussed this past season and many other interesting topics.
Misha, it's been your second season at a high level. How would you sum it up?
This season was more difficult than the previous one. I even felt some kind of pressure. I expected it to be more difficult, but I never thought it would be this hard.
What conclusions did you make at the end of the season?
There is only one conclusion - I have to work.
And what was the most memorable moment of this season for you?
"Baba Yaga" (Mikhail had an exhibition program in which he portrayed Baga Yaga, a witch from Slavic folklore - ed.)! I really liked it. The program was a success!
This year you had two absolutely different exhibition programs. Who came up with ideas for them?
It was my choreographer, Olga Yurievna Klushnichenko. She suggested both gala programs and choreographed them. The characters were also her idea. She asked me: "Will you be Baba Yaga?" And I answered: "Well, why not?"
At the beginning of the season you performed in the show to the same piece by M. Mussorgsky from the series "Pictures at an Exhibition." Was the choice of music for the new exhibition program connected to this?
Yes, it's connected. We were looking for music for the World Team Trophy gala and I remembered that I had skated to this piece and I thought, why not? Is it classical music? Yes, it is. That's the right choice, we have to take it.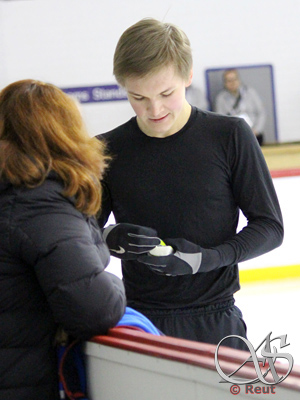 Everyone wanted classical music, so there you go; we found a very unusual solution. Perhaps we'll leave this program for the next season. We will also work on both the choreography and the props.
Tell us more about your impressions from the World Team Trophy.
I liked the World Team Trophy more than the Team Challenge Cup last season. Last year we competed as the European team together with the Italians and the British. Of course, there was also the team spirit but this year it was different. Organization in Japan was better and in general everything was at a higher level.
This year you performed twice in Japan, which is known for its love for figure skating. Did you feel this love?
It's impossible to describe! There are fans of figure skating, like you and me, for example, but no one has thought up a word in the Russian language yet to describe Japanese fans! They take photos with the same athletes many times, ask for autographs... Japan is a very unusual country, and people there are very special. When people ask me about my impressions of Japan, I can't describe it in a few words. You just have to go there and see everything with your own eyes.
At the World Team Trophy you gave a master class together with other athletes for young Japanese figure skaters. Did you like this experience?
Basically, to train children is not something new to me, but to train children and speak English... It was difficult to explain to them what I can easily say in Russian. It's good that I was in my skates! I showed them something, and Javier (Fernandez) explained how to do it right. But I liked it! I'm glad that I volunteered to do this, it was awesome.
There were two people from each team. From the Russian team there was Zhenya Medvedeva and me. We divided the big arena into three zones, and in each zone about 8 children were skating in a small circle trying to do something. And it's amazing. Not everyone would agree to train in such conditions, especially at 7 a.m.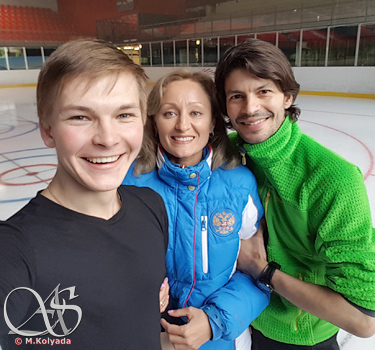 What are your plans concerning the preparation for the new season?
I was on vacation until June 5th. I went to Switzerland to work on my programs. I've already been in a training camp in Latvia. The plans are grand. Next season we will include two quads in the short program: a Lutz and a toe loop. And in the long program there'll be three quads: a Lutz, a Salchow and a toe loop. On the whole, the training system will remain the same, but there will be some changes.
This season I'm working not only with my choreographer, but also with another expert, Stéphane Lambiel. We have already finished the choreography of both programs. This year one idea was offered by my choreographer, and the second was mine. You'll see everything on the test skates.
What was it like working with Stéphane?
I enjoyed my stay in Switzerland, I was there for the first time, and working with Stéphane was a pleasant experience. We went there together with my choreographer, Olga Yurievna. I think it was also a pleasant experience for her. She liked everything a lot, too.
In general it probably was just as usual, but there were also new things in our work, for example, during the warm-up Stéphane showed me interesting step sequences that I don't usually do. It was very nice to work in such company, the atmosphere was very friendly.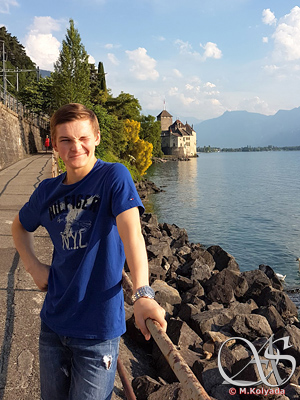 I liked the sports center, and I was very surprised that there is everything in such a small town.
On the whole, I liked everything - nature, mountains, weather, it was 30 degrees (Celsius) almost every day. My choreographer and I went to a small neighboring town Montreux, it was very exciting. And Champéry is a very small mountain village, like Courchevel.
Everything was just like I had imagined. We had enough time for everything. The impressions are amazing!
What exactly did your work with Stéphane consist of? What did the collaboration with him give to you?
The focus was on step sequences and transitions between the elements. Working with Stéphane gave me a certain life experience. In fact, working on programs is always very interesting. I didn't begin hearing the music in a different way, but in terms of choreography, my opinion changed a little. I really hope that the audience will receive the programs well. I like both programs very much. And it's not only me who likes the programs, but my coach and choreographer like them too. Now we are polishing the details so that towards the test skates in September everything will be great.
How did your views change in terms of choreography?
You'll see it!
Your programs are like mini-plays. Can you say this style is closer to you?
I try to show diverse acting. For example, let's take the program "The Mask". It's fun, lively and cool. I felt the character very well. Speaking about "Hallelujah," I like it very much too! And it is not necessary that I should portray some character in it. There are actors of one role, but there are also diverse actors. I still think that I belong to the second category.
Was there a program this season that you had watched and said "Wow!"?
It's the short program of Javier Fernandez. It was "wow"! At the World Championships in the short program he was undoubtedly the best!
This season Boyang Jin surprised me, too. It was a breakthrough! He had a cool exhibition program last season with the balls. But I didn't think they would implement something similar in the competitive programs. It is very cool!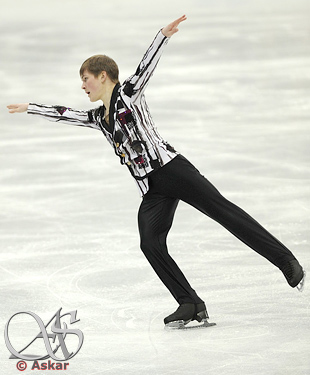 Nobody expected that he would really skate to "Spiderman". But in fact, it's very difficult. After all, he did not manage to bring both emotion and jumps together at the first competition. I know by my own experience how hard it is. But he managed to do it at the World Championships!
What do you think about the fact that now girls do quadruple jumps and combinations 4-3?
At their age I could barely do a couple of triples. The time was different. In general it was enough then to stay afloat. Nowadays if you jump a double axel, a triple Salchow and a toe loop at the age of 12-13, you won't go anywhere, even to any stages of the Russian Cup series. There's a tendency of gradual complication. Figure skaters started not only to jump, but also glide quite well at the same time! Again, if you take the programs of the past, everything was more primitive then, you could see a crossover followed by a jump, and then again a crossover and a jump. Nowadays step sequences have become more difficult, they last 40 seconds that you have to skate and add transitions. It's all very difficult.
How do you recover under such intense pressure?
In any case, when you come home after a competition, you need to exhale and have a rest for a day or two, so that you can do nothing and stop thinking about everything. That works for me. Then this desire appears again, I just want to go training. And sometimes I don't manage to relax and recover after a competition and I still have to go on the ice. Then it's hard, you have to overcome yourself. In such cases it takes longer to recover.
This season you had problems with your back. Did you manage to resolve them?
Yes, now we know what to do in a situation like this, and we hope that it won't happen again.
Do you feel that nowadays the level of competition is growing in Russia?
Yes, the competition is growing. And it's very encouraging!
What is it like to be the first number of the national team?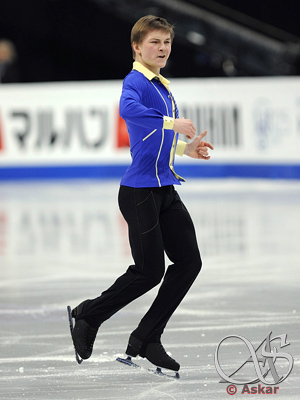 I admit that it put a little pressure on me and confused me. Sometimes it was even difficult to concentrate on my practice sessions. But during this year I've learnt to throw away such thoughts and I hope that this won't happen next season.
At the World Championships you were lucky enough to witness the world record of Yuzuru Hanyu. What did you experience during his performance? Didn't you have a thought that it was the right time to quit and hang up your skates?
No, of course I didn't have such thoughts. But I was slightly puzzled. No, I was very puzzled! How does he do it? Although his short program was not a real success, he managed to pull himself together and do such a free program... Well done! And at the World Team Trophy it was clear how hard it was for him to pull himself together again. And I understand him.
There is an opinion that at major competitions Russian male figure skaters do not have enough excitement and desire to win, which is necessary for success, since there are 6 leaders, theoretically speaking. Do you agree with this? What can you say about it?
I don't agree with this. We are all people, no one is invincible. Without any flattery I can say that I feel such potential in myself and I know that I can do more and better. There is always something to strive for, especially in this sport. If you fail in single skating, you can switch to dancing or synchronized skating! (laughs) What? It's cool! By the way, it's so beautiful. I somehow underestimated synchronized skating, and then I liked it.
Under such conditions of tough competition, in order to win, you need to stand out, to have individuality. Did you manage to find some special feature that distinguishes you from the others?
I think yes, I did. Generally speaking, the judges who come to the Grand Prix series, European and World Championships have already seen you somewhere. And it seems they remembered me little by little. I do not know how and what exactly I was remembered for, but sometimes after the competition
they came to me and said a few words, praised me and advised something. We will improve and strengthen our positions next year.
What is your mood before the Olympic season?
Wonderful! It's a very big event. I dreamt of going to the Olympic Games and I hope my dream will come true and I'll be able to go there, and maybe more than once, we'll see how it will turn out.
European and World Championships are very serious competitions, they're great. But the Olympics is an event watched by the whole world! There is a huge number of media, discussions, television broadcasts 24 hours a day. I'd like to be inside all of this, to live in an Olympic village, to feel this atmosphere. No wonder that even the violinist Vanessa-Mae wanted to participate in the Olympics in Sochi and she managed to go there. Probably next year I will have such a chance. I have to take it.
During the competition, in your free time, do you watch other disciplines?
If I have an opportunity not to watch competitions before my performance, I don't. I can't sit in the stands, because there is an emotional release anyway and I can't focus on my performance in a proper way. And after my performance sometimes I go and watch. It's the same as listening to music or going to a concert.
Is figure skating a hobby or a job for you at the moment?
Fifty-fifty. There are moments when you wake up in the morning with the thought: "Again?" It feels like you're going to work. And sometimes it's like: "To a practice? Sure thing!" It depends on the mood a lot!
We wish you a good fighting spirit, so that practice sessions are enjoyable and most importantly, bring results. We hope you'll manage to accomplish everything you've planned this upcoming season!