Stéphane Lambiel: "Most of those level four spins are not beautiful!"
November 7, 2017
By Titanilla Bőd (Új Szó)
Photo © Reut Golinsky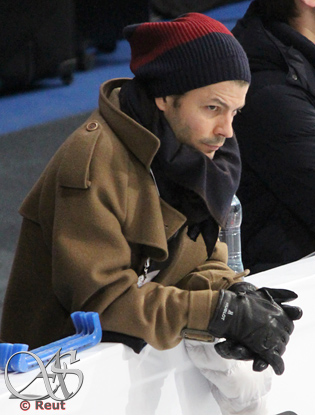 As Stéphane Lambiel needs no introduction, allow me a personal comment at the beginning of this interview. Reading my colleagues' articles about Stéphane I was also kind of jealous because you could feel, even through the written lines, the passion he has for figure skating. In Bratislava, at the Ondrej Nepela Trophy, I got the chance to talk with Stéphane; he was coaching Latvian Diana Nikitina there. "I have five minutes for you," he said very politely, but after the first sentence I saw that famous sparkle in his eyes and I was sure it wouldn't be just five minutes, because when you speak about your passion, five minutes is not enough to explain...
Do you still remember the old Ondrej Nepela Stadium, where you competed at your first Europeans in 2001?
Yes, I remember the old stadium very well. For me it's a big difference to be here now in the new stadium. I remember being very, very excited about my first Europeans. I remember also that I came for the Nepela Trophy once [in 2002], and I won the competition. It was the beginning of the season and usually at the beginning of the season I was not so ready for competition, but here at the Nepela Trophy I was stimulated and I had a good skate. So I had good feelings during my competitive career here. I really enjoyed skating in Bratislava; I also did a couple of shows here. It's always great to be back. Yesterday we went to the old town and it's such a lovely place.
Many things have changed since you competed here as a 15-year-old spinning prodigy, but what has remained the same? The passion, presumably?
The passion for skating remained the same and I'm very lucky to share my passion, knowledge and experience with my students. I'm still skating and performing a lot in shows, so I can still enjoy my skating in my own way and then I guide my skaters to become also the best they can be and that's also a very nice job. I never thought when I was competing that I would be a coach but now I really appreciate this job. I learn everyday from my students, I love to be with them and to teach them all that it takes to be a better skater and a better person. I think skating is a great chance to understand yourself, to understand about your body and your psyche. I love to be next to my students and to guide them.
You've been creating choreographies for various skaters for a while, but you started coaching more recently. How is this different from choreographing?
To create the choreography is usually just for a small period of a skater's season, while to be a coach means basically to plan every day, every practice, every recovery time, every competition, every day off. Every plan is made by the coach, so it's a very different task. I'm lucky to count on Salome [Brunner], the choreographer I've worked with since I was ten years old; she's helping me with choreography. We are doing together most of the work during off season but then, as soon as the season starts, there are small adjustments you have to make. It's very important to have done the first competition, that's when we can really know where we are, what to fix. I love the creative part of the choreographer's job and I also love the planning the coach has to do. I have to be responsible for every period of the season, so I also have to plan my time: when I'm choreographing, when I'm performing, when I'm at my skating school. It's quite challenging, but it works, I just have to anticipate and organize myself very, very well.
So the biggest challenge of this job is time management?
I think so. Right now the biggest challenge is to switch from one role to another, I cannot waste any second. I try to optimize every second of the day.
How do you see the chances of your student, Deniss Vasiļjevs, in the Olympic season?
I'm very glad with Deniss' performances at the Lombardia Trophy. He skated both his new programs and I was very happy with them. I'm glad with the work we've done during the summer. I love both programs, he is so mature now. The first season [together] we took things that he already had known, or subjects he could understand easily. This season we pushed a little bit further, we try to go a little bit deeper and he is great. He is improving a lot and he is becoming a great gentleman. I enjoy working with him, I enjoy watching him skate and I really hope that he can put altogether those two programs and he can have a good performance at the Olympics. That's our goal, we are going to work for that. We are working also on the quads, helping him through the season to go the Olympics with the best performance.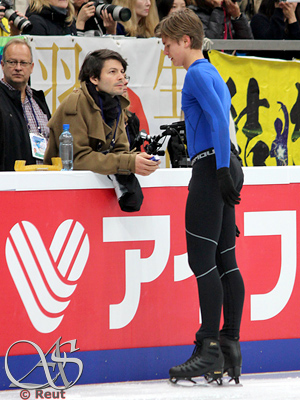 When I look at your pictures with Deniss on social media it seems that this is not just a coach-student relationship, but also a very good friendship.
Yes, it is a very good friendship. He came last year, and he was injured. I really felt close to his situation, because I had the same injury, and I'm also very emotional and passionate about everything. I felt a lot of similarities with him, and I think we have a special bond for sure, so it's a coach-student relationship but it's more than that. I was able to have this relationship with my coach Peter [Grütter], I totally trust him and just with one eye contact I can feel what he wants, what he says, what he means. I hope that we can build that with Deniss, we are on the way for that. It's only a bit more than one year, it's still a short time, but through the years I hope we can build that.
After the ladies' short program I overheard how you congratulated Evgenia Medvedeva and you said: "I don't care about the jumps, I care about skating". So how do you see the expansion of the quads these days?
When I'm watching figure skaters, I'm very impressed with the technical elements of course; it's amazing to see those quads and the Tano triples... But what I want to see is who they are, what they can bring to the audience, to the world. For me, that's the most important. I want to see and feel their energy, I want to know more about themselves. If the program is just a combination of elements, sometimes I lose a little interest in the program. I really hope that skaters can focus on their performances as a whole, and not just as an order of elements. Sometimes when I'm watching a program I feel like I'm following the program content sheet, and I'm little bit sad about that. I would like to watch a program and lose the fact that there is a content. When you watch the best ice dancers for example, you are not looking at the elements. At one point you are so into the performance that you don't even know if they are doing the step sequence, the lifts or whatever. The way they skate they take you somewhere else. That's what I want to see, that's what makes skating so interesting.
From the next season men's and pairs' free programs have to be shorter, instead of four minutes 30 seconds only 4 minutes. What do you think about that?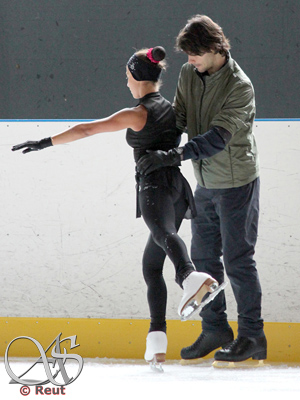 I'm really sad. They will remove one jump, but that is nothing, like five seconds. So to remove 30 seconds of a program for one 5 second jump, means losing 25 seconds of skating. That's a big problem to me.
There are also some rumours that in a further period of time there might be two different programs, an athletic program and also an artistic program. Do you like this idea?
That's interesting! I would love to see the artistic programs, spins and step sequences that have no levels. The goal of these levels was to create something difficult to execute for skaters, but with practice all those difficult things become easy and everybody is able to do a level four spin. I'm not so much into levels. Of course, I work on them with my students and I want to get a level four on their elements... But I think... Spins have to be beautiful! Skating has to be beautiful! That's what it's supposed to be! And most of those level four spins - they are not beautiful! So, for sure, I would emphasize the aesthetics instead of the levels, especially in the artistic program.
You have a very special show called Ice Legends, where you invite the skaters to perform their legendary programs. What was the inspiration for this?
As a kid I was watching the competitions on TV, and also nowadays, you can watch all the videos on the Internet. It's great, but it's so different to see it live. I think it's amazing to be able to see something live, and to be able to see something from the past you always dreamt about watching. For example, my dream is to watch Michael Jackson on stage, and I will never be able to do that, but there are still things you can make happen. My dream was to be able to see and feel those things that inspired me at certain points of my life, to enjoy them again, with my own eyes. This is something that nowadays is so important, to feel - not only watch quickly on the Internet, but to enjoy the moment, to feel that personality that made this moment happen.
Do you think there will be such legendary programs from nowadays? Programs that we will re-watch after ten and twenty years?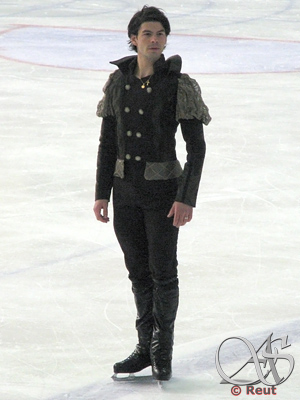 Actually, I was very impressed by Evgenia's performance yesterday [short program at Ondrej Nepela Trophy]. Even though she is the strongest skater at the moment, I see this fragility and it makes me so moved and emotional. It's so beautiful, that's why I congratulated her. The jumps are great, but the emotions she is bringing on the ice are something really special. I hope that we will see her for a long time and we will enjoy her skating and her passion.
And what is the most memorable program of yours for you?
There are so many programs that I loved to perform, it's hard to pick one. For sure, Vivaldi is something special. Vivaldi and William Tell were two programs I really enjoyed when I was competing and I was able to perform them after my competitive career. I loved to listen to the music and to go back to these characters. It was something special. In the shows, my favourite programs... uhmm... It's hard to say. In Ice Legends, I really enjoyed the whole concept of La valse, that I was doing with Carolina [Kostner]. It was a very interesting process; she came to Champéry and we worked on the choreography together, and put things together. It was kind of a ballet, very interesting. The other day I was watching The Water which I was doing in Art on Ice and I thought: "It was really me? I'm really doing these movements?" I didn't even know I could do these things! I love to create and sometimes when I create and skate a program, I completely forget what I did. So sometimes it's fun to watch those programs. Not a long time ago I was skating to Sense by Tom Odell and every time the music played, it felt such a pleasure to skate to it! I had so much fun from just the first note! Aaaah! It's great!
Is it better to skate your competitive programs in shows when you don't have to worry that you might pop the triple Axel at the beginning?
I think it's just a matter of the time in your life, in which period of your life you are. When I was competing, it didn't bother me to skate my programs in competitions, because I was ready for that. And nowadays I get ready for the shows and I love to do shows. I'm not able to tell you what it would be like to skate one show number
in competition or one competition program in a show. I just feel that right now I'm not in the mood to compete. I love to watch competitions, I love to coach competitors, but myself I really enjoy skating in the shows. Feeling the adrenaline of the shows is also incredible. It doesn't mean it's easier, it's also a lot of work and it's also working on your abilities, on your technical elements, on your choreography, but you have more freedom to connect with the people, with your performance and yourself. It's not so much about the scores. I think skaters should maybe try to inspire themselves from that: it is not only the scores or the levels that matter. I was telling Diana [Nikitina] it's very important that the jumps work, of course, but then, if there is a mistake you still have to perform, you still have to be there, you still have to give! You can't just be sad that the jumps were not as great as you thought. Skating to me is the performance itself as a whole, not just the jumps.
When you are watching your students at a competition, are you more nervous than you used to be as competitor? Because you are skating the programs with them by the boards!
When you see those programs evolve through the practice, and you know the pattern and you know what they are doing, it makes you involved... And I created most of those movements, so I feel very personal watching it. For sure I'm nervous with them, I'm happy to be living this moment with them and that's why I'm fully 100 per cent with them.
I think you have this special gift that you can give so much positive energy to people around you, you can transfer your passion to everyone who is with you.
I think a person can always see the glass either half empty or half full. In my career even though I had hard days, days when I didn't understand what the purpose was of what I was doing, there was always something pushing me forward. That's the thing that makes us alive, that makes us want to go further, stand up in the morning and fight, or not even fight, just live our lives. I don't know, it's probably from the education, or from the experiences that I had, meeting nice people, having a nice environment. I'm always finding something in every environment that makes me push myself forward.