Alexander Majorov gets ready for his last season
September 26, 2017
By Eva Maria Jangbro
Photos © Eva Maria Jangbro, Majorov family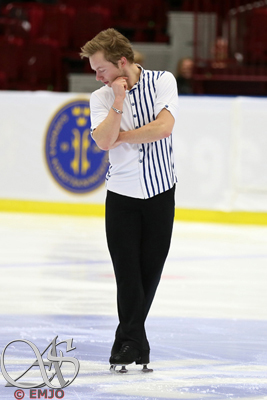 The recent Lombardia Trophy in Bergamo, Italy, marked the beginning of the long, hard road for Alexander to reach the very coveted Olympic Games ticket and once again represent Sweden at the games. I met up with Alexander at the annual Swedish team camp in August, this year held in Solna. We talked about his preparations for this season, the requirements of the Swedish Olympic committee, his plans after his competitive career and more.
Have you made any major changes in your preparations for this so important Olympic season?
No, not really. After Worlds in Helsinki I was still skating my programs and did quads. I stagnated somewhat during my vacation, but I always do some off-ice training like cycling or running. At the beginning of June I went to St Petersburg to improve my jumps. I trained with Mikhail Kolyada's coach Valentina Chebotareva. She is good; she has a feeling for when she can help, but also realizes when you know how to do things and there is nothing more to do. Mikhail was there at the beginning, but then left for another city to have his new programs made.
After St Petersburg there was the Luleå camp. Most of the time that's where I start skating my new programs and try to get serious about everything, but this time I took it easier, one step at a time so I wouldn't burn out. This year was pretty tough because I was both training and coaching. Then I went on to the Russian camp, but it was a little different since it was mostly children (age 12) participating. But it went ok and was pretty quiet. It's a bit more tricky with kids though, since they don't always know or understand the rules when, for example, someone is doing quads; you have to stay away so you don't get hit!
At what level are these 12 year-old kids?
Oh, they are really good, they have all the triples and they can do triple-triple-triple combinations.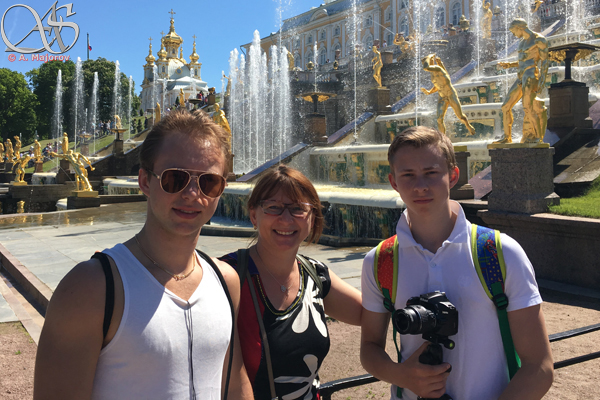 You said you were in shape a little too early this time.
A little early, yes, but I don't burn myself out, by, for example, skating both programs cleanly every day, even if the jumps are all there. I take it quite easy. Every other day I make a full run through of either my short or free program.
Your first competitions are already in September and one is an Olympic qualifier, so I guess you had to be ready earlier.
Yes, that's the point. I not only have to be at my best for the Nebelhorn Trophy, but for at least 3 other competitions before the European Championships. This is so I can go after the points the Swedish Olympic committee set as a requirement to participate in the Olympic Games. Normally the Nebelhorn Trophy, the European Championships, Worlds and perhaps the Olympic Games are the competitions I would peak at, so 3 or 4 at the most competition during a full season. After a big competition like that you need some time to wind down and recuperate.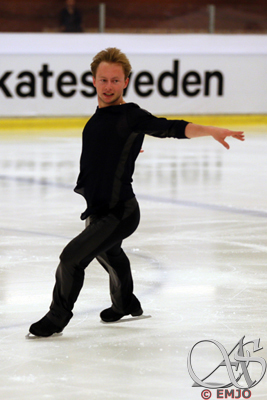 How do you prepare to be at your best?
About 2 weeks before the competition I start cutting down on my training. My programs for this season were ready back in March, so the polishing is done and I don't have that stress, which is a really good thing. After Oberstdorf I normally would have slowed down somewhat and started getting ready for Euros. But if I do qualify for the Olympics now I can't slow down because I have to show high points at several events. The risk of getting burned out or injured on your way to achieving those points is very real when you go full speed for 6 months. It's really dangerous.
So what exactly are the Swedish Olympic Committee's requirements?
A minimum of 258 points. Before my first Olympic Games the minimum was to place 18th at Worlds.
When did you find out about the points required?
After Worlds in Helsinki. I did ask them a long time ago, but never got an answer. It was extremely hard not knowing. I wanted to know the exact deal and have it in writing, and I finally got it after Worlds. This time it's not about placement, but points achieved at either Challenger, Grand Prix or Euros that count. So I will either get dropped from the Swedish committee's program already after the Nebelhorn Trophy or after Euros, or after the free program at the Olympics. It's a raw deal but it's good to be aware so you're not suddenly in shock. I have a plan now and know exactly what to do and when, if it happens. It's good to have this communication though; there won't be any media chaos for something you might have said. Information should go to the athlete first, and not to the media. The athlete should know the policy before it becomes official.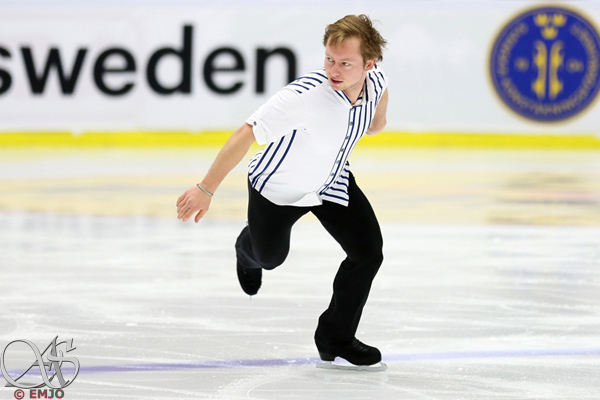 What will you do when your competitive career is over? You do have a degree in physiotherapy.
When my career ends, I have an idea for figure skaters and their workouts, and if my federation is interested, I will be happy to help Sweden succeed. But it is based on them daring to try it. The results come after only 3 to 4 months. I'm also thinking of doing a study with the skaters.
But other than that; doing shows on cruise ships or let's see... maybe going for another degree. I saw this job that required fluency in 3 languages.For me it would be Swedish, English and Russian; I have obtained the highest grade in these languages. So I'm not just a physiotherapist, there are other opportunities out there as well.
How was it to study and being an elite athlete at the same time?
I was advised against full-time study, but I did it anyway. Studying took my mind off skating and vice versa. Perhaps it's too much for most people, and I sure had some tough times. But there will always be hard times in our lives anyway, and school was a way out of the stress for me. Studying is a different kind of stress, but the thing is that when you put time into it, there is a result, even if you're bad at a subject. I was really bad at math; I didn't understand a thing, so I had to spend a lot of time learning all the formulas etc before starting school.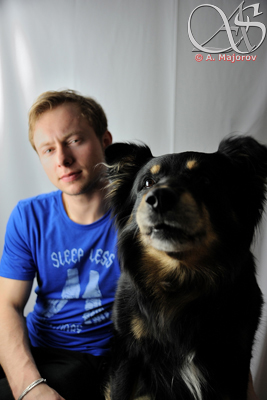 At this one test all my efforts paid off when even the teacher didn't know how I had managed to figure out the correct answer, but I did! It was bio dynamics mixed with trigonometry; we were supposed to calculate the force of sliding vertebrae. It was an interesting question.
In sports you don't always get the response or the results you want even if you have practiced harder than ever. That is the downside. You can't always deliver, but that also makes it exciting.
Your new program is very interesting, please tell me about it.
The music is Bang Bang by Asaf Avidan, I happened to find it on youtube. I always watch movies in the evening, and I accidentally stumbled onto that music. Because it contains so many genres in one song, I listened to it again and after the second time I thought: "that's really good!". At first it was good but weird, then it got better and better, and I thought this could be an awesome short program. My coach gave me free hands and I started on the choreography and made up some good steps. Then we hired Marica Sandström Lindh from Luleå. We have been dancing before, so we worked on the choreography, a dance on the floor, and I got an idea of what it could become. Marica had some good ideas so I thought we could bring her on the ice too. She knows nothing about figure skating and can't skate, but it was interesting, and we worked out a whole new idea, my Dad, Mom, Marica and I. I told her where the jumps were placed, and we tried different things. I think she also thought it was interesting, and I will send the final result to her. New ideas are great and the rough edges of this program are gone now. It's quite different from the more classic things I usually do. This is like organized chaos. The program was tested at the Swedish team camp and all the levels are there; level 4 on my steps. But level 2 or 4 on steps seems to be a matter of opinion. For example, the upper body movements are a point of (subjective) view. With spins there is no doubt, it's very clear what level it is, while steps are not as clear. You can skate your best, it feels like the best you've ever done, but for some strange reason you only get level 3. It happens a lot, it's quite sad but that's how it is.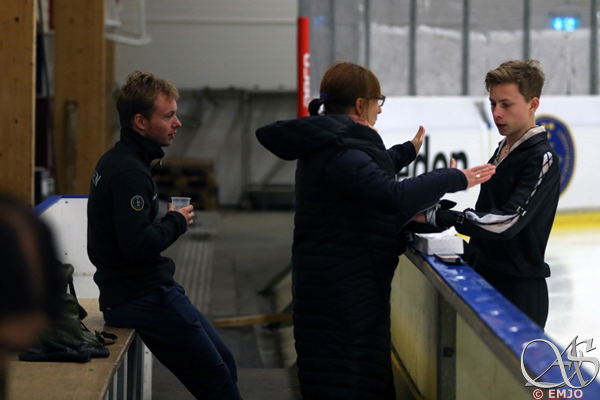 Your brother Nikolaj is now competing as a junior. When you're not competing anymore, will you accompany him to competitions?
If I'm home, yes. But If I'm not I probably want to get as far away from the figure skating world as possible. Skating on a cruise ship is something different, it's a job and you get paid. Many people think the life of an athlete must be great and fantastic, but there are so many things you have to say no to, like traveling, going to a party like a class reunion, a date or just hang out with friends. The people in my physiotherapist class were extremely interested in sports, but if they went to a game I couldn't join them, it just would not have worked with my training.
I heard a great and funny interview with Mofara (a British World champion 5 km runner) and I agree with him. He was asked if he didn't want to continue competing and win more championships, and he answered that he loved running, but wanted to enjoy life, and live a normal life.
The Nebelhorn Trophy is about to start, and we cross our fingers Alexander will be able to nail an Olympic spot for Sweden and achieve the points required by the Swedish Olympic committee.