Gabriella Papadakis and Guillaume Cizeron: "Our free dance is a challenge for us and for the whole skating world"
February 27, 2017
By Titanilla Bőd (Új Szó)
Photos © Mireille Geurts and Joy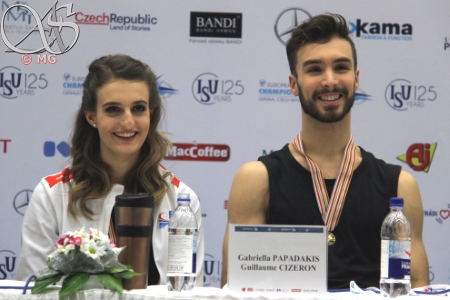 Many spectators get emotional watching their programs, while critics claim the style has remained the same for 3 years now. French ice dancers Gabriella Papadakis and Guillaume Cizeron don't leave anyone indifferent. After the exhibition gala at the European Championships in Ostrava, I asked them about their music choices and the return of their main rivals.
In Ostrava you earned your third consecutive European title. How was this victory different from the previous ones?
Guillaume: It's a very big win; we wanted this title so much! It means a lot, we've been working very hard the last few months and it's even better than the last two titles.
What was harder this time and what was maybe easier?
Gabriella: We had more experience to deal with the stress, with the fact that we were trying to get the gold medal. But it was hard, because we were only third after the short dance and that's not where we wanted to be. So that was stressful.
Your free dance music is very unusual, a compilation of a Finnish ambient band, a Cuban singer and an Icelandic composer. How did this come about?
Guillaume: We were researching a lot at the beginning of the season as we wanted to explore something different this year. It's not just about the music; we wanted to explore something else as a team, as in the energy we give, in the choreography, the movements... We wanted something different, something that would make us push our limits. That's how this project was born, and we are very happy with what it has become. We worked very hard to have a program that we like and the public likes too.
You have a very characteristic style, your last 3 free dances had in common that you were so airy, light, like flying, and yet interpreting very deep emotions. Is this the style you are the most comfortable with?
Gabriella: Yes, we feel comfortable and it makes us able to show our qualities. They are the best choices for us, and we are trying to get better and better in our style and build something that is ours.
Do you already have ideas for what kind of dancing you want to try for the Olympic season?
Guillaume: We have some ideas, but I think this year - even if we kept a side of ourselves that we had in the last 2 or 3 programs - it's also a program where we kind of come out of our comfort zone. That's why we are taking a risk this year. And I think maybe next year we'll go with something less risky, something that we feel will allow us to get the gold.
What do you mean by "out of your comfort zone"?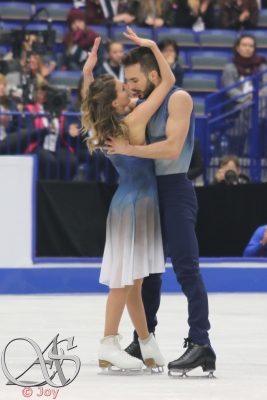 Gabriella: At first, the music was very difficult to interpret and understand and feel. But that's why we liked it. It's a challenge for us, and it's also a challenge for people watching skating. We tried to make the choreography fit this music, so it was also lots of hard work.
You were asked at the press conference if you consider this kind of music appropriate for ice dancing. Do questions like that make you angry?
Guillaume: No, really not. It was a challenge for us to do this program and to present it to the public. I think it's a challenge for the whole skating world, the judges and the audience to just be open to it. It's more like an invitation to another world. It's not anything revolutionary, just an invitation to people to come into our world.
There were very small differences in points between the couples this year. You won by a bit bigger margin, more than 3 points, but only 0.08 points divided the second and the third couple. Isn't ice dancing a bit cruel to the skaters, that even the slightest detail can decide the medal outcome?
Gabriella: It's not easy, but it is fair. We do so many difficult things that we have to be judged for every step, for every movement we make. I think it's fair.
This year you will have very strong rivals at the World Championships in Helsinki since Tessa Virtue and Scott Moir have returned to competition after a 2-years break. What do you think about their decision to train in your group in Montreal?
Guillaume: It's really nice to have them around and to be training with them as a part of our team there.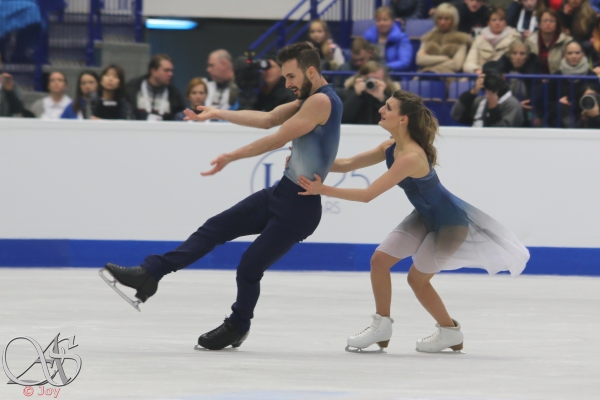 Are you friends, or is everyone just doing their job?
Guillaume: Yeah, we are friends. We have a really friendly relationship. As soon as they got to Montreal we got along really well, it's just nice to train together.
They won the Grand Prix Final, so what do you think you will need to beat them in Helsinki?
Gabriella: In the Grand Prix Final we made some mistakes,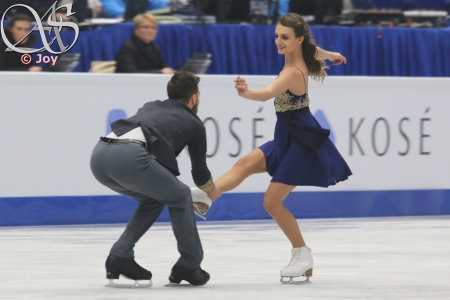 so of course we have to skate the best we can, without any mistakes. We are going to try to improve everything in our programs.
They are Olympic champions, are they an inspiration to you?
Guillaume: Yes and no. We respect their work, we really like what they've been doing, we really like some of their programs; they are a very strong team. [But we want to do it our way.]
When you learnt that your greatest competition would train in your group, with your coaches, weren't you a bit upset? It would be a natural reaction.
Gabriella: We trust our coaches. It was something we were curious about. We were happy to have new teammates, meet them and train with them, learn from them. That's what we thought.
What are your plans for Worlds?
Guillaume: We'll just go on vacation for 2 months and hope to win Worlds! (laughs) No, of course not, we'll have a few days off, but after that we are going to work very hard.