Tessa Virtue and Scott Moir: "You don't get through an Olympic season without tension"
November 9, 2017
By Titanilla Bőd (Új Szó)
Photos © Skate Canada/Danielle Earl, Askar Ibragimov & MG
The Canadian couple started their Olympic season with the Autumn Classic International and won. Then they danced at their first grand prix assignment, Skate Canada and not only won again, but also set a record score.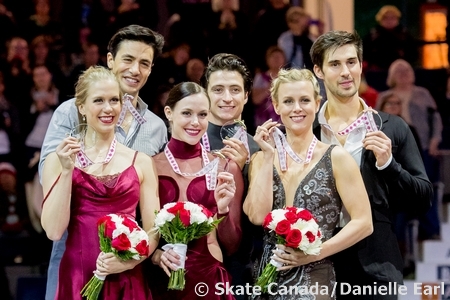 At the post event press conference Scott explained that they had been a bit nervous, because the choice they made for their free program [set to the Moulin Rouge soundtrack] has a personal connection for them and they really wanted it to translate to the audience and judges. It turns out it did and that promises well for the upcoming NHK Trophy, as well as the rest of the season.
Taking a break after the last Olympics the couple is back on the scene since the last competitive season. Just one day after gaining their third World title, they attended a group interview. They are punctual, polite (when they noticed there were less chairs than journalists, they immediately offered their own chairs for the journalists until their press manager found more chairs in the Helsinki mixed zone) and extremely professional. Some athletes mistake professionalism for saying long but empty sentences with a committed facial expression, however, this is not the case with Tessa Virtue and Scott Moir. They think about their answers, they don't avoid the unpleasant questions, but they don't miss any chance to say something funny.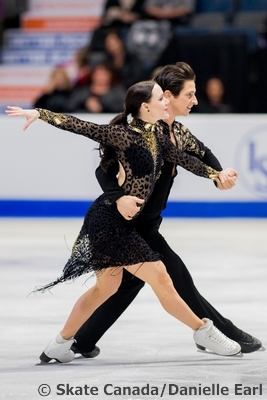 You changed your coaching team before your competitive comeback. What has it brought to your skating?
Tessa: I think it was certainly time for a fresh environment, a new energy. We have had, sort of, three phases in our career. One was the inception, the first seven years of our career, and then ten years in Michigan was the next chapter. So I think it was a natural evolution for us to make a change. The dynamic Marie-France [Dubreuil], Patrice [Lauzon] and Romain [Hageenauer] have developed is incredibly unique. Technically they are so strong, so they helped us to raise our level technically and keep up with the top teams, which we needed in this comeback. There is also a vision of melding the artistic part with that, and making sure that we are also telling a story with those elements and transitions.
Did it add something specific to your skating, something that you didn't have before?
Scott: It's hard to say. We've always tried to improve our skating, throughout our career. They just have the whole package, so they helped our skating in many ways. They are so supportive, they are coaching with their hearts, so we feel very connected to them.
Previously you trained together with your biggest rivals Meryl [Davis] and Charlie [White], now you train with your biggest rivals again, this time Gabriella [Papadakis] and Guillaume [Cizeron]. What are the advantages and disadvantages of such a situation?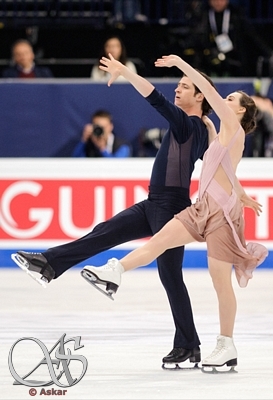 Scott: We see very little disadvantage, to be honest. We love training in places where there is a high energy, we find it motivating every day. The trickiest part is the competition, because often you are back to back to back [in starting order], and I think it's harder on our coaches than it is on us. The biggest advantage of training with Gabriella and Guillaume is getting to see them everyday - they are pushing and inspiring us. While we really try to focus on ourselves, it's nice to have this motivation we found with Meryl and Charlie and now we find with Gaby and Guillaume.
Do you remember the first day you met each other?
Scott: Not really.
Tessa: I don't remember it specifically. I guess it was at the first summer skating school that we did together. He played a lot of pranks on the girls.
Scott: That was the best part!
Tessa: And we had really intense ping pong tournaments.
Scott: I think lot of skating fans would laugh if they saw us in the first five or six years. It's funny to see young kids coming to the sport now, they are so serious. We never really had that, we always loved skating, we always wanted to be the best, but we were not so serious.
How has your relationship changed through the years?
Scott (laughing): Which chapter do you want to hear?
Tessa: It's changing even week by week. Not unlike many other teams we have to work very hard and we are grateful that we have such a solid foundation. We appreciate one another in a great sense of respect, but we are continually working on our communication, making sure that we are always working effectively together and we are supporting each other appropriately. We just try to raise that level. Because the stronger we are as a unit, the stronger our skating is.
At the Worlds we saw some mistakes in the ice dance competition. How hard is ice dancing compared to single and pairs skating?
Scott: A lot of the pressure in the ice dance comes with the moment you want to create. We try not to let it affect us, but mistakes do happen. It also shows how demanding the elements are. It was a odd night for a world championships, but we relied on our training and we earned enough points to become world champions. We are proud of the year we had. And we like that now there are lot of changes in the order, it doesn't stay the same from the short dance to the free dance, it just shows that the competition is so thick and so competitive. Everyone is going for it and there comes lots of risk with this. I think it is great for the sport. We think it's going in the right direction; that is one of the reasons why we are back. A sport always has to evolve and to change. It's tough to look back when you are in it, but from our point of view as athletes we are pretty pleased.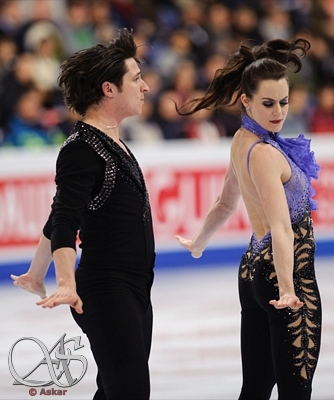 New world records are set often. What do you think about this?
Scott: I used to hate that, but I really feel that if you are a fan and you see the men really pushing it, the ladies doing crazy things, the pairs with all those twists and stuff… It is amazing.
Tessa: [In Helsinki at the Worlds] I was really tuned to see the results from the all the other disciplines, it was extraordinary, with so many great performances.
Scott: For us a world record is fun, but we are always looking for a season's best performance, and we know that in the ending position we are not going to see the points. It is about the moment and feelings.
How much has ice dance changed since you were last competing?
Tessa: We knew what we are stepping into because we watched the world championships in Boston from a broadcasting standpoint. We knew that the level of talent is quite deep and strong. Technically the skaters are executing the turns much clearer. But also the tech panel is observing things differently. They know exactly what they are looking for and they are extremely critical. That means everyone has to step up and raise the level to match up. As for skating, I feel that there is a little bit more freedom, from the creative point of view. I think it is evident when you watch the free dances.
What was the hardest to get used to again?
Tessa: We were so well-prepared and our training was fantastic, very consistent from the beginning to the end. But when you take to the ice for a competition, there come different expectations. For us this season was to learn to compete again, to simulate what next season will feel like. Everything is to set up ourselves to that moment at the Olympic Games. The most challenging thing was probably just channeling that fresh energy, the nerves, the pressure and reminding ourselves why we wanted to come back in first place, that we wanted to enjoy skating.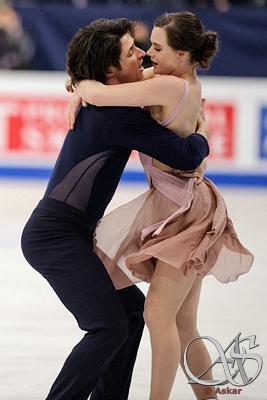 Could you describe each other? What kind of a partner is Tessa and what kind of a partner is Scott?
Scott: Oh, we don't have enough time for that! There is one thing about Tessa that people might not see, and this is how funny she is. She has a great sense of humor. It's something that takes people by surprise. Because I'm so hilarious… (laughing) But it was such a cool moment, when I almost fell in the free dance at Worlds, and I got back up and Tessa said a really funny joke to me, it automatically put me back on track and I just kept going. But I also can talk about her determination. She is really motivating me, I want to just keep up with her. But she is so fun, she can say jokes that could save a life.
Tessa: It's undeniable what kind of an athlete Scott is. People see that determination and that drive. I've never seen someone so committed to excellence and pushing to be better. But more than that, he is the most generous person on earth. And that passion you see on the ice exactly translates how he is off the ice.
What did you discover about yourselves during your two years out of the competitive world?
Scott: A lot! During this journey since our last Games we learnt a lot being out of the sport and then we learnt a lot being back in the sport. Being away has given us a fresh perspective, just to realize we've been very fortunate to have this ride and to have this together. We realized how much we still enjoy working together.
After the Olympics in Sochi, where you earned the silver medal behind Davis and White, you said at the press conference that you sometimes felt like your coach Marina Zueva wasn't in your corner. Do you regret that you hadn't changed coaches earlier?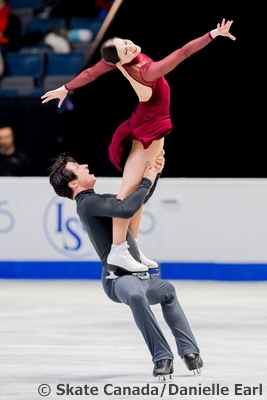 Scott: All we look back on now is how thankful we are. We still use so many lessons that Marina [Zueva] and Igor [Shpilband] taught us. When you get into a special situation, you remember those things. We've always been honest with the media. We just said how we felt [after the free dance in Sochi]. Not that we are taking that back, we are just really thinking about positive things they gave us. As Tessa said earlier, after ten years we needed a fresh change but there is no regret. If we could go back and play it again, would we do it differently? I don't know. We were very proud of our Sochi moment and I don't think we would want to trade that for anything. We had two great skates and we had our moment. That's all we can ask for as athletes.
Do you think the tension that you felt cost you the gold?
Scott: We've played it in our minds what cost us the gold, for a long time!
Tessa: The decision that made us come back and compete was knowing that we can do better. We watched the video and analyzed how we can change our speed and power, or the way we move our bodies, or the way we interpret music, or the music we choose… There were probably a couple of reasons why we didn't win.
Scott: I don't think tension was one of them, to be honest.
Tessa: You don't get through an Olympic season without tension. That's just part of the competition.
Scott: So get prepared for it!
You are one of the favourites of the Games in Pyeongchang and if you medal there, you could be the most decorated ice dancers in the Olympic history.
Scott: Wait, be careful with that!
Tessa: Don't jinx us!
Scott: To be there is an honour. We feel happy to be part of the ice dancing family and we are still surprised to be mentioned in the same sentence as Torvill and Dean or Shae-Lynn [Bourne] and Viktor [Kraatz]. But we are not chasing that, we are chasing our moment.
Tessa: This world title means a lot to us and we are very excited about it. But there is a journey leading to moments like this and it's a good reminder that we have to enjoy the process, every single day, every training. That moment fades away so quickly. We can't set ourselves to be happy based on the outcome of Pyeongchang. There has to be something deeper, something personally satisfying.