Tessa Virtue and Scott Moir: "We want to be an entirely new team"
March 24, 2017
By Asli
Photos © Ludwig Welnicki (Joluskating)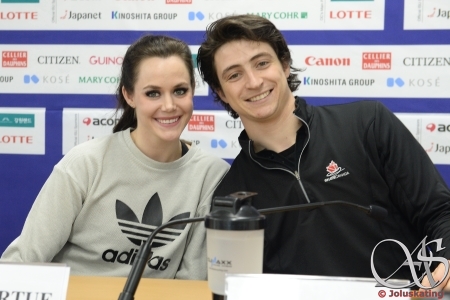 After the Grand Prix Final, we talked with Tessa Virtue and Scott Moir about their goals, their programs and their new life in Montreal.
Your comeback to competitive skating has been spectacular so far. What are your goals for this season? With this year's free dance you have explored a more contemporary style. Is this your new direction?
Tessa: When we set up to come back and compete, we got attached to the idea of doing everything so differently. We wanted to reinvent ourselves and be an entirely new team. We wanted to do crazy things and surprise and shock people! The more we skated, the more we realized that what we really wanted to change was the fundamentals of our skating. However, that will take a lot of time, it's a 2018 project.
So to start, we thought: how can we best incorporate these subtle changes in our skating mechanics and highlight some of our strengths? So we ended up with a contemporary-lyrical style that is a nice progression from where we left off and it's still exciting and challenging because it is a little bit different.
What are the changes that you would like to make in the fundamentals of your skating?
Tessa: As far as skating skills go - knee action, the glide of the blade, the weight distribution and the overall freedom of movement.
In the old days when it took years for ice dancers to progress through the rankings, they continued to improve the aspects that you mentioned through their mid-twenties. Now most dancers don't even compete that long.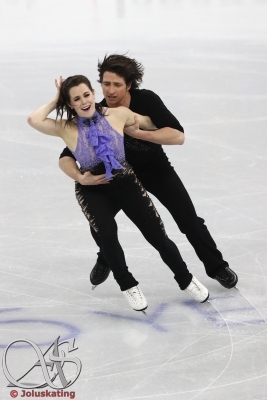 Do you think it is an advantage for you to have this maturity?
Tessa: It can go both ways, I think. When we competed in Vancouver we had this innocence and naivety that may have worked in our favor at that time. We do have experience now. I think, more than anything, the perspective that we have after two years away from competition can help us, as well as the different approach we're bringing to our training with our new team.
Do you also feel freer because you have already won everything?
Tessa: (laughing) You know, it's funny, people say that a lot! I guess it should give us that sense of freedom but it just makes us want it more, because we know that feeling, we know what we're striving for.
Did you expect to win the GP Final?
Scott: No, not really. We always say that we expect to win a competition when we enter it, but this season our goal definitely wasn't to win, not even every Grand Prix. We just wanted to qualify for the final and be in the mix.
How much input do you have into your programs, your music choices, your choreography, your costumes?
Tessa: Lots. Especially at this stage of our career we had to take responsibility for our product and our material, something we have always felt very strongly about. With our new team we are figuring out how that process unfolds. We worked with David Wilson and Marie-France on our free dance and that collaboration was really interesting. Sam Chouinard helped with our hip hop. It's really cool to surround ourselves with such fabulous visionaries. They all have such a vision, and we trust that. As the choreography develops, we're part of every step of the process.
Even with all the changes, we are inevitably still Tessa and Scott, so we have a tendency to move in a certain way and work together in a certain way. We're trying to push the boundaries of what we are used to, but I think our natural tendencies just come through.
The theme of our free dance is second chances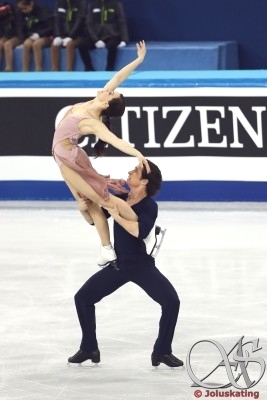 You have said before that your free dance has a storyline. Could you explain it?
Tessa: When Marie brought the music to us she presented it in the sense of "second chances". I think the common thread throughout is showing vulnerability and showing strength. Ultimately finding strength in your vulnerability. Within a partnership there's always that give and take. In the first part of our music Scott's needing to lift me up and physically be there to support me. In the second part there's turmoil between us as a pair, there's confusion, it's about struggling through that together and then finding that joy and love and freedom in the last section. This is speaking in general terms - we have a very specific storyline. It's an interesting theme, I think, and moving forward we want to explore even further how we can portray that evolution of relationship. We'll work a lot with our artistic coach.
Scott: What Marie has done for us is really push us to keep evolving. That storyline will develop even more. From competition to competition we've found these rich levels to our program. That's what really motivates us as performers.
Indeed, in your free dance there are so many subtleties that one discovers each time one watches it. Is the choreography still evolving or are you just working on the interpretation?
Tessa: The way we have choreographed these programs, there may be subtle changes but overall the structure of the program will stay. We've worked on creating a solid foundation to work upon.
Scott: Part of what we really missed about ice dance is how a program evolves so much in a year. To be able to give a full season to a program and see it mature is some of the most rewarding work that we can do and this program is no different, of course.
What other styles would you like to explore?
Scott: What's left? We always say that we try and do things that we haven't done before. With this so-called comeback, it was difficult because we want to do things that we can relate to, but also do things that are different. There's so much music and so many directions where we can go. So with the ISU loosening up the rules a little bit, we can have more freedom, like using Prince. We commend the ISU for opening up those rules and giving us the opportunity of doing programs like that which probably wouldn't have been possible before.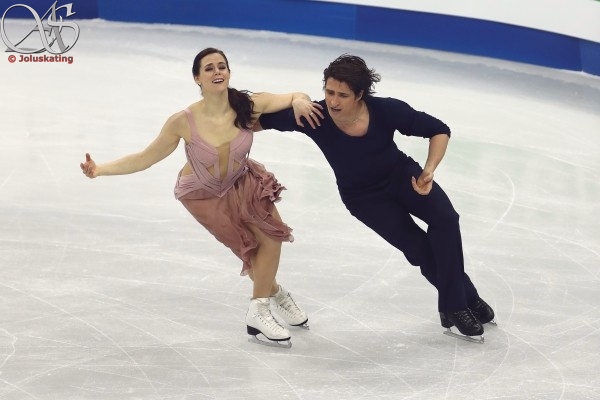 In Montreal we have a complete life and that helps us on the ice
What about your new life in Montreal? What is your daily routine?
Scott: What's great about the school in Montreal is that we don't live far from the rink. We can get back and forth a couple of times a day. Our gym and B2ten, the organization we're working with for all our off-ice needs, are very close to the rink as well. Life is different for us in Montreal because we are there full-time. In Detroit, we used to train Monday to Friday and go home for the weekend. In Montreal we have our life set up. We feel very lucky that we get the opportunity to train, but also live in Montreal. There's so much cultural life, in the summer there are festivals. We try to have a complete life and mature as adults as well. I think that is helping us on the ice, honestly, being a bit away from the skating rink.
Our daily routine is very simple. We go to the rink twice a day and then we do our off-ice training.
Tessa: We're usually at the rink around 6:15 am and start skating at 7:00. We skate for two hours, take a break, skate another two hours and then go to the gym.
Is there a division of tasks between your coaches, Marie-France Dubreuil, Patrice Lauzon and Romain Haguenhauer? Do you work on a different aspect with each coach?
Scott: Our coaches in Montreal have really surprised us. We thought that it would be categorized like that, but it's different every day.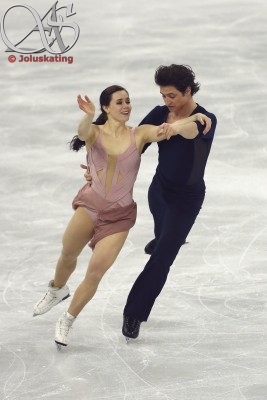 They all do have different strengths but it's very impressive how all three of them can really do anything and they're teaching us a lot. It's really cool to be at this stage of our career and to be learning so much day to day! As Tessa has said a couple of times, we had thought that coming back for two years was a big amount of time but now we're starting to worry that we won't have enough time to learn as much as we want to!
We didn't want to come back and skate the same way!
Maybe you know that during their competitive career, Marie-France and Patrice were loved and supported like a home team here in France. Of course they've been trained in the school of Muriel Zazoui in Lyon, known for great skating skills.
Scott: We've heard a lot of stories both from Romain and from them.
Is there any particular aspect of skating that they have brought from Lyon to their school in Montreal?
Tessa: I think, quite a bit, yes. The overall technique and approach to the tracking between partners, the hip placement, the weight distribution. A lot of it comes through in the way they coach. Technically their approach is even more different than we anticipated. We want to make so many changes to our skating, that's a huge priority for us right now.
Isn't it a bit risky, to make such changes just a year before the Olympics?
Scott: Ah, but that's the fun of it!
Tessa: I think it would have been risky for us to come back and not make changes and that wouldn't have been appealing at all. We didn't want to come back and skate the same way and I don't think we could have competed with the best in the world.
You share coaches with Papadakis and Cizeron. Do you have the same training hours? Do you share the ice often?
Scott: Not always and not as often as we'd like, to be honest. We split the time at the rink, due to the demands of our work with our coaches, but we always love being on the ice with Gabi and Guillaume. What an energy they bring! It is so motivating to work with them and to watch what they do on the ice. It's very similar to the way we work. I particularly like watching Guillaume. I always watch the male skater and I am very motivated by the way Guillaume approaches the sport - how he can dance, how he can move. I always like being on the ice with him because I feel like I can grow as a skater as well.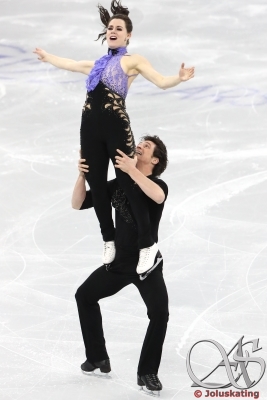 We were fans of them before we went to Montreal because of their pure talent and because of what they brought to the sport of ice dance, which is pretty impressive in the last couple of years, but now we are really fans of them as people. They are just such fantastic people! They are much more mature than their twenty-one years might suggest and it feels like we have learned a lot from them in these first six months.
Tessa: This is familiar territory for us because we used to train with Meryl and Charlie. We have admiration and respect for both teams. You witness the hard work of your competitors every single day. We see that with Gabriella and Guillaume. We love their material, we love what they do as artists on the ice and we're fans of their skating. So it's a pleasure to train with them. We're in a stage where we're just trying to learn as much as we can from everyone we share the ice with. We're feeding off their energy and it's nothing but encouraging.
Is this training partnership any different from the one with Davis and White?
Tessa: In a sense it feels the same but we're at a different place in our lives.
Scott: That's a great point. We're in a different place in our career and also as people so it's tough to make a comparison. We've been lucky to train alongside two very very talented teams, both with amazing work ethic. What we took from Meryl and Charlie was how they were such workhorses. They'd just train and train and train and be so ready for a competition. Gabi and Guillaume and Tessa and I probably approach the sport in a more similar way. We're trying to push boundaries and we're trying to do things that bring the fun in a little bit more.
What really impressed us in Montreal is the environment that Marie-France and Patrice and Romain have created. It's a really positive environment, full of lots of support, lots of love and every day you want to go to the rink, you want to cheer your training mates, you want to be there with them. Here we skated last in the free dance, but after the short dance it was really nice to sit in the Kiss&Cry and cheer for Gabi and Guillaume and want them to skate their best. We just want them to showcase the talent that we get to see every day.
If you try to please everyone you forget your own vision.
Your generation was lucky because you were still young when you were rewarded for your talent and hard work. Former generations used to have to wait their turn and move slowly up the rankings. During the course of your career, have you ever had a hard time with the judging?
Tessa: It's part of figure skating. What we love about it is that mix of art and athleticism and you just don't get the art without subjective judging. So we've had to accept that and come to terms with it and really focus on own job. That's maybe where we've learned our biggest lessons, trying not to get caught up in the politics and the judging, and not trying to please everyone. That is an easy trap to fall into: trying to appease everyone else's wants and thoughts and ideas and feedback, and forgetting your own vision. Certainly we've had hard times over our career, but so has everyone in the sport.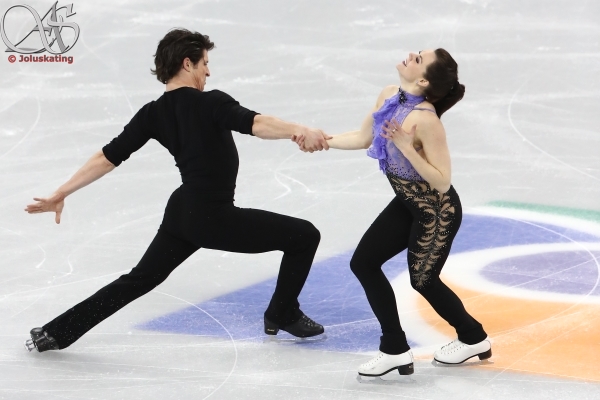 You usually look so relaxed in competitions. Here in France skaters can look very stressed and tense. Is this due to your character or is it your working environment? Or rather, are you really relaxed?
Both: No!
Scott: What we try and tell young skaters is quite the opposite, that we are more nervous now, at this point of our career than we've probably ever been. We have had to learn to deal with big pressure situations like the Olympic Games.
Tessa: We are more nervous now because the expectations are higher.
Scott: Nervous is not a bad thing. Nervous means you care. We care about our career and we care about what we do on the ice after we have worked so hard.
Are there any young teams that you especially enjoy, any Canadian juniors?
Scott: We always try and watch. We train with Marjorie and Zac (Lajoie and Lagha). They shattered our junior record last week so the focus has to be on them but I also like watching dancers even younger than that.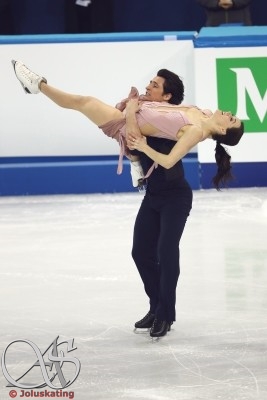 We were lucky to have the Olympics in Canada in 2010, and it seems like now the sport is busier. I don't know if it's also because of us, but there is a lot more young talent in ice dance. Young boys in particular were so hesitant to go into ice dance and thanks to the Olympics we have many more teams. Even in our own skating club that we came from there are five or six young teams. What a joy for us! Hopefully that's a big tribute to what we have brought to the Canadian skating community - that people are interested in ice dance instead of just looking at singles and pairs.
You were successful very early. Great things were expected from you from a very young age. Tessa, did you feel extra pressure from this when you were around fifteen?
Tessa: I'm not sure that we realized it at the time. We were always looking forward and looking ahead to what we wanted to accomplish. We were always striving for the next goal and didn't take much time to listen to that kind of buzz. There was a gradual increase of attention. If anything it helped us learn to deal with the pressure from a young age.
Your sport is high-profile in Canada. Do you get recognized a lot, does this bother you in your daily life?
Tessa: No, everyone is so polite in Canada. People are very supportive and we've been so grateful for all the love we've felt from across the board in Canada. In our daily lives we can really fly under the radar. We know that people are just cheering for us and we appreciate it.
What is your dance background ? Do you work a lot on dance off-ice?
Scott: Tessa's our dancer.
Tessa: It depends on the program and the year. This year we've done quite a bit of hip hop and have worked with ballroom dancers as well for the blues feeling. We bring in different people for contemporary... We have started working with a new artistic coach and she's very movement-focused, so it's about telling your story through physical movement. So I'm excited to explore that a little bit. So it changes depending on the time of the year and what programs we have.
After your competitive career, what would you like to be remembered as?
Tessa: It's a tough question. I think ultimately we would like to be remembered as hard workers and good people. Especially while competing, it's difficult to answer for yourself. It's for other people to figure out for us.
Scott: We always admire the hard workers among other skaters. We've gone through many stages of our career and I hope that shows through. It would be a success if we were remembered as good people. Skating is a great opportunity but at the same time there is a whole big life after that, so we're trying to set ourselves up for that.
Do you already have an idea for your Olympic programs? I'm not asking what it is!
Scott: I think this will be a big part of the coming weeks. We want to reach spring having an idea, but this year's programs must mature before we can know what the correct vehicle will be for the Olympic season. We hesitate to say we want to do something different because we will have to choose something that plays to our strengths, but I think it will be a different Olympic program than what you've seen from us in the past.