Meet Natalia Zabiiako and Alexander Enbert
December 6, 2017
By Reut Golinsky
Photo © Reut Golinsky
Russia has earned three berths in the pairs' events for all the main competitions of the season - Europeans, Worlds and Olympic Games. With two certain candidates - Evgenia Tarasova/Vladimir Morozov and Ksenia Stolbova/Fedor Klimov - the third spot has a few strong contenders, among them Natalia Zabiiako and Alexander Enbert.
Natalia and Alexander train in Moscow, and are coached by Nina Mozer and Vladislav Zhovnirsky. Their partnership was officially announced in July 2015 after the Estonian federation had released Natalia to represent Russia internationally.
Last season was their first full season as during their first season together, while practicing the throw triple Axel, Natalia was badly injured and needed a very long recovery. They opened season 2016-17 with the Challenger Series, winning bronze at the 2016 Nepela Memorial. Continuing to the Grand Prix series, the pair won the silver medal at the 2016 Rostelecom Cup and finished fourth at the 2016 Trophée de France. After the withdrawal of Germany's Aljona Savchenko/Bruno Massot, as alternates they made it to the Grand Prix Final where they finished fourth. Their season continued with a third place finish at the Russian Nationals and fifth at the Europeans.
Additional pressure was put on this pair before the short program at Worlds. Until the last minute, it wasn't clear if their team mates, Evgenia Tarasova and Vladimir Morozov, would be able to compete due to Evgenia's injury during the morning practice. Russia needed three spots and with one of their strongest pairs out of the competition, this goal could become problematic. "We didn't really think about it," Natalia explained. "We were just working ourselves up to our performance, and didn't have any other thoughts."
Despite obvious nervousness at the very beginning, their short program, to Sviridov's "Snowstorm",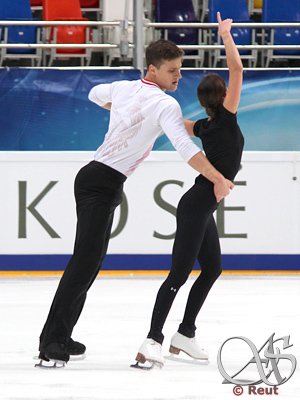 was smooth and precise, earned them personal best and landed them on a strong fifth place. "It was a clean skate and we even managed to show some emotion on the ice," Natalia said in the mixed zone. "Of course, we are able to do even more, as we are skating better at practice. What we can improve on in competition is, first of all, speed."
However, they were not able to keep the momentum, made a few big mistakes in their free skate and their season finished with a disappointing 12th place overall.
"It's just that the free skate is still more complicated for us; maybe because we've not skated together for that long," Alexander explained. "In the short program we have only seven elements, they pass fast and they all are well-trained, and in our long program it still feels that we lack some practice time together".
"If we sum up this season, no doubt it was a good one for us," Alexander said during our talk the next day. "We grew a lot, we feel it ourselves and we see it in our scores. Of course, we also know that we could do more and we could do better. We didn't have enough time in the course of this season to work on all the things we planned. It's hard to catch up on everything in one season. When we started after the injury, it took us time to recover and then to prepare and work on our programs. And probably for such an important event like Worlds we lacked a bit of preparation and confidence- the kind of confidence you have when you do your elements without thinking about them. And maybe our anxiety had an impact too."
Among the four leading Russian pairs, Zabiiako/Enbert probably deserve the most to hold the title of the "classical Russian pair".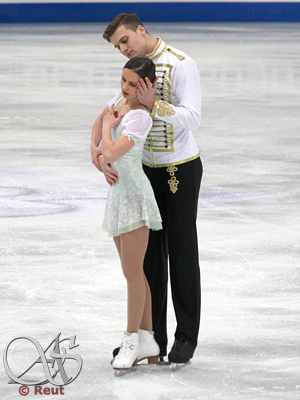 They might lack the ultra-C elements which Tarasova/Morozov have mastered or the sophisticated charm of Stolbova/Klimov, but they have lightness, flow, and long lines. Their last season's programs emphasized those strong features and were a very good vehicle for this team. Especially their short program which revived the 18th century atmosphere, with noble Hussars and splendid balls. However, the pair didn't plan to keep those programs for the Olympic season.
"I think we can prepare something even better," Natalia said.
"Of course, in pre-Olympic season you try different things and make conclusions towards the next season. Maybe we'll keep some ideas which suited us best. Maybe we'll go with the same style or characters, but it will still be something else; this way it will be more interesting both to the audience and to the judges," Alexander added.
They are not afraid to try new collaborations and ideas, and even to go with the choreography newcomers like Alexander Gazsi.
"The idea [to work with Gazsi] was ours together with Nina Mikhailovna. Vova and Zhenia (Tarasova/Morozov) did an exhibition program with him last season. We saw it and liked it, and so did Nina Mikhailovna. Hence we decided it might be an interesting experience to work with him," Alexander said. "We didn't have any doubts [about him being a freshman]; we saw what he does and understood that he creates interesting things. On the contrary, we could use a fresh pair of eyes. He still has so many ideas, which were not yet implemented anywhere else. So the fact that he only started choreographing is actually an advantage."
The fact that Alex comes from an ice dance background and not pair skating was, in their opinion, an additional advantage. "Many well-known choreographers are former ice dancers. They can choreograph things like transitions or steps better than anyone else,
and as for the pair elements, of course, we discuss their placement in the program with our coaches, and only afterwards we build the rest on this."
This season's programs were choreographed for the team by Igor Tchiniaev (short to Michel Legrand's "Summer of 42") and Giuseppe Arena (free to Tchaikovski's "The Sleeping Beauty"). They also go with the elegant and classic style the skaters perform so well.
No need to guess what Natalia loves to do with her spare time, just check her Instagram, @nataljazabijako, and the photos of all the things she bakes will make your mouth water. "Yes, I really love cooking and baking," Natalia revealed. "I don't quite remember how this hobby started. I just began cooking when I left to live in the United States. I really enjoyed it. I was looking for some interesting recipes and trying different things. Of course, I don't eat all this by myself, I cook and share with my friends."
Alexander's main favourite activities are reading and team sports. "I'm interested in many things, but don't have enough time for all of them. I do always have time for reading, it's easy to find time for this - on your way to practice, when you fly somewhere or you stay in training camp," he said. "And I also love various team sports - volleyball, football, but this I can afford only in summer, in training camps, as during the season I need to be careful not to get injured. I love to take part more than watching others. Although when it is a big event where two strong teams or two strong athletes meet, in any sport, it's always exciting to watch. And if I get a chance to watch sports events live, I love to see the intensity of the fight, it motivates me."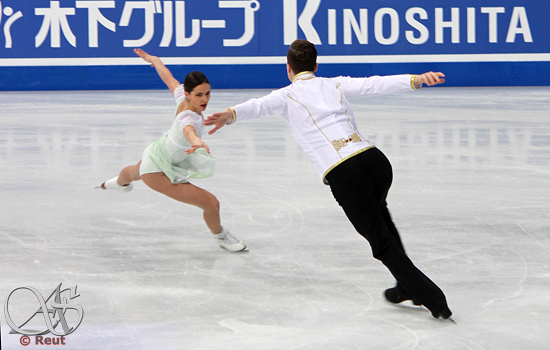 "The first competition from the Challenger Series, in Bratislava, really helped us. These events at the very beginning of the season can be used to show your programs to the audience, and we gained more experience from it," Alexander said in Helsinki when we were discussing their plans for the Olympic season. "I hope we'll use this opportunity next season too".
Indeed they started off their Olympic season with two Challenger Series competitions, both of which they won. In both their Grand Prix events they finished fourth, both times in a very strong field where they probably didn't have much chance of finishing higher. This weekend they take part in one more Challenger, the "Golden Spin" in Zagreb. There they will meet with Kristina Astakhova and Alexei Rogonov, their main rivals for the third Olympic spot who so far have better results at the Grand Prix events (bronze at both competitions). This will be a good trial for both pairs towards the Russian Nationals at the end of December.