Matilda Algotsson: "I really have to do well at Nationals, to have the best chances I can"
December 12, 2018
By Reut Golinsky
Photo © Reut Golinsky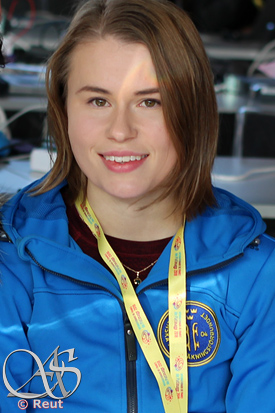 Matilda Algotsson, two-times Swedish national junior champion and three-times national senior medalist, has established herself as one of the top Swedish figure skating ladies. As a junior she medalled at a few international competitions, and in her first senior year she won the Volvo Open Cup. Last season she got silver at the Nebelhorn Trophy, earning an Olympic berth for Sweden. But, unfortunately, her season went downhill later and in the end she was not the one who was chosen to represent her country in PyeongChang.
In her profile on the Skate Sweden official site she describes herself as not the most talkative, focused, disciplined, and organized. She loves science fiction and "Harry Potter". In the future she can see herself being involved with figure skating in some way, but she'd rather be a judge than a coach, as it just feels more like her.
This summer she moved to the Skating School of Switzerland in Champéry to train under Stéphane Lambiel and his team. We met at the Internationaux de France in Grenoble, after her free skate, and discussed this competition, her programs, her move to Switzerland and more.
I wanted to start with your today's performance. Your first jump didn't go well but I was impressed with how you continued after that and did the rest of your program really well.
I was pretty nervous going into the free skate today. During the first jump I immediately felt that it was too quick, I put the toe pick too early. But then I was able to forget it, as if it really didn't happen and my program started after that Lutz. Sometimes if you miss the first jump, you feel you can't really recover, but now... I don't know why [I could recover], but I'm happy about it.
So now you can use this experience at your next competition.
Yes, definitely. Of course, I also have to manage doing the first jump. I know I can do that jump, I just shouldn't rush into it. But I can definitely "take" this skate with me.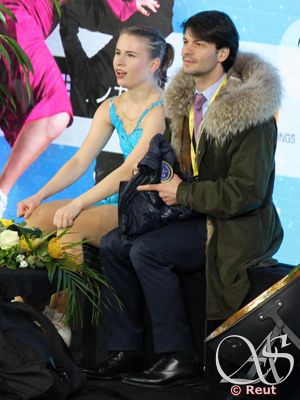 You seemed happy with your performance, but then both you and your coach looked less happy when you saw your points.
I knew there were some mistakes, I got lower levels, and I guessed that my Axel will get an under rotation; I knew I lost about six points on that popped Lutz... I don't think I expected more points, it's more that I noticed I probably have missed something else, so I was trying to figure out what it could be.
I understand you've been in Champéry a few times for the summer camps. How, when, why did you decide to move to train there on a permanent basis?
Last season I had a good start, then it went down, and I guess I just lost my joy for skating. But when I learned that I got a Grand Prix assignment I felt that I really wanted to give it a go and try to do my best there. I enjoyed being at the camps very much, I felt that was the place where I've been the happiest when skating. So I contacted the team and after the summer camp I just stayed.
So it was in August. Wasn't it a bit too late for choreographing new programs?
No, those I did before; we made my programs before I decided to join the Skating School. Stéphane choreographed my short program and Salome did my free skate. Actually, on the short we worked pretty early, in April. I wanted to have a good new program to restart [new season] with something that I knew was good.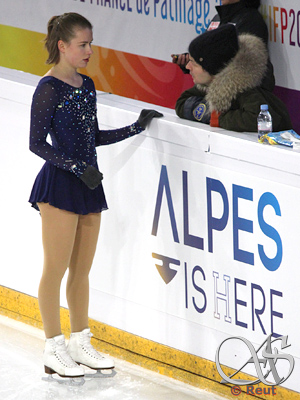 Later, in June, we did my free skate with Salome. And then during the summer camp I talked to them more and decided I really enjoyed being there, eventually it worked out so that I could stay. And I'm very happy with that.
Who chose the music for your programs? I especially loved Leona Lewis' "Fireflies" for your free.
This music was Stéphane's suggestion, he thought it could be a good choice for me. I was listening to it myself a lot and then showed it to Salome. And she agreed this could be a good choice. At first I had a bit of a hard time with the free program, to really get into it. But I feel like it's growing on me and now I can really enjoy the music.
And with my short I actually have two pieces there and the first piece was my suggestion, and then Stéph suggested which part we should combine it with. So it was kind of both of us.
You said you started your last season well. And what happened then?
I think I just came to the wrong place mentally.
So it was not an injury?
No, not an injury at all, it was totally something different. I was creating problems that were not there. I don't know what happened, it just went the wrong way. And then I couldn't get out of there and was kind of stuck... So I went to the European Championships, and after the Europeans where I did really bad (she finished 31st and didn't qualify for the free -ed) I decided not to compete, at least that season. First I thought that I wanted to quit skating altogether, but then I told myself: "I want to feel a bit better first."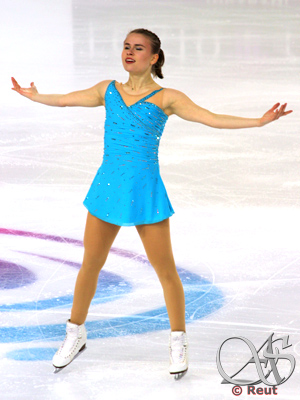 Because it's not good to make such a decision when you're feeling bad, I think.
I feel I still have mental problems, for example, I get very nervous, but I'm getting better.
Did you think to talk to professionals, sports psychologists?
I have been doing that, before. And now I feel like I'm getting really good help from my new coaches.
The beginning of the season has been a bit rough for you, but with a way this competition went, did you get a better feeling towards your Nationals?
Yeah, I feel it helped. Now I need to try to keep up the work so I can be ready. We have only one spot for the Europeans. And since I haven't done so well at the beginning of this season, I really have to do well at Nationals at least, to have the best chances I can. But we will see.
Swedish nationals are held this weekend, Matilda will be skating her short program on December 14th and free skate on December 16th. We hope she finds her confidence and wish her lots of luck.