Dmitri Aliev: "Every person can see something different in my programs"
November 8, 2018
By Reut Golinsky
Photo © Ksenia Nurtdinova, Reut Golinsky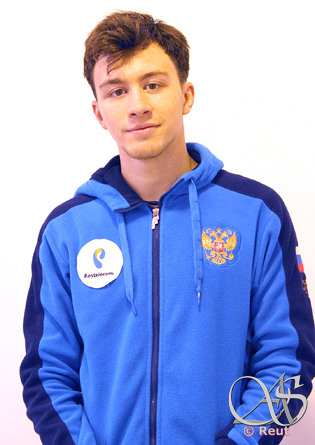 The 2017 World Junior silver medalist and the 2016-17 Junior Grand Prix Final champion Dmitri Aliev had a very promising debut in seniors last year, medalling at his first Europeans and finishing seventh at the Olympics and his first Worlds. He started this season at Lombardia Trophy in Italy and after the short program we sat down to talk about his off-season, new programs and more.
Last season was quite intense for you. It was your first season in seniors, with many ups and downs, injuries, participation in the Olympic Games and Worlds. Now, when some time has passed since, how do you recall that season? What do you remember from it?
I've primarily accumulated both physical and emotional fatigue from that season. Especially after the Olympic Games.
It was indeed my first season in seniors; the first half of it I competed injured, which made things even more complicated. At the end of the season, following my participation in the Games and at Worlds, we analyzed the whole season and made certain conclusions. These were first big events in my career and I know for sure that I want to qualify for them again. This is my goal and I work hard for it.
Did you have some time to rest and forget a bit about figure skating this summer?
Unfortunately, no, I didn't really have a rest. I had five different training camps during the off-season. After the Worlds I went home, to Ukhta, but even there I didn't really have a rest.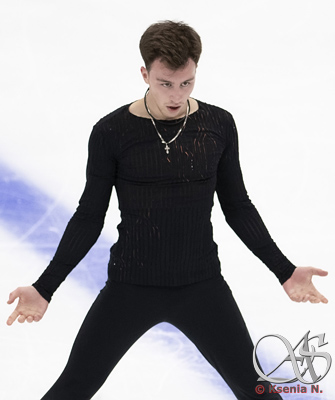 So, no, I didn't really have a vacation at the seaside or something like that.
During this off-season you also took part in "The Ice" show in Japan. What were your impressions?
It was great! The show was amazing; emotions were mind-blowing. All the skaters there were excellent, we had a very friendly team. We travelled to three cities and had shows in two of them; fans were excited to see us. I skated my new short program there and gained useful experience. After such shows you want - more than ever - to skate and to perform, because the Japanese audience always gives you a very warm support.
Some of your rivals also skated there with you.
Yes, but we always were friends. The ambiance during the practices was both competitive and friendly, as it was a show after all. But, of course, I watched [what they were doing] and learned a lot.
This season you changed the set of jumps you're doing in the short program, taking out quad Lutz and adding quad Salchow instead. Why?
It began to work well for me, so we decided to try it out. After the recent changes in the judging system we see that the cleaner program gets more points. It was like this before, but still you could win with falls if you did many quads. Now with these changes, for example, today Matteo Rizzo didn't perform any quads, only triples, but he had a very clean skate and scored 85 points. I had two quads, falling on one of them, and gained 86 points, so the difference was not big at all.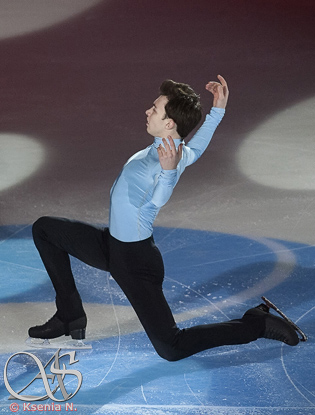 But I've got the Lutz, I train it; maybe after we understand better how to work with these new changes in scoring, we will put it back. Of course, there are always some small difficulties, some things work out worse during the practices, and then we add the necessary adjustments. Now we have an additional reliable option in store with the quad Salchow.
Before this event you had test skates in Moscow. This year they decided to make short programs a closed event while free skates/free dances were held at the Megasport Arena with journalists and public. I heard that the arena was almost as full as at the Grand Prix event. Which option did you like more, what's more comfortable?
You need to skate well in both situations. But me personally, I like to skate for the audience. Especially because Megasport Arena is my lucky venue. I became a silver European medallist at that rink, thanks to which I also qualified for the Olympic Games. I really love performing there. And to skate for an audience, our audience, I think I probably like this option more.
For one of your programs you worked with Ilia Averbukh. Was it a new experience for you?
Yes, it was the first time I worked with someone apart from my main team of choreographers - Olga Glinka and Valentin Molotov. I'm really grateful to Ilia. He is a great person and he triggered in me important thoughts about what to show in this program. We choreographed this program in three days, didn't have any disagreements.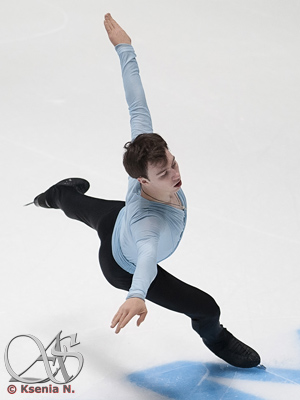 And this shows a certain professional level, when you understand each other at a glance, when the other person hears you. It was a real pleasure to work with Ilia. Unfortunately, the program is not at the state where I can really enjoy skating it, but I know what I skate, what I'm skating about.
How much input do you bring to the choreography of your programs? How much are you involved in the creative process?
Actually, my involvement is minimal. My coaches give me the direction and I try to perform what they proposed. But I try to perform it in my own way. I can, for example, propose: "Let's add the feeling of pain to this part, or let's show that this part tells about happiness." Or I can say: "I feel we can add more here." We work together, there is a dialog that helps us work; I say something, my coaches answer, and we try to reach an agreement.
I noticed that you have more programs "about pain" than "about happiness", they are usually lyrical, sad. Is this something that is closer to you personally?
I believe that every person can see something different in my programs. They are personal, about the personal journey. And like with every journey sometimes there are obstacles, misery. But there is no drama at the end of it; on the contrary, there is success.
After Lombardia Trophy where Dmitri got silver, he also competed at Finlandia Trophy, which was less successful for him, as he finished only fifth. No doubt, he and his team went over all the small and big mistakes, made necessary corrections and will try to show much better performances in the coming Grand Prix events.