Brendan Kerry: "I'm a completely different skater"
November 14, 2018
By Reut Golinsky
Photo © Keiko Kasai, Reut Golinsky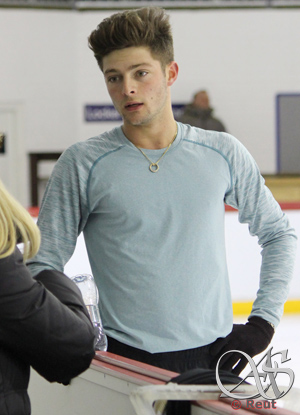 Six-time Australian national champion Brendan Kerry is, at the age of 23, already an experienced competitor. This season he is starting his third Olympic cycle and he continues working hard to improve. Between his two Grand Prix events, he found time to answer my questions about his Olympic experiences, coaching team, new programs, quads and friendship.
You come from a skating family, your mother represented Australia in ice dance, your sister skated in singles and moved to ice dance. How much were they involved in your skating and are they involved in your skating now?
Yeah, skating is very big in my family. My mum was my first coach and I still have her with me at some events - Senior B's, Olympics and of course my Nationals. I will often send her videos of some stuff for her to let me know if my edges or steps don't look good enough to get the levels I hope for. My sister Chantelle and I will occasionally send each other videos of skating if we think it's something really cool or good.
Before we move to talk about this season, I want to ask you about the Olympic Games. These were your second Games. Was your experience different this second time? What was better or more memorable in Sochi and what was in Pyeongchang?
These past Olympics were completely different for me than the previous ones. I felt as though I didn't quite belong at the 2014 Games. I was just a strong junior overwhelmed in a senior field. The past four years I have been working so hard to make sure I could not only qualify for the 2018 Games but also go and do two strong performances. The short program was an amazing experience. The free skate wasn't quite what I was hoping for but it certainly wasn't bad. Sochi was a lot more of an eye opening experience and everything I saw was mind blowing. In 2018, I went there more so focused on myself and what I wanted to do. I saw other sports at both events, which is so much fun! I loved watching the short track with my friends. The crowd for the races was unreal to watch!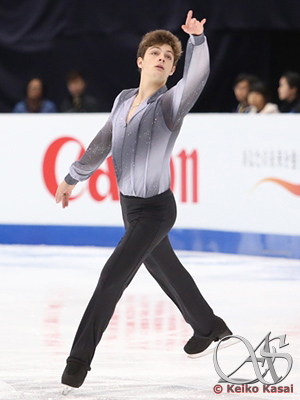 In 2018, the Australian team was strong, you actually almost qualified for the team event. Were you hoping to qualify? Do you have any nice stories about Team Australia at the Games?
I knew Australia had a chance of making the team event but to be honest I didn't put too much thought into it. I was just really trying to focus on training and not much else. I think it would be awesome if we could make the team event at the 2022 Olympics.
As far as stories relating to my teammates... I have a million! The pair skater, Harley Windsor, is my long time best friend and I don't know how often I still burst out laughing just thinking of stories from the past 10 years. Both on and off the ice.
I absolutely must ask you to tell some story about you two!
Ah, too many stories come to mind. I guess one really good one would be that for whatever reason one day I woke up and thought: "I want to go fishing!" So I called Harley and told him to meet me at the local shopping center. We then bought fishing rods, bait, hooks and a little carrier box. Neither of us were old enough to drive so we then took two trains and walked about 4 or 5 km. The weather wasn't looking the best but we just ignored that fact. We then headed to a massive forest like area and tried to find where the creek turned into a river. Unfortunately, neither of us knew what to do or where we were going. We ventured down to the bottom of a massive gulley, by massive I mean HUGE! When all of a sudden it started to pour rain like I have never seen before, it was crazy! We had one umbrella with us and sat under it, freezing and absolutely drenched in water for a good 30-40 minutes before deciding that we may as well just deal with the hike and long walk back to the house. This was probably about 9 or 10 years ago. I don't even remember how we got back. We didn't even find the river or go fishing! It was definitely not either of our brightest ideas.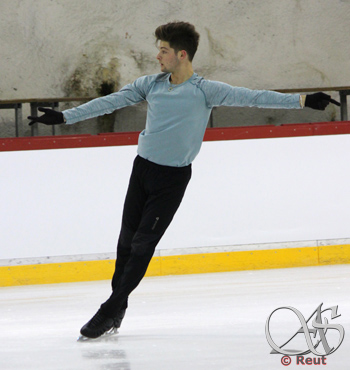 Now, when you mentioned Harley, I recall that I indeed saw that hilarious video you did for Pyeongchang.
The Instagram video! We were at Four Continents Championships in Taipei about a month before the Olympics and I got an email from someone from our Olympic committee asking for a promotional photo or video. All the Aussie athletes heading to Korea made them. I knew that our good friend, the Korean ice dancer, Yura Min who was at that competition, is amazing at making fun videos and whatnot. So she came to the room and said: "Ok, quickly write this on paper, fill it in so it's bold". We then had help from US ice dancer Michael Parsons and my sister, Chantelle, - they held the signs out for us to walk or dance by. Yura then edited and cut music to it for us and ready! We sent it off!
Last season you moved to work with Nikolai Morozov. As Nikolai is always "on the road", where did you train and where do you train now? Who else is part of your team?
After Skate Canada last year, I moved to work with Nikolai in preparation for the Olympics. Within the first few weeks, I ended up in Russia for training. I then spent a lot of time traveling for competitions and in-between spent quite a bit of time in Connecticut and then the rest in New Jersey. This season Florent Amodio choreographed my free skate and worked on parts of the short program and Nikolai did the short and worked on parts of the free. In the lead up to Skate Canada I worked with Florent and have been training in France in preparation for my other upcoming competitions. He's really great to work with. Very modern and fun, he really understands how a skater thinks and feels on a day-to-day basis.
Tell me more about your new programs, especially about music choices and an unusual cover you have chosen for the first half of your free skate.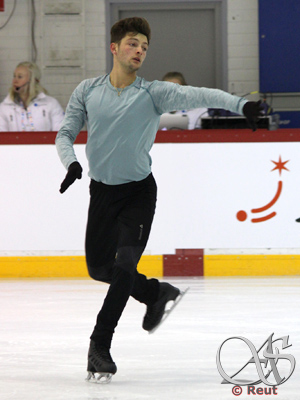 Music this year was a bit difficult to begin with. I'm really terrible at trying to find what it is I want to skate to. One day Nikolai told me: "I have a piece and the music is amazing so we have to try it!" The short program is really strong and builds towards and throughout the step sequence. I feel like the music is great for the short program as it is strong but calming so I can get the jumps out of the way and then just try to put as much as I possibly can into the steps at the end.
The free was difficult for us to decide on. I'm trying really hard to work on my PCS (program component score - ed) this year and so we wanted to make sure I had two programs that weren't like anything I had done. Nikolai and Florent were playing "Grease" at the rink and everyone there was smiling, laughing and dancing. It was super uncomfortable for me at first. But what's the point in me skating anymore if I'm not willing to try new things that are uncomfortable? I told Florent I wanted the beginning to be slower and calm as we were originally opening with three different quads. He found the cover and I thought it was a really cool idea to mix the original "Grease" soundtrack that everyone knows with something more modern. I feel as though that's the general direction that skating is headed at the moment.
Three different quads? Which quads have you mastered and which are you working on now?
I first completed quad toe in competition back in 2012 and landed my first quad Salchow in competition in 2014. Last season was however the first time I did both in the same program. For a season I did quad toe in the short program and quad Salchow in the free skate. Both have been going really well in training and all summer I was training a two-quad short. However, I wanted to make sure there were going to be no mistakes or negative GOEs in the short program at my first couple of events because I wanted to see for myself how the new range of GOE, from -5 to +5, was going to affect my scores.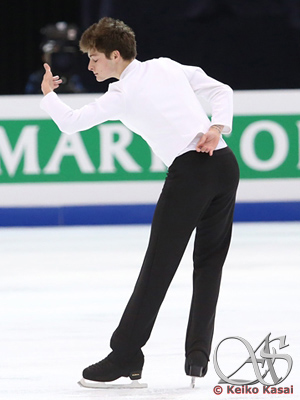 I will for sure only be doing a two-quad short from now on. I spent a lot of time on quad Lutz this summer and was planning to put it in the free skate. However, again, the new GOE system has made it so that unless you're going to do something to the absolute best of your ability every time - it's just not worth it to make attempts anymore. I will also sometimes work on quad loop if I'm feeling good on the day. I get a bit nervous trying loops.
There were indeed changes introduced to the scoring system this summer. A new GOE scale that you mentioned and a shorter free skate. What do you think about all these changes?
I much prefer the shorter free skate, I feel as though both watching and competing it feels like less of a "jump fest" and more of a competitive artistic event with jumps in between. I personally don't really like the new GOE system. Just because it's so much of a high risk high reward system in regards to the quad. I agree with the amount of quads and triples being limited. However, it's almost not worth it to try for more than one or two quads because even a small mistake makes it less valuable than just doing a really nice easy triple jump. But I feel it's too soon to really say for sure. I think after Worlds everyone will be able to have a better opinion on the new scoring system. I think it definitely encourages programs to be put together in a much smarter way.
This season you competed at two events - the Halloween Cup and Skate Canada. And you were also listed at Autumn Classic 2018, but withdrew, why?
I really wanted to compete at the Autumn Classic. However, I have received virtually no financial assistance and just didn't have the funds to be able to afford everything that is needed to get ready in time for the competitive season. I didn't want to go to the Autumn Classic and not even be able to get through a program.
How would you sum up your season so far? Following Skate Canada what do you plan to change or improve towards your next Grand Prix event in Moscow?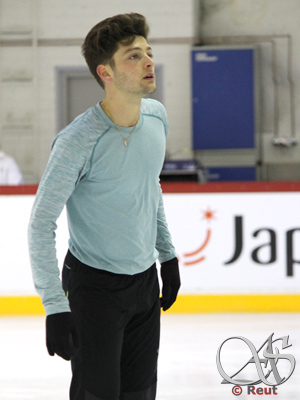 Since Skate Canada, we have reworked the short program to up the transitions in and out of everything and added a bit more complexity to the step sequence. We also have redone the order of elements in the free skate to try to make the program all round more balanced and entertaining for the audience. Jump wise the free skate at Skate Canada was weird, I don't know why the mistakes I made happened as those aren't mistakes I usually make when training, I mean a single loop at a GP event... not my best moment.
Last season, after you finished 11th at Skate Canada you said: "I couldn't have done much worse", that competition was also a catalyst for your coaching change. A year later, at Skate Canada you finished 11th again...
Although the placements at Skate Canada last year and this year were the same I feel I'm a completely different skater. As a skater you can't really control the outcome of an event but you can control how you skate. I went out this year and wanted to have strong skates and performances rather than me just focusing on jumping. The jumps weren't so great but I tried really hard to make sure the way I skated and performed was better.