Carolina Kostner: "Dreams are the machine that give us the strength"
April 8, 2018
By Titanilla Bőd (Új Szó)
Photos © Joy, Mireille Geurts, Natasha Ponarina
Almost every skater has already left the Medolanium Forum, but Carolina Kostner was still in the mixed zone. The security guys turned away their heads when volunteers entered the area, they shouldn't take a selfie with her. Relatives and family members were let into the room to take that most cherished group photo of the event.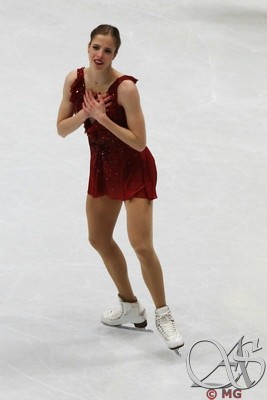 A few journalists still waiting for Carolina, thinking that she probably won't agree to any interview any more. But she did, she dedicated her time and her presence to every member of the press, and even though the mixed zone was slowly dismantled around us, Caro's magic was shining. She considered every answer, and was speaking with such grace, like her skating.
During the whole competition you seemed very happy, even though your free program didn't turn out as you wished.
It was an incredible experience to skate here in Milano. When I started my career, I was the strange girl from the mountains that chose to do a very strange sport. And to see that with time you could actually change things, touch people and encourage them to come and watch it live [is amazing]… I've heard so many people saying, it's the first time I saw it live and it's so beautiful. It is! It's such a big difference to see it on TV, or coming to watch it live. It's so enthusiastic to see that it's you, the motor that pushes people to love something new, to see something different to add to their passion… It's very exciting and I felt very honoured. And yes, I felt also very responsible, I wanted to really try my best and show my love and appreciation to the sport and also for my country that has supported me for so long. In difficult times, in good times, you could hear it in the audience when I skated. It was very, very special. Two years ago, when I knew the Worlds were in Milano, I didn't even know if I would ever possibly take part in it, and who knows how… Being part of the best skaters in the world still is totally living the dream. It's a big difference between being very young with a big dream and you slowly reach it… With many, many years you can say: I am actually living my dream. It's so special. It's been a long and very difficult journey, but thinking back I think I improved so much in many, many ways. I'm so glad that in the moments of discouragement special people helped me to remember that there is not just the medal and the results that make you happy, but it's actually being here and living in the moment. You fall, you stand back up. You trip, but you are here, you are healthy, you can be part of this event and that's the emotion that will stay with you forever.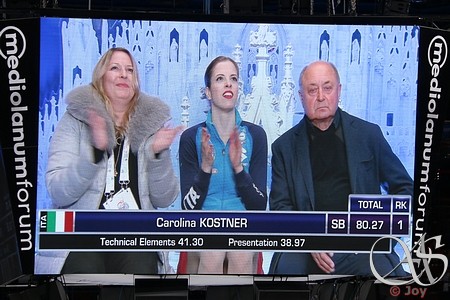 You proved in Milan that you can compete with the world's top class athletes. What makes you such a strong athlete?
I love what I do and I have a character that if I do something, I want to do it really well. Two years ago when I took the decision I promised myself I would invest everything I have: time, energy, everything. The turnout actually is fantastic. It's really worth everything I invested. All the moments when I cried with frustration, felt discouraged and sore and insecure, which decision to take, which direction to go, how to train… It's very different training when you are in you thirties or in your teenage years… You have to plan it much better, you have to invest in regeneration, in keeping your body healthy. It's been a challenge to find that way, because there aren't many examples I could follow. There hasn't been many skaters who skated for so long, which I could take for example. I think my biggest idol in this case is Roger Federer. I watched him play a lot of times and really admired him and tried to be inspired by his belief and patience, and how he keeps going. It's really fantastic.
Will you compete also next season?
Maybe… I don't know yet.
When will you announce this?
There is no date decided. I think there are deadlines by the ISU that I will respect and until then I will relax and then take the decision I have to take.
You also had major competitions in your home country when you were very young, the Olympics in Torino in 2006, and now you competed at home again, in Milan. What is the difference in your approach, and maybe in the approach of the public, as well?
Every competition is different, it always starts from zero and it develops on its own during the days of the competition. The difference for me is that back then I was a young girl, just exploring for the first time what it means to have all the eyes on you, all the attention on you, and the expectation and the pressure, the people that stop you in the street… I remember in Torino that I couldn't walk ten meters without many people stopping me who wanted to take pictures and autographs. It was just the first time and it can be really overwhelming. With time you learn to deal with it, you learn to protect yourself and find the moments when you dedicate the time, your gratitude and your energy to the people that support you, and then there is the time when you have to accept the fact that at first I concentrate on the skating, because if I'm able to concentrate on myself, I can give back to the people that enjoy skating. It's a thin line where you learn to balance with the experience. This time in Milan I was more relaxed, I knew what to expect but I actually didn't expect this warmth, welcoming and so enthusiastic reaction. I was so overwhelmed by how the crowd reacted, it was very, very special.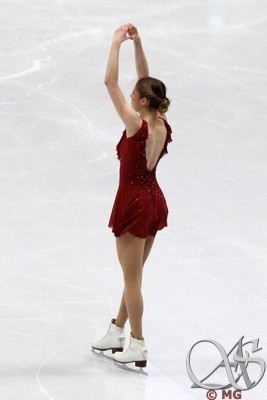 Could you describe what love, beauty and dreams mean to you?
Love is something bigger than you, that makes you step over the limits and enlarge your senses in every way. Beauty is not so much how you look, but it's the inner beauty that comes out. It's not about make-up, it's not about hair, it's not about what you wear, it's the feelings that come from the inside. That's the real beauty for me. And dreams are the machine that give us the strength every day to get back up, and sometimes to find more strength than you actually think you have.
It is well known that you love art. Do you have any favourite museum or historical sight in Milano?
There are so many beautiful corners in each Italian city. Here in Milano… Hm… I think when you go into the Duomo and the sun shines through the coloured windows, I think it's very special. It's not so much how it is, it's more the time of the day, the way the light comes in… And it's still just one moment, you take it and that goes over the art. It's like a program: whoosh – and it's over.