Daniel Samohin: "I'm not worried about losing"
September 21, 2018
By Titanilla Bőd (Új Szó)
Photos © Wilma Alberti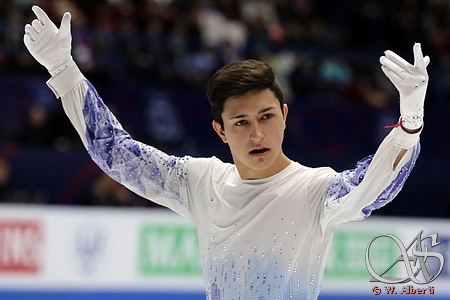 What to do when you dislocate your shoulder just a few days before a major competition? That was the question Daniel Samohin had to face before Worlds in Milan. The former Junior World Champion chose to compete despite all the obstacles, and in the end, he placed 20th. With that tough season in mind we talked about shoulders popping in and out, dealing with losses, and staying positive under any circumstances.
You were Junior World Champion in 2016, but after that you had some rough times. At the 2017 Europeans in Ostrava you didn't qualify for the free because your skates got lost and you had to wear your brother's skates. It seemed that since then you couldn't really find the momentum. What happened?
I don't know if I believe in bad luck, but it just feels like I haven't been lucky. I'm trying to stay as positive as I can, I put in a lot of work on the daily basis. Of course, I get a bit discouraged if I have a bad skate. I'm doing this for myself, so I don't think the main important thing is to skate well, but it definitely gets a little bit upsetting at times, because I know what I can do. Sometimes these things happen, like dislocating my shoulder, or being super sick, or my skates not arriving… I hope next season will be better.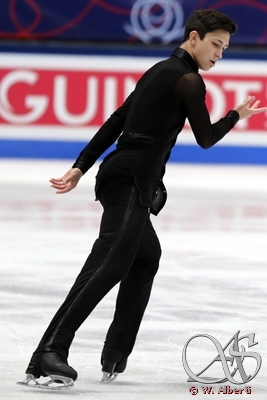 You are not the only skater with shoulder problems. Why is this so specific for the sport? Is it because of the countless rotations?
It's funny, because I don't have any broken bones. I was just unlucky twice when I fell. Now I'm more mindful of how I fall in some cases and I'm going to be careful to keep my left shoulder in, as it's the one that's prone to coming out more. A week before the Worlds I was doing run-throughs; everything was fine and then I fell on the Salchow. I didn't expect this, but my shoulder just came out. Took three hours to put it back in. The shoulder was a bit achy and tired, but I didn't focus on it. I was trying to stay positive, because I still could do the jumps, even though I was a bit limited. It's like skating with one arm, because my left arm was not twisting and moving the way I wanted.
Did you feel any pain skating at Worlds?
Not during skating, but after, the shoulder was aching. Rotation-wise I was not hurting, it's more about being careful on the landing. Most falls happen when you are not confident, so you must be confident.
Your dad is also your coach and he is probably worried about you, he doesn't want you to hurt yourself. How can he handle the situation of pushing you to skate through injury?
That's the good thing about having my dad as my coach, and Nikolai [Morozov] helping him. They told me: "If you don't feel comfortable, just don't do it." I might have not come to Worlds; I got the MRI just the next day after my fall and my doctors said I can skate, but I have to be confident and not scared. The shoulder will not pop out again unless I fall like that again, but no further damage can happen. I worked pretty hard after the Olympics, so I wanted to compete at Worlds.
Some skaters with similar shoulder problems got this block and are afraid to move freely on the ice because they are scared their shoulder might pop out again. How can you overcome this?
(big sigh) I'm just not afraid of anything. I think fear is a limitation. If you are scared, you are unable to do anything. If the shoulder comes out again, it comes out again. I don't want that but now I know what to do when I fall, I know that I have to hold it. If you are scared, that's when the problems happen.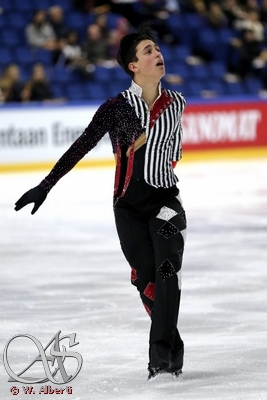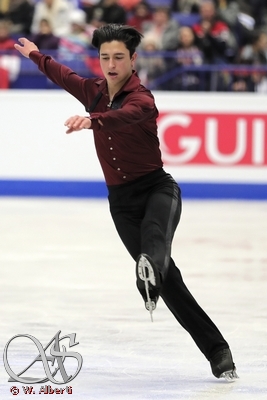 When you won the Junior Worlds, people started talking about you as a European medal contender. However, the next two Europeans you couldn't make it to the free skate. Once it was because of lost skates, but what happened in Moscow 2018?
I dislocated my shoulder at Skate America, which was four weeks before Europeans. I didn't skate for two weeks because I wasn't allowed to. Technically, I wasn't allowed to skate for six weeks, but I started skating on the second week. I just wasn't jumping. So, I didn't have time to prepare. At practices in Moscow I was fine, not nervous; I didn't feel I couldn't skate, there just wasn't enough time. I was kind of shocked that I didn't make it through the short, but I didn't skate well, so I can't say anything. But I'm still young, I have time. After every competition I just grow stronger mentally and that's the most important thing for me. Everything else will come. I'm not worried about losing, I just tell myself I need to work harder. It's a challenge every single time. I think next season will be easier for me. I'm still positive, but right now I'm so tired. It's been such a long season. Even though I wasn't competing that much, but from injuries to being sick, I never got the chance to be my 100 percent.
The video of dislocating your shoulder at Skate America mid-program is really scary. Were you scared at first? Did you realize what's going on?
I did realize that my shoulder was out. A long time ago, before Junior Worlds, something similar happened--my shoulder came out but then went back in. It was like a half-dislocation. So I knew how it felt. After that the shoulder was fine, but I did exercises to strengthen it. I just had unlucky falls. Now I need to be extra careful because it's the third time this happened, but the doctor said I don't need surgery. Sometimes such injuries happen because the bone chips and becomes too low, so they put in screws. But in my case, nothing's wrong with the bone, it just pops out. So I'm lucky in this regard, but also unlucky at the same time. I don't know how this works. I'm still getting used to it (laughs).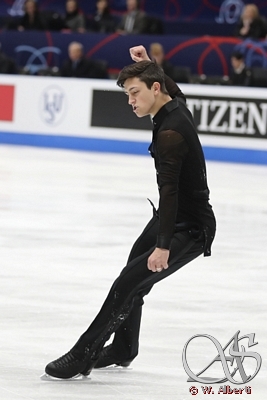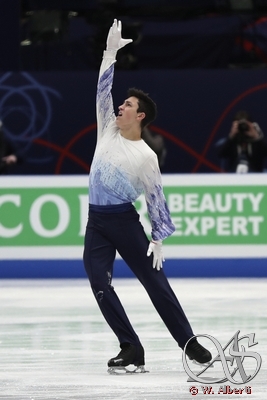 After the Europeans how did you spend your time until the Olympics?
I was working hard. I was doing at least five long program and five short program run-throughs a day. At least! I really worked hard, because next season I want to do all quads. Well, except Axel of course. And maybe flip. I like it now, but I used to hate it. That's my goal, and I'm working on the new quads. I do a lot, and I did the same towards Olympics. When I step on the ice, I feel really good. I'm not nervous, all season long. I get this fighting spirit, that I have to do this; not to beat anybody else, I really do this for myself. At the Olympics I had just one practice a day, so I was working a lot in the gym. When it came to the skate, Nikolai and my dad said: "Maybe we should do just one quad, one Axel, and a [triple] Lutz-[triple] toe or a [triple] Sal-[triple] toe." But I said: "No, I'm going for two quads, I'm already here, I have no other choice." And I did the two quads and then fell on the Axel. Again, the Axel is easy for me mentally, I just hadn't enough time. I always had those little things and I wasn't 100 percent ready. It was great to be at the Olympics, the vibe was so positive, all the people, the spectators, the athletes were very happy. It's a great experience and it boosted my confidence a lot.
So you enjoyed the mixture of all the athletes from different sports, right?
Yes. I think it kind of made it really easy, because people work towards this goal, they work all their life to get to the Olympics and it's really great to see all the different athletes being there for this one thing: the Olympics. Everybody is very positive, we are trading pins, there is nothing negative at all.
For some athletes, however, Olympics can mean extra pressure, they feel obliged to do their very best, they feel as if they're not allowed to fail.
I can see that. But I still tell myself: I know what I can do, and maybe even if it looks as a bad skate I know that I did all I could. For example, before the Worlds many people told me: "Let's withdraw from the competition." I started from singles after the injury, on the second day it was doubles, on the third day triples, and then quads. Under these circumstances I did good in the short program at the Worlds. I'm happy with my skate. I'm upset by the stupid situation, but I have to be smart and mature enough not to worry about something I can't change and just move on.
When you finished your programs at the Olympics, you pointed to the sky. Was it for your coach, Igor Pashkevich, who passed away two years ago?
It was for two people. Igor Pashkevich was like my uncle. He passed away after the Junior Worlds. It was a hard situation. After my victory there was such a great high, everybody was so happy. He was supposed to come visit us, and a little later that week he passed away. It was definitely hard. He was a good balance between me and my dad, they both knew what to say at the right time. Sometimes I needed my dad more, sometimes I needed him more. And the other person I remembered at that moment in PyeongChang was my best friend's mum, who passed away from cancer. I was really close to her too. I couldn't be there when she passed away, I couldn't see her because I was training, but during that program I felt that they were there helping me. After the short program I got pretty emotional, because even with the fall on the Axel, doing two quads was amazing. After the quad Salchow I was tearing up a little bit, mid-program! Maybe it wasn't smart, maybe that's why I fell, but I couldn't control it. I'm an emotional guy, I like to show my true emotions, and that moment I was really emotional, I was like: "Finally! Finally I'm doing it!" In the long program I was more put-together and at the end I just felt like somebody else is helping me. That's why I was looking up, to say thank you to both of them, to Igor and my friend's mum.
At the next Olympics you will be 23 years old. How do you see yourself in Beijing?
I definitely want to get higher, from 13th place to the top five, probably. I think I'm capable of it, I just want to put more quads in my programs, get more mature as a skater.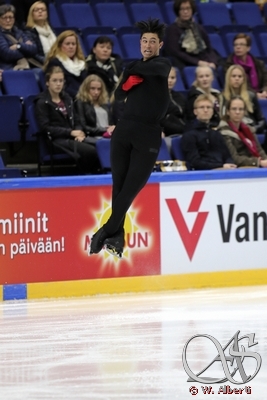 You mentioned you have bold plans already towards next season with all the different quads. How do you want to reach this goal?
It's going to take a lot of work and a lot of time. I will try to add a quad Lutz and loop into my programs. My goal is to have technically harder but at the same time interesting programs. I already have my music choices. It is important for me to feel the music, it has to speak to me. The reason why I changed my short program before the Olympics was because I couldn't really feel the music. So I have big plans for next season, I hope everything works out. I'm going to work hard, stay positive, and it should be good.
So you don't mind this new trend of skaters adding more and more quads into their programs?
I don't mind. I think it pushes the sport to be more technical and harder, and I've always wanted to do that. It was always my goal. After the Junior Worlds my next goal was quad Lutz, loop and flip. I turned 18 when I won Junior Worlds, a lot of things happened. I was growing, there were hormones, I had to learn how to get a hold of it. I think next season it will be even easier for me to compete. Since Junior Worlds I was never nervous, only when I knew I wasn't ready. But I always try to get myself ready.
I like that you are so positive even after some very hard times. How can you keep this positive energy?
The people that I have around me are really supportive. Nikolai has helped me to be more confident with myself. When I go on the ice I know what I'm here for and I know what I can do. There is nobody around me who would say: "Oh, you lost, you failed…" People don't see what I had to do in the long run, what has happened to me, they just see the competition. And unfortunately, I'm not able to do my 100 percent at competitions, yet. I will just focus on myself and do what I must. That's where the positivity comes from.
So you are not obsessed with medals, you are not going to sleep with the thought "I have to become world champion", are you?
Of course I would love that and maybe one day I will be world champion. I think I have the capabilities. But letting that affect me would affect my skate. I want to keep my skates very emotional and different. That's just how I am. I don't want to think about medals too much. Even the day before competitions, I don't know what time my practice is, what time the competition is. My dad just tells me at what time I have to be at the rink. I need to be 100 percent calm, collected, smart, feeling good, not thinking "what if I fall". I act as if I don't care, and this makes things easy