Silvia Fontana & John Zimmerman - Sharing the blood, sweat and tears
December 11, 2018
By Anna Kellar
Photos © Anna Kellar, Reut Golinsky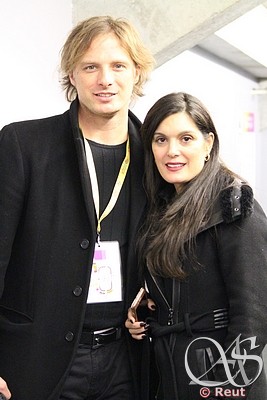 John Zimmerman and Silvia Fontana are familiar faces at international competitions. Each had successful careers as competitive skaters - John is the 2002 world pairs bronze medalist with partner Kyoko Ina, Silvia is a five-time Italian ladies' champion: and as coaches, the husband and wife team oversee a growing group of top skaters at their Florida training base. Silvia and John have worked with Vanessa James and Morgan Cipres since the pair's breakout 2016/2017 season, and also coach Kévin Aymoz, Mae Bernice Meité, and the American pair of Haven Denney and Brandon Frazier. I spoke to John and Silvia shortly after Vanessa and Morgan, Haven and Brandon, and Kevin had finished their short programs at Skate Canada.
How are you feeling after the first day of competition for your skaters?
John: Pretty tired. A little mixed. We've all been training hard and getting where we need to be. We're building up from what we all learned at the Autumn Classic a couple of weeks ago. I think we still have to keep working with the teams - Brandon and Haven specifically - on how to handle the pressure, what to expect. What things to keep working on and what things to not take as so important: to have a more balanced approach when you go out there. And what to accept as pressure and what to really not carry as baggage. I think sometimes you carry too much, you want everything to go right, perfectly, all the time, for everybody, and it adds too much weight on you. And it's hard to let that go, because you're afraid if you let that go, you make a mistake, that could have been the reason why. That's always the challenge. I remember that feeling of wanting to do it, and realizing if I cared a little less, had a different approach, I think I might have done better.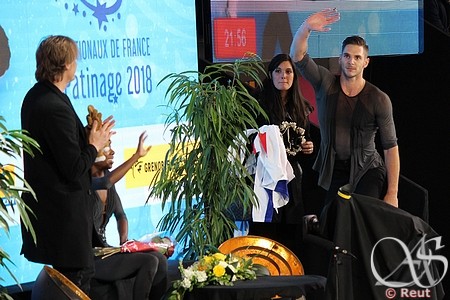 Morgan was saying being last to skate is still kind of new for them, and a new pressure. How are they handling having more expectations this season?
Silvia: We definitely see it is a little different. It is new for them to be the one chased and not the one chasing.
John: We had a little bit of that after Europeans last year, after the short program. They were a completely different couple the next day. I talked to them about it once, because I remember when Kyoko and I were skating, we were third in the worlds right after the Olympics, and the other teams before us didn't skate very well, and we were waiting for our name to be called, and thinking, if we skated clean, we could actually win. After four years of trying to get on the podium, then getting onto the podium here and there, it's old hat to be up there, but now it was starting all over again, a whole other level of pressure [to have the chance to win]. It's something we'll talk through.
A couple of your students worked with Charlie White this year. Where did that collaboration come from, and what was it like to work with him?
John: We've known Charlie for a while. I worked with Charlie and Meryl [Davis] on lifts, doing a collaboration with Marina [Zueva]. We've worked with him before, and he's a great guy, a great talent, and since we knew how hard he and Meryl work, we thought that would be a good match for these guys, pushing them on the work ethic, and then a ton of creativity.
I wanted to ask about the roles of your team, with the different coaches, and the roles you each play. Kevin mentioned in an interview he works with Sylvia on skating skills, and John on technical elements…
Silvia: I think we mostly work on everything. John was a big part of creating Kevin's programs, working on the transitions as well. But we also work a lot with the off-ice training and the harness, and John does that, and the technical part and training of the jumps, John does more of that. But we both kind of collaborate..
John: ..mix it all up.
Silvia: He is definitely the technical person because I don't know anything about the technical part of the pairs, except for the side by side jumps. That's all him, and in the pairs I do more of the cleaning up work, the step sequence, make sure the matching is good, but we both work on both aspects of skating.
John: Silvia and I usually have the same end goal for all the skaters, so it's easy to help each other out and pick up where the other left off whether it be the technical side or not.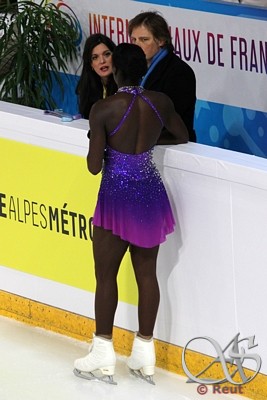 You have a similar eye.
John: A similar desire to get something out of the skater.
Mae Bernice Meité recently started working with you this year. How is that going?
Silvia: She is a great girl, very hard working, and I think she has desires to get better. It's very admirable, because she is in a [difficult] sport and she feels she is not done. She works very hard, and it doesn't come super easy, but she gets through it.
It was great to see her do so well at the Autumn Classic.
John: She is very open to trying to learn new things. The creative side and the training side, and again, working with these adults, it's hard for them to open up, and relearn new things, but she's great.
So many of your skaters are skaters that have an unusual, more modern aesthetic and style. Is that something that's coming from you, or they've come together because they all have this style…?
John: It's kind of a combination of everyone. None of us is as talented, but you put us all together, we are a great unit. Sylvia and me, and with Kevin, and Mae, and Charlie…we all work it out, we have the same excitement to come up with something cool and different…
Sylvia: We do like that. We don't want it to be just a typical skating program. We try to create something that's going to be a little different, more exciting, inspired by other worlds, like acrobatics or gymnastics or dance.
John: A lot of contemporary dance, as well.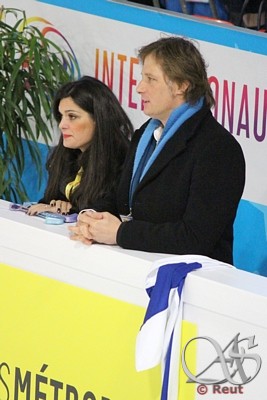 Do you have skaters work with dancers?
Sylvia: Yes, we have a dancer that works with us, and we're hopefully going to get even more inspiration from that. We have one dancer that works with all our skaters on a regular basis, and he's amazing, because he's Cuban, so he has the refinement of the dancer, but he has the heart behind it. I sometimes worry that someone from off ice dance can mute the passion and the enjoyment, and he is totally the opposite, he just brings it out even more, so we love him.
Last question - does it help to have multiple top-level teams, training in the same environment? What is it like, for example, to have Haven and Brandon, and bring multiple pair teams to the same competition?
John: This is the most we've had, just two teams at the same level. It's fun. It's a fun energy to come in every day, and we're lucky to be able to go to the same competitions this year. So we're peaking at the same time, we're diving in at the same time, we're resting at the same time. They're all about the same age, so it's really cool, we all enjoy each other's company. The hard work, and the blood, sweat and tears, sharing it all together is awesome.
This weekend John and Silvia accompanied Vanessa and Morgan to Vancouver for the Grand Prix Final which they won. And now they will be preparing for the French National Championships. We wish them good luck for the rest of the season!