Giada Russo: "Every year I want to do something different"
February 21, 2018
By Reut Golinsky
Photo © Reut Golinsky, Anna Bertoloni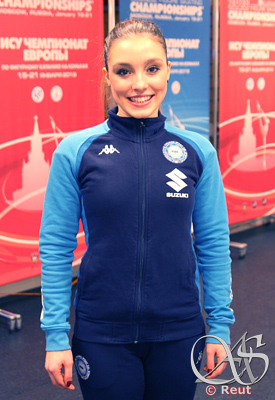 Two-time national champion from Italy, Giada Russo, caught the eyes of many skating fans and specialists thanks to her unusual and unique programs. Last December, at Italian Nationals, she finished second behind Carolina Kostner and was named to the Italian Olympic team. We caught up with Giada during the European championships in Moscow and discussed her programs, her Olympic expectations and more.
Congratulations on being chosen to represent Italy at the Olympic Games!
I'm so excited. It's a dream that became a reality; I'm really, really happy. I'm looking forward to going there, practicing well and doing my best.
Is there any specific Olympic moment that you want to experience the most?
I want them all! All of them will be really exciting moments.
Did you ask your friends who already went to Olympics how it will go?
Yes, I asked my Italian friends how it will be, what I should do. They explained how practices go, how it all works, where we will do what. I also like that we will have all the sports together. It is really nice because usually at competitions, we never see our Italian teammates from other sports.
Do you have friends among Italian Olympians who are not figure skaters?
Yes. Speed skaters and short track skaters.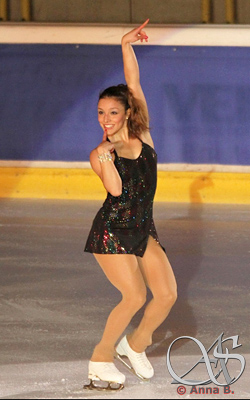 Do you know anything about the team event; will you participate in it?
Carolina (Kostner) will for sure be [in SP] and for me, it's not known yet. We will see.
You have a very unusual short program this season. How was it created?
The music was decided with my coaches, Claudia Masoero and Edoardo de Bernardis. It's a soundtrack from the film "Eyes Wide Shut." I saw this film, I liked this music, we tried it on the ice and it worked well. I like to have contrast between my programs, so in my short I do "Eyes Wide Shut" and for the free skate, I have music from Pedro Almod├│var's film, "Hable con Ella" ("Talk to her").
Did you see that film also?
Yes. I like to see all relevant things and get all the relevant information to be able to better interpret the programs. For me, figure skating is not just a sport, it's art. This film left a very strong impression on me; I loved it.
With an unusual choice of music, there is always a danger that judges or the public might not like it. Aren't you afraid of that?
Yes, we're afraid a bit, but we try and if we get positive feedback, then we leave it. If not, we always can change it. We got good feedback on these programs.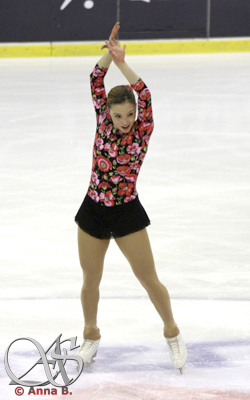 There is one program I really wanted to ask you about-the one which I think made people notice you. I'm talking about your "Red Violin" free skate you had in season 2015/16.
I found this music with my coaches. Actually, every year it's the same process. We find interesting music and try it-we put the music on and I dance and improvise. I also saw the film. We did research for the dress and tried to do something different with it. I worked on choreography with my coach, Edoardo de Bernardis, who is also my choreographer, and with my dance teacher, Monica Farneti, I take classic dance lessons and try to go every week. So usually I also try to dance my programs off the ice and try to show them to my teacher skating them on the ice. She makes suggestions for better interpretation and changes certain movements if needed.
What input do you usually give when working on programs? Do you propose certain movements or ideas?
Sometimes, yes. We try different things on the ice and check what works best.
Many skaters this Olympic season decided to go back to their successful and memorable programs. Have you ever considered going back to "Red Violin"?
No. I really like creating new programs. It is the best, the funniest time of the season and I enjoy it a lot. In the future too, I don't think I'd want to go back to old programs because every year I want to do something different.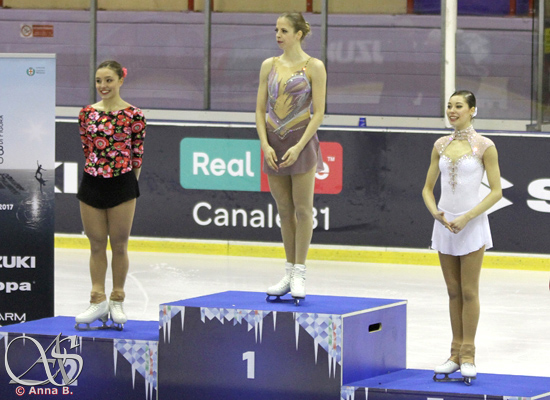 Unfortunately, Giada finished 27th in the short program today and didn't qualify for the free skate, so on Friday we won't be able to see her beautiful program to "Parla Con Lei". But we hope that she enjoyed her Olympic experience and wish her good luck for the World Championships in Milano next month!