A sit down with Keegan Messing
October 26, 2018
By Mireille Geurts
Photos © Mireille Geurts & Joy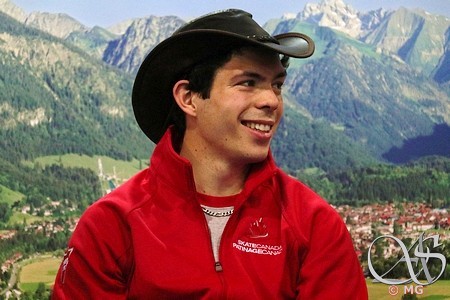 At the end of September, at the Nebelhorn Trophy in Germany, I posted to our social media a photo collage of Keegan Messing in the Kiss and Cry without his famous Cowboy hat and him gesturing about it. This sparked a conversation on Twitter, most of all with @Pushistik2007 who inspired me to interview Keegan and even provided some questions. Having followed Keegan since 2012 I liked this idea and after doing my own research and preparation, I approached Keegan after the free program press conference to ask if he was game and schedule a time. What I did not expect was that he'd say 'Sure, right now?'. So instead of photographing the pairs free (sorry!), I walked back to the press room with him to conduct this interview. Although it can't exactly be called an interview as it was more a conversation, with me at some point checking if we hadn't already touched on all the questions, only in totally random order. Keegan laughed and apologized, saying that's how he is, all over the place. Not that any apology was needed. Normally we'd probably completely restructure this interview, but since it truly shows how highly energetic and enthusiastic this young man is, I thought it would be nice for you to just read the conversation as it took place.

Already on the way to the press room, we start chatting and I wonder what happened to his spin, as he seemed to have lost balance and it happened right in front of me.
I don't really know, I suddenly felt myself being a bit off center and only thought "don't fall, don't fall". I was a little bummed because I like doing my spins well. And with the plus 5 GOE system there are a lot of points at stake.
Yeah. And you just stated at the press conference after the free that you don't know how you feel about that system yet?
I have to see how it works. My first interpretation of it is that it's good, but I want to see how it plays out throughout the season.
And the limitation of the quads? I know you're actually working on a quad Axel…
It's still in the mix, I'm still doing it on the harness (see video on Keegan's Instagram), we're working on getting the confidence built up, but we really want to avoid injury right now. Injury is the difference between what will come next or not, so we want to be as safe as possible. I don't think the limiting of the quads is going to affect me, yet, because all I have right now is my quad toe repeating. If I add another one, it will be the quad Lutz, and that's still in compliance with the rules. And even if I do the quad Axel, with the quad Lutz and the quad toes, it will still fit in with the rules. So as of right now, the only time I'd run into problems would be if I wanted to do two quad toes and two quad Lutzes. But that's in the future, so I'm not even thinking about it too much. I'm mostly focusing on consistency; to do everything every time.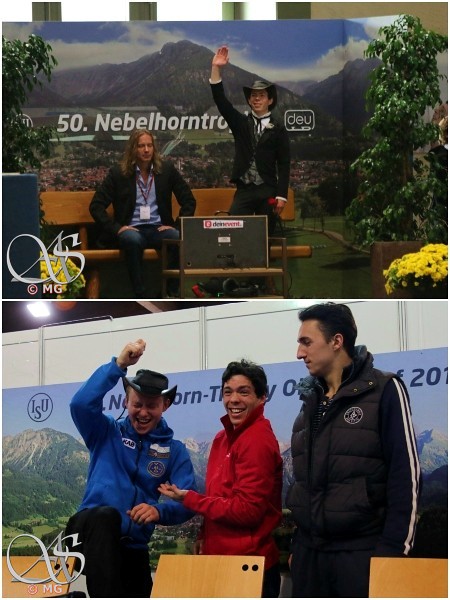 So you're not worried about the developing of the body with all the quads?
Well, I am kinda old now, so my body is done developing. My body is on the downhill climb now. (laughs)
What happened with the hat? We missed it after the short program.
It was such a beautiful day, I forgot to grab it! I don't normally wear it on sunny days because it's warm and I don't need a hat. But today it was cold and it looked like it would rain, so I put the hat on; I remembered it for the free! I was just talking with Alexander Majorov about that, it's been 11 years since I first got one of these. It keeps the water off your head...
That's a long time! I don't remember it from the Cup of Nice, I think you won then?
I was the Cup of Nice Champion twice.
Yeah, but it was the first time, 2012. I do recall you had a head full of curls back then.
Yeah... (sighs) I miss my curls! I really do, I love my curls. I got my hair cut at the Olympics and haven't done it since, til about 3 weeks ago; I let it grow out all summer. But there's lot of grey in it now. Honestly, it's going to do what it's going to do anyway, so I'll just let it!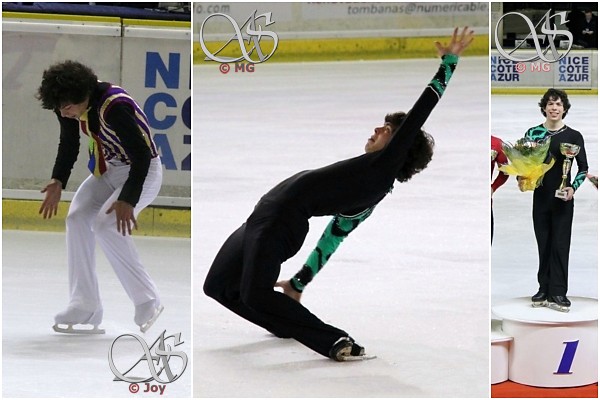 So you don't style your hair according to your programs?
As much as my choreographer would love me to, I don't have the experience to really style it in any way, except for (runs his hand through his hair) - there, it's done!
(laughs) And what's the story behind the hat?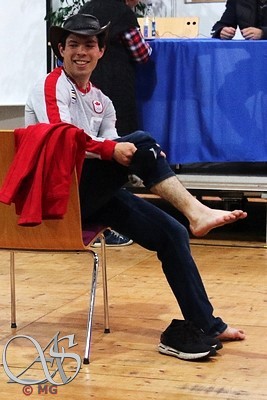 Back when I skated for the US I had a... 'not a choreographer' but he worked on programs. So I had a 'choreographer' that helped me with positions and stretch and the in-betweens. And he came to Nationals one year and said "if you do a clean program at Nationals, I will give you the hat". And so... motivation... I landed a beautiful quad toe, actually the best quad toe in the competition. It was a good program with a quad toe and 2 triple Axels. So I got off the ice and he handed me the hat and I've had it ever since.
So it was actually winning a bet, not losing a bet as I read?
Nope, I won the bet. (laughs) Unfortunately this is not the original hat; I lost that one on an airplane. I was tired and it fell off my head and got left. I went back for it, but it was gone, someone took it.
Aww…
But I got a new one! (smiles) I live in a temperate rainforest in Alaska, so it rains a lot. That's really why I wear it all the time, because it keeps the rain off my head.
That's not a really common environment to take up skating in, or is it?
Umm, well, my mom is Canadian. That's why I can skate for Canada, as I hold dual citizenships. In our backyard we had a little pond, and she had me and my brothers on skates at a very young age, just because that's the culture, that's what you do there.
He takes out his phone and shows me a photo. "This one's me, in the center! And here is my little brother, and my older brother, and my friends. I am still friends with these people too!" After some fiddling with our phones, despite the rink's at times really slow wifi, he manages to send me the photo to use for the interview.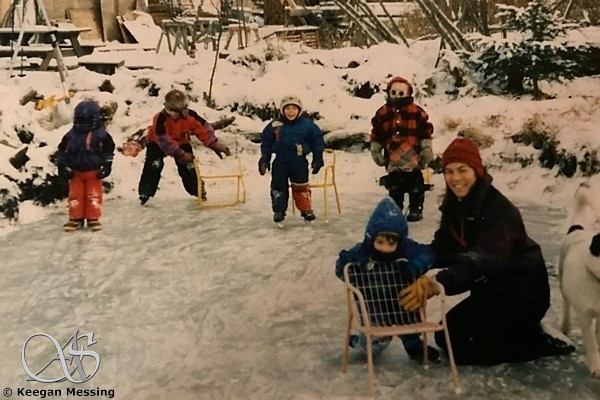 You have programs that seem to really suit your style.
A lot of that is thanks to my current choreographer, Lance Vipond. The first program that he choreographed for me was Singing in the rain, which was a lifelong dream for me to skate to. As you probably know, Kurt Browning did an amazing job with it.
I remember he even had a TV special on it…
Yeah, they had a 2 story set, built with rain and all, amazing! It's still to this day one of my favorite programs of all time, just to watch. I still watch it on youtube sometimes because it's so great! So skating for Canada and skating to that, made me very nervous, because it was almost a sacred program, but still it was such a life long dream of mine to skate to it and I really wanted to skate to that at the Olympics. So when I went to the Olympics and I got on the ice for my short program, my eyes wandered up to the rings in the corner and I just thought "Oh my gosh I am about to skate Singing in the Rain, at the Olympics" I almost started crying! I had to completely reset my mind; I went "no no no, ok focus focus! You can cry later!" (we both laugh)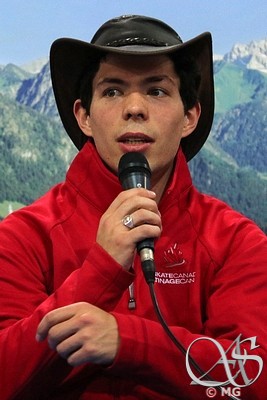 And were you happy with your Olympic experience?
I was very happy! I could have skated a little better, but I went out there and skated my own skate. I had the time of my life, and every time I think of the Olympics I have happy thoughts, I get excited. It was magical. It was everything people told me it was going to be and more. I was very touched. It was also a lifelong dream and to finally make it, it was amazing. I just wish I would have been able to take part in the team competition. But we had a great team, we were all supportive of each other. Not just the skaters but all the people on Skate Canada, like the speed skaters and the hockey players; everyone was so friendly. It was the Olympics; it was the biggest experience in my life!
So it's not like another Worlds?
No. We got to stay there 3 days before the opening ceremony and we left the day after the closing ceremony, so we had the full experience. I went to 5 or 6 hockey games, I got to see the men's aerial skiing, the four-man bobsleigh, long track speed skating, short track speed skating… I was trying to see everything, and it was amazing!
That's how it should be! And are you going to try for another time?
Ehh.. I am not sure yet. I am 26 this year, turning 27 next year, so I will be 30 at the next Olympics. And I am not sure I want to skate when I am 30, which is the big question. So right now I am taking it 2 years at a time, my goal right now is to skate 2 more years and then see how all the youngsters coming up are skating, and if I will still be competitive in 2 years at the Olympics. Right now, as it holds, I really want to make the next Olympics. I am kinda praying that I will stay competitive.
So then you should only watch training the quad Axel, so you don't get injured.
Yes. And that's a big one, the quad Axel is probably not going to be the most consistent thing ever, because... it's the quad Axel... and it's most likely too risky and not the smartest thing to attempt, but it is a dream of mine to do it. So, you know... we'll see.
It's a hard balance I guess.
It is a hard balance, but if we approach it correctly, I think we can be safe. But, I mean, I did injure myself on the triple Axel, which is weird, because I have been doing it since I was 14.
Maybe because of training the quad? Since it can mess you up.
Yeah, it can, but no, this was before I started training it. I started after Worlds with the quad Axel.
And how did you feel about this competition?
Oh, I had a blast! I love Oberstdorf, the mountains, the fresh air, the flowers. Everything! And we had a beautiful week here; the weather was f-a-n-t-a-s-t-i-c! And I got to put out two strong performances here and something that I haven't done in a long time was putting in a good long after a good short. So this is the first good long in a while that I skated, after actually winning the short program. There were times I won the short and then I just (makes a bluuu sound) … froze up. So it was really good for me to do well in the short and do well in the long. I am very happy!
You did say you were tired halfway?
I think a lot of it was the altitude here. Back home I feel I am much stronger. And we have a very good plan right now; we got a lot of people that we're working with, so I really think I'm going to improve. And by the time we hit Skate Canada, I should be even better, breathing wisely and kicking training up another notch. We've just taken one step at a time before here, we've been training, but not super hard yet, we're easing into it. But after here, we're going to hit the grindstone and push for Skate Canada and Russia, and hopefully by the time we'll hit Nationals and Worlds I'll just be in this amazing shape.
(grins at his enthusiasm)
You're skipping Four Continents then?
Oh, it's not up to me. If they let me go, I want to go. I've never been to Four Continents, so I'd love to go. And to Worlds, but I have to be sent by Canada.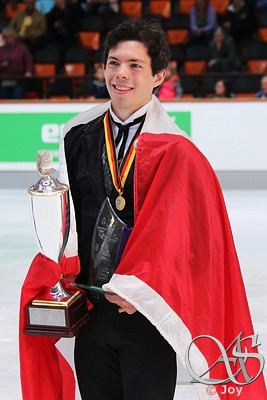 What did make you decide to skate for Canada anyway, instead of the US?
It's just been a lifelong dream for me to skate for Canada. My mom is Canadian and so is my grandma. My grandma came up to Alaska, before the birth of my little brothers, and she never left, she still lives with us. So when I started skating, she was a huge skating fan and she just loved it. She always spoke very highly about Elvis Stojko, and Elvis is my reason for skating, and Kurt Browning of course.
It was watching Elvis Stojko in the 1992 Olympics that got me into skating. Grandma was like "oh you have to skate for Canada, because Canada has never won an Olympic gold medal". So as a young child, hearing that, I wanted to be the first! I wanted to skate for Canada to be the first Olympic Champion for Canada. I started out skating for the US, just Regionals and Nationals to see if I could make it. Little kids have big dreams but only a small percentage can break through to the top. So when I landed the triple Axel at Novices at age 14 and broke a record, the National committee asked me if I wanted to go to Italy. Of course I did! I competed at the Gardenia Trophy and they moved me up from novice to junior within 2 months. I had to compete at a summer competition, and while I was there, I mentioned to the officials that I would love to skate for Canada. I was starting to skate internationally and would love to start building… but they were like "well, it's too late now, you just skated for the US and you have to take 2 years off if you want to switch to Canada."
It was an early mistake, we didn't understand the rules. So I skated for the US for 7 years, which I had a very good experience with, but after the Sochi Olympics they released me and I was allowed to come and skate for Canada. It was the best decision I ever made for skating.
We're interrupted for a moment as coach Ralph Burghart comes by to tell the warm up group that teammates Evelyn Walsh / Trennt Michaud are in are on soon, he's already heading over there. Keegan says okay, and then yells asking if he said Brent? Ralph denies, saying he did say Trennt and Keegan jokes it must be his accent although he claims to have none. We both laugh.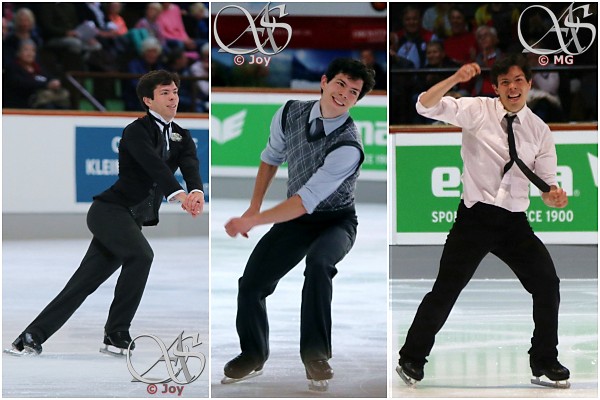 Since Elvis Stojko was your idol, did you take something from him, in your skating?
I always think of his power; he was so strong on the ice. His skating was very masculine and his jumps were huge. And those are the aspects of his skating that I really try to copy. At the same time, Kurt Browning; funny, showmanship, and those aspects I really try to portray as well when I go out there. I like to think that I am taking a little bit from people and then make it my own on the ice. But I want to become as established as them, they're like gods of figure skating, they're fantastic! And Elvis, he owns motorcycles and stuff, and I've got a dirt bike and a motorcycle I ride to the rink every day.
(laughs) You're getting there!
I own a KTM. A KTM Duke, it's a 690 cylinder.
I know nothing about bikes, I am sorry. (laughs)
It's fun to ride. Maybe a little bit dangerous, but…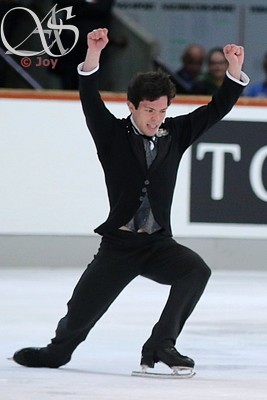 Be careful!
I am. (laughs) I wear a helmet!
(jokes) No cowboy hat?
The hat's in the bag! Helmet comes off, hat goes on! (laughs)
You said the programs are really made by your choreographers, but do you have any input yourself?
Yes, so it's both. The music is a group decision between my coach, choreographer and me. The choreographer is the one who pulls our decision one way or the other, because he has a vision of what he wants and his vision has really worked out well for us in the past, so I trust him. And then we go on the ice and work on our skating: he does something, I do something. We listen to the music and I go off on my own thing and get too carried away and have too much fun. I do this, and he's like "ok, I like that, but do it this way". So my energy is up here (raises arm in the air) and his energy is down here (has hand at knee level) and he just brings my skating back into a calm control, so I can really do as much showmanship as I want. He sees what I want to do and reels me in and gives me a package to deliver.
That's a really nice way to work! And who found the music for this season?
He found this one (for the short program -ed). And as much as Michael Buble has been around, I never wanted to skate to him, because too many people already have. But I love Toy Story and I always loved the song, so I was sold.
I don't think this particular song has been used that much?
No, I don't think it has. And the whole joke right now is that the song is You've got a friend in me so it's now "I wanna make a fan out of you".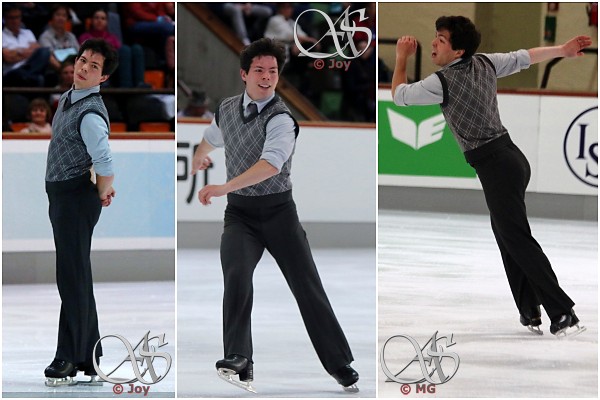 Again we both laugh. Then, checking the time, Keegan realizes that Evelyn and Trennt are about to start and tells me he really wants to go watch and support them. Of course that's perfectly fine. And just as suddenly as our conversation started, it ends as he runs off, leaving me completely re-energized for the rest of the competition. His larger than life enthusiasm has rubbed off on me the same way it probably does on anyone who meets him. What a guy!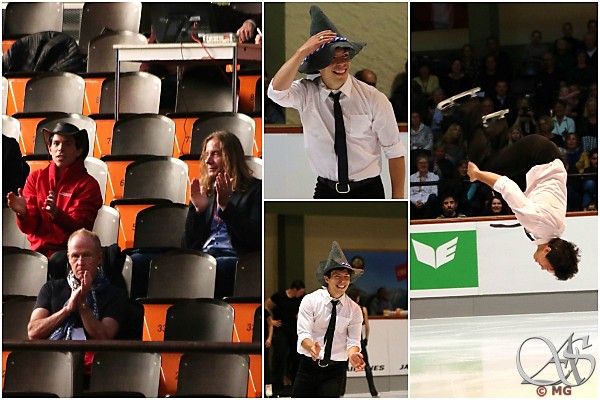 Oh, and he did make it in time to support his teammates. ;)