Kevin Aymoz: "My favorite part of skating is to give something to the people"
November 23, 2018
By Anna Kellar
Photos © Anna Kellar, Ludwig Welnicki (Joluskating)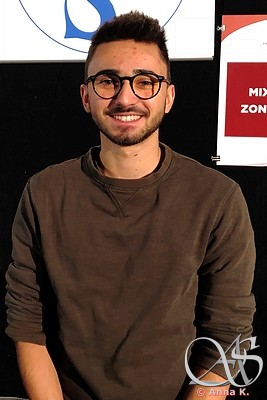 2017 French national champion Kevin Aymoz won the hearts of the audience with two emotional performances at Skate Canada. I spoke to him after the free skate in the mixed zone.
Congratulations on 7th place! It's your best place in a Grand Prix, right?
Yes, it's my second real senior Grand Prix, and it's my first real international one, because I did the French one last year. But that was just to see how the Grand Prix works, and now it is a real competition for me.
What did you work on between Autumn Classic and coming here?
We worked a lot on consistency on the jumps.
And what are your goals between now and next Grand Prix?
The Federation gave some goals to me, for the season, and now since I was 7th, the goal is to be 5th. I'm trying to go up two more places, and to be consistent, and maybe have two quads by the end of the season.
Are you working on quads other than the quad toe?
Yes, Salchow. And every other quad jump, but in the harness. The toe loop and Salchow are the only ones [for competition].
And toe feels the best?
Yes, Salchow is sometimes there, but not consistent.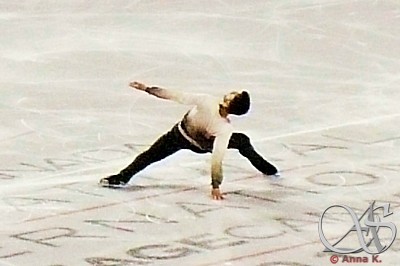 Your programs have so many interesting movements in them. Do you come up with any of that, or is that all from your choreographers?
In the long program, we worked with John (Zimmerman) and Silvia (Fontana), together, and everyone gave something. We work together. In the short program, John and Silvia made the program, but in the long, we worked together. And about 30% of the long, that was me.
Are there particular moments that were from you or from them?
Yes, the big slide, that John taught me last year, that is the JZ slide.
I was wondering what to call it. I have heard people say it's a hydroblade-Ina Bauer combo…
Yes! I've seen that too. I was like, no! It's a JZ slide.
You didn't want to call it the Kevin slide?
No. Because it's not mine.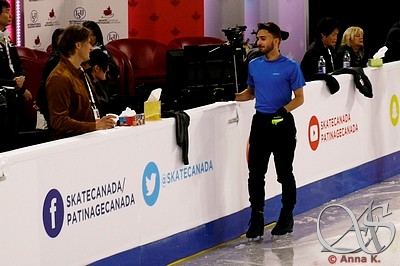 What do you like about working with John and Silvia?
When I first met John and Silvia, after two weeks – I came to them to make my new long program, and after two week's work, I felt something. Because in France I lost my coach, she stopped coaching, and when I met John and Silvia, I felt I needed to stay with them, because I found again what I lost with my coach. I found again the same feeling. It's like family, a team, we work but we are together, we can talk, not like friends, but like a family. That's what I need.
Are you the only men's single skater working with them?
No, they have some little kids, but not international competitors for the moment.
You have almost the whole French team there now…
Yes! That's the new French camp. Yes, that's fun. But first Morgan (Cipres) and Vanessa (James) were here, and that was cool, when I was here next, and we were a little camp, but when Mae (Berenice Meite) came, then we were really like a team. We support each other, in training we clap, we're like a real team.
The crowd really enjoys the energy you put into your performances…
Yes, it's my favorite part of the skating, to give something to people.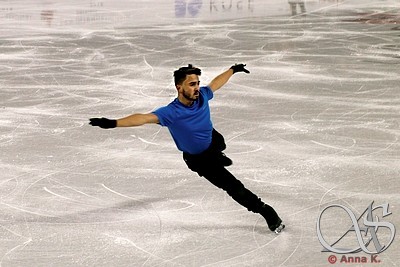 Are there things you are working on, to get your PCS scores higher, or do you think that will come with the consistency in the jumps?
Um, there are too many things, because I'm not…you know in skating, you don't need to be famous, to have more points, but I skate second in the first group, after Jason Brown; he's a really good skater, and after him I was not really clean, not consistent. [PCS] will be higher when the jumps come, when I do more competitions.
I saw you also do baton twirling?
How?
It's in your ISU bio..
Yes, I did but I stopped. I did pairs and alone. In pairs, we were in the top twenty in France, because there were too many, like 300 in pairs in France, and alone, I finished first, and I was national champ. And yes, that was fun. I did that because I didn't go to school at this point, and I said to my parents, my sister did that, and I need to meet some new people, because I have just skating in my life, and when my skating is really bad, everything is bad, because I have just skating, and I said, I need something else, and this gives me something more than skating. I work in a team, with people, I was in pairs, and it is totally different than the work alone on the ice.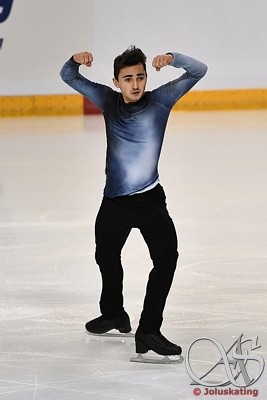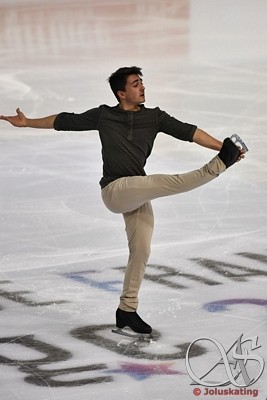 Have you ever tried doing the baton twirling on ice?
Yes, but I stopped. I bought, two weeks ago on the internet, the same baton, but it can have fire, and I think I will try this in some show.
Has anyone done that?
Yes, I think some people, but not the same things…
And they're not the national champion…
It'll be fun.
Are you going to school now?
No, I finished school at home. After I want to start…I don't know what I want to do. Maybe I'll try some psychology school. I want to stay in skating, to be a choreographer, it's my dream, and to do more dance, and to stay in this world.
This weekend Kevin skates for the second time in the Grand Prix in his home country France. We wish him a great competition!