Valentina Marchei and Ondřej Hotárek: "We still have so much to give to skating"
February 14, 2018
By Reut Golinsky
Photo © Reut Golinsky, Oxana Shkrebtienko (LMDJ)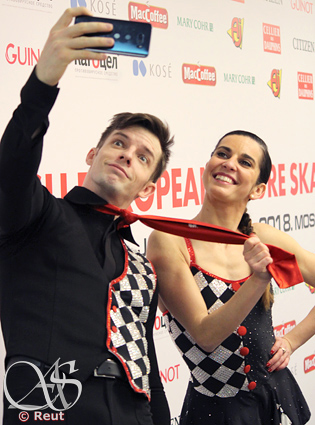 It all started with a joke during Rostelecom Cup. I had an interview with Valentina and Ondřej's coach, Franca Bianconi, and they posted a funny Instagram story teasing that their coach is more popular than them and gets more interview requests. Of course, after that I felt obliged to have an interview with them too.
When you talk to them or work on their photos, you always smile. Best goofy shots in the mixed zone are always theirs, as well as funniest programs and endless off-ice shenanigans in social media. But when you dig a bit deeper under the surface you see very mature athletes, who are well aware of their possibilities and limits, who at their age and their situation - with Valentina starting pairs and them competing together only since 2014 - need to work a lot, and work hard.
We met in the mixed zone during the Rostelecom Cup gala, just after they premiered their super crazy "Barbie Girl" program, so, obviously, I started our talk from that.
I want to talk to you about your programs this season and actually want to start with your exhibition; I really loved it and was really impressed!
Valentina: We were really impressed too, because we put it together in two days!
During this Olympic season we're focusing more on the quality. In the past weeks we could pass an hour and a half to clean up 10 seconds of a [competitive] program. And we're still at the beginning.
Ondřej: And when the day ends you don't have the power to say: "Oh, let's do the exhibition now". So we decided we'll figure it out at the competition. This was actually the first time we skated the whole thing together with all the elements.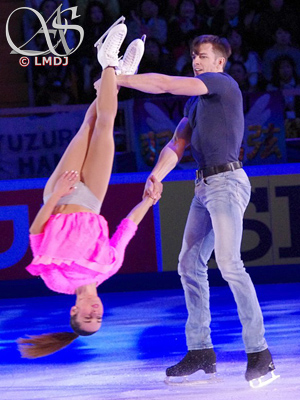 Valentina: We had this idea, and we talked about it before coming here and we decided about the outfit. This (she shows her rose polo-neck shirt) was just picked at H&M Kids, you can see, this one is 6-year-old's size, that's why it's so short. (laughs) So we agreed on what we wanted to do and while here we put everything together.
Ondřej: The main idea for this exhibition number was to make it as fun as possible. We took some tricks we had in our show numbers during past years just for fun. Probably the first one we've started with was the reverse lift; then we learned the upside-down one from our coach, and that spinning on the head - one day we wanted an Instagram story and we wanted to try it, because I saw people doing it and I thought it was cool. I thought it might be difficult but it actually worked quite fast.
Valentina: This exhibition is going to grow with us during the season, just like our competitive programs do. We like to do the fun stuff. Of course, we have a slow piece as a backup too, because we can't do two upbeat exhibition programs in one show. And also to have a balance - we are elegant and we have class, so it's like showing our fun part and our professional part.
This is what I actually wanted to ask you. Both your competitive programs this season are fun and upbeat.
Ondřej: In our short program I really find myself being that exaggerated, loose, goofy [character]. And she, on the other side, is the fierce one. And I think it really works in the program. It's been a lot of fun doing it. And every day when we practice it, when I hear the first bits, I have this feeling: "Here we go!"
Yes, and you get the audience going from the very first note.
Valentina: And that's what we really want! For us it's all we actually need! The audience gives you the extra energy that helps you believe in yourself more.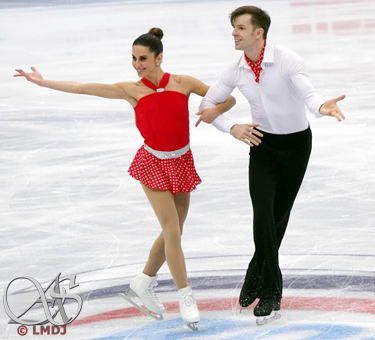 And then it's not just the two of us, but it's all of us together doing it. And if in the end you do a clean program, a good program, it's beautiful because it was [done] with everybody. It's a precious moment because it's a victory shared. And what I find different between being a single skater and a pair skater is that [process of] winning together, sharing with another person. It can't be compared with anything else; it's priceless, because it's something that you worked on together and not just by yourself.
Who choreographed your programs this season?
Ondřej: The long program was done by Peter Tchernyshev and the short program by Massimo Scali.
Valentina: And on a daily basis we work with our ballet coach, Corrado Giordani, and he is the person who "gives life" to those programs. I work with him since 2001. He knows us pretty well.
Ondřej: Compared to the exhibition program the number of hours we spend with our actual programs is enormous, working with the music and checking that everything fits.
(While we were talking another coach from their team passed by, they chatted with him briefly and then explained to me who he was)
Ondřej: His name is Dmitry Savin, he works in Nina Mozer's team, and he is one of the technical coaches. We started working with him last summer...
Valentina: Not this summer, it was in last year's August or something like that. He gave a good twist to our twist.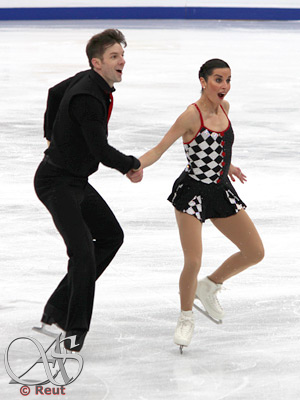 Ondřej: He is obviously very busy with the whole school here, but he sometimes comes to Italy and sometimes we come here. We try to keep it on a regular basis.
That's why now, before Rostelecom Cup, you came to Moscow a bit earlier?
Ondřej: Yes, exactly.
Valentina: We don't stress out while in Russia. We take time to rest, to skate... It's just us and our coach, and we concentrate on our stuff, we talk about it. We're always together but never have time at home to sit and talk about anything else other than skating. This way we also have time to know each other better.
If we're discussing your team, I'm just wondering if Anna (Cappellini, Ondřej's wife) is helping you. Maybe she is among the first ones to see your programs and has some input? Many people say that ice dancers have a good eye for small details, become better choreographers.
Ondřej: Anna and Luca are pretty busy, but we did work on the original idea of our short program when we did it as a show program. It was an ultimate test and we had a piece which Anna and Luca basically did for us, but now only that little slap after the Salchow has remained. In the show it was three times, there was one slap for every "Tu vuò va' l'Americano".
So you used it as a gala program first?
Ondřej: We did it once as a show program.
Valentina: Franca didn't want us to do it, so we had to prove it to her. She said: "People won't know it." So to convince her we tricked her a bit and did it for a show. And then we told her: "You see, it works!" And knowing Massimo would work on it, we knew it would be the perfect music for him to put it together. Massi is so very Italian; he is from the south, so he is very passionate, he connects a lot to the energy the music gives you.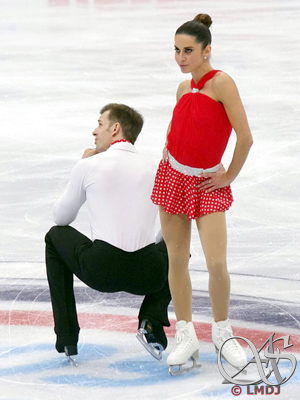 And you, Ondřej, are also very Italian now, right?
Valentina: He is more Italian than many Italians!
Ondřej: Yes, people tell me that I don't even look like I'm from the north of Italy, where I actually live now; I look like someone from the south. But I think that South Moravia, Brno, where I'm from, is somewhat similar; it's also warmer, and we like to drink wine, we have a lot of things in common with Italians. It was pretty natural for me.
You started this season with Lombardia Trophy which wasn't very successful for you, but you've had a steady improvement since then.
Valentina: When I think about it, the Lombardia [Trophy] was a nightmare. (smiles) My toe loop has never been my easiest jump when I was a single skater and sometimes I get into the trap of this jump.
Ondřej: The mistakes we made there were in jumps, we worked on that and we got the Salchow back.
Valentina: We always compete at Lombardia [Trophy] because it's our home rink. We know it's quite early and you don't have many long programs in your legs but during the first competition you can see if something really doesn't work and you have to change it.
Ondřej: And we changed quite a few things.
Valentina: We will change things after this competition too; all this is a construction work towards being very ready for the second half of the season, that's when we have our main goals. And if you're in shape now, no chances you will be in shape later. We need to build it step by step, because anyways we're 30 years old, and...
Ondřej: And we just can't go 100% at every competition.
Valentina: It wouldn't be human.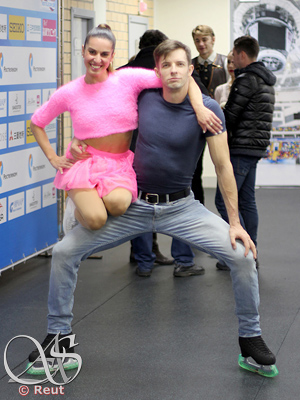 Ondřej: All these years we've been together, the first score of the season was always so much more improved throughout the season. The more competitions we did, the better the programs g?t. This year we also have an additional competition - the Olympic Games - so before the Worlds we will have one more competition. We'll see where our level can get to. I think if last year we would have had one more competition after the Worlds, our programs could still improve. This year we're looking forward to the Worlds, this is the competition we're looking forward to, because it's going to be at home.
When I talked to Franca and we were discussing you, Valentina, moving from singles to pairs, I told her that it feels like you became a happier person, just my personal impression. Was I right? Do you feel the same?
Valentina: It's just that with a person beside you, you don't take it that seriously as when you're alone. The responsibility is not only on you anymore, it is divided. It's about having fun with the person you have beside you and make the person beside you feeling comfortable. Also, I like to be thrown; I like to be up there. And it's never enough! (laughs)
I was really surprised when in one of your interviews I read that you're actually afraid of heights.
Valentina: Yes, I am!
Ondřej: She was freaking out on the escalator when we went to the subway here in Russia. It was a tall escalator.
Valentina: We went with Nina Mozer and her son to watch an interactive show in this new park "Zaryadye." And there were images turning on the floor and turning around and I was holding Franca tight not to fall.
So how does it work on the ice?
Valentina: I know he is there, I know he will never drop me. I know he protects me.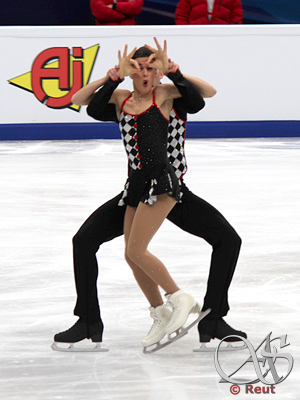 Ondřej: Also, while doing those elements your brain is more focused on where your body needs to be, what muscles you need to contract. It's different, you're active, you're not just standing there and waiting for things to happen.
Valentina: Back to the happy part of it. I met a guy who three years later is not the guy I met. He is totally different. Before he was very focused, not talking too much...
Ondřej: And now I became very... Instagram [-addicted]!
Yes, I noticed!
Ondřej: We take it as an opportunity to show people that even when we work hard, we can still find five minutes to have a laugh.
Valentina: Keeping your mind elastic is something that helped us these last months. Practices have been pretty hard mentally. And the fact that you can turn your mind to something that is funny and is so you, it comes naturally - what we do on Instagram, that is how we really are.
Your coach mentioned that you wanted to take Nino Rota's music for your free skate because it was in a way a "closure" for you, since you started with his music too, with "La Strada" free skate. Will it be closing the Olympic cycle or..? She said it will be up to you.
Ondřej: At this point we're focusing on the season; we didn't really put much thought into what's going to happen after.
Valentina: We feel we still have so much to give to skating. It's crazy to think about the journey we did last season and it's crazy to think where we're going to finish at the Worlds. Not even result-wise, but the outcome. We will need to have a rest a bit after this long season and then, when we're well rested, we're going to sit down and decide. I think it's also good to know when to end. Even if you still have a lot, it's important to know that at some point it's better to share your experience with others instead.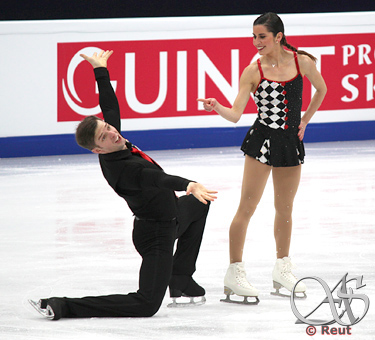 Ondřej: She felt that she closed one cycle with the Olympics in Sochi. And this new adventure with us and with Matteo (Rizzo), it gave her...
Valentina: ...a big push. And it's important also for the coaches - they always think about us, but coaches need to be motivated too. At home Franca does tons of things, she's a manager and a director, she is a coach, and an ISU technical specialist too.
Ondřej: And she is the reason why Italy has two teams at the Olympics for the second consecutive cycle now. Back in 2005 it was her idea to contact the Czech federation and bring this guy (points at himself) over to try pairs. She thought that when the team event is going to be there in the future, that we (Italy) needed all four categories. And look how that worked out!
Valentina: We know that whatever we're going to decide, she is going to be by our side. That's for sure. She will never let us down. If we keep going, she is going to be there to help. Probably saying: "Again?!" (laughs)
And we already did good work. And it gives the courage to other people to try too.
Ondřej: Look at how many people actually went and tried! Look at the British pair; look at the girls who came back to skating.
Valentina: At the end, we won't have all those medals around our necks but what remains is that we skated for passion.
Ondřej: If medals come along it's always great but that moment is very short. I've been there. It's a nice picture when you stand with the medal, but the moment when you pushed through a long program on Friday morning at your rink when you're alone, or the moment when the kids or your fans smile after your performance, I think that's the value which we will always have inside.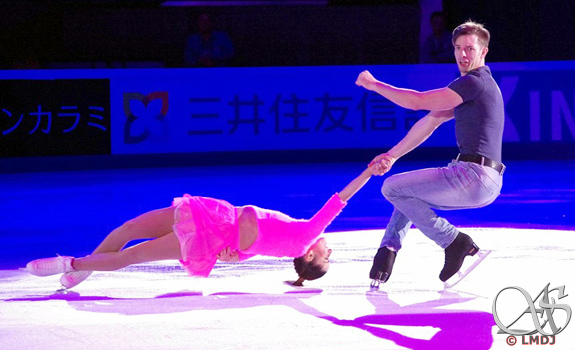 Valentina and Ondřej finished fifth at the recent European championships in Moscow and overall they were pleased with their performance and placement. "This competition was a good conclusion of the work we did together in three years and a half. We are improving so much," Valentina said. "The performance was good but we still have to work. We need more speed, more character. We want to do it really over the top," Ondřej added.
They started their Olympics at the team event with a superb free skate which got them a new personal best. Continuing with the individual event short program they laid down yet another amazing performance which again topped their personal best score. We want to thank them for all the joy they brought to us and wish them lots of luck for the free skate tomorrow!