Music on Ice 2018
February 4, 2018
By Reut Golinsky
Photo © Reut Golinsky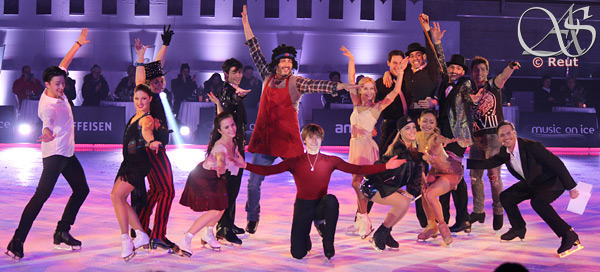 This year, the annual shows produced by Laurent Tobel Entertainment SA were themed "School of life" and played January 5 and 6 in Bellinzona, Switzerland. While there I had the chance to catch up with two of its "students": one of the youngest skaters in the cast who's only starting his career in shows - Latvian champion and Stéphane Lambiel's student, Deniss Vasiļjevs, and a "graduate" - multiple European and Grand Prix medalist from Finland, Kiira Korpi. We discussed this show and what they love about it, their programs and eventually got to talk about shows in their life, growing as skaters and as human beings and more. And if I mentioned "School of life", for me personally it was a great lesson and I've learned a lot from both conversations.
Deniss Vasiļjevs: "Shows help me skate better"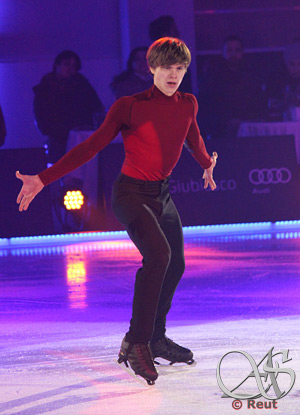 Deniss, it's your second time in "Music on Ice," what are your impressions in general of this show? What is special about it? And what makes it different from other shows?
This show is a very good challenge, because the ice is very small. It is a challenge to fit my jumps in and to fit the skating because I'm used to gaining a lot of speed; even big rinks sometimes feel small to me and here, on this even smaller ice, it feels super tight. I feel a bit like I'm locked in a cage.
But I get satisfaction when I manage to succeed. I enjoy all the decorations, like the castle for example; this is not something you will find in other shows. It gets you more into the mood of the story that we're supposed to tell. Also, for some reason I really enjoy the acoustics of this rink, it's probably because of this roof, all the music goes directly to you and this is another extra touch. It's also a pleasure to meet the cast again; it's close to the same people as last year.
You chose to perform your exhibition and your short program here. Why not the free skate?
The rink is too small. It's over pressure on the legs to skate in curves all the time. On a big ice you have more straight lines, you don't need to push so much. But here you need to curve and that's what makes step sequences more difficult to work on.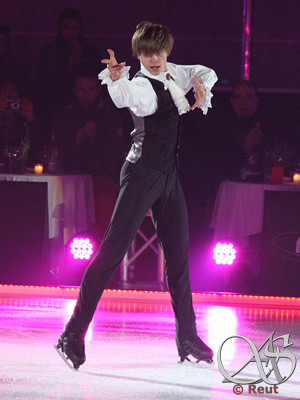 Well, it's a good practice before Europeans!
Yes, I find it to be exceptionally good practice!
You know, when your coach Stéphane Lambiel was competing, some people didn't approve of him being "distracted" with shows during the competitive season. I'm not surprised he lets you do shows now, because he always believed it actually helped him and not the other way round. What do you think about it?
In my opinion, shows are absolutely necessary. I constantly need this certain way of "recharging" emotions which I receive from the crowd, especially during the shows where people are very receptive and take pleasure in watching skating. It helps me to push myself further and skate better. For me it's a big motivation boost. And a show is not just about having a good time and an interesting experience; it's also an opportunity to skate my programs under very difficult conditions. And also, I just love it! That's the way I really want to continue, it's really something which is close to my heart.
I'm changing the place I'm in, I'm changing certain things [in the environment] - for example, ice. And this is better than being stuck in one place all the time.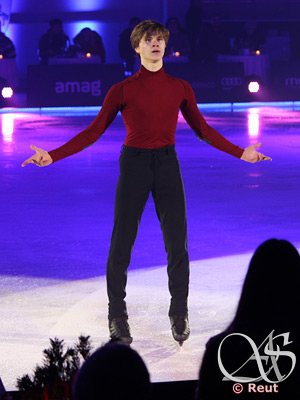 It's an experience and the more it's different, the more it's interesting. You have to overcome all the obstacles, and it's very good practice too. It's still practice, but in a different way than what we usually call practice. But it's still a lot of work and I continue skating and try to do my best every day.
I have a question about one of your costumes: For your exhibition "They live in you" you wore a different, original, costume in Villars, while the rest of the season you used Stéphane's shirt from his "The Water" program which he skated a few years ago. Why?
For me "They live in you" originally had a different meaning than what they wanted to see in Villars. Hence the costumes are different.
The image I had in my mind when I was listening to this song was a fire, something which is related to a different world, a spiritual world. And in my understanding you can get to that world when you get rid of your material body. For example, you burn down and then your soul gets there. Unlike what Stéphane was representing in his program, this red costume is, to me personally, connected to sparks of fire, to a certain portal to get to another world. This is the simplest explanation I can give. (smiles)
That's interesting. So it wasn't that you just used some shirt from Stéphane's wardrobe, you intentionally took this specific one and this choice has a meaning!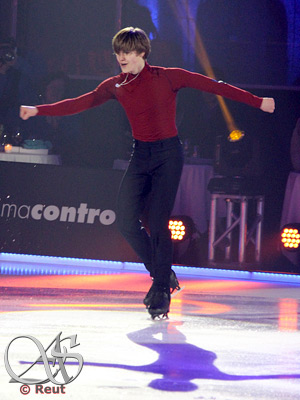 Sometimes I see things differently... In the ["The Lion King"] musical it is different, but for me personally it's more about my own world. And I really love this colour, for me this bordeaux colour is associated with a very closed world inside, something a bit mystique even. This costume represents a mysterious, deep world which is inside of me.
I really liked this costume and it was exactly how I imagined the character of my program. I could have changed things a bit, but I didn't want to. After all, it's Stéphane's costume and he has his own memories and connections to it. But I asked if I could use it and we both agreed it was the best solution.
When you started working with Stéphane, you were exposed to this world of big skating productions. When we talked during "Ice Legends", it was basically your first big show. Since then you've participated in "Art on Ice", "Christmas on Ice", and "Music on Ice." What have you learned from all this during the past two years?
I have learned a lot. I have discovered something unique in myself, something which I was always interested in. It has brought me a lot of positive emotions. And in general I really enjoy doing it. I saw good sides and drawbacks, and I learned to overcome the drawbacks. I find this to be a very good learning experience; these shows teach me to perform under certain conditions.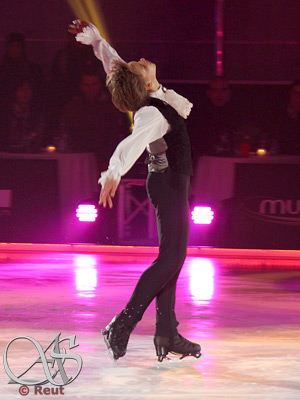 So, the bad things are...?
You have to challenge yourself, because you have to rehearse a lot, then you have to skate in the show. And you always finish a bit late, so you need to adjust your rhythm. You also have to continue working because you still do your usual training routines. You need to overcome that the size of the rink is smaller, the music louder and then all these lights... In general it's really hard work for your body and it's really something you have to have good control of, because if you don't, you're out of your usual rhythm.
And the good things are...?
The awesome cast, great atmosphere, very good treatment of skaters, amazing ideas about what to show on the ice, all this travelling - I enjoy seeing different places.
For me it's also very important that show programs are more artistically developed, there are less elements so you can put more into the skating, which allows me to open myself more. And the audience helps me to recharge my batteries, because when you only have your everyday routine, at some point you'll get a bit bored...
Yeah, especially in a small place like Champéry...
I love Champéry!
I adore Champéry too, but can't imagine myself living there for more than a week.
Everyone is different I guess. On the other hand, I sometimes feel it's too crowded, especially during the winter, there are like hundreds of people. Too many! (laughs)
Kiira Korpi: "I had to go through an inner change"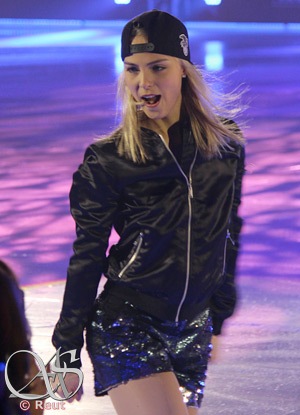 This is your second "Music on Ice" show. And you recently took part in some smaller events they organized, right? So can we say that you are a part of the team now?
Yes, sort of. (smiles) Laurent is so great, it's not just the show that he does, he tries to promote figure skating in general in Ticino. So I went with Samuel Contesti to a few cities - Lugano, Chiasso and here in Bellinzona. We skated with the kids and then we had a small show. And we also had a small show in Melide, just to promote skating. I think it's valuable work, because I remember when I was a little kid and good skaters came and you got inspired by them. So hopefully I can do that. In this show I feel so inspired, not just to skate my solo, but also to take part in the group number [with the local kids]. It was Laurent's idea and I agreed right away. It brings energy and you see how for these kids it's the highlight of the year. And it definitely gives me energy too.
It's not your usual style but you looked really cool in that number. How did you feel in it and would you want to skate something like this as a solo someday?
I actually did this program as a solo once last year in Spain ("Revolution on Ice"). It was choreographed by Shae-Lynn Bourne, although I chose the music ("Fancy" by Iggy Azalea), because I wanted to do something different. It's challenging to do hip hop on the ice as skating is naturally slow and soft, and more about gliding. Especially for me, I'm not really the explosive type. It was quite difficult to have enough energy, after this program I feel out of breath and much more tired than normal.
So Laurent saw that program and suggested making a group number out of it?
Yes, he suggested bringing the kids in to create a different momentum. And I think it works even better like this. I wish they could go with me to every show! (smiles) That would be cool!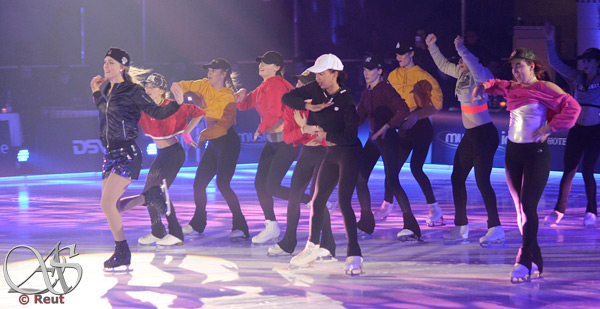 Tell me about your other program, "Ave Maria."
"Ave Maria" (by Beyonce) is my own choreography. I chose it for the show in Japan that I did last December, "Christmas on Ice". And they asked if I could have a song that was Christmassy, so I thought this Beyonce song would be perfect. It's not a real Christmas song, but still, it's "Ave Maria", so everybody thinks there is a connection. And I always liked Beyonce, her voice and this song. So that's the story!
What are your plans for the rest of the season?
Right now I don't have a lot of skating plans. I will be working for TV during the Olympics but not just for figure skating, I will be more like a TV host for all the sports.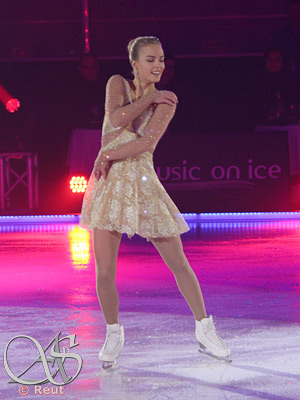 That will be interesting, because I need to learn about the other sports and learn how to read from a teleprompter. But I will spend the whole month in Copenhagen, Denmark, not in Korea; the broadcast is from Copenhagen. So that will be the next big project to start learning and working towards. It's so different, because skaters learn to move and suddenly you need to start talking. Well, we'll see how it goes; at least it'll be an interesting experience.
I will then probably do some programs for some Finnish skaters later in the spring. And hopefully some shows in the summer.
And that movie, "Queen of Ice," about Sonja Henie you took part in, when will we see it?
It will come at the end of this year (2018), in December. It will be interesting to see it.
Did you participate only in the skating parts? Do you have an idea what this movie will be like?
Well, I've read the script. Obviously I was not acting in it, I only did the skating parts, but I think it will be a great movie. It is such an interesting story, so dramatic and [filled] with all this Hollywood glamour. And they really put a lot of effort into the skating scenes, as a skater I was so impressed, I never saw that kind of costumes and they painted the ice black. I hope those scenes were kept. Sonja had an interesting character. The story is also a bit sad, about a person who is so successful but still never really happy. She always wanted more - more money, more fame.
Since you mention that I have to ask: Last season, before Worlds, a long interview was published in the Finnish press where I was really surprised to read how unhappy you were when you were competing. Do you feel different now?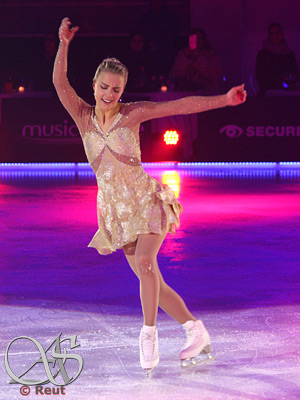 I think I had to go through an inner change; I was at such a low point I didn't see a way to live. It was not an easy process and it took time, but it was a good decision to retire and start living more... to have more freedom. Actually I'm writing a book with Jere Nurminen (a Finnish sports journalist) that will be published this September-October. It will be the story of a girl who falls in love with figure skating, but also about how you can become a prisoner of your own mind. And how you can grow as a human being.
That's great because after reading that story of yours I wondered if you would want to share your experience with others.
I would like to inspire other skaters because I know how bad it feels to have anxiety and be nervous. But I feel a lot of people in skating are more open about their struggles now, like Gracie Gold for example. It's a tough sport. And it's not just the sport; it's the way we live, always reaching for the outer goal. We think that reaching some goal - in skating, career, or in family life - will make us happy. But at the end of the day if you can't be with yourself here, now, doing nothing, it will be hard to find that happiness from somewhere else. At least that's what I feel now.