Gabriella Papadakis and Guillaume Cizeron: "We always focus on being better than ourselves."
February 20, 2018
By Titanilla Bőd (Új Szó)
Photos © Irina Teterina (Attenais), Joy, Keiko Kasai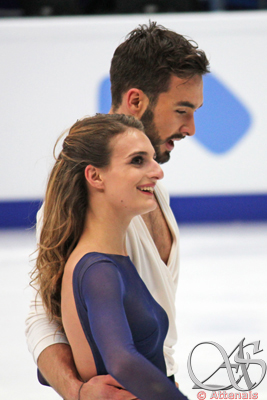 Winning the Europeans was business as usual for French ice dancers Gabriella Papadakis and Guillaume Cizeron, but as they admitted immediately after the victory in Moscow, their main goal was to skate two excellent programs in PyeongChang, something in which they almost succeeded. Unfortunately a tiny mistake in the short program most likely cost them their Olympic gold medal. But do not forget, they had a world record breaking sublime free skate, worthy of great admiration and they take home the silver medal. Let's move back to Moscow, where they just won gold and took the time to chat with us.
You have won your fourth European title in Moscow. It seems that you have no competition in Europe. How do you keep yourself motivated?
Gabriella: Competition or no competition, we don't focus on that. We always focus on being better than ourselves. That's always a challenge, no matter where it is, what competition it is. We succeeded today and we are very happy about that.
This year the short dance is Latin, but you have chosen songs by Ed Sheeran that are not typically Latin. Whose idea was that?
Guillaume: It was Christopher Dean, our choreographer, who had this idea about the short dance. We really fell in love with the music and the way it makes us feel. I think it is really something that people can relate to, everyone wants to dance when they hear that music, and we do, too! It's really a great fun to dance to that music. We had to perform a few modifications to make it fit the rules, but I think it's always nice to try something new.
How hard was it to translate Latin dance to the ice?
Gabriella: It's always a challenge with the short dance every year, because it is a dance that is supposed to be on the floor, but we have to translate it to the ice. There is a lot of research during this process, but it's really interesting, and we learn a lot from it.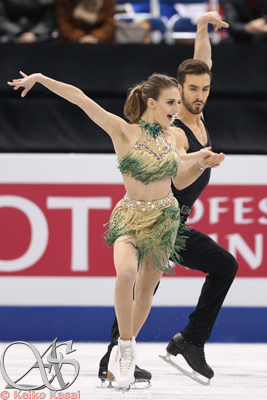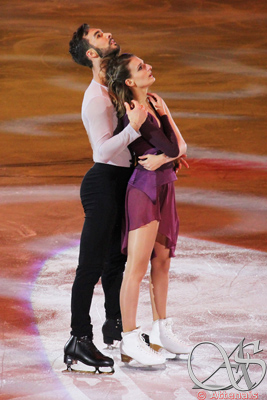 Last year you said your free dance was a challenge for you and the spectators. You also mentioned that for the Olympic season you would choose something more known. And you did - Moonlight Sonata is a popular piece - but is there any story behind this free dance?
Guillaume: It's always interesting to get to really know the music and understand it. It's really a piece of music that gets inside people. We love it more and more; the more we get to know the music, the more we can play with it and enjoy ourselves on the ice. There isn't a story behind that, something we can hold on to in our interpretation, but it doesn't need an explanation, because people can really feel this music.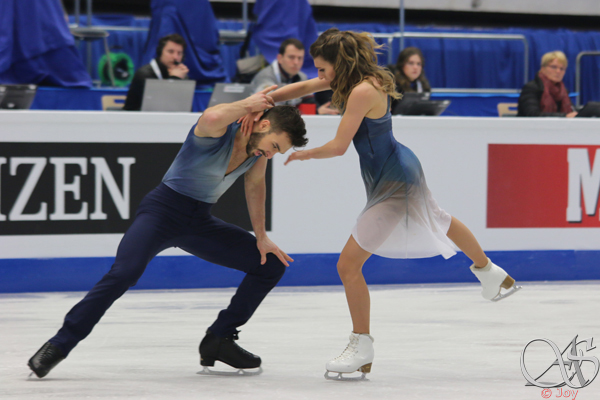 Do you like this free dance more than the one from last year?
Gabriella: Without the free dance last year there wouldn't be the free dance this year. We learn a lot from every program, and we love each one in a different way. Right now, we have this program and we love doing it - the music, the choreography and the way it makes us feel.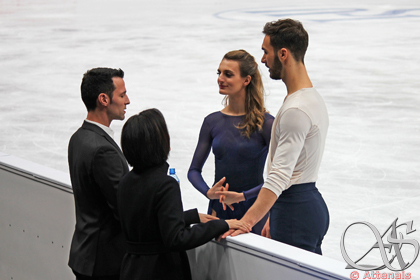 This is the Olympic season. What was the biggest challenge so far for you in this season?
Gabriella: It was a pretty successful season so far. We achieved what we wanted to achieve, and we worked really hard. We learnt from what worked and what didn't work in the past and we tried to combine all that this season towards the Olympics. We had fun working, our health was good. So we will try to keep it this way until the Games.
Are you more excited or more nervous about the Olympics?
Guillaume: It's a mix of both. It's been a pretty long season, but it feels it just went by as a quick moment. We are really looking forward to compete at and experience the Olympics. I think it's going to go by fast as well, because we are not going to spend much time in the village. We are really looking forward to it,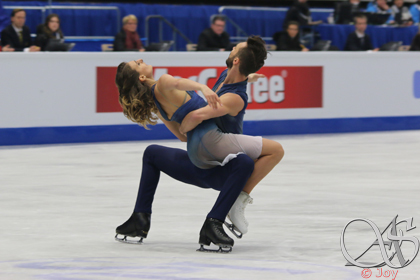 but there is a lot of stress coming with it, too.
Last year you said it is very good for you that you are training together with your biggest rivals, Tessa and Scott. Still, as the Olympics are closer and closer, isn't the tension growing?
Gabriella: It's a very respectful environment. We don't always share the ice, but it's great to see them train and relate to them as people and not just as competition. We just push each other.
You have won the Grand Prix Final over Tessa and Scott. What are your expectations at the Olympics?
Guillaume: We are just going to do our best. If we can show two excellent programs, we'll be very happy, no matter what. Of course, we hope to get the gold, but we just really want to have magical experience at the Olympics and enjoy the moment.
Unfortunately they had a costume slip in the short program at the Olympics, for which they did not receive a deduction, however it must have been distracting.
Gabrielle: It was difficult. It's the first time that something like that has happened. I tried to stay focused and finish without anything else happening.
Guillaume: It was a great performance considering the costume issue. That is not something you get ready for in your mind when you start the programme. It is hard to stay focused.
It resulted in them being two points behind the Canadian couple, Tessa Virtue/ Scott Moir and despite winning the free dance with a record score it was not enough to make it up. They ended up with the silver medal, but nobody can say they did not mesmerize us with 2 amazing, magical dances.