Meet Shira Ichilov, Israeli junior ice dancer
March 6, 2018
By Reut Golinsky
Photo © Reut Golinsky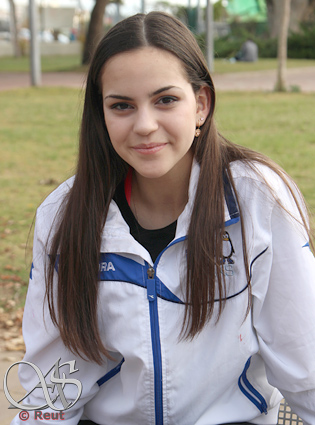 The day after Israeli Nationals, when the Israeli Olympic Team was going through some important pre-Olympic training, I was waiting for the press conference that was scheduled after it. Shira Ichilov, Israeli junior ice dancer, was also at the rink, waiting for the gala where she was supposed to perform with her partner, Vadim Davidovich. One word led to another and in the end I suggested to make a better use of this "empty" time we both had and turn our informal chat into a formal interview.
We had to ask for a special permission to do that, because during her short stay at home there was a TV crew following her every step for an exclusive report. Being top Israeli skater at the international level and sabra (Israeli-born), of course, made her story quite exotic and appealing to the Israeli audience. Hopefully more will follow in her steps.
Let's start from the very beginning - where are you from in Israel? How did you start to skate?
I'm from Tel Aviv. I used to roller skate and was offered to try the same but on ice! Alex Zaidman, a roller skating judge, knew me from the competitions. And the judge Anna Kantor was my roller skating coach. So, Alex told Boris Chait about me. Boris saw me and said that there might be a possibility for me to go to the US [to train with the rest of the Israeli team].
Actually, first I was here [in Holon] for a year and then moved to the States.
How old were you back then?
Now I'm 15 and I started a week before I was 13.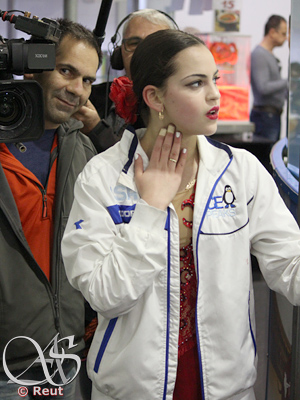 So, when you were 13, they offered you to move so far away from home and your parents agreed?
Yes.
Do you have any siblings?
I'm the only child.
Wow, how did your parents agree to that?!
They knew it was my dream. And they will support me in anything I will ever want to do. Also, they both come from this field - my mother coaches rollers and father comes from hockey. And my father has also known Boris for a long time.
I know that in the States you have this house where you all live and you have someone looking after you.
Yes. Irena, Boris' wife, is responsible for our home there. She is our second mom, really, for everything we might need. She takes care of us, makes sure that we feel comfortable, checks everything is in order - that the house is clean, that we have food.
Everything for you to be able to focus on training.
Yes, exactly!
And what is going on with your school?
I study when I get back home from practices. In Israel I finished seventh grade and then moved to the US. Now I'm homeschooled and learn at my own pace. I can already graduate, actually, when I'm ready to do my exams.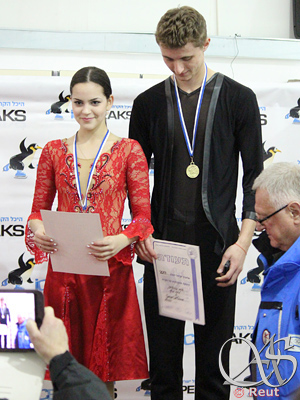 Tell me more about your partner, Vadim. I understand that you met him in the US, not in Israel, right?
Yes. He was skating in Belarus; he skates for over 15 years already, he is 21.
How is this age difference working for you?
Actually, it works quite well.
Maybe because you're very mature for your age...
Yes, this too. But also, we were never really thinking about our ages, to tell the truth.
He speaks Russian, you speak Hebrew; I heard you talk to each other in English.
Yes, but I also learned some Russian, I already understand quite a lot.
OK, so you both came to the US, what was next?
We started skating together in July 2016, with Galit Chait who is both our coach and choreographer. Our first competition was in Tallinn, the Tallinn Trophy 2016. We finished 10th and got the minimum technical score for the Junior Worlds. After that we had Israeli Nationals, Bavarian Open in Oberstdorf and then Junior Worlds 2017 in Taipei. It was amazing! And at every competition now I meet more and more people, have more and more friends.
Who are your skating friends? Maybe I know someone.
First of all, all our skaters who train with me. And then many other people - from the American team, the Russian team, ice dance, pairs, everything!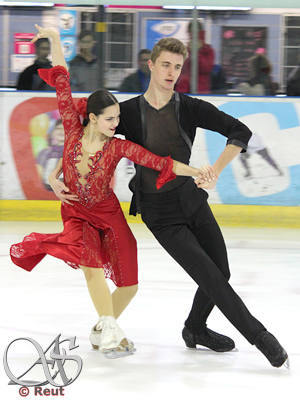 Do you follow them, check how they did at other competitions?
Yes, I have friends who are now at Grand Prix Final. We were sent to Russia, to a training camp with Alexei Gorshkov. So I know Arina Ushakova and Maxim Nekrasov from there. And we met some people at Junior Grand Prix events.
When you were on rollers you skated alone and now you have a partner. How does it feel, to be a part of a couple?
I love it so much more to be with someone! I feel that I need this.
And why did you go for the ice dance and not pairs?
Because I love to dance, this is something that suits me more. I'm good with dance moves and with showing emotions.
Which dance do you like the most?
Latin! This is exactly what we have this season, cha cha. Last season we had blues, and it was great too.
Is there any theme or topic for the free dance that you would love to skate to some day?
I think an Indian dance, it should be fun. But my partner is not really excited about this direction, he is more classical.
This season we have flamenco, to "Me Voy" by Yasmin Levy (famous Israeli-Spanish singer-songwriter - ed).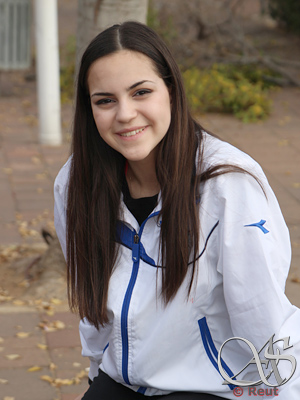 Yes, I really loved it yesterday, this style really suits you.
Thank you! I think that if you choose your music well, your program will be good. You need to start from your music choice, because if you don't feel attached to it, you won't be able to feel it.
So here we are now, talking, while your friends are preparing to go to the Olympic Games. What about you? Do you have some plan for the coming four years? Do you think about the next Games?
I think the main thing is to work, to improve with every single practice. We have four more years ahead of us to work really hard to be able to get to where they are now.
You mentioned that Vadim is 21, this means next season you will move to seniors? Do you feel ready?
I think yes. I think, actually, that it's good, to have more seasons in seniors before the next Games, so that people will have time to know us.
Do you have spare time to do something else apart from training and learning?
Yes, in our free day, Sunday, I love to draw. This is not something I post in social media, this is more for myself. I don't plan what I want to draw; usually I see something, and it inspires me, and I feel this urge to draw it. Also, it depends a lot on my mood.
We wish Shira and Vadim to have an exciting competition this week in Sofia, Bulgaria. And looking forward to greeting them in seniors next season!