Sofia Samodurova: "I realized I have no margin for error"
December 21, 2018
By Oxana Shkrebtienko (LMDJ)
Photos © Ksenia Nurtdinova, Oxana Shkrebtienko (LMDJ)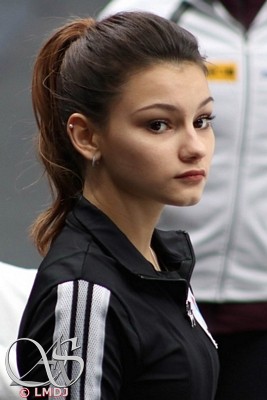 Sofia Samodurova was born in Siberia, in the city of Krasnoyarsk, her family moved to St. Petersburg later. Since the age of five years old she has been practicing figure skating. Four years ago, as a 12 year old, she started training at the school of Alexei Mishin. By the age of 16, Sofia could speak fluent English and play the piano. Unfortunately she had to abandon music lessons because she no longer had enough time.
Last year, she was in the Junior Grand Prix final, where she came sixth. This season, her first senior one, Sofia not only came on the podium of 2 Grand Prixs -in the American Everett she took the bronze medal, and in Moscow she won silver - she also qualified for the Grand Prix final. There she beat all her season's bests and came in 5th place.
Sofia takes her lead from American skater Ashley Wagner, who skates in a light and feminine style. Sofia also easily and naturally performs jumps, smiles and even sings during skating, managing to excite the audience.
Our conversation took place in Moscow, after the end of the free program at the Rostelecom Cup.
Sofia, I congratulate you on the excellent performance at this competition and winning the silver medal! What tasks did you set for yourself at the Rostelecom Cup and how did you manage to fulfill them?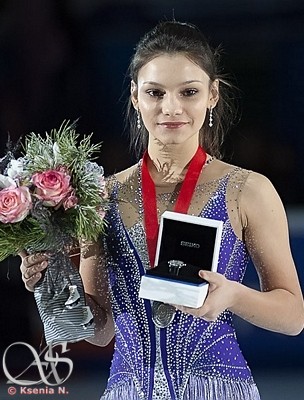 Sofia: My task was to skate both programs clean, to the best of my ability at the moment. I think I managed it. And I am pleased with my result. As for the qualification to the final, it is not yet decided whether I will go or not. This quota is played out between three Russian ladies: Evgenia Medvedeva, Stanislava Konstantinova and me. Next week in France will be the last of six Grand Prix events, and there it will be decided who will go to the final. Of course, I understand that it depends on my competitors whether I will go to Canada or not, but I do not wish them bad performances - let each of them skate clean programs and show her maximum potential. If I do not qualify for the final, then, of course, I will be upset, but not as much as to cry into the pillow for two hours. I will just continue working, because this is my first season in adult competition. (As by now known, it was Sofia who won this spot and took fifth place in the Grand Prix final -ed).
After your free program, outside the rink, in the mixed zone, you burst into tears. Was it a very emotional moment for you?
Sofia: It was because of stress and also tears of happiness. I'm still a child, a girl. Yet, this is my first senior season. These were sincere emotions.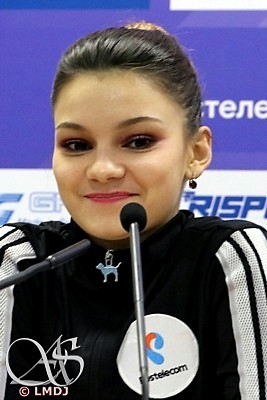 Does the spectators' support help you or, on the contrary, distract or hinder you during skating?
Sofia: It certainly helps me. At these competitions, I did not even expect such huge support from the audience. Probably this was the first time I've competed in such an atmosphere.
Where is it easier to perform - at home or abroad?
Sofia: At the moment I cannot accurately answer this question, probably because I still have little experience at big competitions. Compared with the first event in America, in Russia I was more confident, but at the same time it is more exciting to skate at home. I don't know, I haven't understood yet (smiling).
Sofia, this is your first adult season. Please share your impressions. What is the difference compared to junior competitions?
Sofia: The responsibility is now much greater than at the junior level. I realized that I have no margin for error. Although I also couldn't make mistakes in juniors, and I had a good last season, there was not a single "not clean" competition. But when you compete in big competitions, the whole world is watching you.
Probably, and the pressure is much more now?
Sofia: No, the pressure did not increase according to my feelings.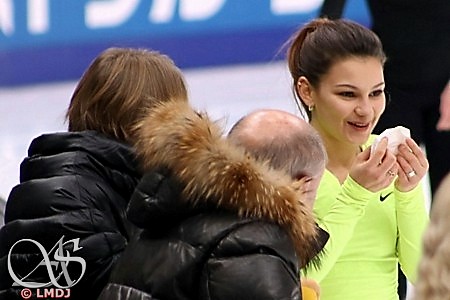 Can you call your team "Dream team"?
Sofia: Of course! Probably for each athlete his team is the most sacred thing that can be!
What is more important for you - love and support of the audience or love and support of your coaches?
Sofia: Support of my coaches. I hope my fans are not offended, but I think that the support of coaches is still much more important. It is very necessary for an athlete to give him enough attention, to explain, to find the right words, to set the right mood. We have very warm relations with coaches - Alexei Nikolaevich (Mishin) and Tatiana Nikolaevna (Mishina). It seems to me that the coach is always like a second father or a second mom. You can approach the coach with any question, he will always help, will quickly decide everything. Mishin is happiness in my life. I thank him so much!
There is an opinion that the programs of Alexei Mishin's students have not enough transitions and attention is paid to the performance of the elements. Therefore, the second score is lower than that of other competitors. How are you working to improve the score for the components?
Sofia: Adding transitions to programs. I consider that in the programs of this year I have more transitions than last year. And we continue to work on this aspect, nothing more.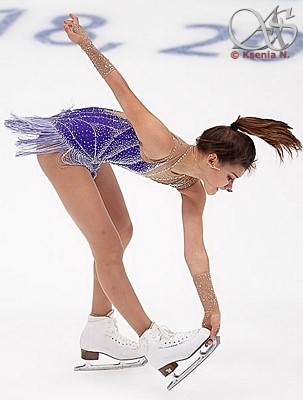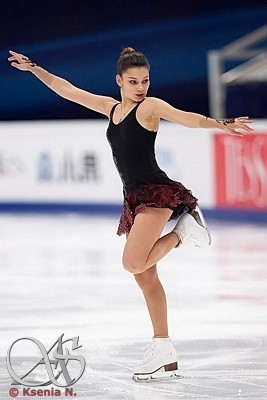 Sofia, share the secret of your stability. As you said yourself, last season you skated clean at all competitions. This season you skated almost perfectly at all events. And if you have a chance, you use it 100%. What's the secret?
Sofia: There is no secret, the whole thing is in the mood. The mood of your team, of yourself. Honestly, I do not really know how I do it (laughs). Just go to the ice and skate!
After these competitions I received a lot of feedback; we must work very hard on them. I will do my best and try to grow further.
When something does not work, and you make mistakes, do you get angry? Is it encouraging you?
Sofia: Of course! And that charges to fight more. I think when you do not perform 100%, you want to brace yourself and to perform much better at the next competition. At these competitions, I made an error, but even with absolutely clean programs, I would not be able to take first place. Alina Zagitova is the Olympic champion and a very strong skater. Therefore, her victory is obvious.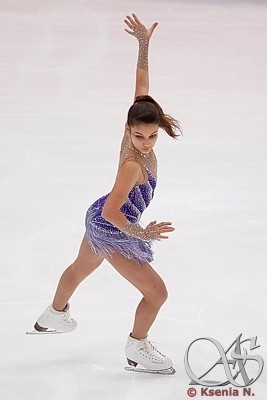 Sofia, do you have some free time and what do you like to do? Do you have any pets?
Sofia: As for free time, I have very little, like any sportsperson. I try to spend it with my friends. But it happens quite rarely, we gather maybe once a month, for a walk outside. At home I like to watch different TV series, mostly American. I enjoy reading, especially detective stories. I have a cat called Tessie, a British breed and a dog Mary, a chihuahua, I also like to spend time with them.
Do you have a lot of friends? Do they think you are a little bit "crazy" because of your figure skating practices? After all, instead of going to hang out with them, you take skates and go to train at the rink, giving all your time to sports?
Sofia: I have less friends now. And if someone thinks I am crazy, this is not a true friend. For me, it is like this. A friend is one who will support you at any moment, whether it is a difficult moment or a joyful one. Who always will help you. There are very few such people in my life, who are really close friends.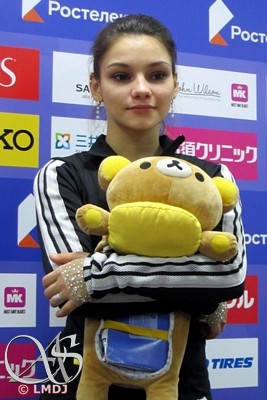 Now you are a schoolgirl. Have you any thoughts on what you want to do after school? Maybe study further?
Sofia: I have a lot of thoughts in this regard. I will not announce them now, I have not yet finally decided. I can only say I will study further and skate at the same time. I finish school in 2 years. I hope by that moment I will still be competing at a high level.
How do you feel about your fans and do you have a message for them?
Sofia: There are not as many of them as I would like. But I hope there are more of them over time. With my start as a senior, there are more spectators in competitions, more people learn about me and see me. I want to thank them all for the kind words, for the support, for the gifts. I get so many messages every day! Thanks again to everyone!
Do you have your own mascot? Please give a hint to your fans what to throw on the ice.
Sofia: No, I do not have this. Any toy, any gift will be very pleasant for me.
Thank you very much for the interview and I wish you many successful skates in the future!