Alexandra Stepanova and Ivan Bukin: "We have become stronger and can compete with the top teams"
March 21, 2018
By Oxana Shkrebtienko (LMDJ)
Photos © Oxana Shkrebtienko (LMDJ)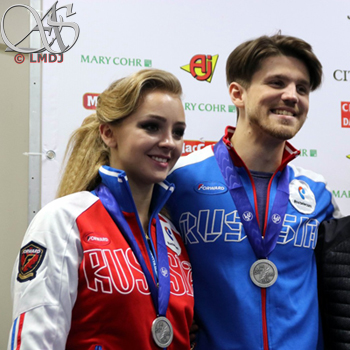 Russian ice dancers Alexandra Stepanova and Ivan Bukin got the bronze at the European Championships in Moscow. They were the bronze medalists also back in 2015 when they debuted, as well as being Junior World champions 2013.They were happy about their medals and full of hopes and plans for the Olympics (where they didn't get to go). I met with them and they kindly shared their thoughts and answered questions about their programs, costumes, relationships on and off the ice, and much more.
Congratulation to the bronze medal of the European Championship! Are you satisfied with your results?
Alexandra: Yes, we are very satisfied, and the coaches are also happy. In the short program we got a small silver medal, it's very cool. We are very pleased that three years after the bronze at Euros in Stockholm, Sweden we are again on the podium. This is very nice!
Please tell us about the process of putting your programs together!
Alexandra: Our short dance was choreographed by Irina Zhuk, our coach. But during the creation of this program, we worked a lot with ballroom dancing teachers; they added many nuances. The music is a compilation of Latina motives and the very famous song "Chandelier" by Sia. It was on the music charts for a long time some years ago, and it was very popular and played so much on the radio that it got a bit boring. But our coach Alexander Svinin found a less-known version of this song which was added and sparked things up. So if the original version was a little dull, then this music made us skate to it with pleasure. As for the program itself: the first part is a fiery Latina, then it switches to our Rhumba, which is more discreet, but at the same time has a certain piquant moment. And then again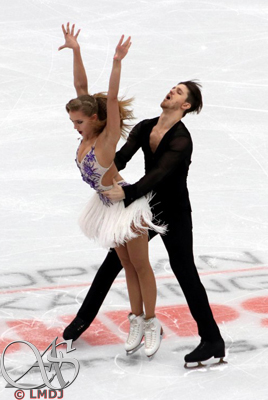 a Brazilian festival, our parallel steps, which the audience reacted very actively to. This was our second time here, and we greatly felt this support during our skating. The first time was at Russian Nationals.
Ivan: It was actually the third time. At the Grand Prix event in Moscow, we had intense public support too. The audience received our program very well. And although these parallel steps are the last element of the program, you get tired by the end, but when the audience reacts with such stormy applause, you forget about the fatigue and charge yourself with the energy of the rink.
Alexandra: About our free dance: we chose the music together with our coaches and choreographer Peter Tchernyshev. The music is a modern arrangement of "Dreams of Love". This time everything was put together quite quickly, especially compared to last year's Tango, which was created over a very long time. Then we even skated at night! This season our free program came out very natural, tender and romantic. We really love this dance; it turned out strong, but at the same time soft. As any dance, it's about the relationship between a man and a woman, this is a dance about love in its most light and pure manifestation.
And your exhibition dance?
Ivan: This number was choreographed by Misha Ge. We are very thankful to him; it was very easy and interesting to work with him. We did not have much time for the piece, in just a few hours the dance was ready!
Alexandra: At the Rostelecom cup we used another exhibition program, which was created by Natalia Bestemianova and Igor Bobrin, that number was more comic. We would like to work a little more on the new number, maybe add a minute, and pay more attention to the elements. Now we don't have time to perform complex elements, and the audience doesn't always have time to react. But of course, in training, we focus on the competitive programs, and have very little time left for shows.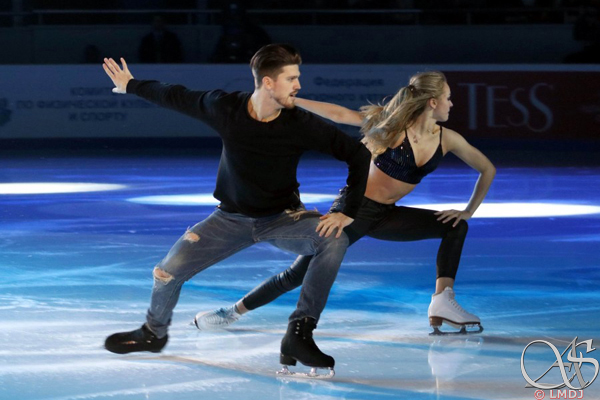 Question to Ivan: Does your family name Bukin interfere with your career?
Ivan: How can it not by the fact that my father, Andrei Bukin, is an Olympic champion? Those are huge shoes that my father passed not only to me, but also to my partner to fill. But it's good too. Natalia Bestemianova also helps us sometimes, and for us, this is an invaluable experience we can't get anywhere else. They share with us their little secrets, their drafts in dancing, and it's very interesting. Of course times change, and now ice dance is completely different. But the entire foundation, basic skills, are laid in the compulsory dances, they are very hard to perform. We are very fixed on technique now, and in the compulsory dances we perfect that technique. My father helps us a lot with this. So I can really say that my name doesn't hurt, I see only advantages.
A little bit about your costumes: you look very stylish and elegant. Do you have your own costume designer?
Alexandra: During two seasons now we have ordered our costumes from a tailor studio in Moscow. Our younger team mates had their costumes sewn there and we liked it and the coaches too, so they said: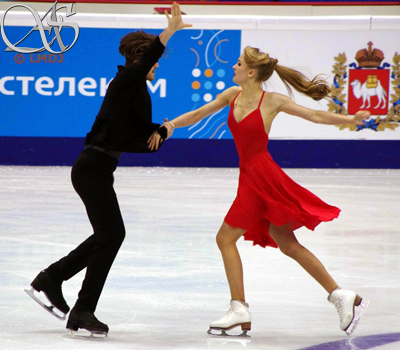 "Let's try to order the costumes for you too." We did and we liked it. We brought the music and told they what we wanted, and they offered us the design ideas. After everything is coordinated with everyone, the costume is sewn. We are very satisfied with the results of their work. Last year they perfectly suited our Tango.
Ivan: Next season, Tango will be a mandatory rhythm in the short dance, and we can't imagine what can suit that better than Sasha's red dress!
Alexandra: Yes, it seemed to suit me excellently, it accentuated all that was needed. It was a very stylish dress, although there wasn't a single rhinestone or decoration on it. And Ivan's costume looked perfect for the Tango as well.
What dances and styles do you prefer, and are you looking for new images?
Alexandra: Honestly, we enjoy all programs we skate, but we never skated the same style for two seasons in a row. And due to the fact that we are developing and growing, we can perform better now.
Ivan: Really, it's always interesting to try something new for yourself. For example, until last season we had never danced the Tango. We tried it - and we did quite well, we really liked that program. We worked a lot on our Tango presentation. This year we chose music with lyrics, and this is also interesting because of the completely different images. If it is difficult to find something new in a Tango, since everything has pretty much already been performed by someone,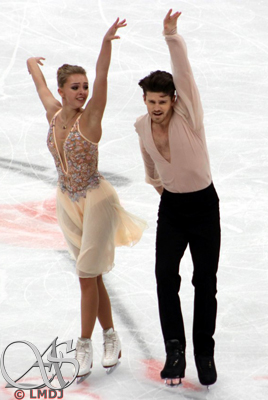 so in lyrics the field is much wider. You are offered something, as well as you trying to find something new within yourself. You watch ballroom dancing videos, and finally you like the choreography. And when we are interested in something; the work is twice as productive.
Alexandra: If we had a Tango program now, we probably would have skated it better. And next season we will have that opportunity when Tango returns as a compulsory rhythm in the short dance. And returning to the question about looking for new images, our exhibition program has a lot of humor, and it seems to me that this also suits us.
Ivan: We can even try to play the jokers (laughs). It's a very interesting adventure for us to try new images.
Alexandra: We haven't tried to perform an Oriental dance yet, or a gypsy theme (laughs). As a blonde, it would hardly match me though. And we haven't danced to musicals either. So there is a wide range of opportunities to choose something new!
How did you manage to transition from juniors to seniors?
Ivan: You know, it's very difficult to switch from juniors to seniors, even when you achieve very high results on a junior level. You have your own favorites and it's a worlds of its own. Then you want to break away from it and surprise the seniors with something new, and find your own style; it doesn't always work out right away. A certain period of time need to pass, we need to realize ourselves that we are ready for another level, to look around, to compete, to gain experience etc. It's impossible to leap from juniors to achieving instant success as a senior. We need to feel the atmosphere at senior competitions, go to Europeans and Worlds, learn to understand the situation in general and the level of competition. Now, a few years later, we know this. We have participated in major competitions, and we understand what to do there. Here, at Europeans, we have already reached a certain level, and we can fight for medals. We work hard to be competitive, so that the judges notice and appreciate us and our progress and growth.
Alexandra: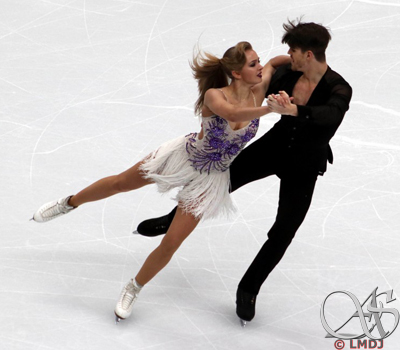 We need to skate like seniors, letting everyone know by our performances that we've grown up. At the very beginning, we appeared like chicks, we tried everything for the first time, all the feelings were new. And now we have become stronger and can compete with the top teams.
Ivan: We are grateful to our team of coaches, choreographers and technical consultants, who have helped us overcome this junior attitude. They have trained us to develop our skating skills and delivered us to a new level. Thank you very much for everything, because it is a hard and slow road. We have to be patient, like every athlete who switches from juniors to seniors.
After the short program you were in second place, leaving behind the Russian leaders. What is more comfortable for you - to skate as leaders or to jump out from behind of the leaders?
Alexandra: We started to slightly bite the leaders at Nationals. But because of my mistake we didn't get very high marks there. We didn't feel completely free during our free dance. Now we understand and it's good that it happened at Nationals, because that experience really helped us here at Europeans. We performed the free dance being second after the French couple. We tried to throw away all superfluous thoughts, because I clearly remembered my condition before the free dance at Nationals, which held me back very much. So, we took that experience into consideration, and in the free dance we succeeded in everything we set out to do. But it is a difficult question to answer. We must always gain experience and look at the situation. In my opinion, it's easier to perform when you have nothing to lose. In a situation when you are out of the podium race, and you step on the ice for a million dollars skate, unrestrained, because it can't get any worse. And at this competition we managed to do what we are capable of in a free program, and we are very happy with our third place!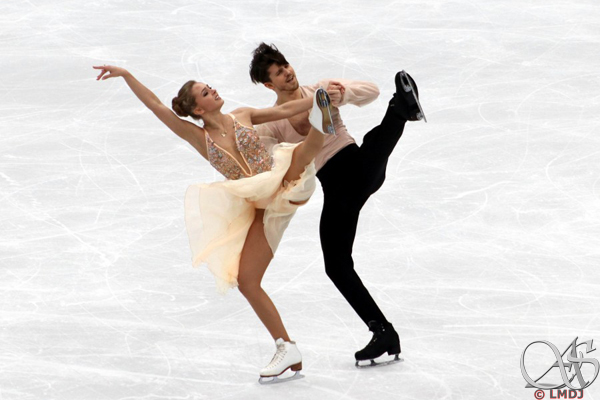 The Hungarian couple Anna Yanovskaya and Adam Lukacs train in a group with you. Are you friends, do you support each other in competitions?
Alexandra: We've known Anna since childhood, and participated in the same competitions. When Anna and Adam came to our group, we were very happy. They are a senior couple, and it became interesting for us to practice together with them.
Ivan: It pushes all of us in training which is useful. We can share experiences and we can try something interesting with each other.
Alexandra: At Europeans we cheered for each other, watched the dances and supported each other. It is a pity that the guys did not make the Olympic quota. At the beginning of the season in Oberstdorf they didn't qualify. But during the season they have advanced very much, and this is noticeable, although they have only skated together for two seasons. It's a shame for them to miss the Olympics, we see how they work in training, they are great. And the coaches are also very happy with them.
How would you describe your relationship?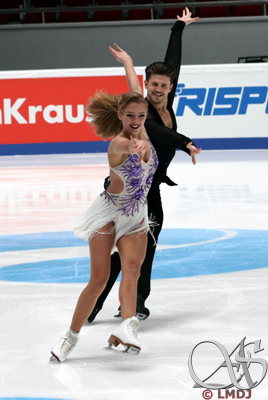 Ivan: We have a very good relationship! There can be some misunderstanding, but we try to give way to each other. During training, it happens that someone is annoyed; something does not work or is uncomfortable to perform. Then we stop and begin to examine the situation. We don't have any dramas or quarrels. In all the years we have had only one loud quarrel, which was heard by our entire group.
Alexandra: It was the only time that you could even call it a quarrel. All other times we could calmly solve our issues together. Ivan knows my character and I know his. We understand when it is possible to speak up, and when it's better to shut up. It's easy for us to work together. When I first moved to Moscow, I lived with Ivan's family for a while. His parents took care of me; I thank them so much for that! We were very young; I was only 11, so we spent time together in the house and outside, playing snowballs, making snowmen. Being together since childhood, we have become like brother and sister.
Ivan: Sasha and I have trained together for 12 years, which is half a lifetime for us. So we know each other perfectly well, we understand what we can talk about, and what is better left unsaid, when to support and when to remain silent. That's why our relationship is so good.
You are always together on the ice. Do you spend your free time together as well?
Alexandra: No, our off-ice time is usually spent separately. But we can catch a show or go to an exhibition or other event related to art and culture, which is close to our occupation. If we do photo shoots of course we need to be together there. But we have our own relaxation and Ivan spends time with his girlfriend. I do not meddle in their life, I have my own company. So outside the rink we have completely separate lives. I'm not saying we are resting from each other this way; we just don't get tired of each other. But after vacations, when we haven't seen each other for a while, Ivan will say: "Oh, how much I missed you!", then I am very pleased! I can't even imagine that someone else would say that to his partner.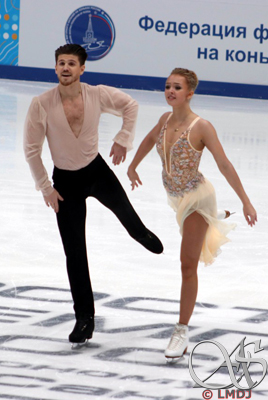 Ivan: Generally, we have very little free time. We go to the movies or outside for walks more in the off-season, at training camps. When the season begins and a very serious workload finds us and there's a competition every three weeks, then we don't have enough time or energy for entertainment. After training, I'm so tired I want just to drop on the sofa in front of the TV and do nothing at all.
Alexandra: I have only enough time for household chores like washing and cleaning, well, for walking in a park too. Ivan lives outside the city, he is lucky that way to have the wonderful fresh air. So, it happens quite rarely that I go somewhere; sport takes all of our time, completely.
What are your feelings about the Olympics?
(As we know now, Ivan didn't receive an invitation for the Olympic Games and the couple had no possibility to go. But I left this part of the interview in to let everybody know how important it was for them to participate. And how painful the disappointment was over the news about Ivan's ban, which we still don't know the reason for.)
Alexandra: We are not 100% sure yet that we are invited, it will be made known on January 28. If we get an invitation, this will be our first Olympics. We don't know yet how everything is at the Olympic Games, all will be new and very interesting to us. We are looking forward to it like a long awaited holiday. The Olympic Games are such a great event, the whole world follows it, that should be some experience for us! I do hope the Olympics will become something positive for us!
Ivan: We really, really want to participate; we did our best to qualify. And now we will be happy to immerse ourselves in this atmosphere of this great sporting holiday. After all, this is not a usual competition, the Olympics take place only once in 4 years, and every country that host it try to surprise the guests with hospitality and organization. I believe that everything in South Korea will be organized at the highest level. We have been to this country more than once, and we like everything there, especially the food.
Alexandra: Ivan even has his favorite restaurant in Korea, where they cook beef and rice very tasty. We would be happy to visit it again!
Thanks so much, guys!
They didn't get to go Korea, but this couple doesn't give up. They trained a lot and participated in a post-Olympics show in Moscow. And they show determination to fight at Worlds as the leaders of the Russian team. We wish Ivan and Alexandra all the best in Milan!