Stephen Gogolev - remember the name
September 14, 2018
By Titanilla Bőd (Új Szó)
Photos © Lilla Bognár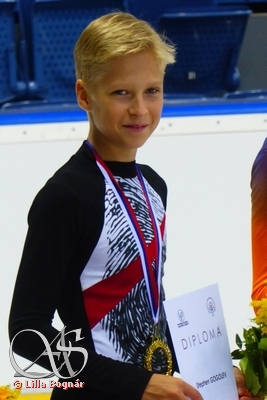 There are moments when you are a bit bored at the ice rink, your mind is wandering, you think about stuff you have to do at work, and then someone starts his/her program and you immediately know that you are such a lucky person, to be witnessing something extraordinary.
That was the case when Stephen Gogolev took the ice in Bratislava at the first Junior Grand Prix event of the season. It was his international debut, but the young prodigy, who is coached by Brian Orser, showed no nervousness at all.
In his short program to "Run Boy Run" he landed a triple Lutz-triple toe combination, a triple Axel and a triple flip, featured two Level 4 and one Level 3 spin and stunning footwork. He delivered a technically perfect, granite-solid performance with the kind of presence on the ice that even mature skaters would envy.
It was a hot August afternoon in the city of Bratislava, and I thought I might have just seen the next Olympic champion.
Stephen did not stop amazing us. The next day in his stellar free skate to the "Sherlock Holmes" soundtrack he landed three different quads: a Lutz, a toe loop and a Salchow in a combination with a triple toe. He fell on the triple Axel and had some more minor mistakes, but it was an impressive performance and also a statement that this guy will be a serious contender in every single competition he enters.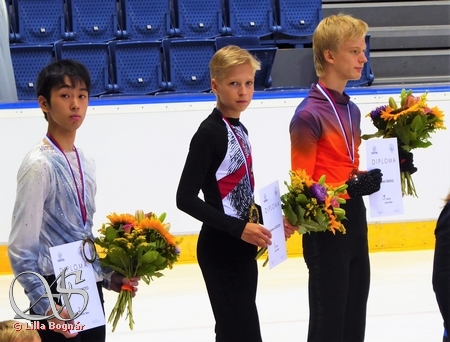 Even though the victory ceremony was not as victorious as it could have been for the 13-year-old Canadian (because of some technical malfunctions it was not possible to play the Canadian anthem), his wide smile revealed that he is very happy about his first JGP victory.
However, he acted as a professional when I asked him to comment on his performance in Bratislava. "It was pretty good, but I made a couple of mistakes. A lot of mistakes. But I will try to fix them before my next Grand Prix event," he said firmly. He also said he loves competing, he chose figure skating because he enjoys jumping, and he gets along very well with his coaches.
He was a bit shy and reserved, obviously not used to interview situations yet, but his eyes were sparkling when he was speaking about his idol. "It's Yuzuru Hanyu. We skate at the same club, I get to skate with him every day and it's really fun."
Stephen's favourite element is the Lutz and he really likes doing quads. When asked about his future ambitions, he answered: "I would like to fix my mistakes and do my programs flawlessly at my next Grand Prix in Canada. For the next couple of years my goal is to improve my skating skills."
There was no mention of major competitions, medals, titles. But, be sure, those will come, too.