Evgenia Tarasova and Vladimir Morozov: "Now we will fight for world leadership"
December 14, 2018
By Oxana Shkrebtienko (LMDJ)
Photos © Ksenia Nurtdinova, Oxana Shkrebtienko (LMDJ)
The silver medalists of the 2018 Olympic Games in the team event, Evgenia Tarasova and Vladimir Morozov won the pairs' competition at the Rostelecom Cup in Moscow and qualified for the Grand Prix Final in Vancouver in Canada, where they won the bronze medal. During this season Tarasova and Morozov were coached by Olympic champion Maxim Trankov.
At the morning practice before the free skating at the Rostelecom Cup, Evgenia Tarasova bumped into skater Alexander Korovin. She fell on the ice and cut her chin. The athlete was taken to the hospital, where she had seven stitches to the wound. But by the evening she was able to go on the ice and continue the competition. After the competition the pair talked to journalists.
Evgenia, how do you feel now? We were worried about you.
Evgenia: Now I'm fine, thank you. The fact is that this did not happen for the first time, it seems like this is my fate.
Did it affect your skating? Maybe it adds to your adrenaline?
Evgenia: I would not say that injuries help me to skate, but I didn't really think about it. It distracts, of course, you think it was this jump that I fell on and you start to be careful. But on the other hand, I am an athlete, so I have to go on the ice and fight. I couldn't let my partner down. We spent a lot of energy on preparing for this competition. We worked a lot, and I couldn't just give up.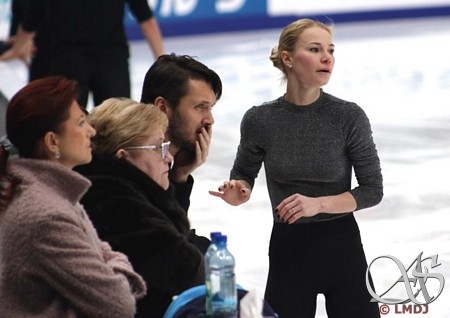 This season you have a new coach - Maxim Trankov. Please tell us how your collaboration with him is developing?
Vladimir: We like the way we, with Maxim, have the training process and the competitions. This is what we wanted and searched for last year; our work is going much better. This (the Grand Prix event in Moscow) is already our third competition in the season and we had some developments from the start, how to prepare for competitions. So, we are moving in the right direction. From competition to competition, we improve, we add to the skating and in the evaluations. For the time being we like everything.
How difficult is it for you to work with Maxim, considering you were rivals before, and now your former rival has become your coach?
Evgenia: There were no problems with this. We asked Maxim to be our coach ourselves. That means, we have already known how to conduct ourselves with him.
He is a busy man with a tight agenda of his own projects. How do you handle it?
Vladimir: He plans all other activities after our training and he spends with us every practice, every warm-up, and his coaching activity is, of course, a priority. We just have adjusted our training schedule a little: we finish the first practice before afternoon and the second one after lunch. And the evening is free, we are recovering, doing other procedures, working in the gym, that is, already off the ice. And Maxim goes about his business.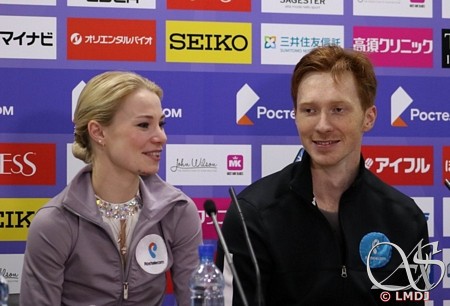 For whom it is a bigger experiment - for you or for Maxim?
Vladimir: I think for Maxim. He never worked as a coach before. We are already experienced athletes, we know how to work, so it is somehow easier for us to adjust to it. We consult with Max all our questions; tell him about our desires, feelings. We decide everything together.
Weren't there such moments when you want to say: "Maxim, the trainer does not behave like that!"
Vladimir: No, he is very professional in this. We enjoy working with him; some new moments for us. We also continue to cooperate with Nina Moser, but she is not our coach, but rather our manager. She does not control Maxim, they simply consult. If Maxim has any questions, he calls her and asks. There are no problems.
Trankov is remembered as very emotional skater. Now he looks absolutely calm. Does that "old" Maxim appear sometimes in training?
Vladimir: Not at all. We see the other side of this man. He is reasonable, calm. He tries to examine the problems pragmatically, builds the training process very competently. He always records the summary of our weekly practice, analyzes it at home and keeps complete control of our training.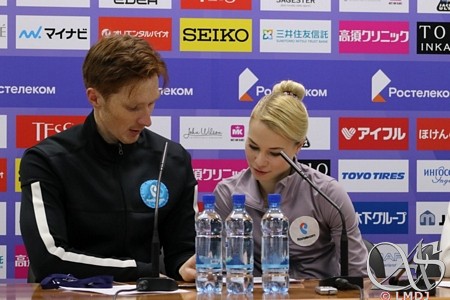 Does he go on the ice and demonstrate the elements himself?
Vladimir: Of course, he spends ice practice with us wearing his skates. If something does not work or when we are looking for new things, he tries it himself. For him it is sometimes easier to show than to explain.
Do you have a permanent training base?
Vladimir: Our permanent training place is the sports base in Novogorsk. We live there during the week and move among three ice rinks. We train every time on different ones, because we don't have our own skating rink. We solved the problem with ice, there is a very good place for training. We live there and practice devoting all our time to training. Nothing distracts us - we don't need to cook, clean or wash up!
Don't you miss normal everyday life?
Vladimir: For this we have a weekend. We know why we are doing this, but for the sake of a big goal we have to sacrifice something.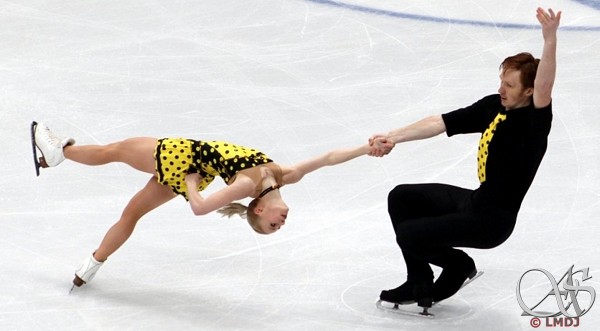 Last season you had a very powerful short program to the music of Rachmaninov. Your free program, judging by the reviews, was flailing, and this affected your battle with competitors. Although you were advised to change it, you did not do it. This year, you listened to the reviews and changed the short program after the September test skates. Did you do this, taking into consideration your previous experience?
Vladimir: Last year was a very tight season; we skated competition after competition. Just physically, there was no time to change the program, because it's a long process, and the Olympic season is not for experiments like a program change. Probably there was a hopeless situation for us with the long program, if we were going to change it. This year it took about one and a half months to re-choreograph our short program under our new music. Although we left the footwork from the old one. This has nothing to do with last year's experience; in fact, we changed only the music, as experts from the federation said that the rock composition was not suitable for our short program.
You have very bright, stylish images in both programs. Who helped you to create them and the costumes?
Evgenia: I have imagined what I would like to wear in these programs; the color and style. Then everybody added a little bit, and we got such costumes. Everyone helped - Vladimir, Maxim, Nina Mozer, Tatiana Volosozhar.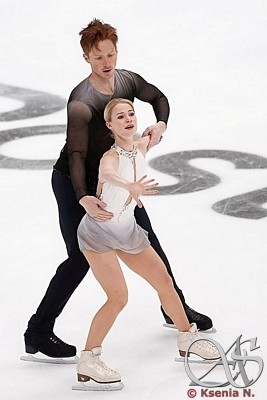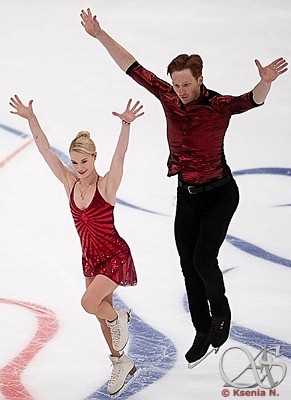 In previous seasons you competed with experienced couples for the first place in the national team, and now you are the team leaders. In what status is it easier to skate?
Vladimir: Now we will fight for world leadership. This is a subjective opinion - about the status. The status is based on past competitions. It does not give you advantages in new competitions. Every competition you have to confirm your status and prove that you are the leader. It cannot be assigned to an athlete for the rest of their life.
Does the status put pressure on you?
Vladimir: No. Every competition begins from scratch, you need to skate and to prove your mastery.
In connection with the rules changes, do you have a desire to continue to train the quad twist, some "ultra-c" elements?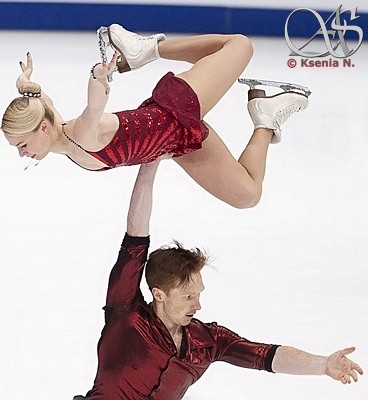 Vladimir: Of course, we must train them, but we will not execute them at the competitions yet. I will say this: it is a pity that according to the current rules, the attempts of the quads that are not evaluated, albeit with mistakes. On the contrary, the athlete is strongly punished for this. Thus, for the clean triple you gain more than in the quad with a mistake. Although last year it was the opposite.
That means, you exchange "ultra-c" elements in favor of clean skating?
Vladimir: Yes, the current rules require this. The GOE for good elements performance have increased. Cleanliness is now a priority.
Do you have a desire to do something difficult, to challenge yourself, to make elements that no one has done before?
Vladimir: Of course, we have such a desire, but it should not be to the detriment of the result. We need to make an absolutely balanced decision. It should not be like we surprised everyone with an element, but we get a minimum marks for it. For us, the main thing is to work for the result.
You have qualified for the Grand Prix Final in Vancouver. There is not much time left. What will you work on, what will you pay special attention to?
Vladimir: Now, after this competition, we can never relax, on the contrary, we need to keep in shape, to improve some technical details. In the short program we need to add in footwork as it was valued only at the third level. In the free, to work out the points of our errors. To practice jumps; in throws, to make clearer landings. In general, this is a plan. The goals are clear for us.
That they can't relax after the Grand Prix Final is certainly true. They went home with the bronze medal, but will soon already be skating against their Russian rivals, in the Russian Nationals (Dec 19-23). We wish them good luck the rest of the season!