Tiffani Zahorski and Jonathan Guerreiro: "Spread the love around"
February 19, 2018
By Oxana Shkrebtienko (LMDJ)
Photos © Oxana Shkrebtienko (LMDJ)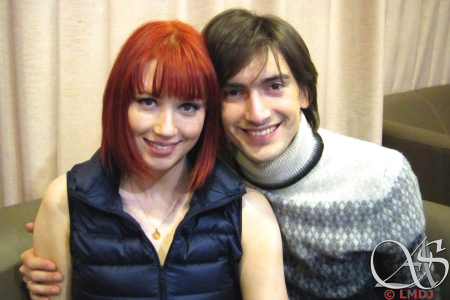 Tiffani was born in Great Britain. She has some Russian heritage and skated for France in the past. Jonathan was born in Australia; his mom is Russian, and his dad is from Portugal. In 2014 they decided to skate together as a dance couple for Russia, coached by Alexander Zhulin. In 2015 Tiffani has got a release from French federation, so starting from season 2015-2016 they could participate in international competitions. Last summer the couple switched coaches and now trains with Svetlana Alexeeva and Elena Kustarova. Being the only senior couple in the group, they hoped to get more attention from the coaches, which they felt was lacking in their previous group. Was this the right move for them? We will see after the season ends. Right now, Tiffani and Jonathan are extremely excited as they prepare to compete at their first Olympic Games - the honor they achieved through tough fighting and fortunate circumstances. They answered some questions after the Russian Nationals.
You are not a typical ice dance couple in the Russian team. In your opinion, what is the difference?
Tiffani: Yes, we are the most international couple in the team. We have a lot of nationalities between the two of us. As a couple we have a different style, we want to skate to something modern and interesting, probably because we have different backgrounds. What is also important - we are both tall and have long lines, so it makes the stance of our couple solid.
Jonathan: Obviously, living in other countries, having different mentalities and training in a different way gives this distinction. When you look at skaters from all over the world, it can give you a different feeling than from certain people who have only lived in Russia all their life.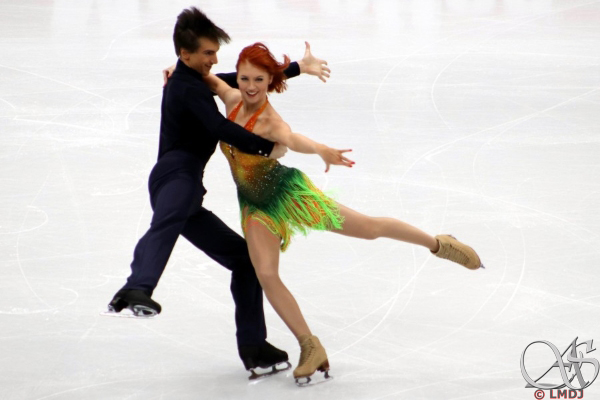 Question to Tiffani - have you ever regretted changing your citizenship and federation?
Tiffani: Absolutely not! I feel like I have made a 100% good choice by moving to Russia. I have not regretted it for one second! If someone asks me to do it again, I will. I enjoy skating for Russia and our federation really supports their athletes. Honestly, I felt this support, even with the officials, even though I didn't speak very good Russian. For me everything was new. For example, participating in Russian Nationals is like being in a very big competition, almost like a big international competition. The feeling of being a part of the Russian team, together with some of the best skaters in the world, is great. I feel home, I feel comfortable, and I'd say, I feel pretty Russian now.
At the beginning it was a bit difficult with the language, because in shops or in the city not many people can understand English; but now I can speak Russian, more or less. And if I have some troubles, Jonathan always helps me. I'm very lucky with that.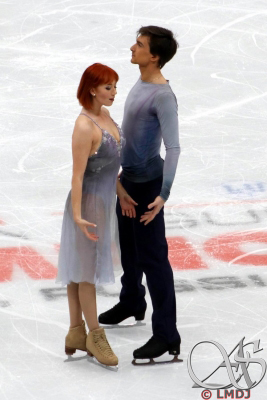 And during practices our coaches speak to us in Russian, and Jonathan translates for me if I don't understand something. But to each other we speak English.
It is also important to have the public's support. Do you have many fans, do you feel their support?
Tiffani: We have some particularly intense fans in Russia and we really like them, they are very kind. They come to our competitions in different cities and it motivates us to skate better. All the support we get from the fans makes us really powerful.
Are you happy with your results this season?
Jonathan: Yes, we are. At Russian Nationals we did our best in the short dance, and the free dance was not bad. We won our first national medal and qualified for the Europeans. It was our goal and we are happy. Of course, we are very sorry about Nikita's injury that didn't allow them [ed. - Victoria Sinitsina / Nikita Katsalapov] to finish the program. We hope that everything will be OK with them and they will be back soon. They are our friends and we respect them.
We try to reach our goal step by step. Now we need to analyze what we can improve to move up in our placements, because we're planning the next cycle. So we want to be able to establish ourselves for national as well as international level.
There is quite an intense rivalry among ice dancers inside the Russian team. Does it help you or make things more difficult?
Tiffani: I think that having such a good national team really makes you want to fight and pushes you to work harder. Each top couple is looking at how they can improve, become better, get more points, get a higher placement. You have this feeling that you have a tough fight even in your own team, in your own country, and it encourages you to become better as skaters. For example, we could skate for another country, being the first couple there, but it wouldn't make us stronger, wouldn't give us more motivation. We would win all competitions at home without pressure. Of course, a couple improves by going to Europeans and Worlds. But going to Europeans and Worlds as one of the top three Russian couples is really cool, it makes us so much more satisfied, and it is really important!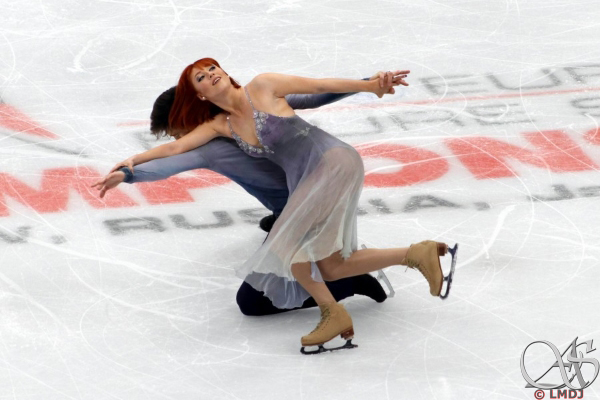 What is a priority for you, as ice dancers - to show very clean technique or to skate with passion and give an emotional performance?
Jonathan: At all our recent competitions we've received good levels for elements. Generally, we skate clean in our competitions. We need to concentrate on maintaining this and just to grow further in everything.
Tiffani: As a couple we want to show that we're dancing. We have a good connection between us, I feel. And I want for us as a couple to grow in our presentation. To become more mature, have more flow, to reach the level of real ice stars. Right now, we have good technique as dancers. And I want us to grow artistically and become one of the top ice dance couples.
Jonathan: In different seasons we have different goals. For example, in the past years it was important to show that we can compete and keep a certain level. And this is a significant thing that people can see: we can skate clean, we have good edges and connection,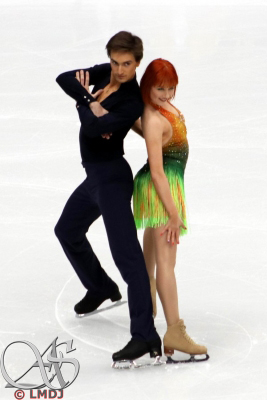 so there are no questions about whether we are able to do the twizzles without mistakes, for example. Then people say, WOW, they are actually good, they can skate clean, they can fight! That's great. And I feel like this is the point to take the next step up and add more emotions into our skating.
Your ideas for the next season?
Jonathan: It's a little bit early to speak about the next season. It will depend on our preparation during off-season. We want to really focus on the skating part, and depending on how much we can improve, we will decide which direction our programs will take. Because the choreography is always done to highlight your pluses and disguise your minuses. We must do a lot of work, and we are ready for it. We have all the conditions, all we need. Our task is just to work hard.
Is participation in the Olympics your main goal now?
Jonathan: We would like to make it the final wagon of this train. It would be amazing! If you remember the last two Olympic cycles, the third couple was in the top three the entire cycle, but didn't come to the Games. So, we must fight hard for this opportunity as well.
Tiffani: It depends on how much we will work and improve, it depends only on us, how ready we will be to fight for being in the Olympic team.
Does the doping situation around the Russian team stress you?
Jonathan: It's a very hard question. I hate to believe it's true, I don't know anyone using doping. Ice dancing is a coordination sport, I can't imagine how doping will help you skate better. Generally, sport is about uniting everyone together. Our sport is so beautiful, so nice! Figure skaters definitely should just follow the rules and spread the love around!
Thanks to their successful performance at the European Championships, where the pair placed 6th, Tiffany and Jonathan were selected as substitutes for the Olympics. After the announcement that Ivan Bukin did not receive an invitation from the IOC and the couple Stepanova / Bukin could not compete at the Games, the dancing couple Tiffani Zahorski / Jonathan Guerreiro moved to the main team. Here's what Jonathan said about this:
"It is a great pity for the guys who were not invited to the Games. They are our friends. I hope everything will be solved honestly and the way to the Olympics will be open for them. They deserve it! It's a shame we go to South Korea without the flag and the anthem, but these are the terms of the IOC. It is necessary to follow them. We will defend the honor of Russia!"
The Olympics in South Korea will be the first Games in their careers. We wish the guys a successful performance!