Matilda Algotsson: "I love this sport so much and I don't want to stop"
October 12, 2019
By Reut Golinsky
Photo © Mireille Geurts, Reut Golinsky
Special thanks to Maria Tairova for the help with the transcript.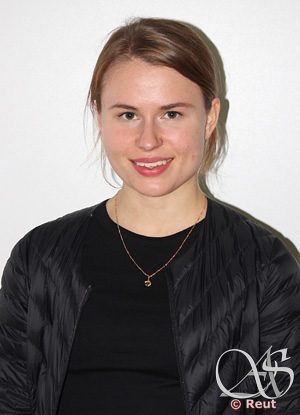 Reigning Swedish national champion Matilda Algotsson, who trains now under Stéphane Lambiel in the Skating School of Switzerland, opened her season at the Nebelhorn Trophy. After the competition we sat down to talk about her new programs, her decision to continue her competitive career and more.
Last time we talked during Internationaux de France, in Grenoble, you told me that your main goal would be to do well at Nationals. And you did! And initially you were listed in the roster for the Worlds but then your name disappeared. What happened?
Even though I did very well at Nationals, I was not selected neither for Europeans nor for Worlds. There was nothing I could do about it. They indeed submitted my name for the Worlds, but then this was changed.
I see. So it wasn't that you were injured or something. And they didn't define the criteria for who will be selected?
More or less. There was certain criteria, but it was flexible, I guess.
Back then when we talked you weren't sure if you want to continue, but I'm happy to see that you do. What influenced your decision?
Even when I was feeling that I don't want to skate anymore, I still didn't want to take that decision when I was feeling bad. I figured out I need to put everything - the pressure and anything else - aside and just skate, try to skate for myself. I guess I realized then that I really enjoyed this sport. I love it so much and I don't want to stop, I don't feel done with it yet, so... I am happy I decided to stay.
This summer you went with Stéphane to Sweden and you coached there alongside him at some summer camp. What was that about?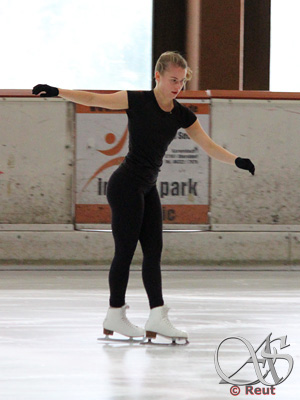 Synchro Worlds 2018 was held in Sweden, in Stockholm. And they had a competition between clubs who would buy or get more people to buy tickets. Each club had a different code and when someone bought a ticket he could write that code down. The club who "sold" more tickets won and the prize was that Stéphane would come to the club and coach during the weekend. The club in Gothenburg won, so he went there this August and took me with him. That club has a synchro team but also single skaters, so it was a bit of both.
Did you have fun?
I actually did. I enjoyed it very much. He was picking some exercises and I was helping him to show them. It was nice to skate alongside him. Yeah, it was fun.
Is this - coaching - something you see yourself doing in the future?
I feel like I am getting more into it. I've started helping with coaching a bit more and in Sweden I've done the first coaching course. I don't know for sure how much I will do this in the future, but I am starting this a bit, and so far I enjoy it.
Tell me more about your programs this season. They both are very powerful I feel, very opposite from the "pretty princess" style some girls are taking. Whose idea was it in each case and who choreographed them?
I got some suggestions from both Stéphane and Salome (Brunner). Salome choreographed my short program and Stéph did the free skate. We did the free first, pretty early [in the off season]. I had this second piece of music of my free which I really liked, we were first thinking to use it for the short program, but then we figured it might be too much of the same. But if we put it in the free, we could make it together with another piece. And then with the short I had three suggestions and this one was both Salome's and Stéphane's favorite option. And I really liked it too.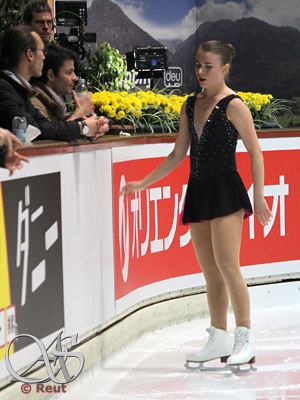 There was also an interesting suggestion on how to cut the music.
Very interesting version of "La vie en rose". When I saw your dress during the warm up I didn't understand why it was black for this song, but then I heard the music.
At the beginning we use the instrumental part of the music, not so much of the singing. I feel it brings another flavour to it, makes it a bit mysterious. When you hear it, you don't really know what is going on, that's why the rose [colour] is hidden. And towards the end it opens up a bit more. That's how I feel about it.
My free program is also mysterious and dark.
It is very dramatic.
Yes, and I really enjoy it. I feel I enjoy dramatic music the most. I like the feeling of skating to such music.
I love both my new programs, I'm happy with both of them, but I would say that the free is my favorite.
Overall how would you sum up this competition?
I felt well prepared going into this competition, so maybe my expectations of myself were too high. When I went into my short program I started hesitating and then nothing worked... I am happy I was able to pull myself together for the free skate, glad about what I did today. I was trying to breathe and stay calm, be less serious, to put less emotions. I feel if I get too emotional I get stressed up easily, so I tried to do each element and then forget it, move on to the next one.
It was my first competition of the season so I should be pretty happy, but I guess I was expecting more, I wanted more. That's why I feel a bit frustrated. But I'll have more chances.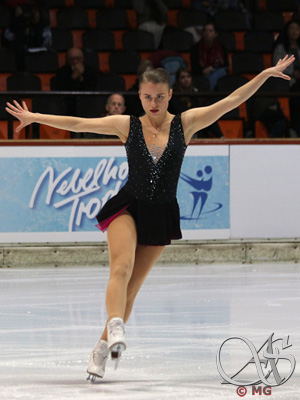 I opened your protocols and I have a few questions. You have Lutz in your short program and two Lutzes in your free. You wouldn't put it three times unless this jump works for you, right?
I don't know what happened this competition honestly, because Lutz and loop are my best jumps. During the practices here my Lutz was not a problem, but then in the competition none of them worked...
Today, during your free skate it felt like you were already afraid of it before you were going into it.
I think actually that's true. I was thinking about it too much and that's a bad thing to do.
There is also unclear edge on it, which is not your usual mistake.
I haven't got this so much before. I want to wait and see if I get it at the next competition too, maybe then I'll be worried. If I get it at the next competition too, then I'll try to do something about it, because it's unfortunate if you lose points on such things.
And the combo was supposed to be with triple?
Yes, I am doing it in practice more and more, so I really wanted to put it into the program. Maybe I wanted too much, I wanted to show everything. And then instead I showed nothing.
So do you plan to continue with this layout?
Yes, I really want to be able to do it like this. And I feel it shouldn't be a problem, because it's not really a problem during practice.
It's more in your head...
Yeah. It is competition, it's hard. I am going to try my best next time.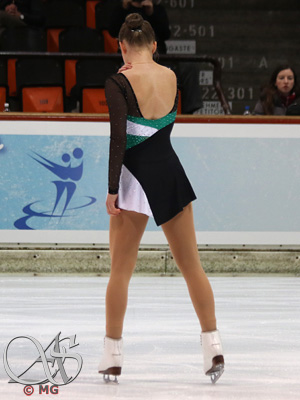 I also think you deserve higher second grade and you improved in it this season. But without stable performances you probably won't see it reflected in your score.
I think that's true. And I for sure want to get higher components. I hope I will.
The last topic I wanted to discuss with you was the article in Swedish media about abusive training environment in your previous club. What encouraged you to talk about it now? Because for at least a year and a half you train in a different place.
It all started with Selma Ihr who was a great skater and a promising junior. We were in the same club and now she decided to stop working with this coach and this club because of the very same reasons I stopped. She and another skater who used to skate there opened up about it on social media; that other girl posted a really long text on Facebook and then they contacted a big newspaper in Sweden. So they were going to make an article about it, and they asked me and three other skaters if we wanted to be part of the article, to make it more believable. We all were at one point at the national team together, so we were all good skaters. And then all of us stopped training in that club because of the same reasons, so we all could relate. I was hesitant at first, trying to understand whether it will be good or bad for me to do it. But then I decided that I want to do it, because now Selma is probably not going to skate anymore and I felt really sad about it. I also knew it was a serious newspaper - there are two big ones in Sweden, and that's one of them - and that they would do it well, not just for the "clicks" and for selling the paper better.
I decided that I want to be a part of it and I am really happy that I dared to do it. I didn't realize how big it was going to get and how many people would relate. Because we were talking about this specific club where we've been in, but then so many other people have been relating to this story and have been opening up. It has got much bigger than I thought.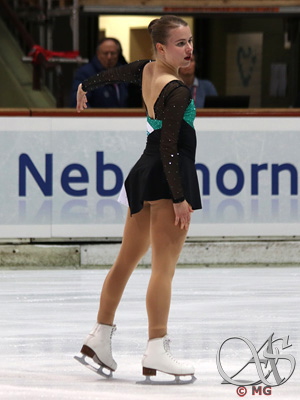 And what did you federation say? Did you talk to them?
I contacted them and told them that I was asked by the media if I can commentate. And they said: "Well, we cannot stop anyone from talking to media". But I haven't heard anything from them recently, and I am trying not to involve them. It was just this club that I wanted to share my thoughts and feelings about.
Now I feel I did my part, so I am trying to step back a bit now. It happened so fast and a lot was going on so I felt exhausted. For the moment I am done with that.
Way to go that you dared to talk about it, it certainly opened a serious discussion which hopefully will eventually bring change. Thank you very much for this talk and good luck with the rest of the season.
Thank you.
Matilda's next competition is going to be the ISU CS Ice Star in Minsk next weekend and we wish her to have great performances there.