Aleksandra Boikova and Dmitrii Kozlovskii:
gaining the momentum
March 19, 2019
By Reut Golinsky
Photo © Reut Golinsky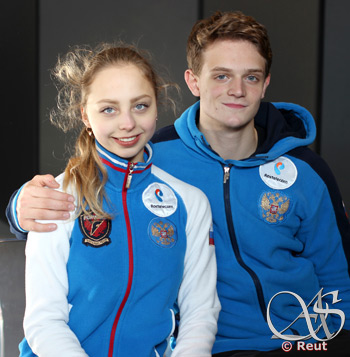 The morning after their impressive accomplishment at their debut European championships, 2019 European bronze medalists Aleksandra Boikova and Dmitrii Kozlovskii met with journalists for a group interview. They summed up their impressions from the season, shared their plans, and explained, among other things, why they invest so much thought and effort into their Instagram accounts.
This article is based on that talk but only uses answers to the questions posed by Absolute Skating.
How it all began
The youngest pair of the event in Minsk and the youngest to stand on the European podium since the legendary Gordeeva/Grinkov, Aleksandra and Dmitrii are finishing their third full season as a team — and skating pairs in general. Both trained as single skaters and teamed up only in November 2015. Dmitrii joined the team following a brief partnership with another skater, while for Sasha he is her first partner.
Their international debut took place in Saransk, Russia, in September 2016 at a Junior Grand Prix, where they got silver. Placing fourth at their second JGP assignment, they qualified for the 2016-17 Junior Grand Prix Final, which they finished with the bronze medal and a personal best score. Following this success they won their junior national title and rounded off their whirlwind season by finishing on the podium at the 2017 Junior Worlds.
Second season in juniors started on a high note with two medals at Junior Grand Prix events — silver and bronze, but at the Junior Grand Prix Final they were only fifth. Missing out the podium at the 2018 Junior Russian Championships meant their season was over way too soon. But they didn't give up and saw it as an opportunity to improve.
They consulted with various experts, analyzed with their coaching team what should be changed in their daily work, which things should be done differently, what should be started anew. They challenged themselves with an unusual for them, jazzy style for their "Dark eyes" short program choreographed by Natalia Bestemianova and Igor Bobrin and revamped their "Nutcracker" free skate, adjusting it to the new rules and trying to skate it in a more mature way.
All the off-season work paid off and in their first senior season they finished outside the podium only once in six competitions. Not qualifying for the Grand Prix Final was a blessing in disguise as they had more time to recuperate after the first half of the season and come fresh and ready to the National Championships. Brilliant performances of both their programs brought them to the podium and gained them a berth in the national team for Europeans and Worlds.
Becoming a pair
I think you mentioned it once in some interview, is it true that it was your decision to partner up?
Dmitrii: Yes, it is true, more or less. I had a different partner, but you can say that at that time I was skating by myself mostly. And when Sasha came to our rink for tryouts, I immediately noticed her and said that I want to skate only with her.
Aleksandra: We knew each other since childhood, we trained in the same group as single skaters when we were little.
Dmitrii: We skated together in Alexei Nikolaevich Mishin's group and our development was alongside each other. It is still a bit surprising that we formed a pair. Five or six years ago, if someone would have told me about it, I would have reacted: "Are you crazy?"
This is your third full season together, there is an opinion that any pair needs at least three years to really become a pair. Do you agree with that, do you feel that about yourself?
Dmitrii: I think we're heading in this direction.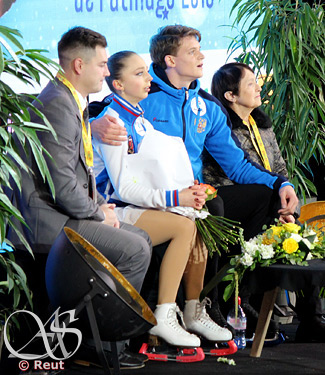 Little by little we're becoming a pair, start feeling small things, fine details about each other. Indeed it takes time, you don't get this in a month. But it's also very individual, for someone this might take one year, for some it will be two years, and some people might need ten years. I can tell that we're at this stage when we have a deeper intercommunication.
You're considered to be a rather tall pair, which pros and cons do you see in it?
Dmitrii: I don't see any downside at all. Actually our height is optimal, we're neither extremely tall nor too short, we have a good presence on the ice, and we have high throws and twists, amplitude movements, so I can't name any disadvantages. We have a good control over our bodies and so our height is comfortable for us.
Do you plan to raise the technical difficulty of your programs? In previous seasons you showed a throw triple flip, you also had triple-euler-triple combination, Tano double jumps. Are any of those coming back?
Aleksandra: Our main goal for this season was to skate clean. For better quality and more confidence, we reduced our technical content. Of course, we plan to work on ultra-C elements, including triple-triple or triple-euler-triple combinations.
The triples are going to be toe loops?
Aleksandra: We will see, there are a few options, we trust our coaches to help us in this. We will also work on throws. Unfortunately, throw triple flip which was compulsory for us in juniors last season, not always worked for us. But when we succeeded, it was indeed impressive and had positive GOE. So we definitely plan to work on these elements and on improving our technical content.
Dmitrii: This season we made an emphasis on our skating skills and interpretation. As the rules were changed, now mistakes are much more costly, you can lose ten points on one mistake. Nowadays in pair skating you almost never know how the program will go, almost always you have a chance to rebound.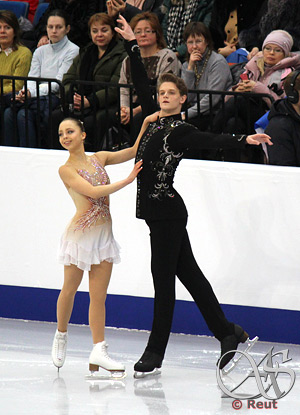 The fight for medals is focused less on a base value of performed elements and more on their quality. For example, in short program we got an additional ten points over the base value because we did all the elements well, smoothly and with good quality. Quality is the key. To add difficult elements like those Sasha mentioned before we need to be 100% sure in them, otherwise too many points might be deducted and nothing would "save" the program.
What would you say is your trademark element?
Aleksandra: I think our trademark element is our twist lift. We perform it with ease, we picked it up very fast. I started doing triple twist one month after I switched to pairs. Although with the double twist it took time.
Dmitrii: It's just that she needed to readjust from single skating to pairs. If you think about it, pair skating is the figure skating discipline with the biggest number of various types of elements. We have so many different elements — jumps, throws, twists, lifts, death spirals, step sequences, spins. Eight absolutely dissimilar types of elements! And you need to work on every single one of them.
In one of your interviews you mentioned that you love Vanessa James and Morgan Ciprès for their style. And what is your style? Do you feel you already have one?
Dmitrii: We have good lines. Not many people can skate in classical style, it doesn't suit everyone. It requires not only a high level of skating, but also the looks. That's nature, you can't really change that. It just turned out that way that we can perform classical style well, we can really feel it. Do you agree with me?
Aleksandra: Absolutely.
About one friendly balloon, quality content and reaching a breaking point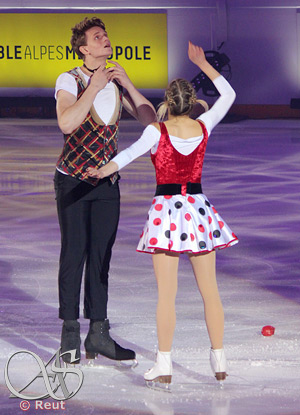 During the first half of the season you had a very lovely exhibition program with a balloon, can you tell me more about its story?
Aleksandra: Similar to our short program this one was choreographed by Natalia Bestemianova and Igor Bobrin. The story starts with a girl who gets out for a walk with her balloon friend, but then, suddenly, it deflates... It disappears...
Dmitrii: This balloon is an abstract image of someone dear to her heart, a lover or a close friend. And he leaves her.
Aleksandra: At this moment Dima comes and tries to cheer me up in every possible way. In the end he returns my friend to me by inflating it.
Dmitrii: After she gets her friend back I feel like she doesn't need me anymore and am about to leave, but Sasha understands that I'm a more interesting companion than her friend the Balloon. (both laugh)
I wanted to ask you about your presence in social media. I should admit that I'm very impressed by how you run your Instagram accounts, with the professional quality of photos you post, the text you add to them. Why do you take it so seriously? Do you see it as your online representation? Is this coming out of respect for your fans?
Dmitrii: Probably all of the above. Of course, we want to bring quality content to our audience. And in general people love to follow beautiful and interesting Instagram accounts. I think Instagram is currently the most in-demand, popular social network in the world, covering both commercial and aesthetic interests. People are curious to follow skaters who take part in big competitions. Just like they follow accounts of various stars and celebrities to feel a little bit like being a part of their life. It's interesting and cool!
Was it some kind of agreement that you will both try to keep up the quality? Do you discuss what to publish?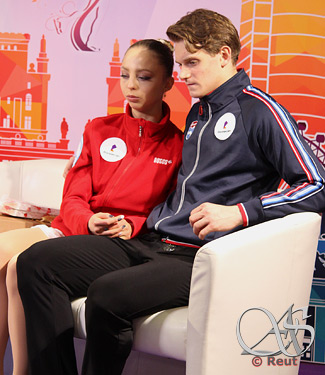 Aleksandra: We always ask each other for advice, at least me, I always send him things first before I publish them.
Dmitrii: Sometimes we advise each other which photo would be better to post.
And who takes the photos? They are of a very good quality usually.
Aleksandra: Depends, sometimes it's my friends or my mom when she has some free time.
Dmitrii: While we're very busy, we both run our accounts ourselves. Some athletes have their managers post for them on their social media accounts, or their parents. But I can say for myself and Sasha that for both of us our Instagram account is our pet project.
Sasha, talking about Instagram — in your post on December 31st, while summing up your year, you wrote: "This year I understood that sometimes you need to reach rock bottom to comprehend and recognize what is really important and valuable in your life." Can you elaborate?
Aleksandra: To be honest, I prefer not to dig into it, there were some serious problems: health issues, both physical and mental. Previous season was really difficult for us, I think not only for me personally but for both of us, for our pair. In addition, I had exams at school, it was hard to put my mind to it and pass them. But gradually, thanks to certain people, I succeeded to get through this. I needed to brace up, to start things anew, and to work harder. But thanks to that we achieved certain things this season, not only in sport, but also in our studies.
Dmitrii: I would like to add that every sportsman during his career meets some important breaking point. Some people manage to overcome it and get to a higher level mentally. Some people fail and usually that ends sadly. Indeed, in our career we had some difficult times, but it is especially precious that we were able to raise above them and now we're gaining the momentum.