Catching up with Alexei Bychenko and Koshiro Shimada
October 18, 2019
By Reut Golinsky
Photo © Joy Geurts, Reut Golinsky
Before meeting for another fight at Skate America both Koshiro Shimada of Japan and Alexei Bychenko of Israel opened their season at the Nebelhorn Trophy. We had a chance to catch up with both of them in the mixed zone after their short programs.
Alexei Bychenko: dreaming to repeat Olympic experience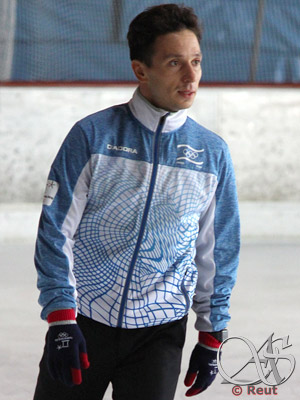 Olympic season had finished and we all were pretty sure that you bid farewell...
Yeah, me too, I was pretty sure about it! (laughs)
Don't get me wrong. We are all happy to see you competing, every time it's a nice surprise to see your name on the roster. Way to go!
Well, today I definitely don't deserve your compliments, that was a pretty awful short program. During the quad, midair, I changed my mind, decided to turn it into a triple, didn't quite comprehend myself what I was doing, and added another triple as a combo which I double footed. No idea why I did that! Well, this is the first event [of the season]...
Back to my question. How do you decide, every summer, do you just make this decision, "I think I'll skate a little bit longer", or...?
Actually, when I skated last season - and everybody probably noticed that - I wasn't pushing too hard.
There were rumours that the Israeli federation basically pulled you from the beach and told you to skate for one more season.
Well, not exactly. But indeed I took a long vacation and then we discussed this with my federation and decided that I will skate. I had two very exhausting seasons prior to that summer, injuries were adding up, and as soon as the Olympic season has finished, all those injuries manifested themselves. Last season I needed at least four months to heal and just recover, because I had three different injuries all at once. So last season we took it easier, only at Europeans and Worlds I pushed a bit harder, just not to embarrass myself. That season was for recovery, more or less. I needed to do a lot of treatments, to rebuild myself, and also mentally I needed to have some rest from those two really tough seasons. And now, as we had the time to fix my body a little bit, and everything, thank God, functions well, we decided to train at full capacity, because we're already approaching the next Olympic season.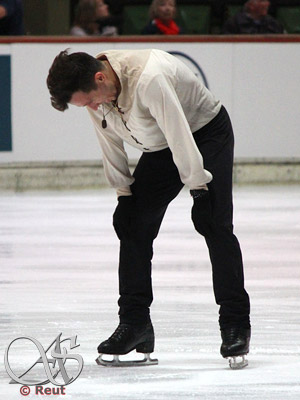 Wait, so you'll for sure continue till the next Olympics?
If I'm healthy, I'd gladly partake in another Olympic Games. But it's not easy; to tell the truth it's really difficult.
I can imagine... I guess you're aware that it was basically thanks to you that the Israeli team got into the team event. I'd say 80% of the required points were yours.
Maybe even 90%. (smiles) Yes, for us to be in the team event, I had to earn points during the Grand Prix season, because, unfortunately, Danny (Samohin) was injured and our ice dance couple retired and pair also wasn't ready, so I was the only one who could contribute points. My federation set a goal for me: in one Grand Prix event you need to be on the podium and in the second one you need to be at least top 5. At NHK I won bronze and in France right after that I was fifth, mission accomplished!
The competition during the Games went really well. I was so glad, these were probably the best days of my life, both the team event and men's competition! I was so excited, never in my life was I so happy while skating! And that's why I really want to repeat this experience.
So last season is in the books, but now step by step I need to gain my form, to get back to my level and start skating well. Unfortunately, today it didn't work. But coming back from Oberstdorf, we'll do some lessons learned.
Yeah, you should, so that you don't repeat such stupid mistakes.
Yes, of course, this is just something you need to repeat many times at practices, because basically I started skating a full run-through with quad only one week ago. This is not an excuse, of course. But it wasn't a very smart move from my side, I needed to start doing this earlier. So now we will check all the pros and cons, will define what we should work on. Because, of course, I need to perform well at the Grand Prix. Grand Prix, Europeans and Worlds are always the highest priority for me.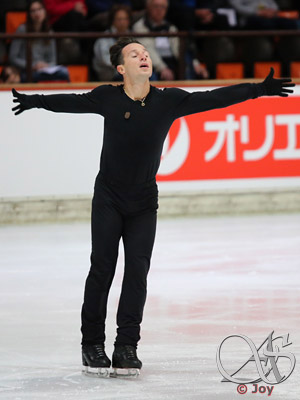 As for other competitions this season, we will for sure do Golden Spin in Zagreb, because right after it we go to Israeli Nationals.
I wanted to ask you about your music choice for the short program, because I really love Harel Skaat.
Really?!
Yes, in my opinion, he is one of the best modern Israeli singers. How did you decide to use this song?
You know, it took us 20 minutes to choose this music. We were talking with Galit Chait, we were trying to understand which style we want to go with. I proposed to take something slow and lyrical because this way it would be easier for me to focus more on my jumps. So we checked various options, but to tell the truth I really didn't like things she proposed. And then I recalled this Harel's song, which he performed at the "Eurovision" (in 2010 - ed.). I used to listen to it a lot. And so I sent this song to Galit, its Hebrew version, and she fell in love with it immediately but proposed to use an English version instead, because this will suit the international audience better.
This song is wonderful and, you know, it really suits you, it raises you up I'd say.
You see, initially we took it because I could focus better on the jumps, but I deeply felt this music, I really loved it. And I get into it every time I skate. It happened just recently. Earlier I mostly skated alongside it, going from element to element. But with time I started to feel it, I listen to this song and it turns me on.
Koshiro Shimada: trying out on the "senior battlefield"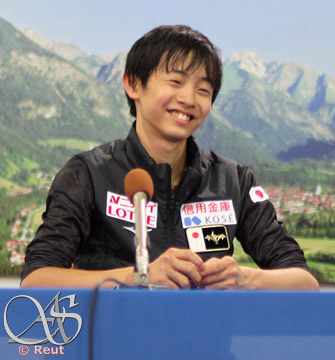 Koshiro, you competed at Bavarian Open here in Oberstdorf last season, but this is officially your first competition in seniors.
Yes, it is.
How does it feel?
This is very different from Bavarian Open, that competition was much smaller. Here I definitely feel on "senior battlefield". And I really felt that standing on the ice before I started my short program.
Did you feel pressure?
Yes, a little bit. But that was a good experience.
Was it your first time to try the quad in the short program?
Yes, it was.
Do you have any conclusions for your next competition, what you should do, how you need to prepare?
I still have a free skate to finish here, next I go to Japan Open. And after that I go to the Grand Prix (Skate America and NHK). So I will be busy this coming month. And I feel I have so many chances to do my programs perfectly. This was my first event this season and I feel it was a good start, I'm happy with it.
You got your second Grand Prix, NHK Trophy, as a "host pick". This is a big honour, they show their trust in you. How did it feel? Did you know or what is a surprise?
I knew it, there was a selection for the NHK Trophy, when I was in Japan. So I earned that spot.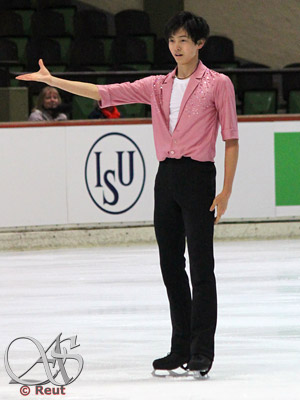 Was it during the national camp in summer?
It was before the camp. There were a few people who came for the selection, I skated my new free skate and I got NHK.
Talking about your free skate, you mentioned earlier that it was Denis Ten's programs to "Artist" that inspired you.
First of all, I need to say that he is amazing. I'm still not on the level high enough for his "Artist", but I'm trying to reach him, his performance, his skating skills, everything in his skating. When I watched these programs of his (Denis had both short and free choreographed to "Artist" in season 2012/13 - ed.), I was so impressed, especially by step sequences and choreo sequences. And I knew that I really wanted to skate to this music too.
Just recently you had Shoma Uno training with you in Champéry, how did it go?
It was an amazing experience. We had a great time. He is doing a lot of quads and his skating is amazing. We had a "battle" every day, checking who is closer to perfection. So every day we skated a short program or a free skate. We had a really good time on and off the ice, with the Swiss cheese, and we did a lot of gaming too. It's been fun!
Both Koshiro and Alexei finished this competition on the podium, with silver and bronze respectively, but both admitted there is still a lot of work ahead. We're looking forward to seeing them compete in Las Vegas this weekend.