Vanessa James and Morgan Cipres: "What you see on the ice is exactly the reflection of what we are off the ice!"
February 15, 2019
By Titanilla Bőd (Új Szó)
Photos © Reut Golinsky, Oxana Shkrebtienko (LMDJ)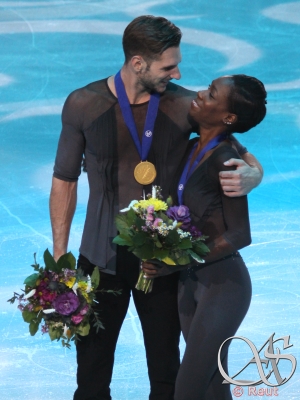 They've always been unique but for a long time their efforts were not awarded by podium placements at major competitions. Last year at the Europeans they missed the medal by the least possible margin. However, they bounced back and in Minsk they conquered the top of the podium. Vanessa James and Morgan Cipres are glad that they didn't finish their career going through tough times, and they could give interviews the day after the pairs' free skate as the new European champions.
How did you sleep after your great triumph? Did you sleep at all?
Vanessa: I fell asleep around 6 am and slept until 10.
Morgan: I always said that if I became European champion I would throw a big party but yesterday I was able to do exactly nothing. I was just lying in my bed, thinking about it. It's amazing.
Many athletes say that when they achieve something big, standing on the podium they recall all the setbacks, all the tough times they had to overcome to reach this goal. Was it the same for you?
Morgan: Exactly!
Vanessa: I wasn't thinking about the bad times. Why think about the bad times in such a good time? I think those bad situations made us strong enough to be where we are today, to not panic when we were first and to have confidence going into the long and to fight until the end, even if there is a small error. One error doesn't lose a competition, but the rest decides how it will finish. I didn't think at all about the bad times, but I did think about this medal and the performance all night.
Morgan: I was thinking about all the good things that happened in the last few days, practices, and so on. I was watching the program online, and on YouTube I found other programs from other competitions. For the first time I watched the European championships from last year, when we finished fourth. And after that, I was able to sleep finally.
Was that last year's competition, when you were leaders after the short program but in the end lost the bronze medal by one hundredth of a point, a haunting memory for you?
Morgan: Yes, it was!
Vanessa: I feel it was so far away. It doesn't feel as if it was last year, but as if it was three years ago. It feels so long for me. I don't really remember which program it was, I think it was "Say Something". I tried to block that out of my memory, because we changed after, to go to the Olympics and Worlds with "Sound of Silence".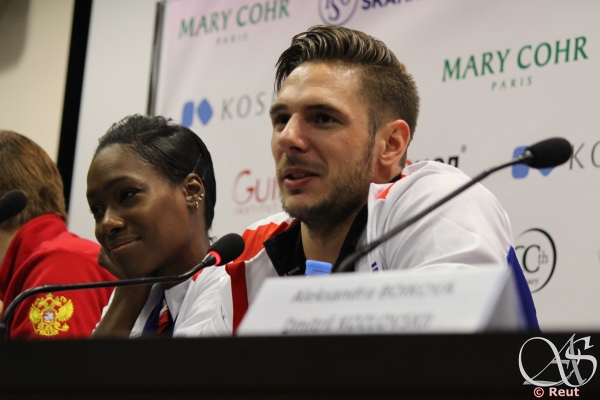 Morgan, you said at the press conference that you couldn't sleep a lot in Minsk because of the jet lag, so you were thinking a lot between the short and the long. Are you the one who tends to overthink things?
Morgan: I wouldn't say I'm overthinking but when you are not sleeping, you have nothing to do except think. Or maybe I could have gone to a club, but I'm not sure it would be a good thing! I guess every athlete is thinking before their performances, good or bad things.
Vanessa: It's funny, because I think I was thinking more before the short program, because of the errors we have made in the previous competitions, and Morgan was thinking more about the long, it seemed to me that there was a bit more stress.
Morgan: No, it was the same; I was just thinking a lot because of last year.
This year you have won every competition you entered. Was it a pressure for you, or was it more a confidence-booster?
Morgan: Kind of both. You feel like: "Okay, I did everything well in the long program, even when we fell badly in the short program, even when we were not in a good place..." And then you start to think, maybe this time you will do badly, because you did only good programs from the beginning of the season, so obviously one wrong program can happen in the season! So I was like: "I hope it's not going to be this time!"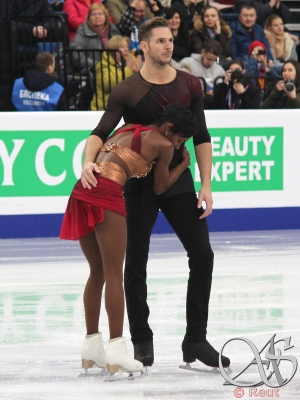 Vanessa: I think winning competitions gives us a little bit of confidence, but every competition is different, so every competitor is going to compete differently also. You can't know if they have a good day or a bad day. Confidence is great to have, but it doesn't do everything, we must stay focused. So we tried to stay focused on ourselves in every competition, and I think that's what made our competitions great this season.
After your victory in Minsk there were many headlines pointing out that you were considering retirement. Was there any point when you were really close to calling it quits?
Vanessa: Every time when we were thinking about it, it was very close. The first time was after our first season. We had a bad Worlds in Nice and we were about to stop. We had to talk to the federation to see if they were going to support us, if we wanted to skate together... We sat down and talked to our coaches and said: if we don't do something at Masters, then we stop. Thank goodness, we started doing very well within a month and it was great.
Morgan: A big one was also when we moved...
Vanessa: Before moving to John's [Zimmerman] team, we kept getting fourth, fifth, sixth at the Europeans... We weren't really getting what we wanted for the time and the sacrifices that we were making. So we told the federation that either we stop or we try something new. If it works, we will continue, but if not, then it's time to end our career. Then again, thank goodness that worked. But each time it was tough, we don't say in vain that we are going to stop. It's hard on any athlete, mentally, physically, emotionally, when you put in all this energy and it doesn't work. Second place is good, third place is good and first is even better, but if you don't make a podium by 0.01, and you drop behind because you forget the program, it's hard.
Now you say this is just the beginning...
Morgan: Yes, it's the beginning of gold medals. We did a lot. We did everything this season; we expect maybe a last one in this season, and then we will see what we're going to do.
Vanessa: We will take it step by step. Like I said, each competition is different, has different emotions, and we are very emotional skaters. A bad day can be the end of our career, but winning can make us continue for four years. We will see how we feel and how our bodies feel also, but I don't think I've been doing all this stretching and all this pain for nothing.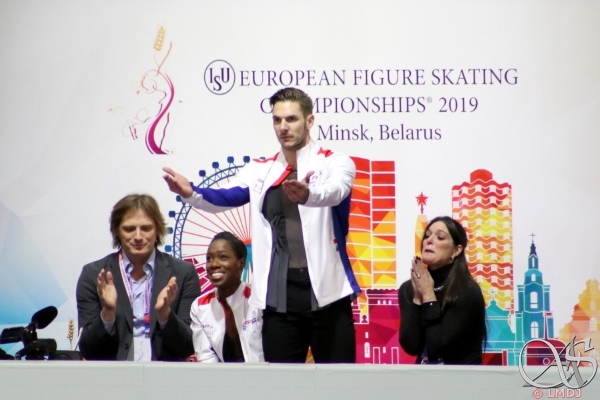 The audience loves you, because as you said, you are very emotional skaters and your programs are also very emotional. How do you choose your music?
Morgan: We are trying to be ourselves on the ice. What you see on the ice, it's exactly the reflection of what we are off the ice, individually and together. We are very emotional and we are trying to show that, but not to make it... [switches to French]
Vanessa: [helps to translate] He says that, for example, ice dance is a completely different category; you see, it's all choreographed from beginning to end, and it's really played up. The only thing we have played up is that Charlie [White] made us do something really choreographic at the beginning [she shows a theatrical hand movement with a great laughter], but otherwise I think it's just that when we skate well, it's crazy, we show it on our faces and our bodies that we are happy. When we fall, we are sad, we cry, we can't really hide it. As for the music, it's very difficult to choose. We work all summer, until everyone likes it. Because it often happens that Morgan and John like it, but Silvia [Fontana] doesn't like it and I don't like it, then three of us like it but one person doesn't... We were very lucky, because after "Fifty Shades of Grey" and "Sound of Silence" we didn't think we were going to find such good music as "Uninvited" and "Wicked Game". But we took our time and it's something we love, not something we get bored of or tired of listening to. I think that's what helps with the audience and the judges.
You worked on your short program choreography with Guillaume Cizeron and on your long program with Charlie White. How did this co-operation work?
Morgan: It was amazing. They are two different people, but I think it was what we wanted to do. We are trying to get better and be different than the year before. Guillaume's imagination and creation brings us great things. He is so professional, perfect on the timing. Charlie is more wild and open with us, but he is also an amazing skater, so it was amazing working with him.
Vanessa: They are very different and we are glad that we chose them for those two programs. Guillaume is very musical. With him we only work with the music, to make sure it hits every note, every time. Charlie works a lot without the music. He finds transitions that work whether if it's on the music, or before a note, or after a note - it just matches together. So they are very different and I think it wouldn't have worked this well if we switched choreographers for each program. So we made a great choice by picking them.
Do you have any favourite program of yours?
Morgan: To be honest, I really love all of them. They were all different. Even as I was watching "Say Something" yesterday, I was like: this program was amazing actually.
Vanessa: "Say Something" was pretty awesome, yes. But tiring!
I think for the fans "Sound of Silence" will always remain special, when you skated to it, many people in the audience had tears in their eyes...
Vanessa: "Sound of Silence" was one of my favourites, because it was our big breakthrough season, when people noticed us, and this program went viral. So I will always remember this program. But when I look at this year and two years ago, our transitions are much different. They are cleaner, the draws are better, our extensions are completely different... So skating-wise I prefer our programs this year, but just for my heart, I love "Sound of Silence".
Probably you are asked this many times, but what is the thing that you admire the most about your partner?
Morgan: Sometimes when we get such questions it is hard to pick one thing, one quality about each other.
Then maybe you could describe in which moments can you help each other the most?
Vanessa: It's funny, because I think I help Morgan more off the ice, and he helps me more on the ice. It's a very good composite to make a good team, whether it's on or off the ice. I admire that Morgan is a perfectionist, and I feel, even if sometimes he is hard on me in the kiss and cry, we wouldn't be where we are now without this character. I'm a little too easy-going, "everything's fine", which also helps at certain points.
Morgan: The funny thing is that she also is a perfectionist, but for different things than me. And those perfections are coming together. She is strong and smart. I mean, we have some bad things, but we are a good team.